There is nothing more comforting than a big, hearty bowl of soup on a chilly winter day.  It's an even bigger bonus when the bowl of soup can actually help to improve your health.  This ketogenic broccoli cheese soup is packed with nutrients such as vitamin A, vitamin C, calcium, and phytonutrients.  The main ingredients in this soup are:
Broccoli contains such a wide variety of healthful benefits.  It has been linked to the prevention of many types of cancers, improve our digestive system, detoxify the body, boost the immune system, and improve bone health.
Treatment and prevention of cancer- broccoli contains strong anti-carcinogenic compounds such glucoraphanin, beta carotene, selenium, and vitamins A, C, and E which act as anti cancer agents.
Detoxifies the body- broccoli belongs to the sulfur family of vegetables which are known to help remove free radicals and reduce oxidative stress in the body.
Improves digestion- broccoli contains a large amount of fiber which helps to improve constipation.  The fiber retains water which helps food pass through in the digestive process.
Boosts immunity- broccoli is a rich source of vitamin C and minerals such as selenium, zinc, and copper.  These compounds help to improve immunity and fight off numerous infections.
Improved bone health- with approximately 50 mg of calcium in only 100 grams of broccoli can also help conditions like osteoporosis and weakening of bones and teeth.
In addition to the rich source of vitamins, minerals, and antioxidants found in broccoli alone, this soup also utilizes bone broth instead of plain chicken stock as the main liquid.  Bone broth is wonderful for gut health, immunity, joint health, and can improve the condition and elasticity of our skin which helps us looking younger.  Also, an easy way to increase the nutrients in this or any other soup is pureeing in fresh spinach to your broth.  This will also add add an additional layer of nutrition such as vitamins A, C, E, K, and B6, magnesium, niacin, and zinc.
Instead of having the same simple salad to get your daily vegetables in on a ketogenic diet, give this soup a try.  It's warm, comforting, easy to prepare, great for meal prep, and will boost your health in more ways than you can imagine.
Print
Rich and Creamy Keto Broccoli Cheese Soup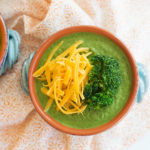 The most delicious nutrient boosted version of a classic soup, this keto broccoli cheese soup is loaded with vitamins, minerals, and antioxidants.
Author:
Prep Time:

5 minutes

Cook Time:

20 minutes

Total Time:

25 minutes

Yield:

4 cups

1

x
Category:

Sides

Cuisine:

French
Instructions
Add olive oil to a large pot and turn on heat to medium. Add chopped carrots and onion. Stir for 1-2 minutes. Add garlic, broccoli, seasoning, and spices. Mix and let cook for an additional 1 minute.

Add bone broth, stir, and cook for 8-10 minutes until veggies are softened. Turn off heat. Stir in heavy cream.

Add 1/2 of soup mixture to a high speed blender, add spinach. Blend on high until smooth. You can blend all of the soup if you prefer a completely smooth consistency.

Return contents in blender to large pot, stir in cheddar and gouda cheese until completely melted. Adjust seasoning to taste. Add additional broccoli and cheese if desired to top of soup.
Nutrition
Serving Size:

1 cup

Calories:

277

Fat:

21g

Carbohydrates:

Net Carbs: 4g

Protein:

15g
Keywords: keto brocolli cheese soup