Cake pops — mini cake bites disguised as lollipops — have been making the rounds of birthday parties and baby showers for years now. They make the perfect party favor or dessert, complete with built-in portion control.
But the chocolate cake pops or cake balls you find at most bakeries and grocery stores contain harmful ingredients like sugar, white flour, food coloring, and other unnecessary additives.
That's where this keto cake pops recipe comes in. With a creamy chocolate coating,  a hint of candy cane flavoring, and a deliciously moist chocolate cake center, these gluten-free keto cake pops are sure to satisfy your sweet tooth.
And who said you couldn't have it all?
These low-carb cake pops are:
Decadent
Gooey
Delicious
Rich
The main ingredients in these low-carb chocolate cake-pops are:
Additional ingredients:
The Health of Benefits of Keto Cake Pops
#1: Provides an Energy Boost
Espresso and coffee provide a natural source of energy to your body and brain. In fact, caffeine can significantly increase your energy levels to help you perform better and increase your energy expenditure[*][*].
Besides delivering a cool rush and powerfully refreshing flavor, peppermint also can provide a significant boost to your energy. Peppermint extract can directly increase your mental and physical strength and help your body fight against the effects of fatigue and sleepiness[*][*].
#2: Improves Brain Health
Espresso is naturally rich in caffeine and antioxidants, and research shows that espresso (and coffee in general) may support mental clarity, positive moods, and long-term brain health.
Research also shows that coffee may even help against severe cognitive diseases, such as Alzheimer's disease[*][*].
Dark chocolate and cacao also support brain health. These natural ingredients improve blood flow to the brain and improve neurotransmitter function. They also increase focus and have been shown to improve your mood by stimulating feelings of bliss and euphoria[*].
Coconut oil is a rich source of MCTs, also called MCFAs (medium-chain fatty acids). When your liver digests these MCFAs, they're converted into ketones. And ketones are the energy molecules that you want circulating your bloodstream. They provide easy energy to your brain and may even help prevent Alzheimer's disease[*][*].
#3: Aids Digestion and Gut Health
Peppermint extract has been shown to provide important natural support to your gut and digestive system.
Peppermint may even help relax your stomach and aid with various issues such as nausea and vomiting, abdominal pain, and indigestion. Some studies even suggest it can help with IBS symptoms[*][*][*].
Peppermint Chocolate Keto Cake Pops
These keto cake pops may seem a little more complex than a normal cake recipe, but they're fairly simple. After you prepare all your ingredients, you'll preheat your oven to 350 F.
While the oven is preheating, coat a 9-inch square baking pan with butter and set aside.
Next, grab a medium-sized bowl and add in the almond flour, coconut flour, espresso, baking soda, baking powder, salt, and cocoa powder.
Whisk it together until well combined and set aside.
In a large mixing bowl or standing mixer, add the eggs and beat on high until they're light and fluffy — about 1-2 minutes. Once they've hit peak fluff, add in the sweetener, peppermint extract, milk, sour cream, and melted butter, mixing well
In small batches, very carefully add the dry ingredients to the wet ingredients, mixing until the batter comes together.
Keep doing this until you have no dry ingredients left. Then you'll pour the mixture into your prepared pan and bake for 30-35 minutes.
Remove and let the cake cool completely. Once the cake is cooled, grab a large bowl and, using your hands, break the cake apart into the bowl. Add in the melted coconut butter and mash into crumbs.
Using a cookie scoop, portion and divide the cake pops then use your hands to mold them evenly and smoothly. If you have a cake pop pan that works too.
Place each perfectly molded keto cake pop onto a cookie sheet or tray and add a cake pop or lollipop stick to the center of each.
Place the cookie sheet into the freezer for about 20 minutes. While the keto cake pops are freezing, melt the chocolate chips and coconut oil.
Once the cake pops are ready, remove them from the freezer and dunk each one into the melted chocolate mixture, then place them back onto the tray.
Put them back into the freezer to cool, allowing the chocolate to harden. They should hold up at room temperature for hours on display. Or, keep them in the fridge for storage.
This recipe is great to bring to any family or office holiday party. And these chocolate peppermint cake pops go well with ice cream or a large glass of chilled almond milk.
Enjoy after any meal, like our Holiday Pork Roast, Keto Pot Roast, or Weeknight Beef Stew.
Print
Peppermint Mocha Keto Cake Pops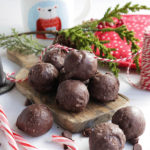 Low-carb chocolate cake pops with a hint of peppermint are the perfect gluten-free, keto treat for a party or a chocolate peppermint dessert.
Author:
Total Time:

1 hour

Yield:

24

cake pops

1

x
Instructions
Preheat oven to 350°F and coat a 9-inch square baking pan with nonstick spray or butter.

Combine dry ingredients (almond flour, coconut flour, espresso powder, baking soda, baking powder, salt, and cacao powder) in a medium-sized bowl. Whisk well to combine.

Add eggs to a large bowl or stand mixer. Beat on high for 1-2 minutes until light and fluffy.

Add sweetener, peppermint extract, milk, sour cream, and melted butter. Whisk well.

Slowly add dry ingredients to wet ingredients in small batches. Mix just until the batter comes together. Pour into prepared pan and bake for 30-35 minutes or until an inserted toothpick comes out clean when poked through the center of the cake. Remove from oven and let cool completely.

Once cooled, break cake apart in a large bowl. Add melted coconut butter and mash well into crumbs.

Portion and divide cake pops using a small cookie scoop. Using your hands, make the cake pops as even and smooth as you can. Place them on a baking sheet or tray and add a cake pop or lollipop stick to the center of each.

Place the tray in the freezer for 20-30 minutes until they are firm and their shape holds together.

Melt chocolate chips and coconut oil in a small bowl.

Remove cake pops from the fridge. Dip and coat each pop in chocolate and place back on the tray. Place cake pops back in the refrigerator and allows chocolate to harden completely.
Nutrition
Serving Size:

1 cake pop

Calories:

108

Fat:

10g

Carbohydrates:

3g (2g net)

Fiber:

1g

Protein:

3g
Keywords: peppermint chocolate keto cake pops