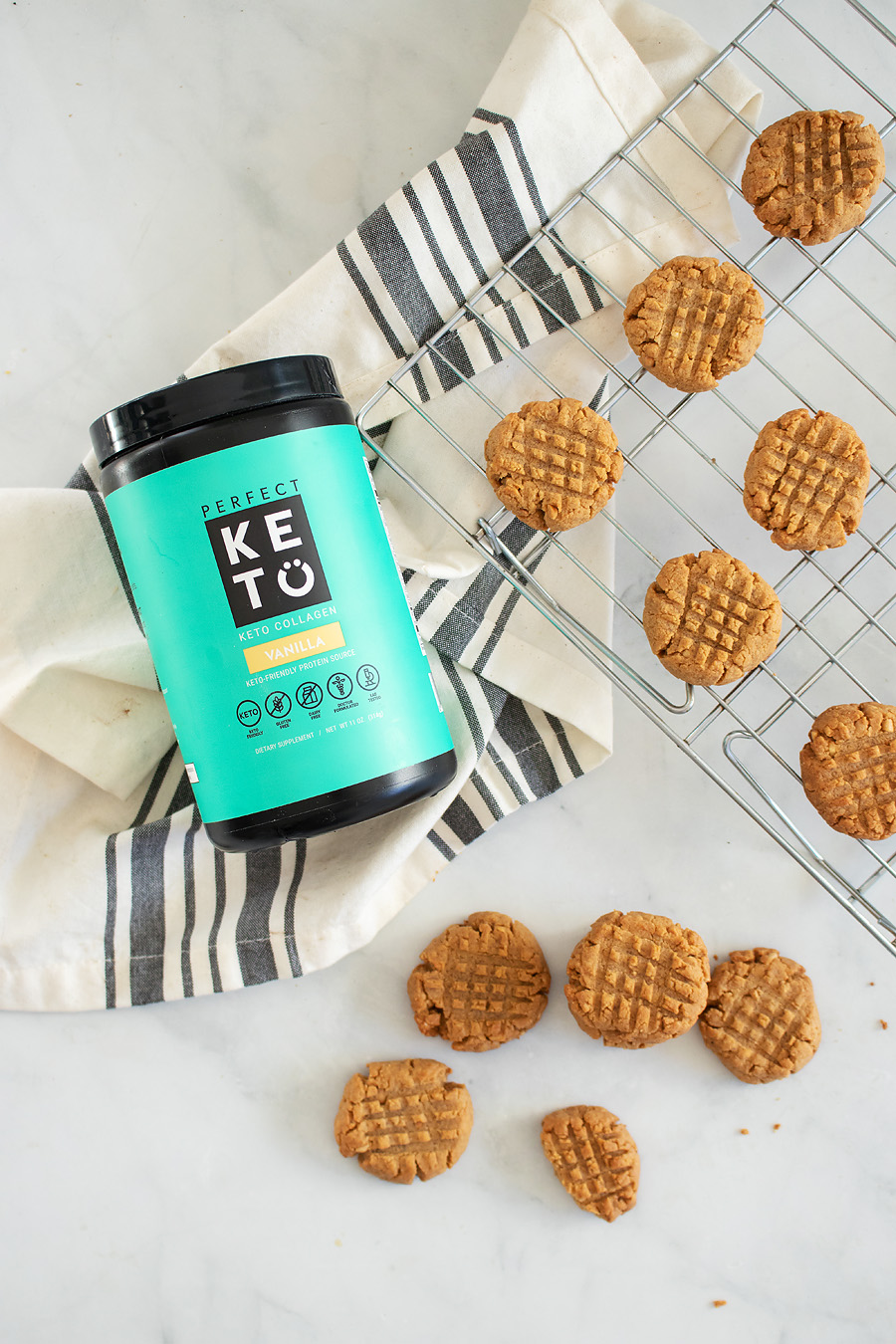 If you're ready to put chocolate chip cookies on the back burner, pull up a seat to these delicious flourless keto peanut butter cookies. These PB cookies are dairy-free, gluten-free, and contain absolutely no added sugar.
You can even use this recipe as an alternative to fat bombs, with 9 grams of fat and only 1 net carb, they'll keep your sweet tooth satisfied, and your blood sugar won't budge.
Now, peanut butter isn't good for everyone. And you have to make sure you're choosing the right brands (with no added sugar or toxic oils).
But if you're just eating some PB cookies for a treat now and then, using peanut butter is just fine. Read on for details on peanut butter, how to sub keto-friendly (healthy) nut butter, and the step-by-step details on how to make these perfect keto peanut butter cookies.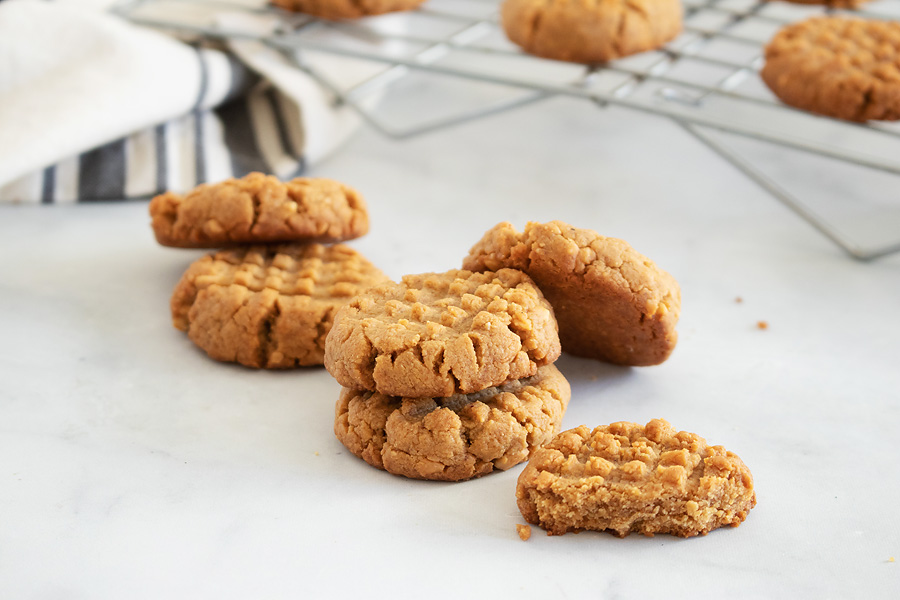 This peanut butter cookie recipe is:
Sweet
Chewy
Nutty
Delicious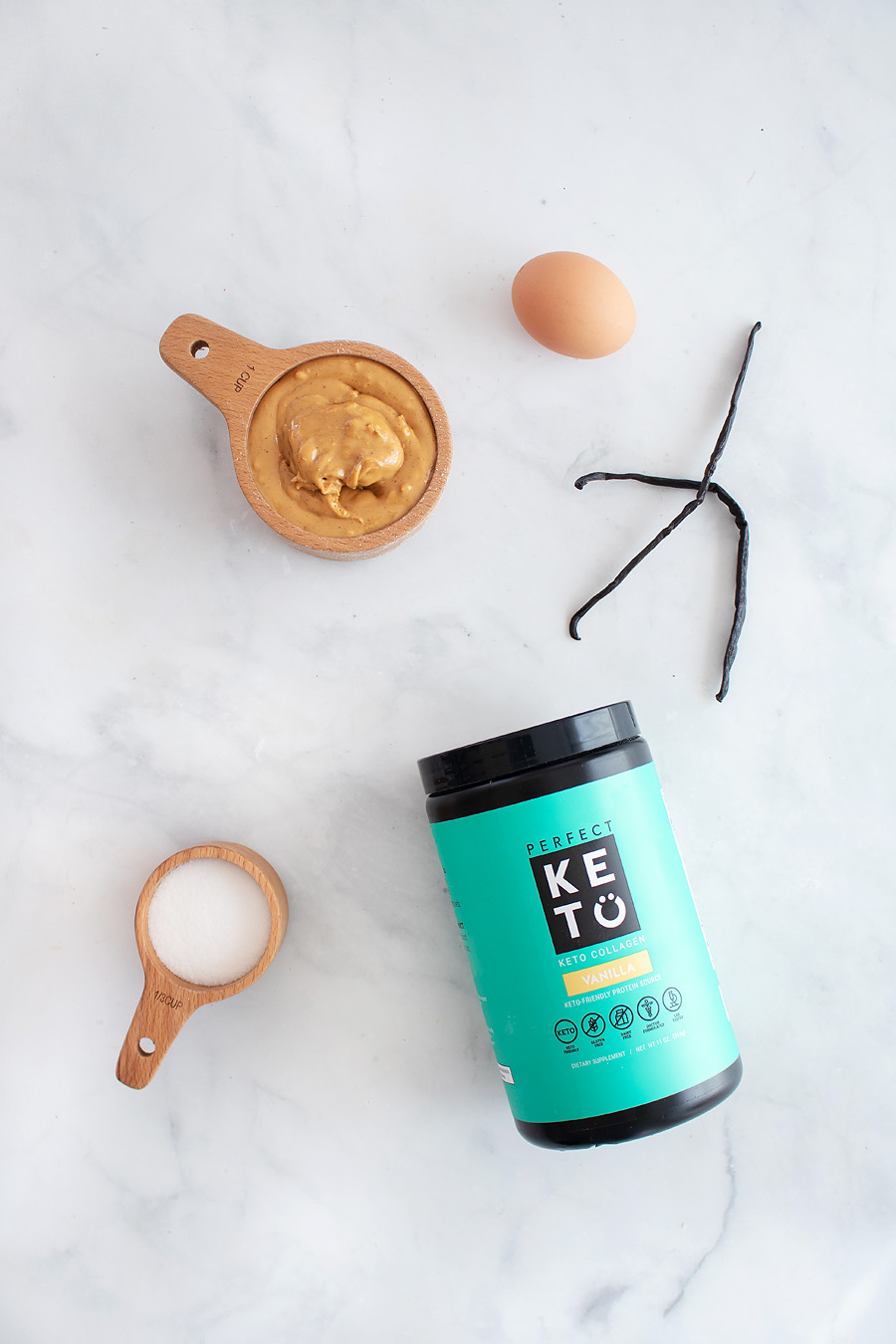 The main ingredients are: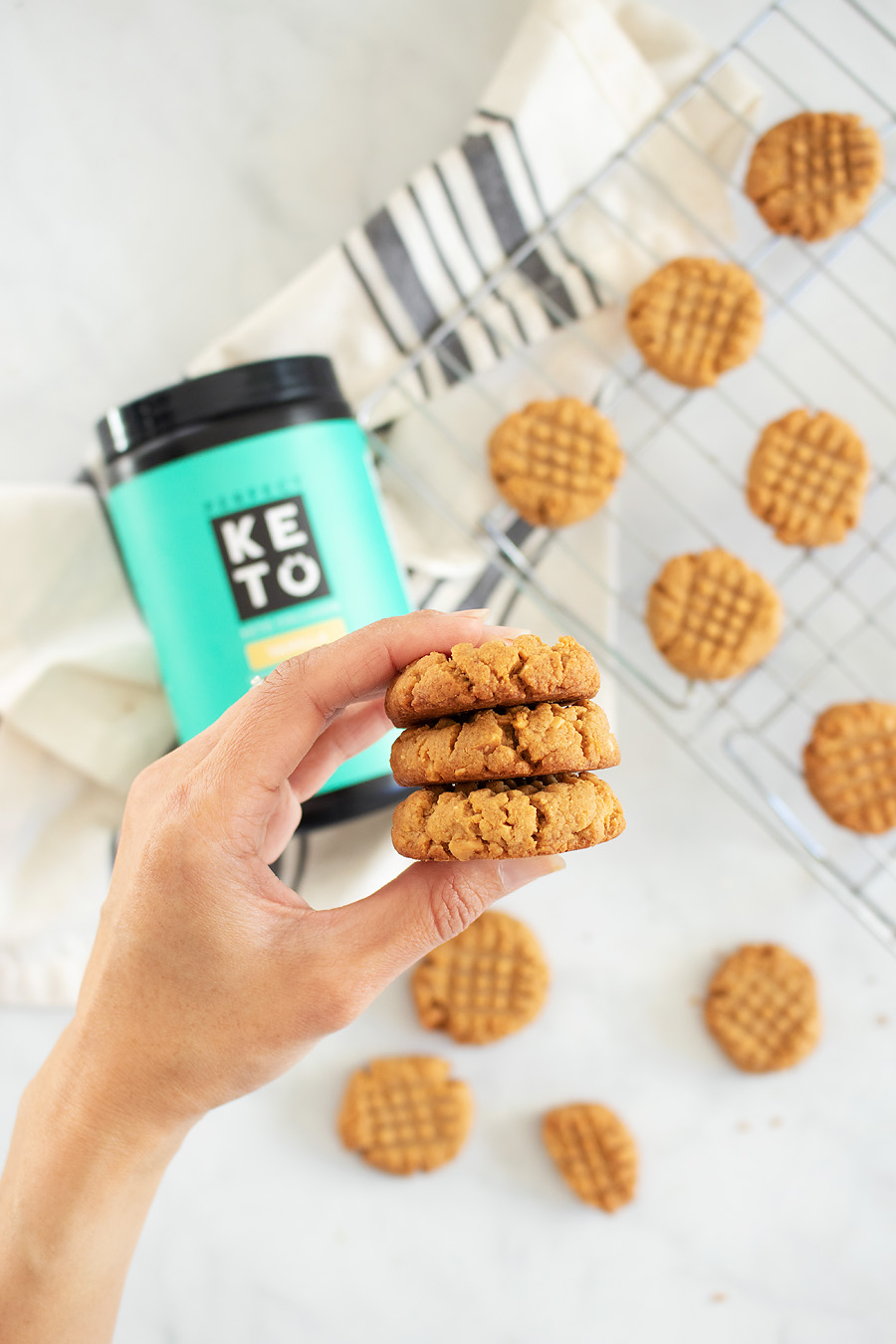 Optional additional ingredients
Sugar-free chocolate chips
Erythritol or swerve
Almond butter
Health Benefits of These Keto Peanut Butter Cookies
Blood Sugar Stabilizing
It's not often that you get to eat a cookie that also helps to stabilize your blood sugar. With only one net carb and seven grams of protein, these low-carb peanut butter cookies won't send your blood sugar soaring like most cookies you find on the shelves.
What's more, protein is incredibly satiating, so just one or two of these cookies will leave you satisfied and content[*].
If you're looking for an already-made keto cookie with added collagen and super clean ingredients, check out the Perfect Keto cookie. With just 4 net carbs per serving and ultra-convenient packaging, you'll love this sweet snack that won't kick you out of ketosis.
Supports Joint Health
Each one of your joints is surrounded by connective tissue that's made up primarily of the protein collagen. Collagen helps to support the structure and function of your joints and keeps them moving fluidly.
As you age, however, your connective tissue can start to wear away a bit. This can lead to joint pain and inflammation. For intense athletes, the same can happen due to strenuous use.
Here's the good news — research shows that consuming collagen (like the powder in these keto cookies) can help repair your connective tissue and support your joints[*].
Keto Peanut Butter Cookies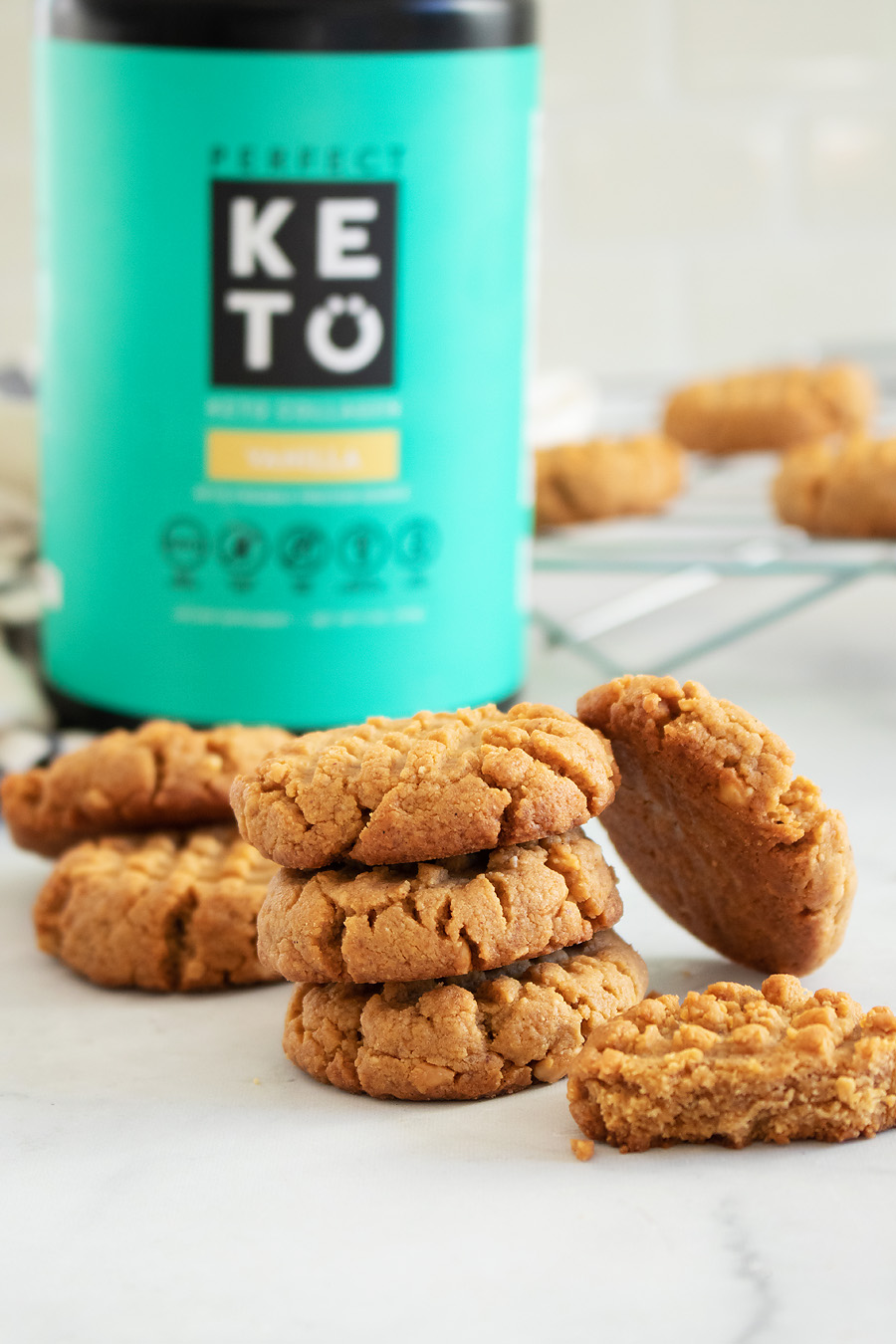 Are you ready to whip up some delicious peanut butter cookies?
Preheat your oven to 350 degrees, grab a mixing bowl, and let's get started.
Begin by lining a baking sheet with parchment paper and set it aside.
Next, in a large mixing bowl, add all your ingredients (collagen, natural pb, egg, vanilla extract, and powdered sweetener) and mix until well incorporated.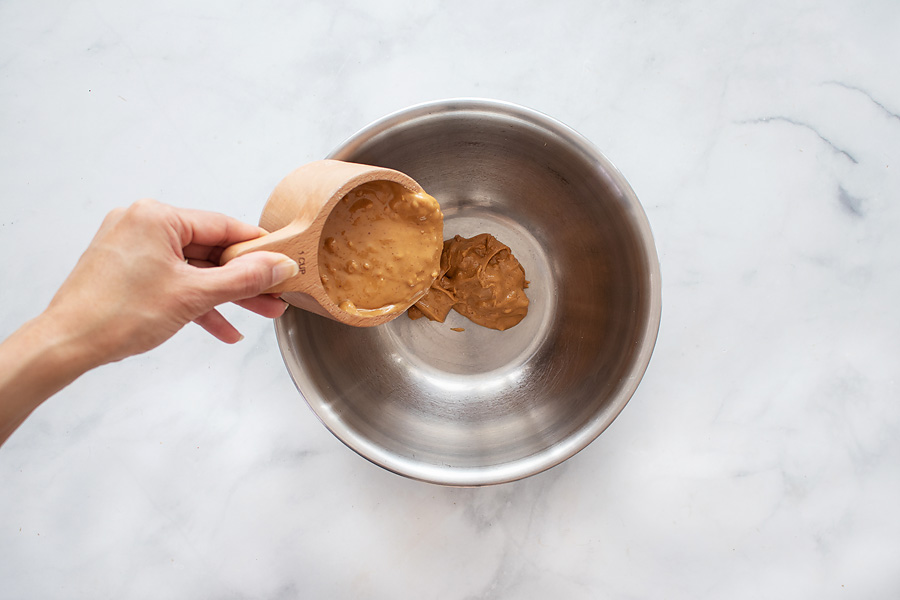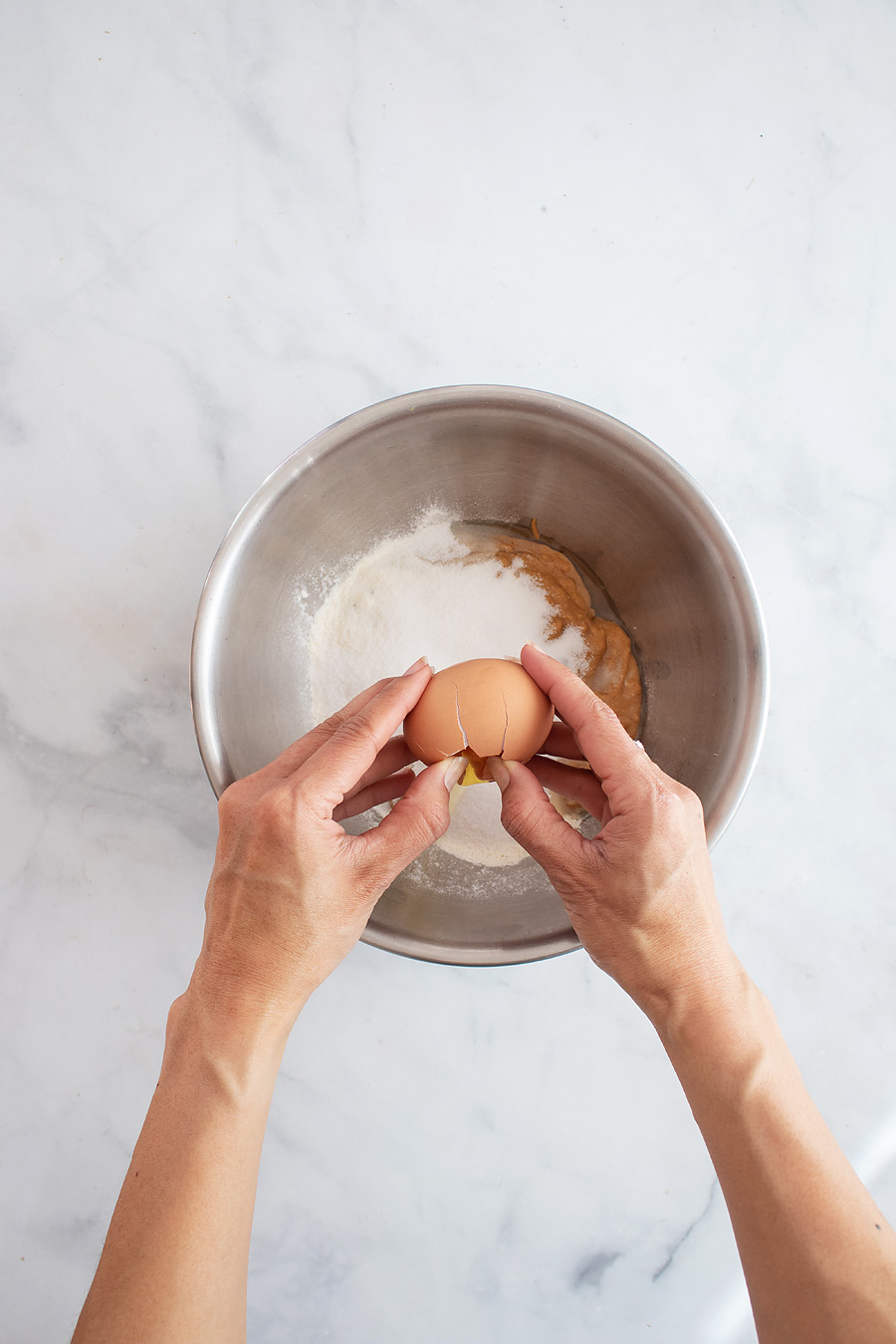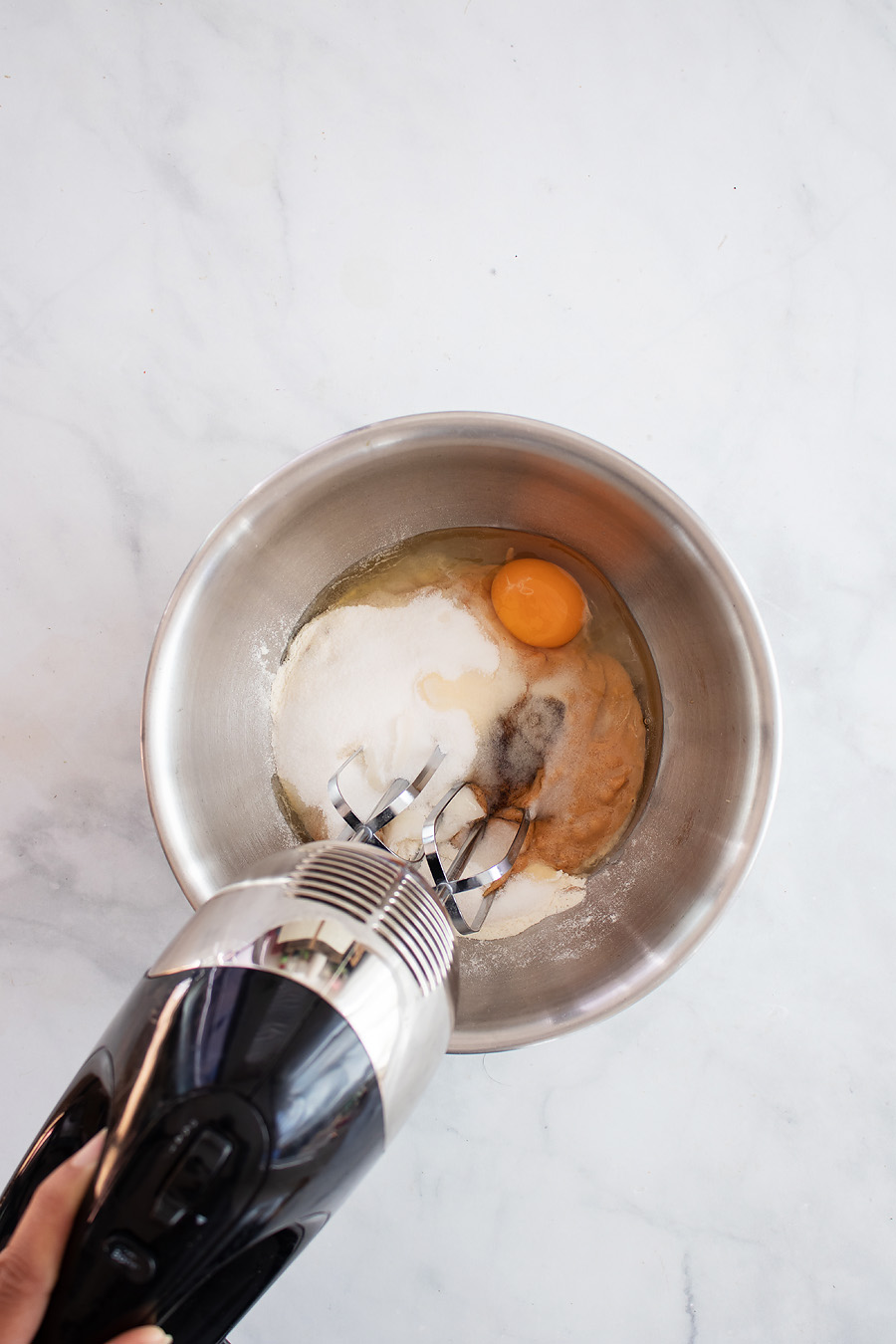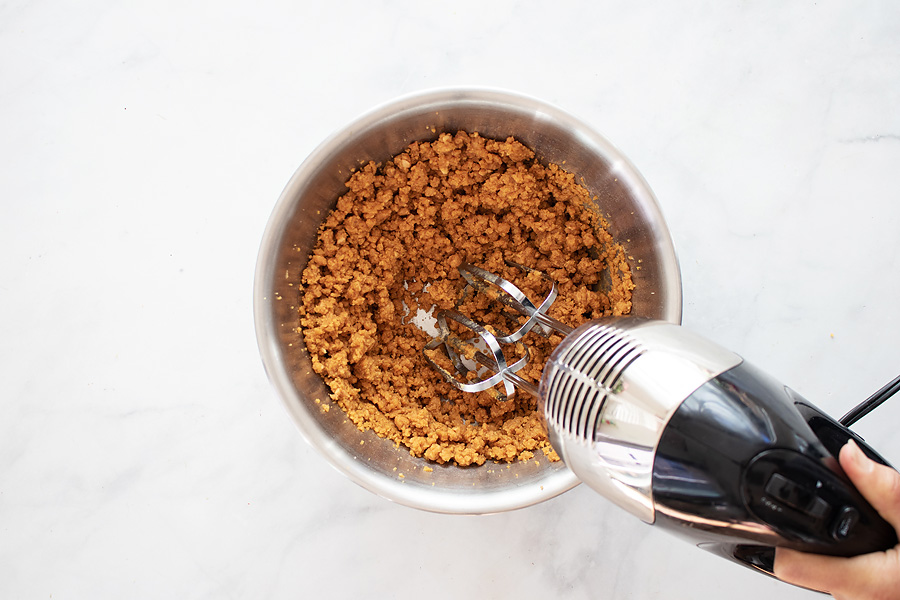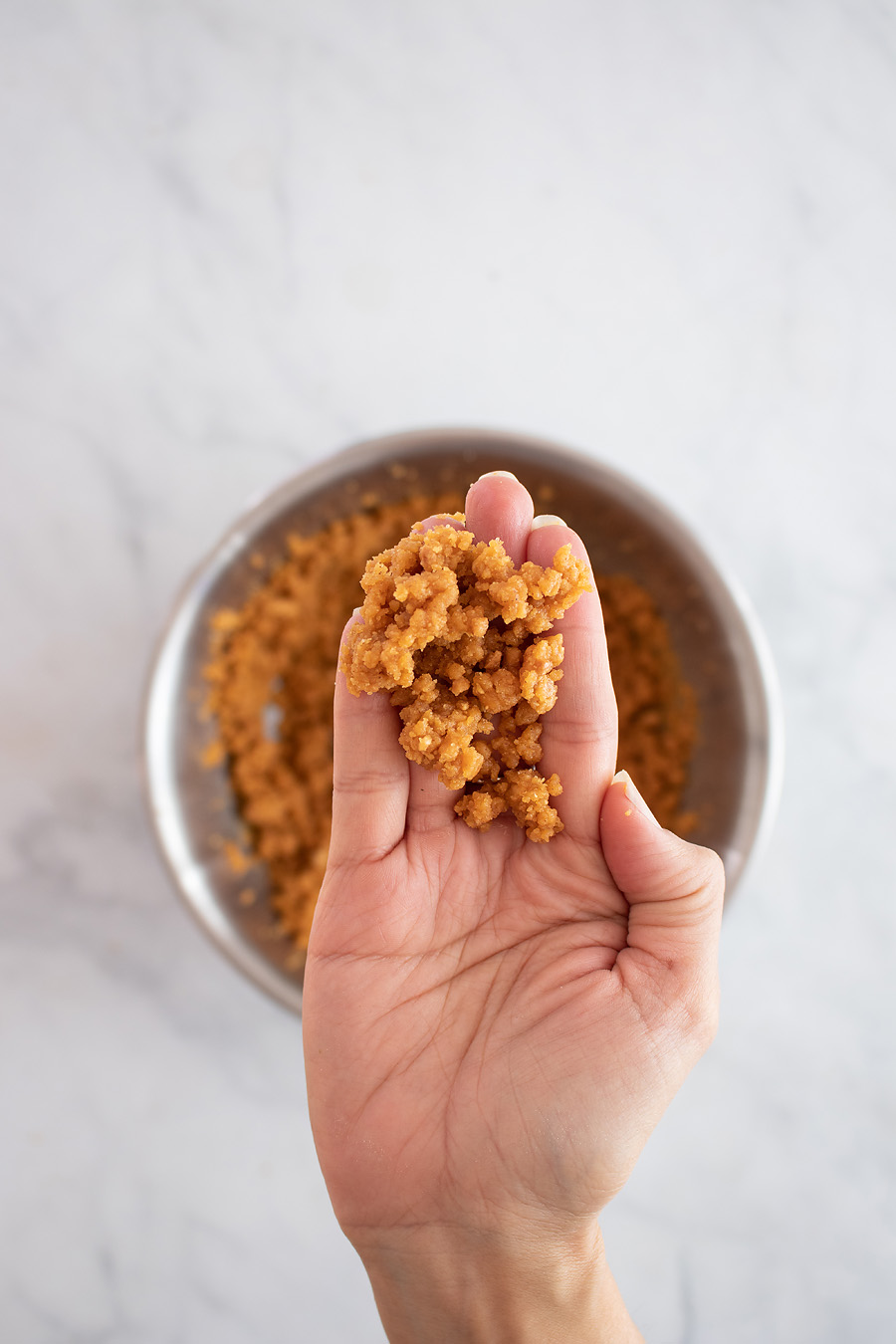 Grab your cookie sheet and roll the cookie dough into small 1-inch balls or use a cookie scoop, making sure the dough balls are at least one inch apart.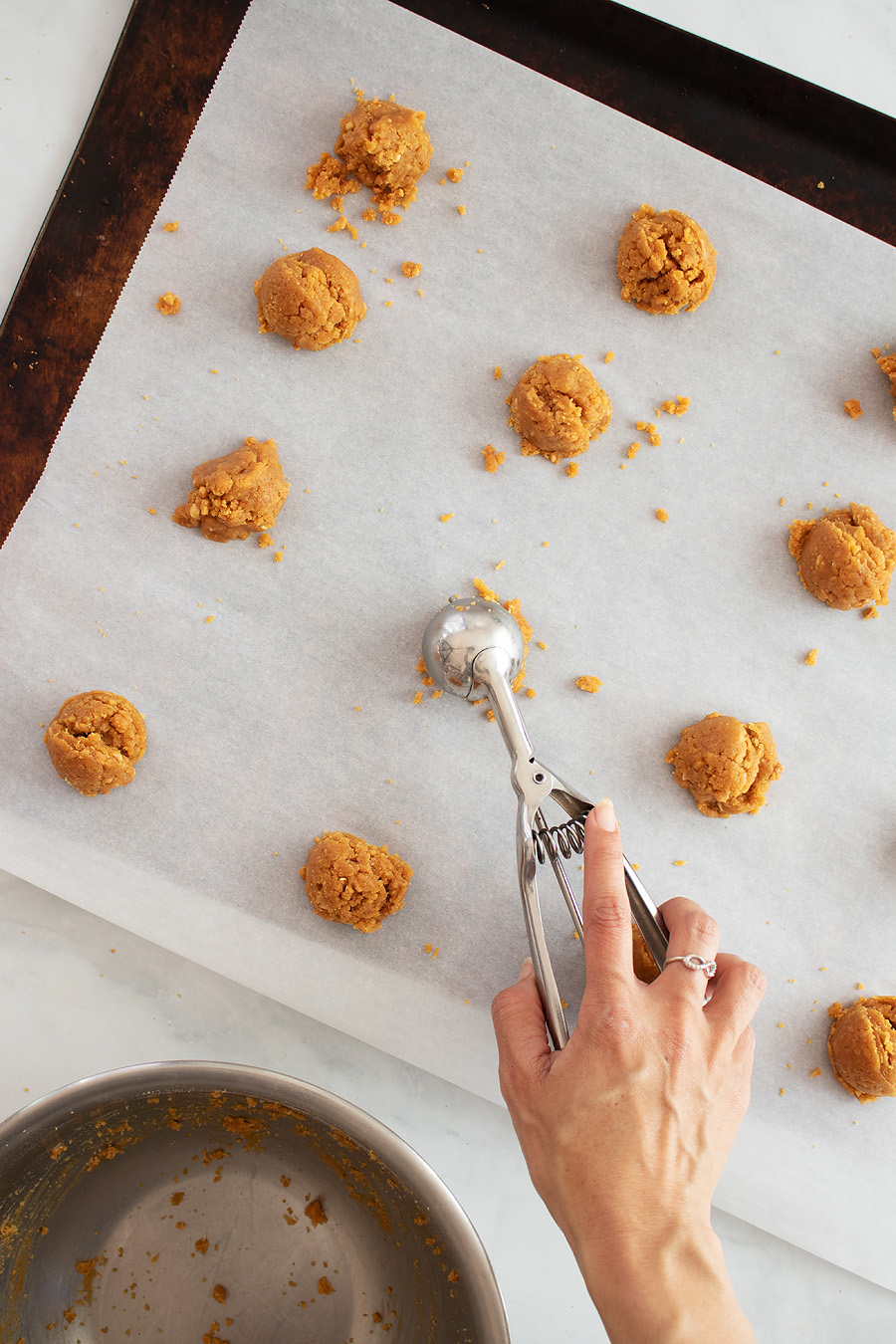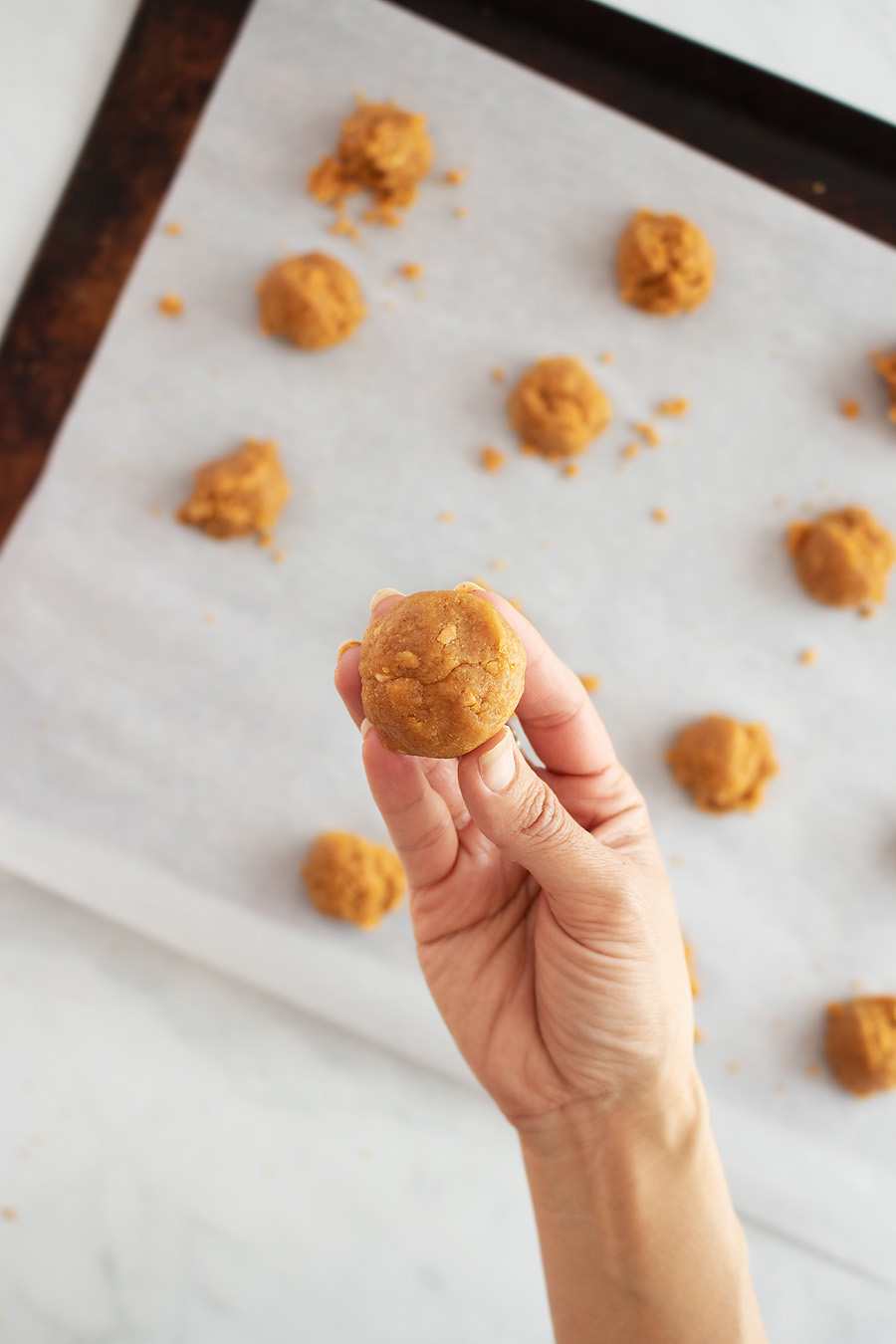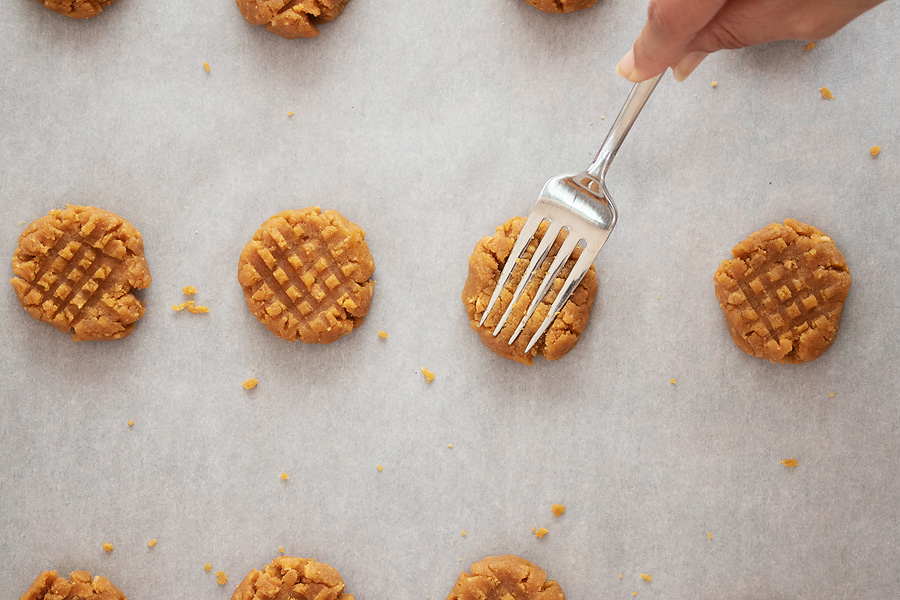 Using a fork, press the cookie dough balls into the classic criss-cross pattern. If the dough is sticky use some coconut oil or avocado oil on your hands.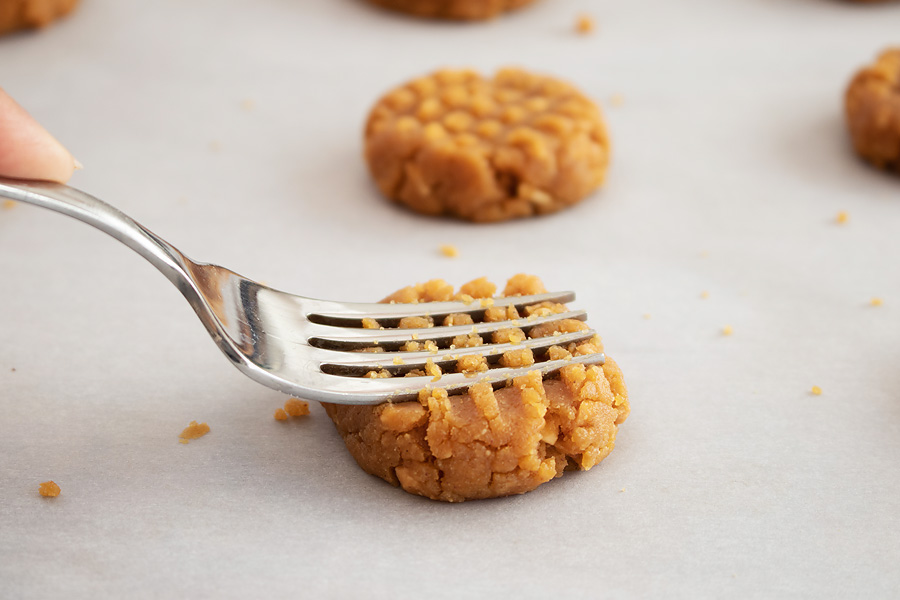 Next, place the baking sheet in the oven and bake for about 10 minutes, or until the cookies are golden brown. If you like your cookies more crunchy or crumbly, you can let them cook for a few more minutes — just be sure not to let them burn!
Remove the cookies from the oven and allow them to cool to room temperature on a wire rack.
Enjoy them right away, or store them in an airtight container for later.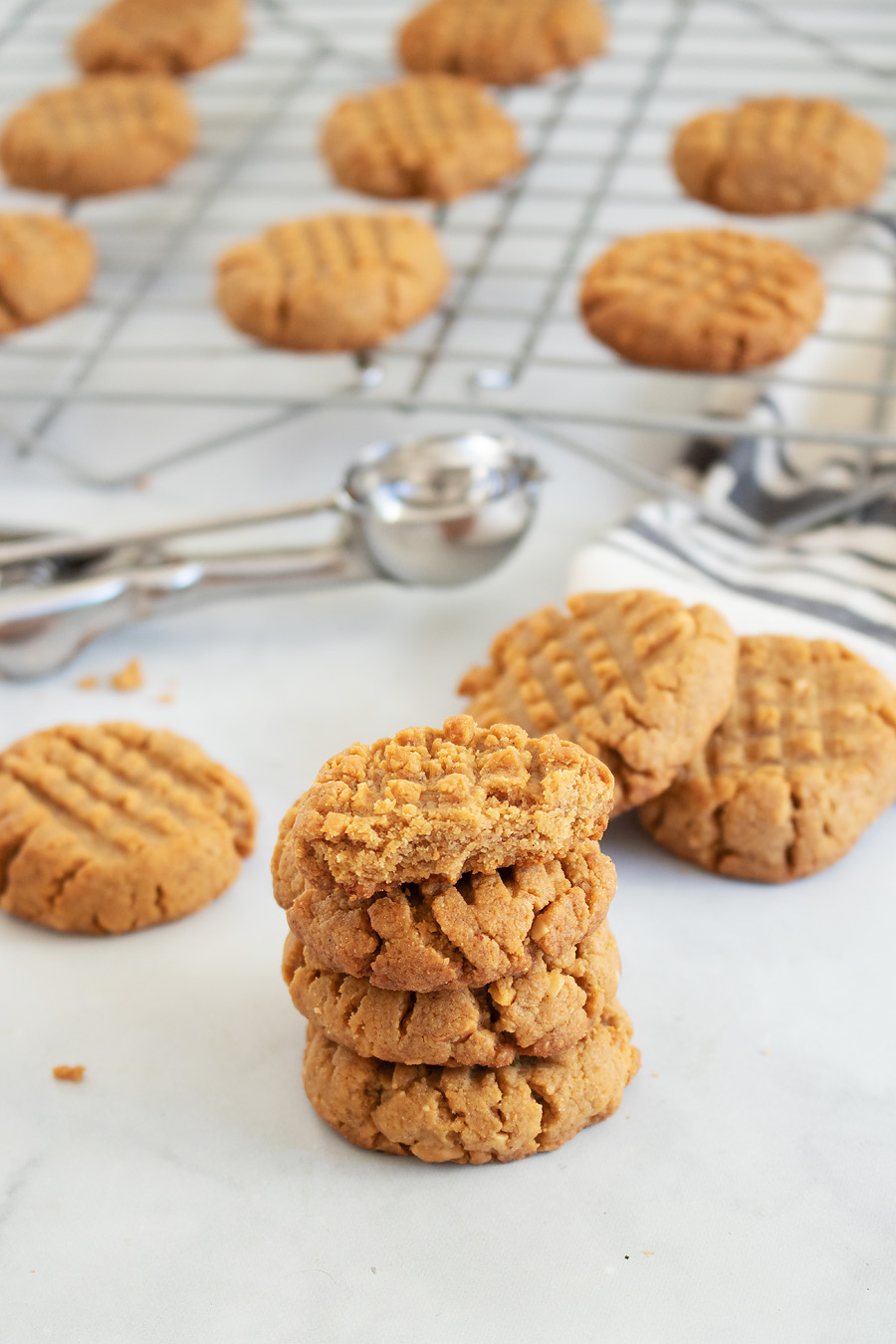 Keto Peanut Butter Cookies Cooking Tips
When buying peanut butter, look for natural peanut butter brands and make sure to buy creamy peanut butter as opposed to chunky. And if you're sensitive to peanuts or don't like the taste go for almond butter instead.
As an alternative to monk fruit, you can also try stevia, or if you're okay with sugar alcohols, you can check out erythritol, or swerve. Any low-carb sweetener will do the trick.
Print
Keto Peanut Butter Cookies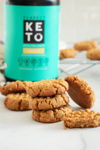 This keto peanut butter cookies recipe is gluten-free, and contains no added sugars or artificial ingredients. The recipe calls for monk fruit and natural PB.
Author:
Total Time:

15 minutes

Yield:

12

cookies

1

x
Instructions
Preheat oven to 350F degrees and line a cookie sheet with parchment paper.  Set aside.

Combine all ingredients in a bowl until well incorporated.

Roll cookie dough into small balls and place them at least 1" apart on the cookie sheet.  Using a fork, press the cookie in a classic peanut butter cookie criss-cross design. Dough will be sticky, you can use a little coconut oil or avocado oil on your hands to roll dough easily.

Bake for 10 minutes until the edges have just turned golden brown.  Let cool for 5 minutes then transfer to a wire rack.
Nutrition
Serving Size:

1 cookie

Calories:

129

Fat:

9g

Carbohydrates:

3g (Net: 1g)

Fiber:

2g

Protein:

7g