You likely already know cutting the carbs is important on a keto diet, but protein intake matters, too! One of the biggest mistakes people run into when going and staying keto is eating too much protein. So, you might be left with the question: How much protein can you eat on a ketogenic diet? Let's cover how you can avoid the mistake of consuming too much protein and exactly how much of it you can eat on a ketogenic diet.
Eating Protein on the Ketogenic Diet
A great appeal of the ketogenic diet is getting to eat plenty of foods that are filling and satisfying. Those foods include rich, fatty animal proteins. But how much of these proteins is the right amount?
To answer that question, you need to understand how proteins work within the ketogenic diet and why it's important to monitor your amounts for the best results.
The Role of Protein in Ketosis
Protein is an important building block of life; we need them to provide our bodies with all of the essential amino acids. Proteins are important for many different actions in the body, including regulation and function of the organs and tissues. Obviously, it's important to make sure you're getting enough of these complex molecules.
The problem is that when you're eating a ketogenic diet, it can be pretty easy to eat a lot of foods high in protein. You're almost eliminating an entire macronutrient group from your diet (carbohydrates), so those new to keto might simply replace the carbs with more protein-rich foods. This is where you have to be careful, because more protein is not always better—in fact, it can keep you out of ketosis.
A common misconception is that the ketogenic diet is a high protein diet—it's not. It's a high-fat, moderate-protein, and low-carb diet.
Why Eating Too Much Protein is Bad
Ketosis starves the body of its carbohydrate stores so it can begin breaking down fat and utilizing ketones for fuel. But in the absence of carbs, there's another method by which the body can get energy: by breaking down proteins.
If you eat more protein than is needed by the body, it can convert amino acids into glucose to be used for energy. This is known as gluconeogenesis, which spikes your insulin and reduces the levels of ketones in your blood.
This means that even if you're still eating extremely low carb, your body could be switching out of ketosis back to using glucose—back and forth. And that means a high chance of experiencing the keto flu, or the common side effects of switching between these two energy systems.
Gluconeogenesis also means the body is breaking down lean protein for energy, which isn't good.
You can even read about Dr. Anthony's ketosis mistakes that include eating too much protein, and how he remedied this with the information presented here.
In order to make sure this isn't happening to you, it's important to pay attention to the amount of protein you're eating on the ketogenic diet.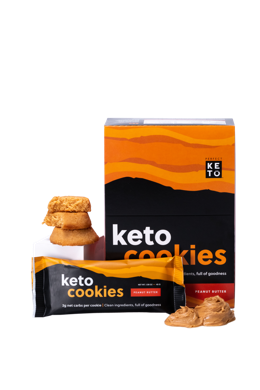 NEW FLAVOR Keto Cookies
Creamy & Delicious Peanut Butter! Only 4g net carbs per serving. 100% real food ingredients.
Shop Now
Monitoring Your Protein Intake
Now that you understand the reasons too much protein isn't good on the ketogenic diet, you might be wondering how to tell the amount of protein you CAN eat while still staying in ketosis. Figuring this out all comes down to being diligent about calculating and monitoring.
Calculate Your Protein Needs
You likely need much less protein than you think. The only way to tell exactly how much that is for you is by tracking it! If you're new to tracking, here's an easy breakdown of how to do it now:
Use an app or website for calculating macros based on your current weight, height, physical activity, and calorie needs. Input the ketogenic diet percentages: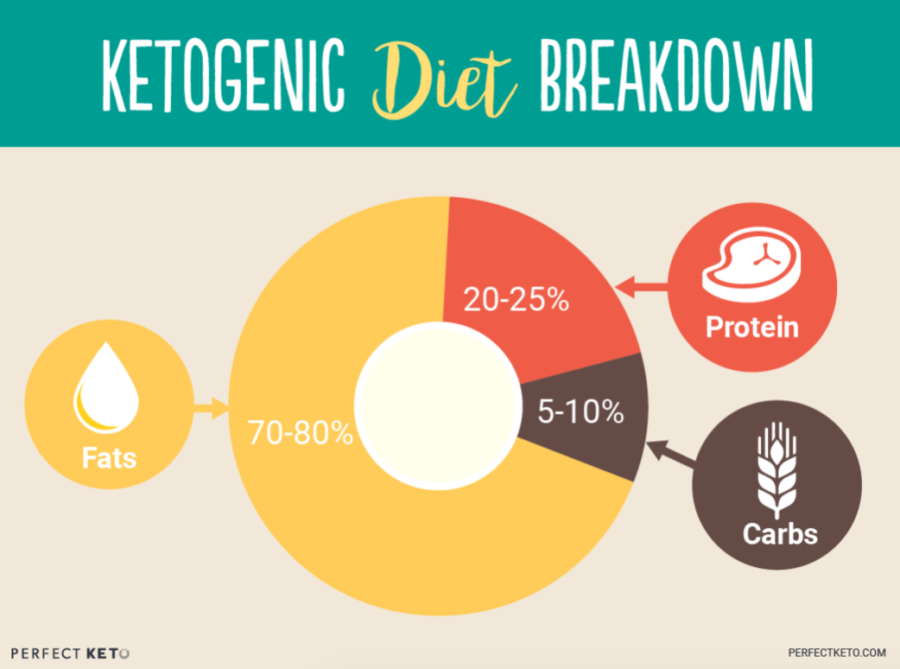 Whatever your grams come out to for protein is the amount you can start with. Note that this might take some tweaking at first to find out the amount that's right for your body. Some people can get away with eating more protein, but others might need to keep it at 15% or less to prevent gluconeogenesis and stay in ketosis.
In terms of grams, this will usually fall around 0.7 to 0.9 grams of protein per pound of lean bodyweight (or 1.5 to 2.0 grams of protein per kilogram of lean bodyweight).
And again, remember to keep your fat intake high!
Monitor Your Ketone Levels
Besides tracking your protein macros, the other crucial way to ensure you're not going over is by tracking your ketone levels. This is important anyway when following a ketogenic diet.
Track OFTEN to make sure your body is staying ketosis. (This guide will help you determine the best testing method for you.) It's not enough to listen to how you feel; you might think you're in ketosis when you aren't.
Don't keep yourself in the dark trying to hit the same target. Pay attention to your ketone levels by testing yourself.
Best Sources of Keto Protein
As we've established, protein is important, but too much is not good either—so make sure the proteins you ARE eating are high quality. Examples could include:
Fatty cuts of meat (ideally grass-fed and organic) such as beef, bison, and lamb: these have a more favorable fat profile and higher amounts of micronutrients for your health.
Fatty wild fish like tuna, salmon, and sardines
Organ meats: this includes heart and liver meats are some of the most nutrient-dense options you could choose.
Make sure your protein sources and natural and whole foods, not processed meats that might contain added sugars and other carbs.
When it comes to protein, most people are eating too much of it on their keto diet. So, remember: keep fat intake HIGH, stay within a MODERATE range for protein (and use the methods mentioned above to find out exactly how much you need), and track both your protein levels and your ketone levels consistently to see real results!