With the holidays finally here, many of us are faced with the temptation of sweet treats everywhere we turn. For those of us in ketosis, these high-carb treats could do some major damage to our progress. With these Pumpkin Spice Fat Bombs, there's no stress in the over-indulging of sweets with each bomb being only eight grams of fat and less than one gram of net carbohydrates. Here at Perfect Keto we are huge fans of fat bombs, coming up with a number of different fat bomb recipes that anyone would love such as our Macadamia Nut Fat Bombs, Peaches and Cream Fat Bombs and Mocha Fat Bombs.
So what makes these Pumpkin Spice Fat Bombs the ultimate keto treat? The ingredients include:
The Benefits of Pecans
One of the main ingredients in these fat bombs are the nutrient-packed pecans. Pecans have been shown to help maintain a healthy weight. The healthy fats in pecans are directly correlated with grehlin (a hormone responsible for weight loss).
Pecans are also an abundant source of manganese. Manganese is important for many reasons, but plays a strong role in reducing weight in obese individuals. Manganese also plays a key role in the speed and quick reaction in synaptic activity in the brain — which means being deficient in manganese can lead to mood problems, trouble focusing, learning disabilities, mental illness and even possibly epilepsy. [*]
Along with manganese, pecans are an extremely high source of antioxidants. One study showed that eating pecans increased the amount of antioxidants found in the blood stream a day after they were consumed. [*]
The Ultimate Sweet Tooth Satisfier
Yielding 24 fat bombs in total, this recipe is the ultimate sweet tooth satisfier. Make these fat bombs during your weekly meal prep to ensure you stay on track with your health goals and most importantly — stay in ketosis.
Print
Pumpkin Spice Fat Bombs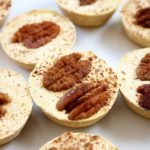 High-carb treats can damage our keto progress during the holidays, but you don't have to stress in the over-indulging of these pumpkin spice fat bombs.
Author:
Prep Time:

10 minutes

Total Time:

4 hours 10 minutes

Yield:

24

1

x
Category:

Dessert

Cuisine:

American
Instructions
In a small pan over medium heat, spray avocado oil cooking spray and toast pecans until fragrant. Remove from heat and set aside to cool. (For nut-free fat bombs, skip this step.)
In a medium-sized pot over medium-low heat, heat coconut oil until melted and cream cheese until softened. Pour coconut oil and cream cheese mixture into mixing bowl.
To mixing bowl, add pumpkin puree, golden monk fruit sweetener, and pumpkin pie spice. Using an electric mixer, mix mixture until smooth and incorporated.
Spoon mixture into silicone mold cavities, top with 1-2 toasted pecan(s), and sprinkle with cinnamon.
Place silicone mold in freezer and freeze until solid, about 4 hours, before popping fat bomb out from silicone mold cavities.
This recipe is published to my site, www.realbalanced.com, and is licensed to be shared with Perfect Keto.
Full recipe here: https://www.realbalanced.com/recipes/pumpkin-spice-fat-bombs
Nutrition
Calories:

78

Fat:

8.2g

Carbohydrates:

3.1g (0.7g net)

Protein:

0.7g
Keywords: pumpkin spice fat bombs