Chia seed pudding may be one of the greatest inventions to bless keto-dieters recipe collections. It's versatile in flavor, can be made as a dessert, snack, or breakfast recipe, and it's loaded with nutrients.
And this raspberry chia pudding recipe has the added flavor boost of both raspberries and chocolate-covered almonds. Not to mention it's dairy-free and gluten-free.
And if you're more of a blueberry fan, you can switch out the berries — no problem.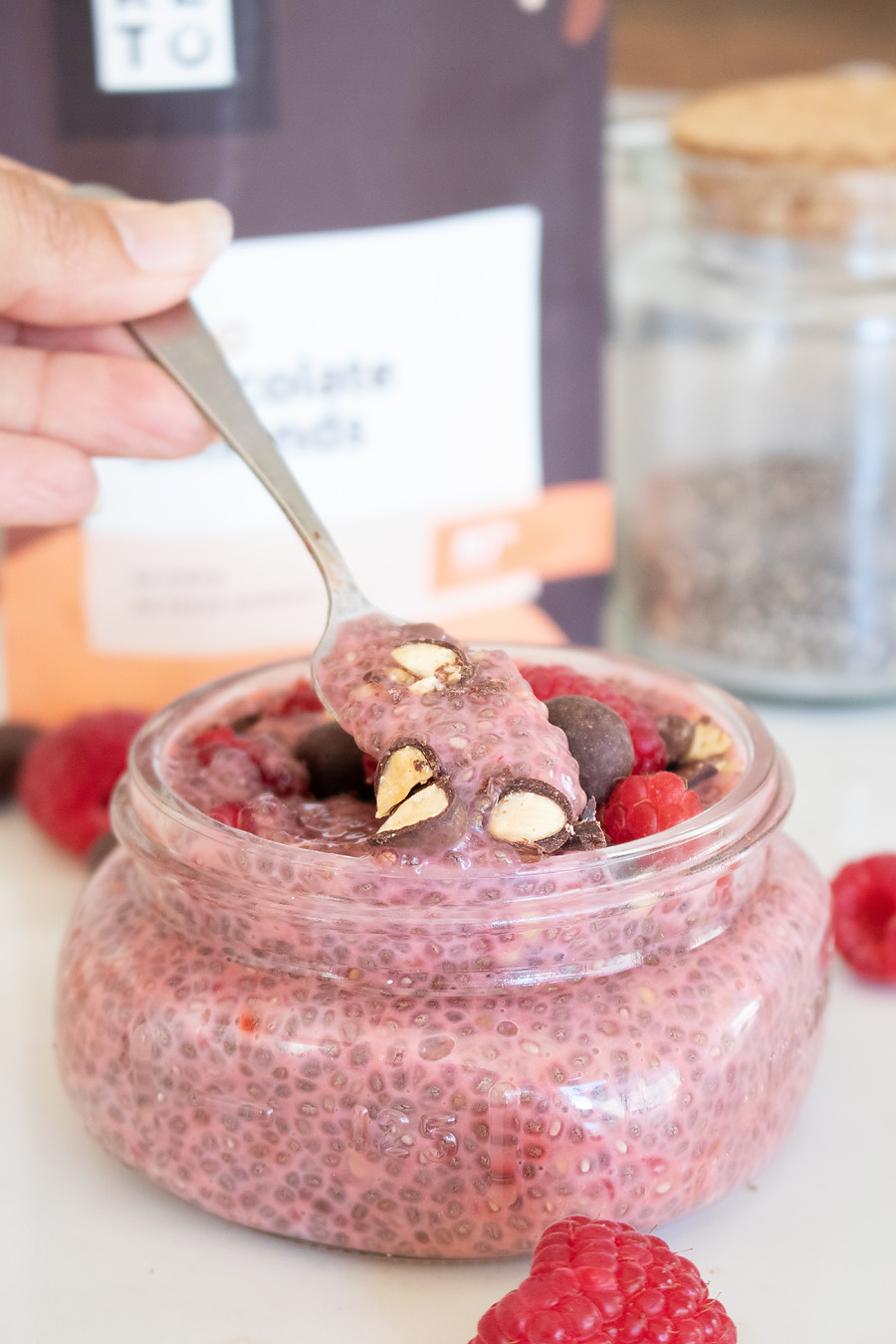 When preparing this recipe, just make sure you allow enough time for the chia seeds to thicken. Leaving them in the refrigerator overnight works great.
This chia pudding recipe is:
Sweet
Rich
Satisfying
Flavorful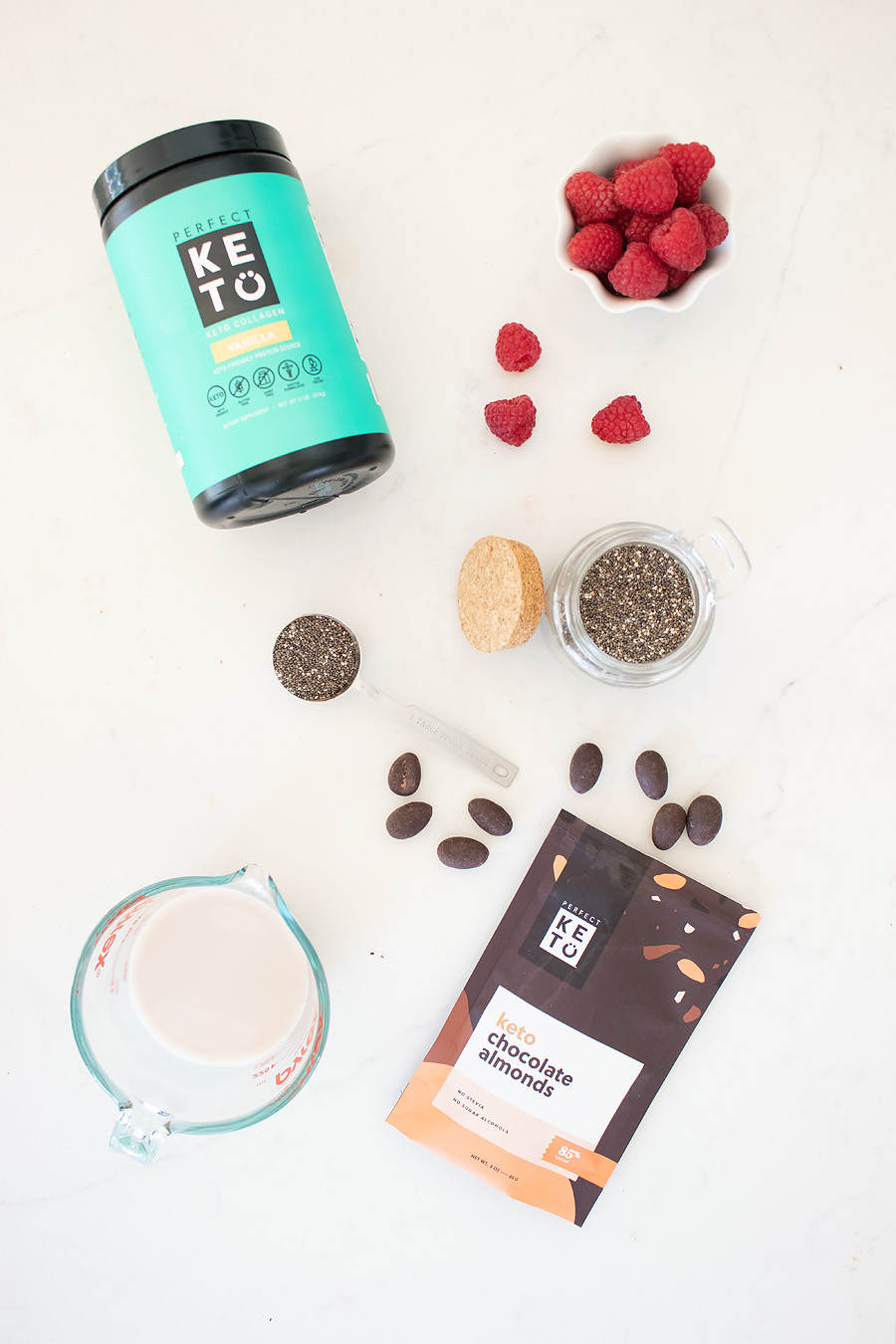 The main ingredients are:
Optional additional ingredients:

3 Health Benefits of This Raspberry Chia Pudding
#1: Rich In Vitamin E
Almonds are one of the best sources of vitamin E, with just one ounce providing nearly 50% of your daily needs. Vitamin E is a fat-soluble vitamin and acts as a powerful antioxidant in your body[*].
Due to its affinity for fat, it has a particularly effective role in protecting the membrane of your cells (which is made up of a layer of fat).
Some health benefits associated with vitamin E are its protective effects on your heart, brain, and eyes. It also has antioxidant and anti-cancer properties[*].
Research even shows that vitamin E may have a protective effect on the brain cells of people with Alzheimer's disease, potentially slowing the progression[*].
#2: Supports Joint Health
The one downside of being an active person is the wear and tear it can have on your body. Your joints, in particular, are susceptible to injury due to overuse, or misuse during activity.
Supporting the health of your joints is one way to get ahead of injury, and diet may be one of the best ways to support your joints.
Collagen, which makes up a part of your extracellular matrix, is an excellent joint-health food.  Research shows that athletes taking a collagen supplement experienced reduced inflammation and joint pain.
Part of collagen's joint-healing capabilities may come from its ability to enhance the growth of cartilage, the type of connective tissue that cushions your joints[*].
#3: Anti-Inflammatory
Inflammation in your body is intrinsically tied to the health of your antioxidant defenses[*].
Berries are well-known to be a rich source of antioxidants. Each berry, however, has its own special phytonutrients which give it unique health-enhancing qualities.
For raspberries, the beautiful red color signifies the presence of anthocyanins and ellagitannins. These two polyphenols provide both antioxidant and anti-inflammatory properties.
Due to these two phytonutrients, animal and in vitro research suggests that raspberries may be beneficial in a wide range of inflammatory conditions. A few examples include; calming inflammatory bowel disease, preventing heart disease, and reducing the risk for diabetes[*].
Raspberry Chia Pudding
If you're over the standard greek yogurt and smoothie breakfast options, this chia seed pudding makes an excellent replacement.
It's rich in omega-3 fatty acids from the chia seeds and loaded with antioxidants from nuts and berries.
If you make it the night before it provides a fantastic on-the-go breakfast for the next day– no hassle.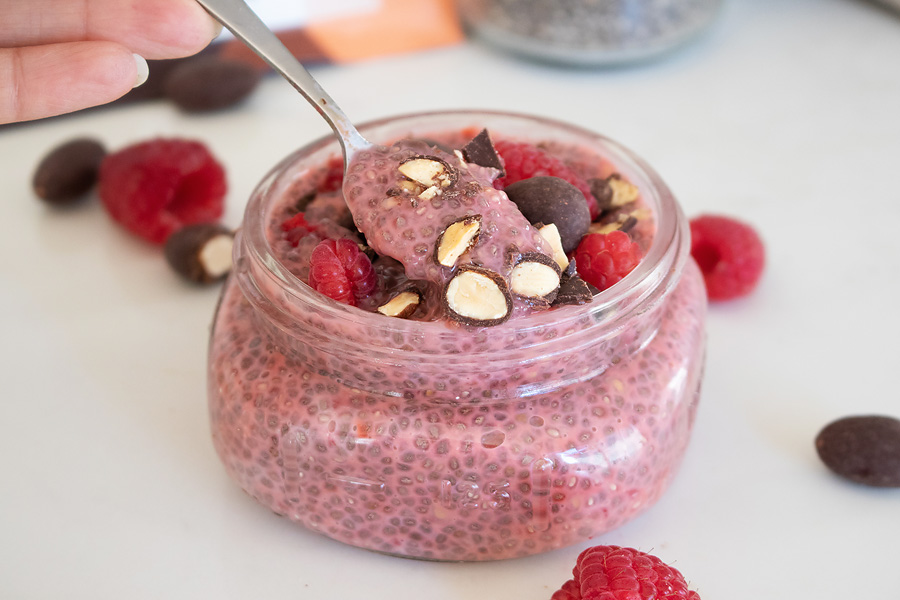 Print
Raspberry Chia Pudding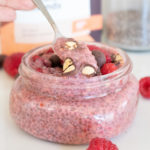 This raspberry chia pudding is gluten-free, dairy-free, and keto-friendly. It's a simple, delicious,  breakfast recipe that's rich in omega-3 fatty acids.
Author:
Total Time:

5 minutes + overnight

Yield:

¾ cup

1

x
Instructions
Add milk, raspberries, and collagen to a high-speed blender or food processor.  Mix on high until smooth. 

Pour contents into a small glass jar and add chia seeds.  Stir well to combine. Cover jar with lid and place in the fridge for 2-3 hours or preferably overnight.

Remove lid, stir, and top with Perfect Keto chocolate covered almonds.
Nutrition
Serving Size:

¾ cup

Calories:

288

Fat:

18g

Carbohydrates:

19g (5g net)

Fiber:

14g

Protein:

17g
Keywords: raspberry chia pudding