Let's be real — this chocolate smoothie is more like an ice cream milkshake. 
The catch, however, is that unlike a milkshake, this triple chocolate smoothie is loaded with health-boosting ingredients.
It's particularly helpful for those busy mornings when you have to get out the door, but know you would benefit from some breakfast. 
The best part? 
There's no artificial sweeteners or weird preservatives hiding in there. Instead, this gluten-free, dairy-free, breakfast recipe is as clean and delicious as they come. 
This breakfast smoothie recipe is:
Sweet

Satisfying

Flavorful

Delicious
The main ingredients are:
Optional additional ingredients:
3 Health Benefits of This Triple Chocolate Breakfast Smoothie
#1: Boosts Brain Health
Morning meetings are the worst. Having to turn your brain on and be attentive right after you wake up can be a lot to ask. The solution?
A brain-boosting smoothie like this one.
This easy breakfast not only provides nutrition on-the-go, but it'll get your brain up and running for whatever challenges your morning presents.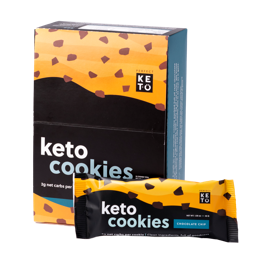 NEW guilt-free Keto Cookies
4g net carbs per serving. 100% real food ingredients. Tastes... like a cookie!
Shop Now
And how does it work this magic, you may ask? Through brain-supportive nutrients like MCTs and ginkgo.
MCTs (medium-chain fatty acids) provide a quick source of fuel for your brain and body. Unlike other types of fat that need to travel through your lymphatic system, MCTs go directly to your liver to be broken down for energy[*].
Ginkgo, an herbal medicine used for thousands of years in Eastern cultures, is known for its cognitive-enhancing effects. Specifically, ginkgo may help improve memory, as shown in a study of cognitively intact older adults[*].
#2: Supports Weight Loss
When you're trying to shed a few pounds merely cutting back on your food intake doesn't always do the trick.
The problem is — you get hungry. 
Adding in fiber-rich foods like chia seeds can help slow your digestion, and due to their ability to hold water, they can increase feelings of fullness. 
In one study, 24 participants ate yogurt for breakfast with either no chia seeds, 7 grams of chia seeds, or 14 grams of chia seeds.
Both the 7-gram and 14-gram chia seed groups reported enhanced satiety, decreased sugar cravings, and reduced consumption of food at their next meal[*].
#3: Improves Mood 
Do you ever wonder why chocolate always sounds so good when you're in a bad mood? Aside from its delicious ability to take your mind off your troubles, compounds in chocolate may have the ability to lift your mental state.
In a double-blind study, researchers gave participants a dark chocolate drink mix for 30 days and measured their cognition and mood. After the 30 days, the participants drinking the high dose chocolate mix reported increased calmness and contentedness as compared to the placebo.
This study provided a baseline to explore the potential use of chocolate compounds for the treatment of clinical anxiety and or depression[*].
Triple Chocolate Breakfast Smoothie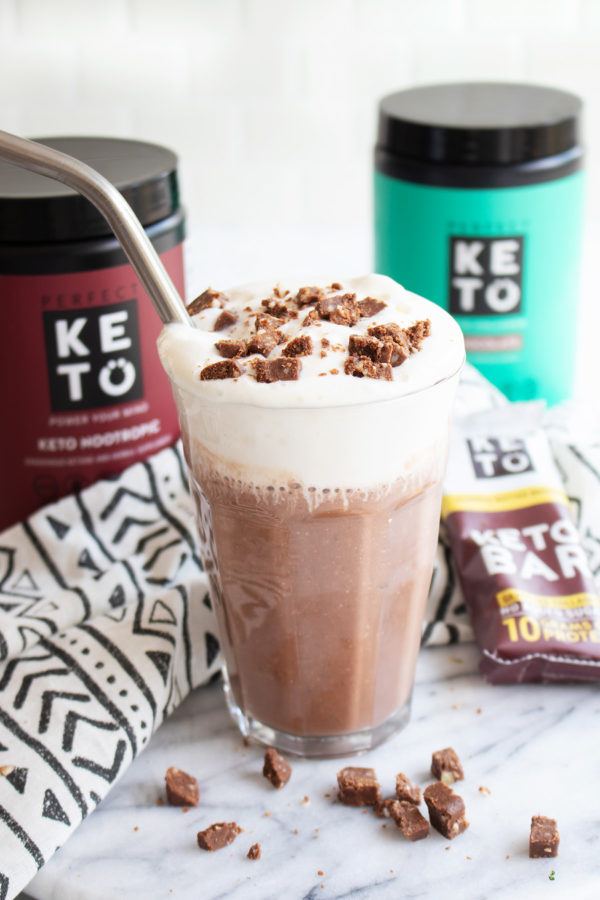 It's a common conundrum, you want something chocolatey, but you only have time for a no-bake, easy recipe. 
With a prep time of only five minutes, you can throw this recipe together and have your brain-boosting protein shake in no time.
Want some extra protein? Add a scoop of Perfect Keto Whey Protein, which offers an array of muscle-building amino acids that complement the amino acids in collagen. 
And if you want to add a bit more fat and protein, you can throw in a tablespoon of almond butter. 
For a thicker smoothie or smoothie bowl, simply add a little less milk. That said, you can even change up the types of milk you use — just make sure they're low in carbs and sugar-free. Unsweetened vanilla almond milk works great.
Print
Triple Chocolate Breakfast Smoothie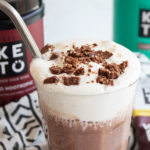 Looking for a protein shake? This low-carb triple chocolate breakfast smoothie does the trick. It's dairy-free, gluten-free, and free of artificial sweeteners. 
Author:
Total Time:

5 minutes

Yield:

1

smoothie

1

x
Instructions
Add all ingredients (except Perfect Keto bar chunks) to a high-speed blender.  Mix on high until smooth. Add ice cubes if desired and blend.

Top with whipped cream if desired and Perfect Keto bar pieces.
Nutrition
Serving Size:

1 smoothie

Calories:

242

Fat:

12g

Carbohydrates:

11g (4g net)

Fiber:

7g

Protein:

19g
Keywords: triple chocolate breakfast smoothie