You can have your cake and eat it too with this keto-friendly vanilla keto pound cake. Sure to satiate your sweet tooth, this moist and delicious cake tastes decadent but will keep you on track with your keto diet.
With its rich vanilla flavor and only 3 grams of net carbs per slice, you can rest assured that you will remain in ketosis with this sweet treat.

Keto Pound Cake Recipe Ingredients
There are quite a few ingredients in this keto pound cake, but it only takes 10 minutes of prep time. Here are the main ingredients you'll want to stock up on:
Sometimes baking can be difficult on a ketogenic diet. Most traditional recipes for cakes and baked goods are made with plain white flour. This type of flour not only contains wheat (not good if you're going gluten-free), but it also has too many carbs that will kick you out of ketosis.
Fortunately, there are a couple of alternative flour options that are perfectly keto-friendly, and actually good for you: almond flour and coconut flour. This recipe combines these two low-carb options, which gives this keto pound cake a rich, cake-like texture.
Why Use Almond Flour?
Almond flour is gluten-free, grain-free, and low-carb with only 3 grams of net carbs per serving. Plus, it's a nutritional powerhouse with numerous health benefits. All of these factors make it a great option for this keto pound cake (or any keto cake, for that matter).
How to Make Almond Flour at Home
Almond flour is inexpensive and convenient. You can easily make it at home using whole almonds ground in a food processor or blender.
To do this, put no more than 8 ounces of blanched, sliced almonds in a food processor. Pulse or blend until they are finely ground up.
If you use too many almonds at once, it won't get evenly ground. There will be large pieces of almonds left untouched.
You also want to make sure not to overprocess the almonds. If you pulse or blend it for too long, the almonds could release their oils and begin to make almond butter.
Nutrition Benefits
There are lots of nutritional benefits to almond flour. Because it's made from almonds, this flour can improve heart health, control blood sugar, and is rich in vitamins and minerals.
In one cup of almond flour there are[*]:
600 calories
24 grams of protein
44 grams of fat
12 grams of fiber
12 grams of net carbs
Almond flour is a significant source of vitamin E, which is a compound that acts as a powerful antioxidant in your body. This has been linked to a lower risk of heart disease and Alzheimer's[*][*].
Almond flour is also a good source of magnesium. Magnesium helps to regulate blood sugar and has been shown to improve insulin function[*].
Why Use Coconut Flour?
Coconut flour is also gluten-free, low in carbs, and extremely absorbent (so you need less in baked goods).
In 1/4 cup of coconut flour there is[*]:
120 calories
4 grams of protein
4 grams of fat
10 grams of fiber
6 grams of net carbs
Nutrition Benefits
Coconut flour is a good source of monounsaturated fats that can help to control blood sugar, and can also help with digestive health due to its rich fiber content[*].
It's low on the glycemic index (GI), which means it won't spike your blood sugar[*].
Coconut flour helps with digestive health because it has insoluble fiber, which adds bulk to stools and reduces the chances of constipation[*].
Coconut flour is also really good for heart health. This is because of its lauric acid content, which can help kill bacteria responsible for plaque buildup in the arteries[*].
Grass-Fed Collagen With MCT
Using Perfect Keto Vanilla Grass-Fed Collagen (with MCT) will not only add a rich vanilla flavor to this keto pound cake, but it will also provide a wide variety of nutritional and health benefits.
Collagen can help boost metabolism, help heal leaky gut, strengthen hair, nails, and teeth, reduce joint pain, protect the heart, and help keep your skin looking fresh and youthful. It is such an easy ingredient to add to baked goods and will make a big difference when it comes to taste.
Best Keto Sweetener to Use In Baking
As you bake this keto pound cake, you'll want to use a sugar-free sweetener. This recipe calls for either monk fruit or stevia powder.
Here are some of the sweeteners you can use in keto recipes:
Erythritol
Swerve
Monk fruit
Stevia powder
Make It a Keto Lemon Pound Cake
The best thing about this keto pound cake recipe is how versatile it is. You can easily customize it with keto-friendly ingredients and flavors.
Want a lemon pound cake? No problem.
Just add 1/4 cup of lemon juice with a teaspoon of lemon zest.
If you want, you can use 2 teaspoons of lemon extract instead of lemon juice. Either option works and gives this low-carb cake a little zing.
Low-Carb Pound Cake Frosting Ideas
This keto pound cake doesn't have a frosting or glaze, but that doesn't mean you have to go without.
You can make your own keto cream cheese frosting by mixing the following ingredients together:
4 ounces cream cheese
2 tablespoons of butter
1/2 cup powdered erythritol
1 teaspoon vanilla extract
1 tablespoon of heavy cream
Remember that adding frosting will affect how many carbs are in a slice of pound cake. Keep track of your carb intake so you don't go out of ketosis.
Don't feel like frosting? You can add some heavy whipping cream and a few berries (or no-sugar chocolate chips) on top.
It's Time to Make Keto Cupcakes
This recipe could easily be used for low-carb cupcakes. The ingredients and steps are the same — simply pour the batter into cupcake tins instead of a cake pan. Check to see if they are completely baked by sticking in a toothpick. If the toothpick comes out clean, they are fully baked.
This keto pound cake is so simple and easy to prepare with just 10 minutes of prep time. This cake is great served at room temperature, or cold right out of the fridge. Any way you slice it, this will become one of your favorite keto desserts for special occasions or any time you feel like a sweet keto-friendly treat.
Print
Ultra-Moist Vanilla Keto Pound Cake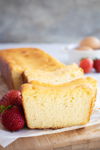 This moist and delicious keto pound cake is easy to prepare and will treat your taste buds to classic vanilla flavor.
Author:
Prep Time:

10 minutes

Cook Time:

50 minutes

Total Time:

1 hour

Yield:

12

slices

1

x
Category:

Dessert

Cuisine:

American
Instructions
Preheat oven to 350°F and coat an 8×4 loaf pan with nonstick spray, butter, or coconut oil. You can also add parchment paper to ensure the cake comes out properly.
Add all dry ingredients to a medium-sized bowl (almond flour, coconut flour, collagen, baking powder, sweetener, and salt). Whisk to combine.
In a large bowl or stand mixer, add eggs and vanilla. Beat on high for 1 minute until light and fluffy. Add in sour cream, melted butter, and milk. Beat on high for 30-45 seconds.
Slowly add dry ingredients to wet ingredients in 2 to 3 batches. Mix well until combined. Let sit for 2 minutes. Mix one more time at low speed.
Pour batter into prepared pan and bake for 50-60 minutes until tops and edges are golden brown and a toothpick comes out clean when poked through the center. Add additional baking time if needed.
Nutrition
Serving Size:

1 slice

Calories:

175

Fat:

15g

Carbohydrates:

5g

Fiber:

3g

Protein:

7g
Keywords: keto pound cake