You need the right tools and resources to make a ketogenic diet work for you. We are here to provide those and make your journey effortless.
At Perfect Keto, we publish articles, craft resources, create podcast episodes, publish recipes and formulate clean, keto-friendly products that help you enjoy and succeed at keto so you can reach your health goals and become your healthiest, happiest self.
If you want to lose fat, have more energy, get rid of brain fog, boost your mental performance, and increase your physical performance through a low carb ketogenic lifestyle, we are here to help.
Perfect Keto was founded by Dr. Anthony Gustin.
Dr. Anthony Gustin, DC, MS
Dr. Anthony Gustin, DC, MS, is an American board-certified sports chiropractor, functional medicine practitioner, entrepreneur, podcast host, food skeptic, and CEO of Perfect Keto.
He holds a Biology degree, a Bachelor of Science (B.S.) in Human Anatomy, a Masters of Science (M.S.) in Exercise and Sports Science and a Doctorate in Chiropractic (D.C.).
Dr. Gustin is also a Certified Strength and Conditioning Specialist (CSCS) and Certified Chiropractic Sports Physician (CCSP).
From 2012 to 2016, Dr. Gustin was the clinic director at SF Custom Chiropractic, a sports medicine chiropractic clinic based in San Francisco, which he grew to six locations before shifting my mission to help as many people as possible achieve optimal health and well-being through his health companies.
In 2015, Dr. Gustin funded the whole food supplement company Equip (formerly PureWOD). Equip was voted "Best Supplement Company" by Paleo Magazine in 2017.
In 2016, he co-founded Perfect Keto to help people own their health and succeed at the ketogenic diet and lifestyle.
Dr. Gustin believes the world is a better place when people have better physical health, and that you have better physical health when you eat real food.
Dr. Gustin also believes everyone can take control of their health. By making better food choices, you can dramatically improve how you feel, think and act.
The goal of Perfect Keto is to help people upgrade their nutrition and achieve optimal health through:
Education about proper nutrition and how to use a well-formulated ketogenic diet to reach your health goals
High-quality, clean, keto-friendly food products and supplements that make your keto diet easier on a daily basis
Dr. Anthony Gustin In The Media
Why Perfect Keto?
The ketogenic diet is an excellent tool for improving your health. Research finds a keto diet can be effective for:
Healthy fat loss
Increasing your energy
Boosting brain function
Improving physical performance
Reducing inflammation
Increasing longevity
Managing certain conditions, such as diabetes, insulin resistance and epilepsy
Improving your overall health
At Perfect Keto, we want to make your transition into the ketogenic diet easy and effective as well as support your ongoing keto journey with the best resources and food products to meet you where you're at.
That's why we strive to publish the most helpful and accurate information about the ketogenic diet and formulate the best keto products on the market.
Our excellence bar is incredibly high and we stick to it in our three main areas of contribution:
Health & Nutrition Education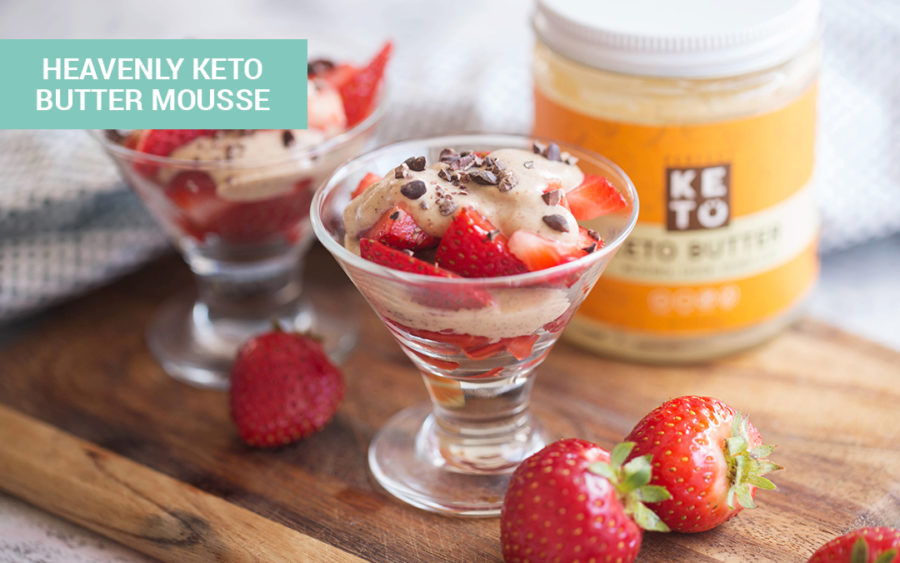 There is a lot of misinformation about diet and exercise.
Anyone can seem like an expert on the Internet, writing numerous blog posts based on faulty research and misinforming a large number of people.
We want to reverse that trend.
Because we have strict editorial and sourcing guidelines, the articles in Perfect Keto are fact-checked to ensure all claims made by our writers team are as accurate and truthful as possible.
Our claims and recommendations are based exclusively on reputable sources such as academic research institutions and peer-reviewed studies.
However, it should be noted that the content on Perfect Keto is not intended to substitute medical advice, diagnosis, and/or medical treatment from a qualified physician or healthcare provider. All the information, content, and material of this website is for informational purposes only.
Healthy Keto-Friendly Supplements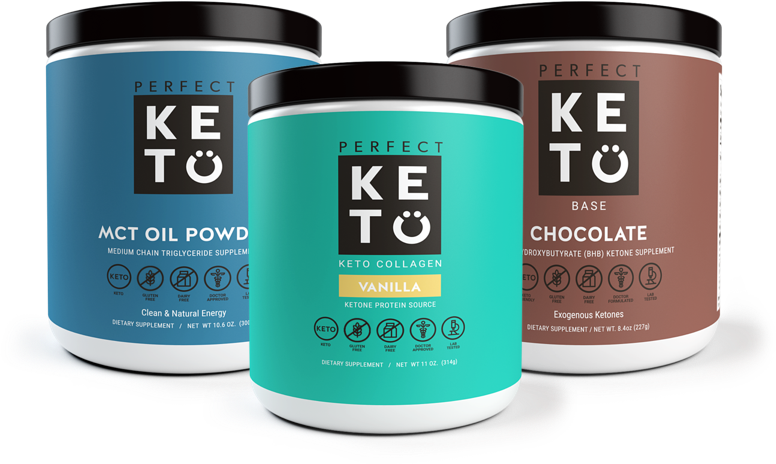 Most supplements aren't keto-friendly because they contain carbs and unhealthy ingredients that will raise your blood sugar.
Even those labeled as "keto" or "low carb" may not be. A lot of keto products you find online or at stores are made with additives and fillers that harm your health
Companies use these fillers to make your doses seem larger, but these ingredients don't provide any nutritional value, can harm your body, and can kick you out of ketosis.
Perfect Keto products contain none of that junk. Check our labels. You'll find zero carbs, binders, or fillers. Just real ingredients to fuel your body.
Our high excellence bar means we only formulate supplements that:
Are made with high-quality, real, healthy ingredients
Don't raise your blood sugar to dangerous levels
Help you reach your health goals
Taste amazing
Healthy Keto-Friendly Food Products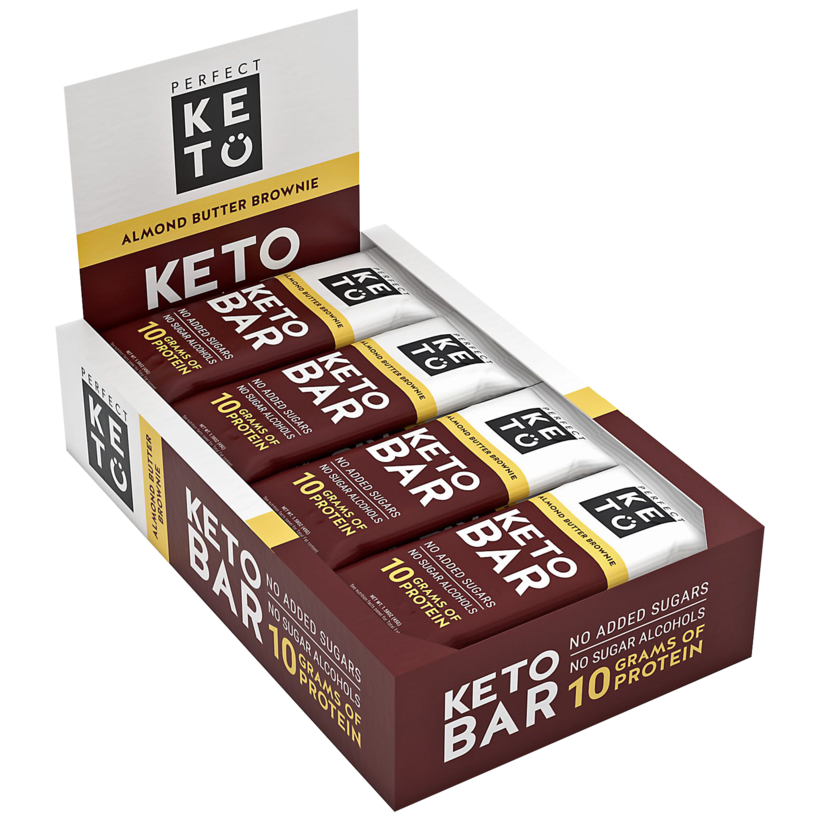 Our food products aim to give you the cleanest, tastiest, keto-friendly snacks and drinks on the market.
As with supplements, "low carb" packaged foods can contain hidden carbs and additives that raise your blood sugar, harm your health, and kick you out of ketosis.
We do things differently.
Each of our food products is carefully formulated with real ingredients and zero junk or fillers so you can get the highest quality and best tasting food.
Perfect Keto In The Media
What The Community Is Saying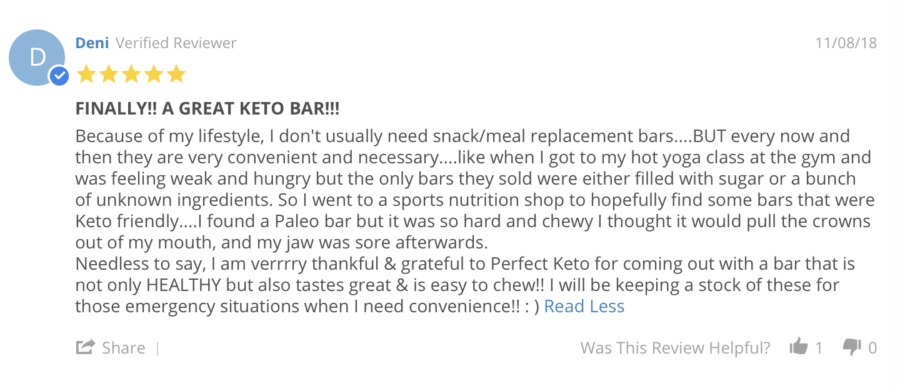 Have More Questions?
Found an error? Let us know!
If you've found any inaccurate claims, typos, or anything else you think needs fixing, tell us at [email protected]
Do you need medical advice?
The content on Perfect Keto's website is not medical advice and it's intended for informational and educational purposes only. It doesn't replace medical diagnosis from a qualified health professional. If you suspect you need medical help, contact a trusted healthcare provider.
Would you like to share your keto story with us?
If you've tried the ketogenic diet and want to share your success story with us, we'd love to read it and possibly feature it on our website! Just send us a line at [email protected]
Want to subscribe to our newsletter?
If you'd like to receive a weekly digest with the best advice and articles to succeed at your keto diet and lifestyle, join our newsletter here.
Want to find a keto community?
Feeling you're in this keto journey alone? You're not. Join the Perfect Keto Community Facebook group to meet other passionate keto-ers.
Want to join the Perfect Keto Team?
We're hiring. If you want to help people take control of their health through a ketogenic diet and our values resonate with you, check our job openings.