on March 21, 2018
Seriously craving some bread? You're not alone.
When you transitioned to a ketogenic diet, you had to lower your carbohydrate intake. You probably waved a solemn, heartfelt goodbye to your favorite carb-laden foods — bread included — never to be seen again.
Until now.
While low carb bread might sound like an oxymoron, that's exactly what this recipe is for. Fluffy and delicious, this Cloud Bread (sometimes referred to as Oopsie Bread) contains only .4 grams of carbs, making it the perfect substitute for your favorite burger or sandwich.
Not only is cloud bread keto-friendly, but it's loaded with fats and protein — where the bulk of your calories should come from. With only four ingredients and a cook time of just half an hour, this is a great recipe for anyone on a low carb diet. Plus, it has quite a few health benefits (which you'll see later). Best yet, it helps fight those carb cravings, allowing you to enjoy a beloved food while staying in ketosis.
Keep scrolling past the recipe to learn more about low carb cloud bread!
Print
Keto Cloud Bread ("Oopsie Bread")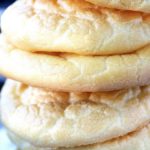 This low carb cloud bread (also called "oopsie bread") has only four ingredients, is keto-friendly and only has less than half a gram of net carbs in it.
Author:
Prep Time:

10 minutes

Cook Time:

30 minutes

Total Time:

40 minutes

Yield:

10 pieces

Category:

Breakfast

Cuisine:

American
Ingredients
3 eggs, room temperature
3 tbsp cream cheese, softened
1/4 tsp cream of tartar
1/4 tsp salt
Instructions
Preheat oven to 300 degrees and line two baking sheets with parchment paper.

Carefully separate egg whites from yolks. Place whites in one bowl and yolks in another.

In the bowl of egg yolks, add cream cheese and mix together with a hand mixer until well-combined.

In the bowl of egg whites, add cream of tartar and salt. Using a hand mixer, mix together at high speed until stiff peaks form.

Pouring slowly, add yolk mixture to egg whites and carefully fold in until there are no white streaks.

Spoon mixture onto prepared baking sheet about ½ to ¾ inches tall and about 5 inches apart.

Bake in oven on middle rack for 30 minutes, until tops are lightly golden.

Allow to cool (they will likely be too crumbly directly out of the oven) and enjoy!
Nutrition
Serving Size:

1 piece

Calories:

35

Fat:

2.8g

Carbohydrates:

0.4g

Protein:

2.2g
Keywords: low carb cloud bread
The Benefits of Cloud Bread:
It contains less than a gram of net carbohydrates

It's loaded with saturated fats

It doesn't need a sweetener

It's a great substitute ingredient for foods you would otherwise have to skip
Oh, and it's incredibly easy to make. You'll just need three large eggs, softened cream cheese softened at room temperature, cream of tartar, salt, parchment paper and a baking sheet. Cloud bread takes just 10 minutes prep time and 30 minutes in the oven, for a total time of 40 minutes.
Cloud Bread Contains Less Than a Gram of Net Carbs
Not only is this bread light, airy and perfectly delicious, but it has less than a half a gram of net carbohydrates. To stay in ketosis, most individuals average 20-50 grams of net carbs per day. With a single slice of white bread weighing in at 20 grams of carbs, this usually means saying, "so long," to your favorite hoagie.
Consisting only of eggs, cream cheese, cream of tartar and a dash of salt, over half the calories in each slice come from fat. Protein makes up around 40% of total calories, and carbs less than 10%.
While you will need to test your ketone levels to know your personal, magic formula for getting into ketosis, a good rule of thumb is 60% fat and 35% protein, with total carbohydrates somewhere around 5%.
If you check the nutrition facts below, cloud bread is made up of 52% total fat, 41% protein, and 7% carbs in each serving size. Not a bad match.
Cloud Bread is Loaded with Saturated Fats
The cloud bread secret is separating the egg yolks from the egg whites. When you whip the egg whites at high speed, a stiff peak forms — giving it its cloud-light texture when baked.
Not that anyone could complain about warm bread baked 'til golden brown, but that's not why you'll love this recipe. Combining cream cheese with the yolk mixture is what gives cloud bread such a healthy dose of saturated fats.
Saturated fats — once looked down upon by scientists and nutritionists — are now recommended to help reverse and prevent various chronic diseases. Saturated fats have been shown to improve cholesterol[*], maintain bone density, boost immune system health and support stimulation of hormones, cortisol and testosterone.
That's why Perfect Keto founder Dr. Anthony Gustin (@dranthonygustin) recommends saturated fats from high-quality sources in a keto diet. He eats them daily in the form of grass fed beef and eggs. Follow him for more keto meals:
While saturated fats were previously linked to higher cholesterol levels and risk of heart disease, recent research reveals that these studies were deeply flawed[*]. In fact, after the infamous Seven Countries Study of the 1970's — inadvertently leading to the American Heart Association's vilification of saturated fats — American consumption of all types of fat dropped 25% . Meanwhile, obesity in America doubled in the same time period.
Something didn't add up.
Today, saturated fats are linked to wide array of health benefits, beyond its connection with weight loss[*]. One type of saturated fat in particular, medium-chain triglycerides (MCTs),  are digested and sent directly to the liver where they have a thermogenic effect and are used immediately for energy. Top sources of saturated fats include butter, red meat, coconut oil, eggs, palm oil and cocoa butter.
Cloud Bread Doesn't Need a Sweetener
One common misconception on cloud bread is the need to sweeten it with a sugar substitute, such as stevia or honey. Some discredit cloud bread for this very reason, stating, "sugar is sugar," and people would be better off eating the real thing (i.e. bread).
Actually, it's cream cheese, not sweetener, that gives cloud bread the vast majority of its flavor. You'll notice, in the recipe below, that there's no sweetener in sight. Other recipe variations might call for sour cream, greek yogurt or cottage cheese in lieu of cream cheese, or baking powder instead of cream of tartar. However you choose to prepare it, the additional sweetener is completely optional, and never necessary.
If you do choose to add a sweetener — you might see cloud bread used as a low carb "dessert," like shortbread — be sure to use a keto-friendly sweetener. Ideally, choose a sweetener that doesn't spike your blood sugar or insulin levels, such as stevia or monk fruit.
Speaking of controversial ingredients like sugar…
A Quick Reminder about Dairy
Yes, dairy is a sugar. Specifically, lactose is the sugar found in dairy products.
Lucky for you, both cream cheese and sour cream (if you use an alternate cloud bread recipe) are lower in lactose than other dairy products, such as milk. The low carb content of both ingredients make them keto-friendly dairy options.
While you're grocery shopping for your cloud bread ingredients, keep this in mind: Not all dairy is created equal. Select organic, grass fed (if possible), full-fat cream cheese to include in your recipe.
Although grass fed, organic dairy is listed at a higher price point than adjacent products on the grocery shelf, it's well worth it. These products have higher quantities of CLA and Omega 3 fatty acids, which help promote weight loss and increased muscle strength.
Cloud Bread is Great Substitute For Foods You Otherwise Might Skip
It is ok to miss pizza. And burgers. And sandwiches, too.
It is completely fine to crave the foods you once loved. The key is consistency — finding a keto-friendly, grain-free substitute for your favorite indulgences.
Cloud bread offers a low carb substitute for hamburger buns, tortillas, and your favorite slice of pepperoni pizza. There are limitless great ideas: Top with mayo and bacon for a keto BLT, scramble a few large eggs and chorizo for a breakfast burrito or top with tomato sauce and mozzarella for your dearly missed pizza. The low-glycemic nature of the recipe won't wreak havoc on your blood sugar.
Following the keto diet should be enjoyable. Yes, it helps with weight loss, mental clarity, reducing acne and a host of other benefits. However, the biggest benefit of the keto diet is it makes you feel good.
And feeling good shouldn't require restricting yourself from foods you enjoy.
It's certainly alright to enjoy a keto dessert once in awhile — even cheesecake or a cookie — but sometimes, the thing you miss most is bread.
Which you can now enjoy in less than forty minutes.