Kristin was eating all the wrong things before she adopted a keto diet. At age 28, she was struggling with her weight and feeling stuck.
She knew something had to change when she saw a photo of herself about nine months ago.
"I just said, NO. There has to be another way. I heard about keto and said, 'why not?' I've tried everything else.
"Keto is the first 'diet' that truly made sense to me." She started to learn about the effects of different foods on her health, her body, and her energy levels.
Learning what kinds of foods made her feel better wasn't the only perk of the ketogenic diet for Kristin.
I can fit into a size 2 now. But seriously I learned what foods upset my body, what gives me energy,  and that I don't need to eat three times a day.
In addition to keto, she practices intermittent fasting and adopted a more active lifestyle.
"I learned that IF is amazing for you. And that I can hike without feeling like I'm going to die."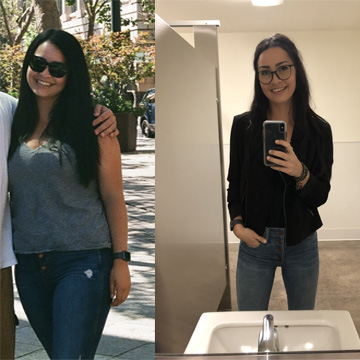 Kristin's Keto Success
Challenges can come with any big lifestyle change. And Kristin found that headaches were really holding her back when she was just starting out on keto. "But I found that I just needed more electrolytes!"
Along with extra electrolytes and cleaning up the quality of her food, Kristin uses MCT oil powder to support her healthy keto diet. "MCT oil powder is everything to me. I can't live without it in my coffee."
Another challenge was the impression that a keto diet can make on other people.
"Not everyone approves of keto and tries to tell you how bad it is… Haters gonna hate. I know I am eating better than I was. I feel good — and I look good."
Thank you, Kristin, for sharing your keto success story with the Perfect Keto team and our readers.
Have a story to share? Fill out this form and look out for your keto success story on our blog and social media.
Keto Success Stories are shared by our readers and customers in their own words. The keto diet and any nutrition advice found on this blog are not meant as a medical intervention, advice, or diagnosis. If you're interested in trying a new diet, supplement, or lifestyle change, please speak with your doctor or another qualified healthcare provider. As with any diet or lifestyle protocol, individual results may vary.