Keto soup for you! (Insert soup-nazi voice from Seinfeld). Thai seafood soup checks off just about every box you can think of when you're looking for a quality ketogenic meal that will knock your socks off even with your shoes on.
Under 10 carbs? Check
High-quality fats and protein? Check
Crazy good Thai flavor? Yup
Leftovers? You bet.
Easy to make? Adds a nice variety to our diet? Fills us up? Keeps us coming back for more? Check. Check. Check.
From a nutritional, quality keto standpoint, two things are really important here:
1 – Getting a great source of seafood
2 – Staying under 10 grams of carbs and under 30-40 grams of protein per meal.
Seafood is important because (if you source it correctly) it will be loaded with omega-3 fatty acids, which are well known to be anti-inflammatory. If you've ever heard of ketogenic biohacker gurus like Tim Ferriss and Dom D'Agostino carrying around canned oysters and sardines when they travel, this is the reason why. It's also a great change of pace for many of us who get stuck in the rut of our normal keto dinners and snacks. Branching out it the seafood world is not that scary, and it's a must if you want to maximize your ketogenic diet.
Our macro ratio is crucial. The classical ketogenic diet comprises of 70% fat, 25% protein, and 5% carbs per day. This will be the vehicle that will likely bring us to a metabolic state of ketosis. From personal experimentation, I've found my ketone levels are best when I stay under 10 grams of carbs and 40 grams of protein in any single meal.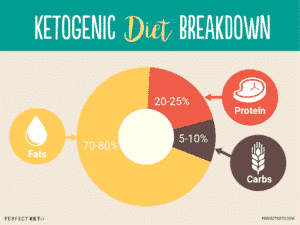 Notice the macro breakdown of this Tom Yum Kung: 8g Carbs, 28g Protein, 17g Fat. This all sounds great but we could add even more fat if we wanted to (as usual with the ketogenic diet).
PK Pro Tip: Use less fish for less protein or garnish with avocado to boost the fat and get even more mono-unsaturated fatty acids.
Print
Tom Yum Kung (Thai Seafood Soup)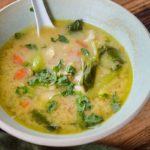 Author:
Prep Time:

20 minutes

Cook Time:

35 minutes

Total Time:

55 minutes

Yield:

8

1

x
Scale
Ingredients
1/4 cup

olive oil

4 cups

bone broth

1 cup

coconut milk

2

lbs white fish filet (no scales or bones)

2

bay leaves

1

large vidalia onion

4

garlic cloves

3

carrots

2 tsp

salt

4

baby bok choy

2

cans water chestnuts

3

lemons

1

bunch cilantro

2 tbsp

wasabi powder

2 tbsp

fish sauce (to taste)
Instructions
In a large stock pot heat 2 tbsp of fat on medium heat.

Small dice garlic, ginger, onions and carrots.

Once the pot is heated add the diced veggies to the pot with the bay leaf.

Cook stirring occasionally until tender, about 8 minutes.

In the meantime cut your fish into 1-inch pieces and cut, wash and pull apart your bok choy.

Peel a few strips of lemon rind off of your lemons, add them to the pot.

Add the fish into the pot and stir well, until all the fish is seared.

Add in the salt and the cashew cream, fish sauce and wasabi powder. Mix well.

Add in the broth, bring to a boil, let it boil for 10 minutes.

Add in the bok choy, water chestnuts. Stir. Bring to a simmer.

Juice all your lemons. Set aside.

Let the soup simmer for another 10 minutes.

Dice your cilantro.

Add in the lemon juice. Stir. Taste, adjust salt and needed. If you want it thinner, add in a cup of water.

Serve with plenty of fresh cilantro and drizzle remaining olive oil on top.
Nutrition
Serving Size:

1 Cup

Calories:

315

Sugar:

2

Fat:

17

Carbohydrates:

8

Protein:

28