The leaves are changing colors and the crisp autumn air is cooling down the world around you. Fall is upon us. This glorious season has so many distinguishing characteristics and flavors, but one stands supreme – Pumpkin Spice. To help you get enjoy the full flavor of autumn we have created this Pumpkin Spice Keto Mocha recipe just for you.
Without all the harsh additives like many other pumpkin spice drinks you've seen, this Pumpkin Spice Keto Mocha is full of healthy fats that will keep your keto-loving heart happy and healthy.
The main ingredients in this Pumpkin Spice Keto Mocha include:
Health Benefits of this Pumpkin Spice Keto Mocha are
#1. Improves Cognitive Function
The exhaustion is real for some, especially in the morning. Insert coffee. From smell to sip, coffee is a staple for many who need a pick-me-up. It has some pretty great benefits for you, too. The caffeine in coffee has been linked to improving performance [*].
MCTs (or medium-chain triglycerides) provide our brain with the energy it needs to "wake up". They are easily digested, which makes them a readily available fuel source. They also provide support to the central nervous system, which is directly linked to brain health.
Cacao, not to be confused with cocoa, comes from the seeds of the fruit grown on the cacao tree. It's the most natural form of chocolate, containing loads of antioxidants and phytonutrients, which stimulate the body and the brain [*].
#2. Keeps You Fueled and Full
By now you know that healthy fats help keep you full for longer amounts of time. MTCs in particular have not only been proven to keep you satiated but also keep your blood sugar levels stabilized, which maintains healthy energy levels all around.
Since MCTs curb your cravings, it makes sense that they would aid in weight loss. Many studies have been conducted and have shown that consuming MCTs will increase energy expenditure by promoting a rise in fat oxidation, leading to overall fat loss and lowered body weight [*].
#3. Loaded with Antioxidants
Known as a superfood, Cacao contains loads of antioxidants and phytonutrients that help absorb and rid of those pesky free radicals that harm your body [*].
Organic coffee is also jam-packed with antioxidants, like hydroxycinnamic acids, which are linked to preventing oxidative stress [*].
They also contain polyphenols, which play a huge role in the prevention of diseases, like cardiovascular, type 2 diabetes, and even cancer [*][*][*][*].
So as you start to feel the autumn chill in the air, put on your coziest sweater and pour yourself a cup of this Pumpkin Spice Keto Mocha. We guarantee it will fuel your mind and body and warm your soul.
Print
Rich and Creamy Pumpkin Spice Keto Mocha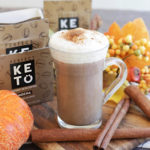 Author:
Total Time:

5 minutes

Yield:

1 cup

1

x
Instructions
Combine all ingredients in a high speed blender and mix on high until frothy.

Garnish with extra pumpkin spice, cinnamon, and cacao powder if desired.
Nutrition
Serving Size:

1 cup

Calories:

191

Fat:

20g

Carbohydrates:

2g (Net Carbs: 1g)

Protein:

1g