on August 29, 2017
When you hear about the ketogenic diet, you probably hear "high fat intake," too. So, It's no surprise the high value of avocados among keto dieters. Avocados are a great source of healthy fats and a plethora of health benefits — not to mention, they're so versatile! You've probably added them to salads, other side dishes, and as spreads. This lemon chicken avocado boats recipe is another creative and fun display of a delicious keto-friendly dish.
Benefits of Avocado
With its silky, creamy texture and rich nut-like flavor, the avocado boasts a variety of ways in can be used. Aside from adding them to sandwiches, smoothies, and dips, they can be mashed up as a snack for babies and the elderly. Additionally, the avocado is the fruit with the highest protein and fiber content, and it is also rich in Vitamin B6, Vitamin C, Vitamin E, potassium, magnesium, and folate. Let's take a look at other benefits avocados have to offer:
Avocado fats: high amounts of monounsaturated fatty acid
Antioxidant nutrients
Anti-inflammatory components
Blood sugar control
Insulin Regulation
Satiety and weight management
Not only is the avocado easy to add to a healthy diet, this superfood will give you the nutritional benefits ranging from cholesterol management, decrease in risk of heart disease, and improve brain activity and locomotion (all due to being a good source of the good fats) to alleviating arthritis (due to the high fiber content). In addition, if you've bought an avocado that's too ripe, or if you simply abandoned an avocado on the shelf—you don't have to let it go to waste! Just mash it up into homemade anti-aging products! So, what's not to enjoy about the avocado?!
Fun Fact: If you want to speed up the ripening process of an avocado, simply put in a brown paper bag for 2-4 days. To speed up the process even more, add a banana to the bag!
Print
Lemon Chicken Avocado Boats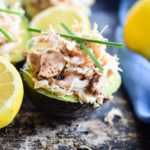 Author:
Prep Time:

5 minutes

Cook Time:

25 minutes

Total Time:

30 minutes

Yield:

4
Ingredients
5 boneless skinless chicken thighs, aprox. 12 ounces
3 garlic cloves, minced
1 lemon
2 tbsp. coconut vinegar
3 sprigs fresh oregano
1 tsp pink Himalayan salt
2 tbsp. grass fed butter
2 large ripe hass avocado
2 tbsp. olive oil
Instructions
Heat a large skillet, with a tight fitting lid, on medium heat.

Once it has come to temperature, add in the butter.  

Next, add in the garlic cloves, then the chicken thighs. Sprinkle with salt. Sear on each side, for two minutes.

Squeeze the lemon juice into the skillet, and add in the lemon halves, followed by the vinegar and oregano sprigs. Lower the heat to low. Cover with a tight fitting lid and simmer for twenty minutes.  

Alternatively, you can just add all the ingredients to your slow cooker and cook on low for four hours.

Once cooked, remove the lemon and oregano. Use two forks for shred the chicken.

Halve your hass avocado, remove the seeds, and use tongs to pile shredded chicken onto each avocado half.

Garnish with fresh herbs or chives, drizzle with olive oil.

Share and enjoy!
Nutrition
Calories:

356

Fat:

26

Carbohydrates:

8.8

Protein:

26.1