Sometimes, individuals go through a mourning period transitioning to a ketogenic diet. You might grieve the loss of a few of your favorite post workout go-to meals: sweet potato skillets, plates of pasta and smoothies.
Hold up — you can enjoy your beloved smoothies, with a few simple tweaks in ingredients. By dialing up the fat, cutting out added sweeteners and high-sugar fruit and only using keto-friendly protein powders, you can still enjoy a refreshing, sweet-tasting smoothie. This low carb acai almond butter smoothie will be your new favorite post-workout drink on the weekends.

Print
Low-carb Acai Almond Butter Smoothie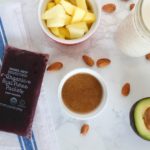 Going through a mourning period giving up certain foods to go keto? Don't give up your acai with this post-workout low carb acai almond butter smoothie.
Author:
Prep Time:

5 minutes

Cook Time:

1 minutes

Total Time:

6 minutes

Yield:

1

1

x
Category:

Drinks

Cuisine:

American
Instructions
If you are using individualized 100 gram packs of acai puree, run the pack under lukewarm water for a few seconds until you are able to break up the puree into smaller pieces. Open the pack and put the contents into the blender.

Place the remaining ingredients in the blender and blend until smooth. Add more water or ice cubes as needed.

Drizzle the almond butter along the side of the glass to make it look cool.

Enjoy and pat yourself on the back for an awesome workout and killer post workout smoothie!
Nutrition
Serving Size:

16 oz

Calories:

345

Fat:

20

Carbohydrates:

8

Fiber:

2

Protein:

15
Keywords: acai almond butter smoothie
How to Make a Low Carb, Keto Smoothie
While they may look healthy on the outside, many recipes are loaded with sugar. Green smoothies and juices include multiple servings of fruit, some fiber and hardly any protein or fat. If you find a recipe or packaged product advertised as a protein smoothie, it's typically low-quality, store brand vanilla protein powder — which is low fat and filled with harmful ingredients.
How can you enjoy a deliciously creamy, sweet yet satisfying, and keto-friendly smoothie? Stick to these tips.
Watch the Fruit (Or Cut it Out Entirely)
Many smoothies will use a frozen banana, apples or mangoes to sweeten the flavor and add a layer of thickness. However, a single ripe banana carries 27 grams of carbohydrates and over 14 grams of sugar[*]. For some of you, that may be your entire carb allotment for the day.
Instead of choosing a high-sugar fruit, stick to a keto-friendly fruit like blueberries or raspberries (in this recipe, you'll use acai — read why below). Even better, add a scoop of avocado — one of the few fruits you can eat in abundance on keto.
If you're loading your smoothies with fruit because of the high fiber content (not the added sweetness), consider adding chia seeds, hemp seeds or flax seeds instead. This way, you'll get the added fiber with a healthy dose of fats, rather than carbs.
Up the Fat Content
Rather than blending with ice cubes or water, add coconut milk or almond milk for an added dose of healthy fats. Keep in mind: Select a brand that doesn't use harmful additives, say "low fat" or contain added sugar. Instead, use full-fat coconut milk, unsweetened almond milk or, if you can handle dairy, unsweetened plain yogurt.
You can also add a scoop of almond butter, cashew butter or other nut butter. A tablespoon of almond butter is almost 80% healthy fats, making it the perfect ingredient for a ketogenic diet[*]. Peanut butter will work in a pinch, but be extremely cautious when selecting a brand, as many are loaded with molasses and hydrogenated vegetable oils.
Sweeten with a Keto-Friendly Sweetener
Many smoothie recipes call for honey, Greek yogurt or fruit juice, making your smoothie taste like a blended dessert. And while you might enjoy the taste, you won't love the added blood sugar spike.
Instead, use a keto-friendly sweetener like stevia or monk fruit. In this almond butter smoothie recipe, you'll use stevia, which comes in liquid drops or powdered forms. Stevia is low carb friendly because it contains zero calories and ranks zero on the glycemic index. Stevia has been shown to benefit your blood sugar and insulin levels after a meal[*].
Get Your Daily Dose of Supplements
Supplements help you get into ketosis faster and offer a healthy dose of protein and fat. However, it's important to use keto-friendly supplements, such as:
MCT oil: MCT (medium-chain triglycerides) are a form of saturated fatty acids. The oil is extracted from whole foods, like coconut and palm oil. Since they are quickly absorbed by your body and metabolized into energy in the liver, they are the most efficient form of saturated fats in terms of energy production.
Collagen: Collagen is the glue that holds your body together, making up connective tissue like tendons, bones and cartilage. Supplementing with collagen helps improve hair, skin and nails. It also provides amazing health benefits like fighting Alzheimer's, healing leaky gut syndrome and decreasing joint pain[*][*][*].
Exogenous ketones: Exogenous ketones help you get into ketosis faster, or get back into ketosis after a carb-laden meal. High-quality exogenous ketones will be comprised of BHB (Beta-hydroxybutyrate), the most abundant, efficient ketone in the body, making up roughly 78% of total ketones in the blood[*].
In this particular recipe, you'll use collagen for the added fats, protein and health benefits. Perfect Keto's collagen contains MCTs to slow the absorption of protein. This helps ensure the added protein will not be turned into glucose for energy, unlike most protein powders you'll find at the store.
Health Benefits of Acai
Now that you know how to build a keto-friendly smoothie, take a closer look at this particular recipe for an acai almond butter smoothie. What's the big deal about acai anyways? Here's a quick profile of the focal point of this recipe.
What is Acai?
The acai berry is native to Central and South America and is a deep purple fruit. Pronounced "ah-sa-EE," it has become popular in the United States for weight loss and anti-aging benefits[*].
Acai is packed with antioxidants that help fight inflammation and disease. It's relatively low carb, tastes incredible and is available in supplement form. Fun fact: The fatty acid content in acai resembles that of olive oil, and is rich in monounsaturated oleic acid.
Acai Health Benefits
Acai berries have numerous health benefits, including:
Promotes Heart Health
Acai contains antioxidants that eliminate free radicals responsible for damaging conditions like heart disease, high cholesterol and stroke[*].
Aids in Weight Loss
Acai has a high fiber content, while still being relatively low in sugar compared to other fruits. Fiber helps reduce appetite, fasting insulin and glucose levels and cholesterol levels, which could help you lose weight[*].
Promotes Skin Health
The antioxidants in acai relieve skin irritation and redness and help you recover from wounds[*].This is why you see acai listed as an ingredient in cosmetic and beauty products.
Prepare Your Almond Butter Smoothie
To assemble your almond butter smoothie, simply combine all your ingredients in a high-speed blender. For an extra dose of fat, use two tablespoons almond butter, add MCT oil or a tablespoon of coconut oil. Finally, sweeten with a little stevia and vanilla and you're good to go.