Grab your cocktail shaker; it's time for a refreshing summer drink. Sparkling wine and rose´ are summer staples, but if you're ready to shake things up (and still keep your cocktail bar keto), then this blackberry spritzer recipe is for you.
Relax by the pool, clink glasses at a BBQ, or just make yourself a batch on Saturday afternoon — you deserve it.
With only four ingredients, this blackberry spritzer is the perfect drink recipe when you want a fun (and easy) cocktail but don't want to sabotage your keto diet. And with plenty of citrus and fresh blackberries, this drink is more like a nutritious tonic than a cocktail.
This blackberry spritzer is:
Refreshing
Light
Delicious
The main ingredients are:
Tequila
Lime juice
Blackberries
Optional Ingredients:
Basil leaf
lemon juice
Mint leaves
Rosemary sprigs
Lime slices
3 Health Benefits of Blackberry Spritzers
#1: Loaded With Antioxidants
Sure, alcohol isn't known as health food, but if a cocktail could be good for you, this is it.
Loaded with vitamin C and antioxidants from blackberries and lime, this blackberry spritzer doubles as an immune tonic.
You've most likely heard that vitamin C can help you fight a cold. Although some people will dispute this, an overwhelming amount of research supports vitamin C's immune-enhancing benefits.
It may not eradicate your cold in an hour, but taking vitamin C when you're feeling under the weather could decrease the duration of your cold by 1.5 days[*][*].
In one study on the effect of vitamin C on relieving cold and flu symptoms, the vitamin C group had an 85% reduction in symptoms, compared to the control group[*].
Your body is constantly under attack from bacteria, viruses, and parasites. But antioxidants help protect from the stress and oxidative damage from everyday life[*].
Blackberries are a fantastic source of an antioxidant called cyanidin-3-glucoside — a type of anthocyanin that suppresses oxidative cell damage and chemically-induced oxidative damage[*].
This is great news for all your tissues, plus your immune health, which can always use more support.
#2: Fights Dementia
Moderate alcohol intake may be the key to preventing neurodegenerative brain diseases like dementia.
In a study done at Loyola University, researchers found a correlation between moderate alcohol intake and reduced risk of dementia. That translates to one glass or less per day for women and one to two drinks or less per day for men[*].
The protective effects of alcohol are not well understood, but one theory has to do with heart health. Moderate alcohol consumption is good for your heart, which may reduce stroke-related dementia.
Another theory is that small amounts of alcohol introduce some stress to your cells. This moderate amount of stress toughens them up a bit so that when more significant sources of stress come along, they have the capacity to handle it better[*].
Another study in nearly 8,000 people over 55 found a similar correlation. These researchers associated moderate drinking to a lower incidence of vascular disease, which translated to a lower risk of cognitive decline[*].
#3: Heart-Healthy
Blackberries wonderful source of anthocyanins, the phytochemical that give these berries their deep black/purple color.
Anthocyanins act as antioxidants in your body, which help fight free radicals and inflammation.
Studies suggest that anthocyanins from blackberries can lower your risk of heart disease[*]. This may be due to their anti-inflammatory properties, antioxidant properties, or both.
Vitamin C from lime juice may also have heart-protective benefits. Vitamin C may lower LDL cholesterol — the type of cholesterol associated with arterial plaque[*].
In case you needed another reason to drink tequila — moderate drinking is also associated with a reduced risk of heart disease. The cardioprotective effects of alcohol include an increase in HDL (good cholesterol), a decrease in LDL and prevention of blood clot formation[*].
Blackberry Spritzer
This simple spritzer recipe with fresh blackberries is the perfect summer drink. You get the benefits of blackberries and citrus, all without the simple syrup and sugary additives in most cocktails.
Not into tequila? Replace the alcohol with gin for a different flavor or make it a mocktail with one cup of soda water.
Muddle fresh mint with your ice cubes and blackberries for a blackberry mint spritzer, or some fresh basil leaves for an Italian twist.
This refreshing cocktail is incredibly versatile, so have fun creating new flavors with different fresh herbs and low-carb liquors.

Print
Low-Carb Sparkling Blackberry Spritzer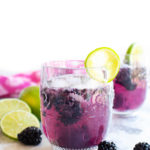 Fresh blackberries, lime juice, club soda, and tequila — this blackberry spritzer is the perfect cocktail pick, add lime slices and a lemon twist for fun.
Author:
Total Time:

2 minutes

Yield:

1

drink

1

x
Scale
Ingredients
1

-ounce tequila

3 ounces

blackberry sparkling flavored water or plain sparkling water
Juice of

1

lime

2

–

3

blackberries

Handful of ice
Instructions
Add blackberries to the bottom of a glass.  Mash with the back of a wooden spoon.

Add ice and remaining ingredients.  Gently stir. Serve with a wedge of lime.
Nutrition
Serving Size:

1 drink

Calories:

137

Fat:

0

Carbohydrates:

12g (11g net)

Fiber:

1g

Protein:

0
Keywords: blackberry spritzer