There's nothing quite like some fresh blueberry pancakes on a Sunday morning. These keto-friendly, gluten-free pancakes are the perfect healthy breakfast disguised as a treat.
Loaded with protein, antioxidants, and blood sugar-regulating ingredients — they'll fill you up and keep you going.
If you want to get really crazy, you can add some lemon juice and make lemon blueberry pancakes — perfectly zesty and sweet.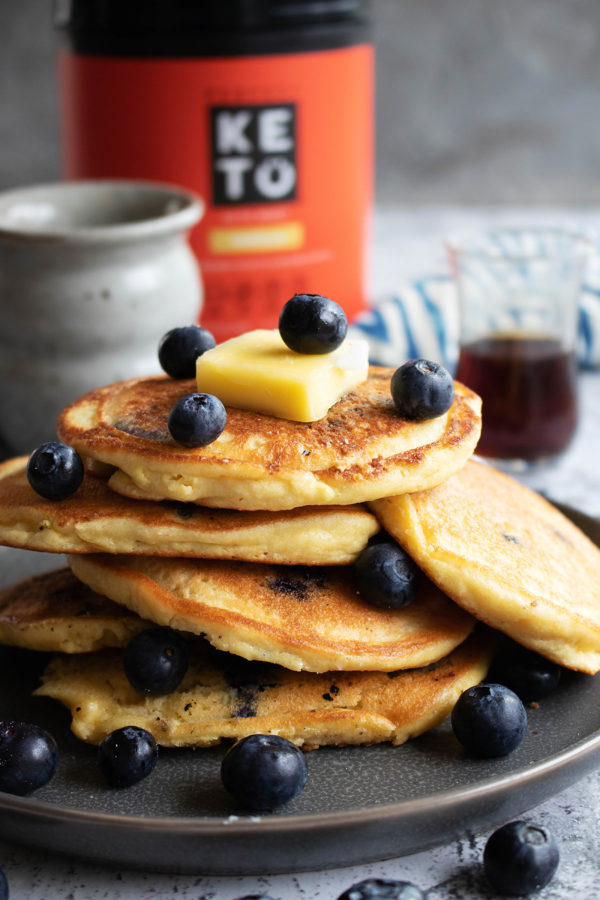 These protein pancakes are:
Satisfying
Delicious
Comforting
Sweet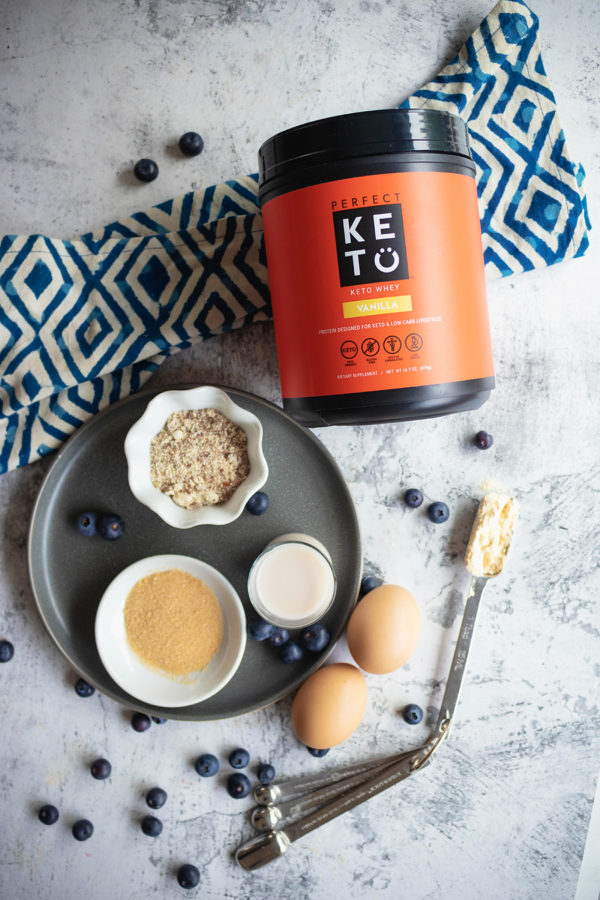 The main ingredients in this pancake recipe are:
Optional additional ingredients: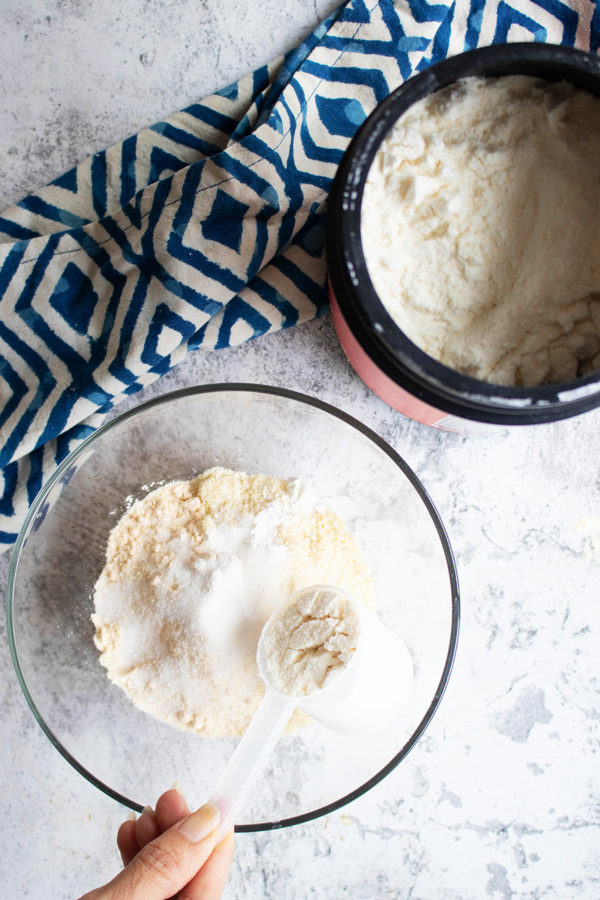 3 Health Benefits of Blueberry Protein Pancakes
#1: Supports Muscle Growth
The vanilla protein powder in this recipe does much more than add flavor.
When you hit the gym more often than not, you'll see people chugging down their whey protein shakes. While there are a lot of fads out there when it comes to food, whey protein for muscle growth is anything but a flash in the pan.
Whey protein is an excellent source of amino acids. Specifically, it contains branched-chain amino acids (BCAA), which are responsible for the growth of your muscles.
Of the three BCAAs, leucine definitely takes the cake when it comes to building strong muscles. When you consume leucine, it up-regulates genes for protein synthesis, resulting in larger and stronger muscles [*].
#2: Balances Blood Sugar
A typical pancake breakfast will leave your blood sugar in shambles. If you're spinning from the sugar overload (depending on your toppings of choice) then you'll be crashing from the downfall of your blood sugar.
These keto pancakes, however, are another story altogether.
Each ingredient in these pancakes is specifically chosen to help support not only your blood sugar but your keto diet as well. Using almond flour as the base instead of wheat flour supplies you with fat and protein, as well as micronutrients that can support your blood sugar.
One nutrient, in particular, magnesium, has been found in studies to support blood sugar in people with type 2 diabetes.
In fact, when people with diabetes supplement with magnesium they see significant reductions in their blood sugar levels, specifically by improving their body's sensitivity to insulin[*][*].
#3: Rich In Antioxidants
Antioxidants are your body's natural defense against oxidative stress. While oxidative stress occurs naturally in your body, without the checks and balances of antioxidants, it can become quite harmful.
This recipe is loaded with sources of antioxidants.
Monk fruit not only imparts a sweet flavor to replace sugar, but it also has antioxidant activity in your body. Although further research is required for a better understanding, it appears that monk fruit may assist in oxidative stress related to glucose metabolism specifically[*][*].
Another source of antioxidants in this recipe is the almond flour, which is rich in vitamin E. Vitamin E works specifically as a fat-soluble antioxidant to protect the membranes (the outside barrier) of your cells[*].
And perhaps one of the most famous antioxidant foods of all, blueberries, contribute their phenolic antioxidants known for rich anthocyanin content. In fact, blueberries are so rich in antioxidants they're even considered a functional food ingredient [*].

Blueberry Protein Pancakes
When it comes to the keto diet, breakfast recipes are definitely the most fun. Keeping breakfast high-protein is important for any diet, but especially if you want to be a fat-burner.
These delicious, low-carb blueberry pancakes make the perfect weekend breakfast treat. While there are tons of healthy pancake recipes out there — most end up being high carb in the end.
But not this pancake batter — loaded with fat, protein, and antioxidants — this will be your new favorite protein pancake recipe.

Print
Fluffy Blueberry Protein Pancakes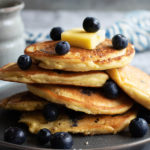 Healthy breakfast recipes like these blueberry protein pancakes made with protein powder are the cornerstone of the keto diet. Top with sugar-free maple syrup 
Author:
Total Time:

10 minutes

Yield:

6

pancakes

1

x
Instructions
Add all ingredients (EXCEPT blueberries) to a high-speed blender or large bowl.  Mix until smooth. Let sit for 2-3 minutes. Stir in blueberries.

Heat a large skillet or pan under low-medium heat.  Coat with nonstick spray or butter.

Divide and pour batter onto the pan. Cook for 2-3 minutes per side until golden brown.
Nutrition
Serving Size:

1 pancake

Calories:

107

Fat:

7g

Carbohydrates:

6g

Fiber:

3g

Protein:

6g
Keywords: blueberry protein pancakes