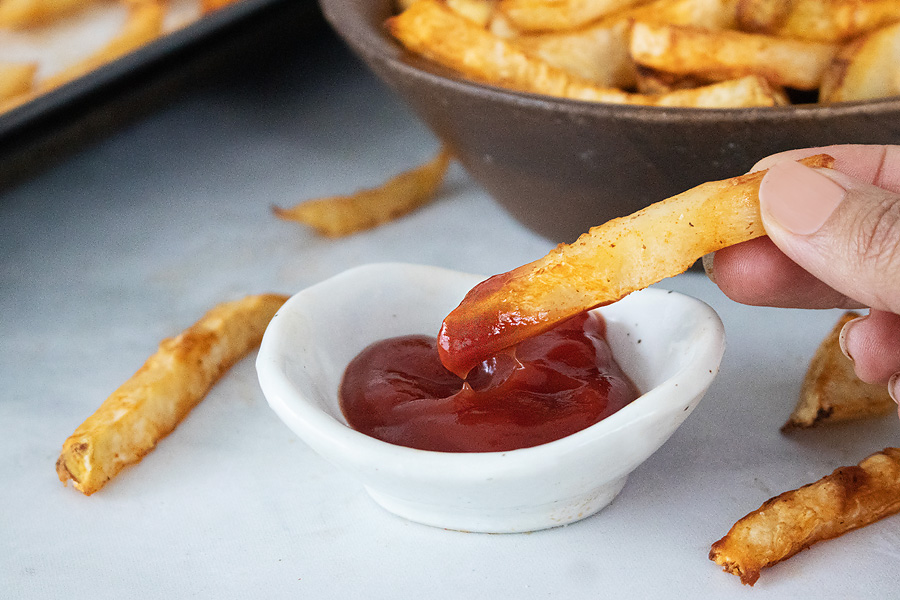 When looking for a delicious and simply made option to accompany your main dish, try the taste tempting idea of healthy and low carb baked celeriac fries. With just a few simple ingredients, this sweet, nutty and crispy choice will leave you asking for more. Celeriac is a nutritious root vegetable that was used in the 17th century, but is making a comeback today for its many health benefits. Harvested mostly in the fall and winter, this vegetable varies in size from a pear to a honey dew melon. This unusual looking vegetable won't win any awards for beauty, but you can bet it will tease your taste buds into deciding it is a thing of low carb beauty.
Finding just the right meal for my family is often the hardest part of the week. Shopping for meals that are different and enjoyable, while being healthy and delicious make the grocery store seem unappetizing. But wait! The best side dish you could ask for might just be lurking in the produce section and it would never be something you would see and grab for its attractive traits. However, this odd looking celery root will turn your shopping event and meal on its head. You will be the hero in your household once you make these healthy low carb baked celeriac fries your go to side dish, I know my dinner plates have never jumped off the kitchen counter so fast and yours will too!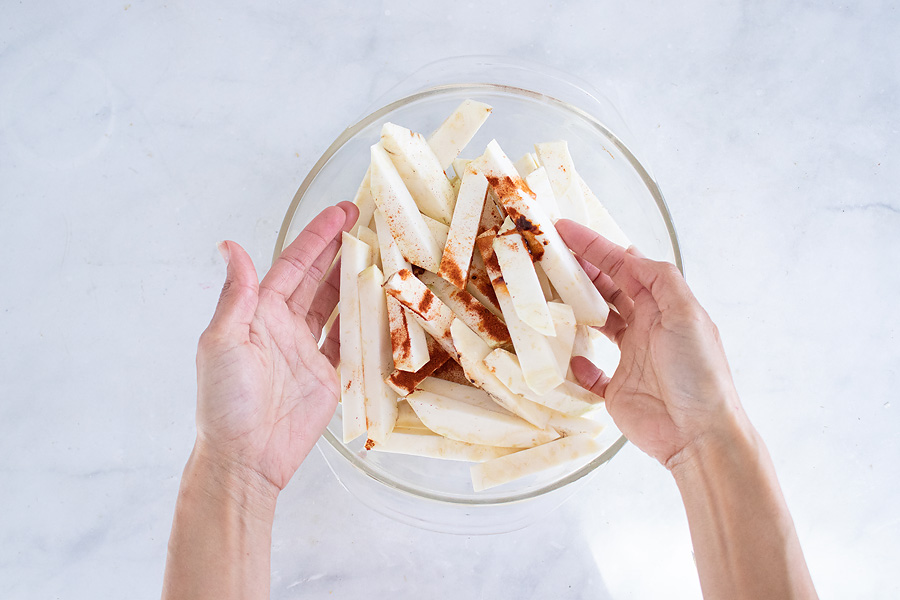 Celeriac Oven Fries Ingredients
Celeriac (AKA celery root)- the most important things to look for when picking celeriac is size, color, and firmness. It should be very firm to the touch with no visible bruises or soft spots.
Avocado Oil- cold pressed avocado oil is mild in flavor, but will help crisp your celeriac fries.
Paprika- plain paprika will add vibrant color and a little heat without being spicy. Smoked paprika will add a very unique flavor that pairs well with chicken or steak.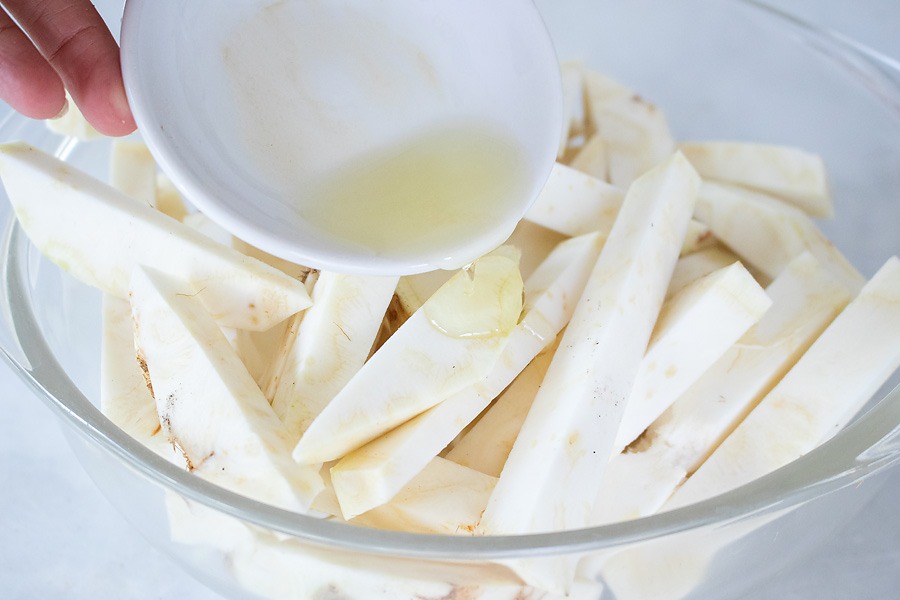 How to Make Celeriac Oven Fries
Prep Celeriac- Carefully remove skin with a vegetable peeler or paring knife.  Slice into strips. You can do thin, shoestring fries (that will cook faster) or thicker, wedge cut fries.
Combine Ingredients- Toss celeriac fries with avocado oil, paprika, salt, and pepper.
Bake- Depending on the size of your fries, cooking time may vary slightly. Turn pan 1/2 way through and use tongs to toss them in the pan a bit.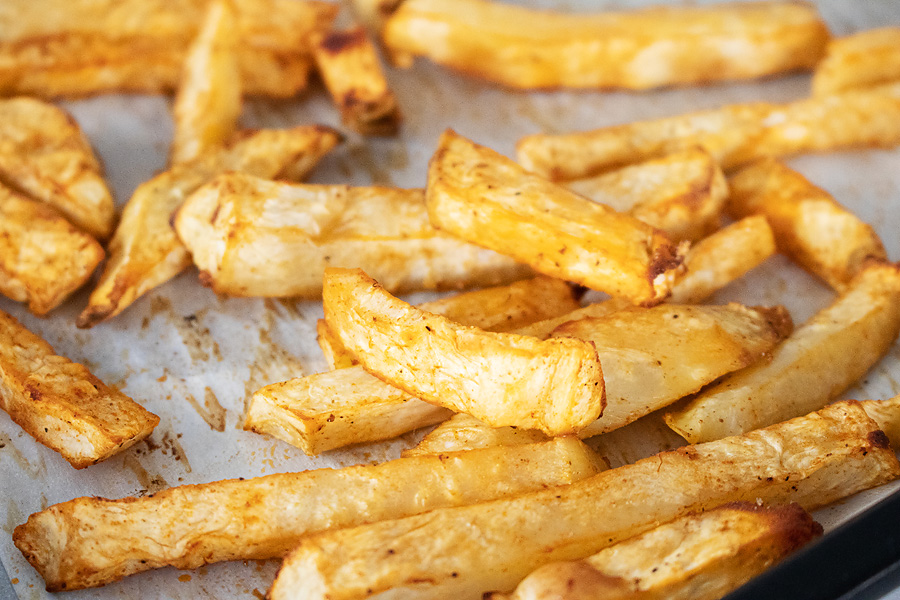 Celeriac Fries FAQs
Is celeriac keto?
Typically root vegetables like potatoes, sweet potatoes, and carrots are too high in carbohydrates to be considered keto. However, celeriac root is a great low carb option and has a similar texture to the starchier vegetables. With only 6 net carbs per serving, celery root is a great option for a ketogenic diet.
What does celeriac fries taste like?
These are a crisp, slightly sweet root vegetable. They have a very mild celery like flavor, but also slightly nutty when cooked. Celeriac is great to eat raw, baked, pureed, or even simply mashed with butter and fresh herbs.
What flavors can I add with celeriac fries?
One of the great things about celery root is how mild the flavor is. Similar to a potato, these will take on any of your favorite flavors.  Season them simply with salt and pepper, or spice things up with a smoked paprika that pairs great with any barbequed meats.
Can celeriac fries be air fried?
Yes! Prepare them the same way and bake them in a 400°F preheated air fryer for 12 minutes. Toss half way through.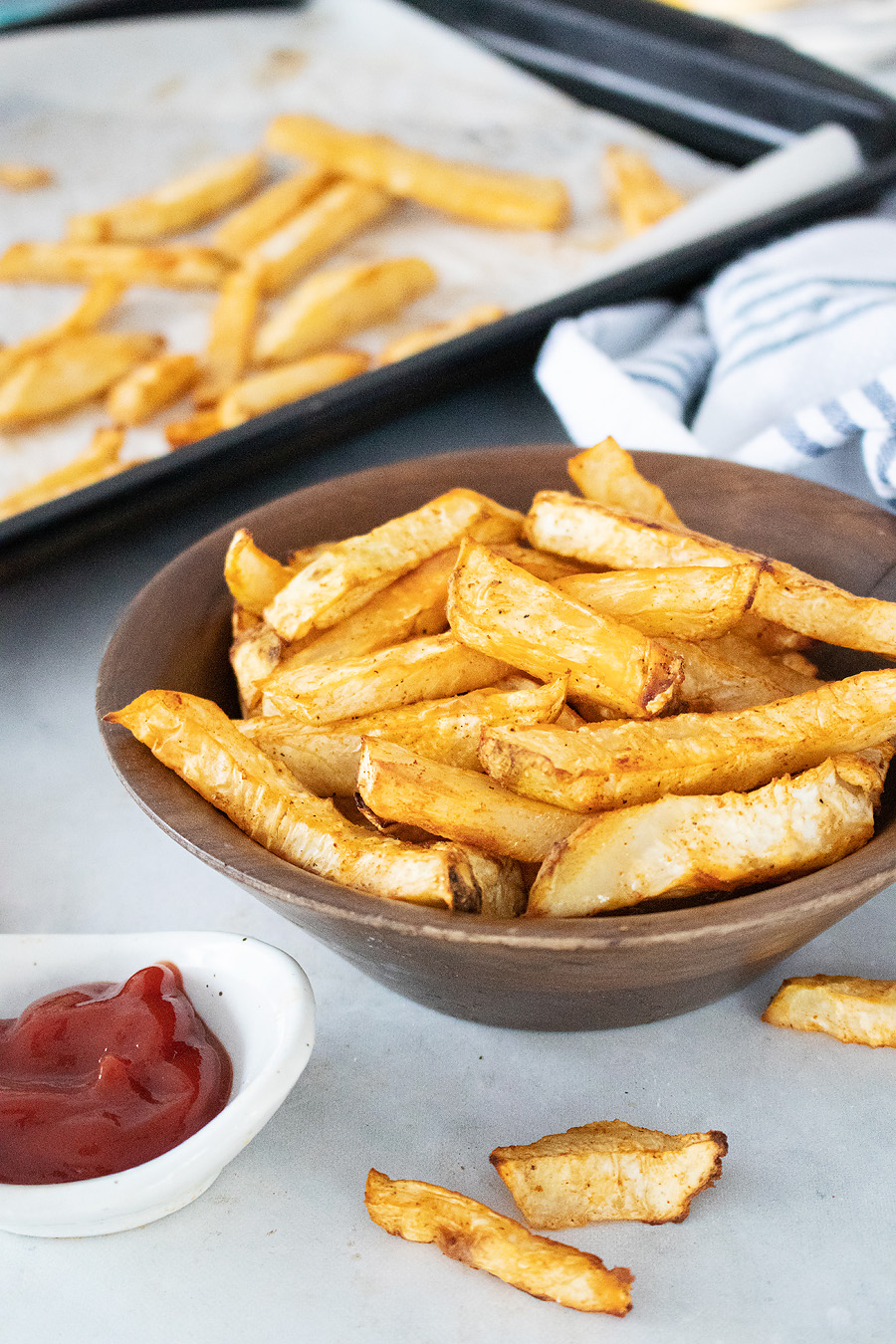 Print
Healthy Low Carb Baked Celeriac Fries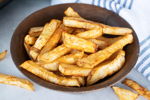 Missing the taste of crispy french fries on your ketogenic diet ? These baked low carb celery root fries might just convert you over to a healthier and permanent option. Make these delicious potato wanna be's and never look back!
Author:
Total Time:

50 minutes

Yield:

6

servings

1

x
Category:

Dinner
Scale
Ingredients
1

large celeriac

2 tablespoons

avocado oil

1/2 teaspoon

paprika

1/2 teaspoon

salt

1/4 teaspoon

ground black pepper

1 tablespoon

fresh parsley
Instructions
Preheat the oven to 400°F and line a baking sheet with parchment paper.  Set aside.

Carefully peel skins off the celeriac with a vegetable peeler or paring knife.  Slice into ¼" thick disks, then into ¼" slices.

In a large bowl, toss fries with avocado oil, paprika, salt, and pepper.  Transfer to prepared baking sheet.

Bake for 15 minutes, turn pan, and toss fries.  Bake for an additional 10-15 minutes until golden brown and tender.

Garnish with fresh parsley to serve.
Nutrition
Serving Size:

1 slice

Calories:

274

Fat:

21g

Carbohydrates:

3g

Fiber:

0g

Protein:

19g