When fresh crab meat is in season, it's time for crab cakes, baked crab dip, or hot crab dip with lump crab meat.
But let's be honest, who has the time for any of that?
This crab dip recipe requires no baking dish and zero cook time. In fact — it's done in 5 minutes.
All you need is a medium bowl, fresh crab meat (no imitation crab meat at your dinner party), mayonnaise, lemon juice, cream cheese, and some seasoning.
You can even add some other cheeses like jack cheese and cheddar cheese for even more flavor.
Don't save this delicious crab dip for holidays Christmas and New Years. It's time to splurge.
Enjoy it as a gluten-free, low-carb snack with some veggies or bring it to your neighborhood potluck. Get ready for the best crab dip you'll make all year.
This creamy crab dip is:
Creamy
Light
Satiating
Delicious
The main ingredients are:
Crab Meat
Chives
Lemon Juice
Optional additional ingredients:
3 Health Benefits of This Recipe
#1: Boosts Brain Function
Crab meat is an excellent source of vitamin B12, which is an essential nutrient for brain health. Research shows that low levels of vitamin B12 in your blood are associated with cognitive impairment and neurological disease[*].
Vitamin B12 also plays a vital role in a process called methylation that takes place in almost every cell of your body. Deficiency in B12 may be associated with psychiatric disorders due to the importance of methylation in maintaining healthy brain function[*].
Chives are not only for garnish and visual appeal. They also provide a reliable source of antioxidants to your body and brain. These antioxidants actually can help reverse damage in the brain and repair cognitive function[*].
#2: Full of Antioxidants and Anti-inflammatory Compounds
Crab meat is also high in selenium and vitamin C.
Selenium works to combat oxidative stress and may help prevent severe conditions such as heart disease and cancer. Vitamin C is another powerful antioxidant that delivers significant support to your immune system[*][*].
As mentioned previously, chives are packed with antioxidants and provide anti-inflammatory properties as well. Chives not only help reduce oxidative stress that can lead to serious health complications but also boosts immune defenses[*][*][*].
#3: Bone Health
Crab meat is a rich source of the mineral phosphorus, which is essential for the health of your bones[*]. Along with calcium, phosphorus works to maintain the structure and integrity of your bones.
Without enough phosphorus, the normal growth and development of your bones is altered, and the innervation of blood vessels to provide nutrients to your bones is halted[*].
Zinc, another minerals that's abundant in crab meat, also has a stimulating effect on the growth of your bones. Some research even suggests that zinc supplementation may be a critical step in the prevention osteoporosis[*].
Creamy Crab Dip Recipe
There's little to no effort involved in making this delicious, flavorful crab dip. All you need is a bowl, a fork, and a few ingredients.
So grab a dish from your pantry and let's get started.
Add all the ingredients to your bowl and, using a fork, mix and mash everything until it's well-combined. You can eat this at room temperature or store it in the fridge until the flavors mingle.
This creamy and delicious crab dip can be sat alongside other keto dips like Mexican cheese dip or artichoke dip and is an excellent addition to any party or gathering. Serve it as an appetizer or pre-dinner snack.
Just add some sliced low-carb, keto-friendly vegetables or keto-friendly tortilla chips or gluten-free keto crackers and get ready to give your taste buds a run for their money.
Print
Creamy Keto Crab Dip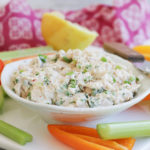 Keto crab dip with cream cheese, lemon juice, crab meat, green onions, and Cajun or Old Bay seasoning will get any party started. The best part? It's low-carb and keto when you leave out the tortilla chips.
Author:
Total Time:

5 minutes

Yield:

16 tablespoons

1

x
Scale
Ingredients
4oz

room temperature chive cream cheese

1/4 cup

keto-friendly mayonnaise

1 tablespoon

lemon juice

1 teaspoon

Cajun seasoning or old bay seasoning

1/2 teaspoon

salt

1/4 teaspoon

pepper

8oz

lump crab meat

2 tablespoons

finely chopped chives or green onions

1/4 teaspoon

garlic powder (optional)
Hot sauce (optional — to taste)
Instructions
Add cream cheese, mayonnaise, lemon juice, salt, pepper, and seasoning mix to a bowl. Whisk to combine.

Stir in crab and chives. Adjust seasoning if needed. Add a couple shakes of your favorite hot sauce if you'd like a little more heat.
Nutrition
Serving Size:

2 tablespoons

Calories:

61

Fat:

5g

Carbohydrates:

0g

Protein:

3g