We haven't grown tired of salad yet! Continuing on with the salad line, this recipe will have you day dreaming of a flavorful chicken salad while out on a Mediterranean vacation.
Are you getting enough cruciferous vegetables in your diet? Most Americans would answer "No" to this question, even though people should be eating more of these nutrient dense superfoods on a daily basis. One cruciferous vegetable for you is kale. This is an excellent addition to any salad to get your nine servings of fruits and vegetables for the day. Although kale is not common in the American diet, it has been known to have been one of the most popular green, leafy vegetables enjoyed since ancient Rome. Kale comes with a long list of health benefits that include:
Detoxification
Health Support
Cancer prevention
Reduced risk of breast, colon and lung cancers
Reduces inflammation
Rich in Vitamins A, K, and C
Balances blood sugar
Protects the brain
Healthy vision
So, what's the big deal with cruciferous vegetables, you ask? These vegetables are rich in glucosinolates, sulfur-containing compounds that, when broken down during the chewing and digestion process, prevents cancer growth. In addition with the ketogenic diet, we want vegetables that are rich in nutrients but also low in carbohydrates. This means we want to avoid the sweet and starchy vegetables as the difference in carb counts is noticeable with the higher sugar content. Anything that is dark green and leafy like kale is going to be a great go-to that should be included in your meals. As with all of the ingredients we put into our dishes, source also matters when it comes to buying our produce. To reap all of the benefits kale has to offer, seek out organic kale when shopping. The last thing we want is to have one of the most heavily pesticide-sprayed crops end up in our salad bowls.
Print
Crispy Cheesy Chicken Salad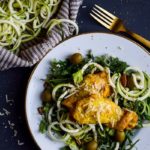 Author:
Prep Time:

10 minutes

Cook Time:

25 minutes

Total Time:

35 minutes

Yield:

4

1

x
Scale
Ingredients
2

lbs boneless skinless chicken thighs

2 tbsp

olive oil

1 tsp

real salt

1 tsp

black pepper

1 tbsp

garlic powder

1 tbsp

turmeric

1/4 cup

aged grated parmesean (see notes for diary free options)

1

zucchini

1

heart of romaine

4 cups

baby kale

1 cup

pitted ripe green olives

1/2 cup

chopped pecans

1 cup

fresh basil leaves

1/4 cup

Greek Vinaigrette (Primal Kitchen)
Instructions
Pre-heat your oven to 400F.

On a sheet pan toss your chicken thigh with all the seasoning then the olive oil.

Spread them out, laying each flat on the sheet pan, not overlapping.

Bake for 10 minutes.

Open the oven and carefully sprinkle a little cheese over each chicken thigh.

Bake for another 15 minutes.

While the chicken bakes, prepare your salads.

Start with the zoodles, spiralize or shave your zucchini into noodles. Sprinkle with salt and lay flat on a kitchen towel to dry.

Tear your romaine leaves into small pieces by hand (helps boost nutritional value)!

Pick your basil leaves from the stems.

Prepare four plates, each with a little kale, lettuce and zoodle.

Add some pecans, olives and basil to each dish.

Lightly sprinkle with a little salt, pepper and Parmesan.

When the chicken is ready, serve 1-2 thighs per plate.

Drizzle with dressing and dig in!
Notes
You may use Nutritional Yeast or Nutty Cheese. For the nutty cheese grind up 1/2 cup cashews with 3 garlic cloves and 1/2 tsp salt until crumbly.
Nutrition
Calories:

575

Fat:

36.4

Carbohydrates:

8.1

Protein:

55