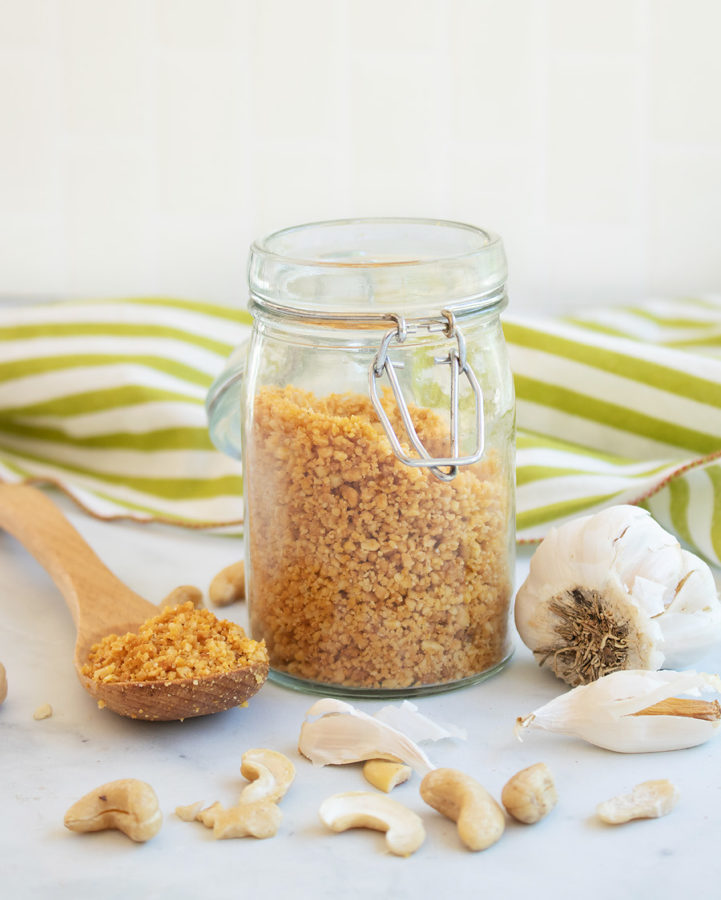 If you avoid dairy but still enjoy a little cheesy flavor, this gluten-free, vegan cheese recipe is a godsend.
You can replace real parmesan in your favorite dishes while getting the benefits of nutrient-dense ingredients like nutritional yeast and cashews.
Spice it up with herbs to match your meal like Italian seasoning or garlic powder.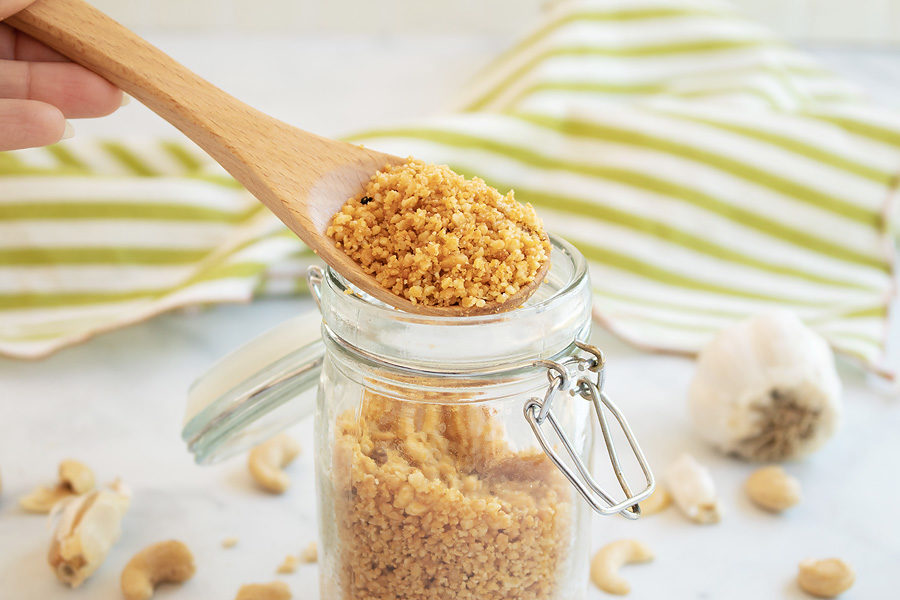 This vegan parmesan cheese is:
Savory
Flavorful
Creamy
Delicious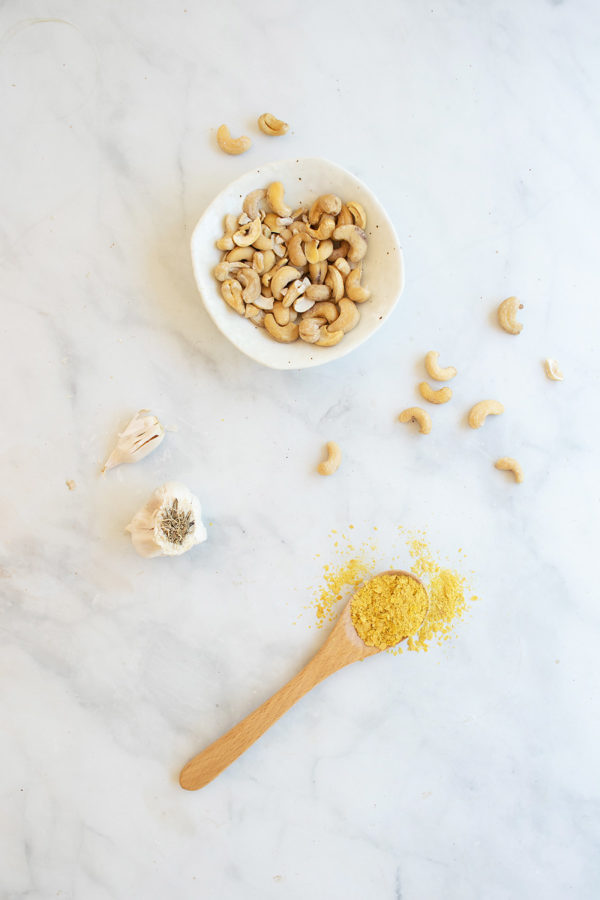 The main ingredients are: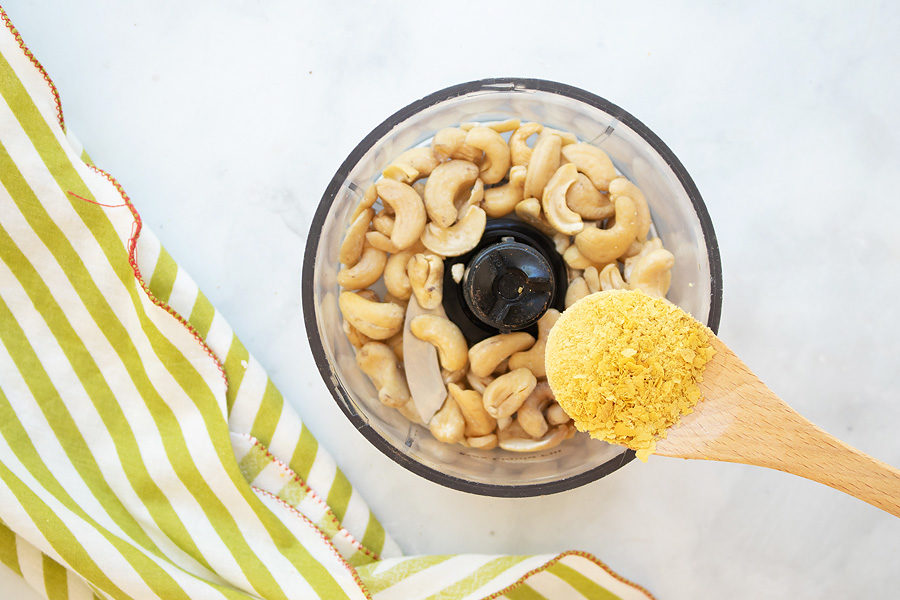 Optional additional ingredients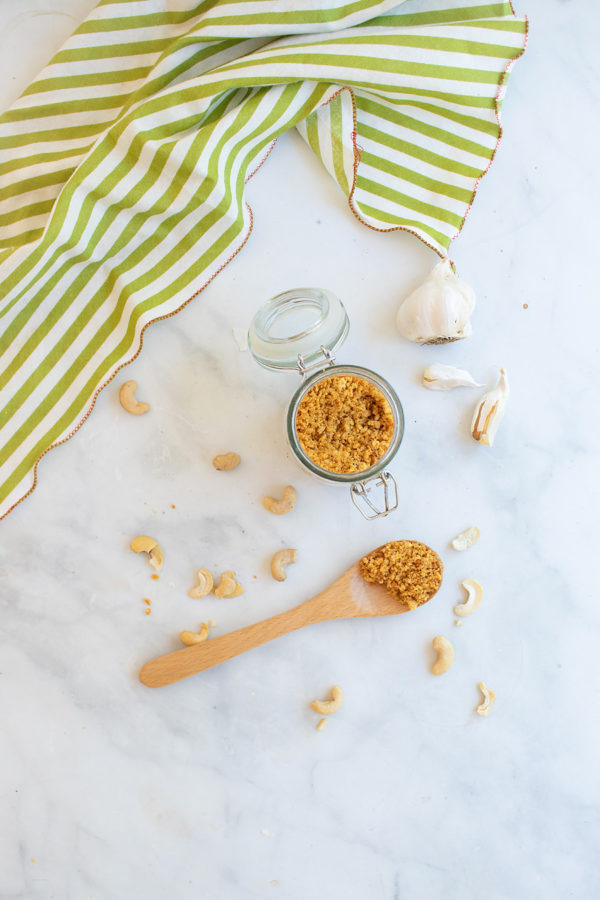 3 Health Benefits of Non-Dairy Parmesan Cheese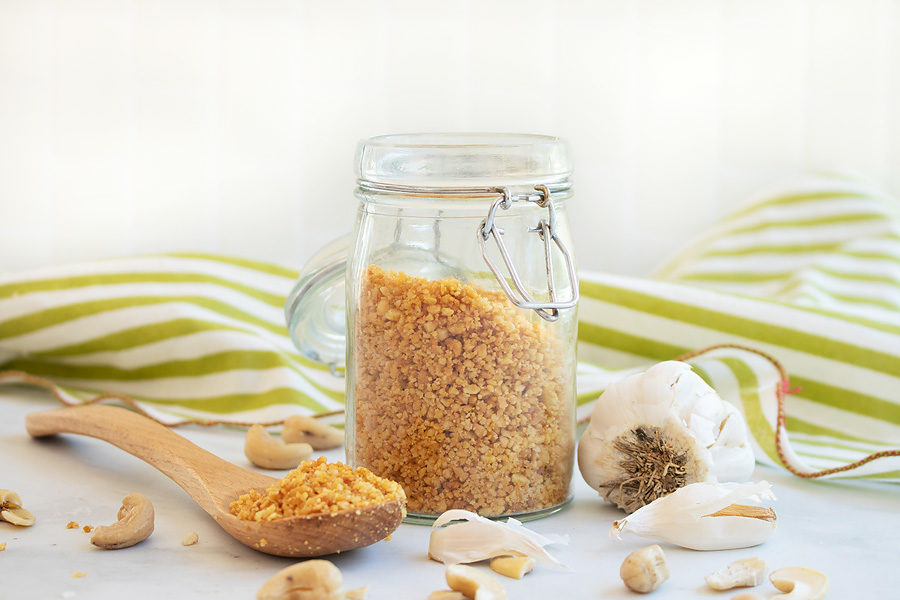 #1: Supports a Healthy Inflammatory Response
Cashews provide a great source of magnesium, with one ounce containing 83 mg, nearly one-fourth of your daily needs[*]. Unfortunately,  in the US, research is showing that many people are deficient in this crucial mineral[*].
Magnesium is especially good for lowering systemic inflammation. In fact, animal studies show a direct correlation between decreased magnesium levels and low-grade inflammation[*].
In one study, researchers gave a group of middle-aged, overweight women a magnesium supplementation or a placebo for 8-weeks to determine the effect it would have on inflammatory markers. After the 8-week trial, researchers noted that magnesium supplementation had a significant inverse relationship with C-reactive protein (CRP), a marker for inflammatory disease[*].
#2: Great Source of Vitamin B12
If you're vegan or vegetarian and looking for a dairy-alternative, this dairy-free cheese not only provides an excellent replacement but it's rich in nutrients you may be missing in your diet.
Nutritional yeast is packed with vitamins and minerals, and is particularly rich in vitamin B12 — a nutrient that's hard to come by in a plant-based diet[*].
Vitamin B12 is essential for a number of functions in your body. It plays a role in red blood cell formation, neurological function, and DNA synthesis.
If you find yourself deficient in this nutrient, you may experience symptoms like fatigue, weakness, constipation, and loss of appetite. In more serious cases, you could even experience neurological issues like depression, confusion, poor memory, or even dementia[*].
#3 Supports Heart Health
There are many factors that go into supporting the health of your heart. From keeping inflammation at bay, to ensure proper blood flow throughout your body, it seems that every move you make is either supporting or harming your heart.
One way to ensure the health of your heart is to keep an eye on your blood pressure. As one of the contributing factors to heart disease, when your blood pressure is within range your heart is much happier.
Diet plays a vital role in the maintenance of blood pressure, and garlic happens to be a blood-pressure stabilizing superfood. Research even shows that extracts of aged garlic may be as effective as hypertensive medications at lowering blood pressure[*].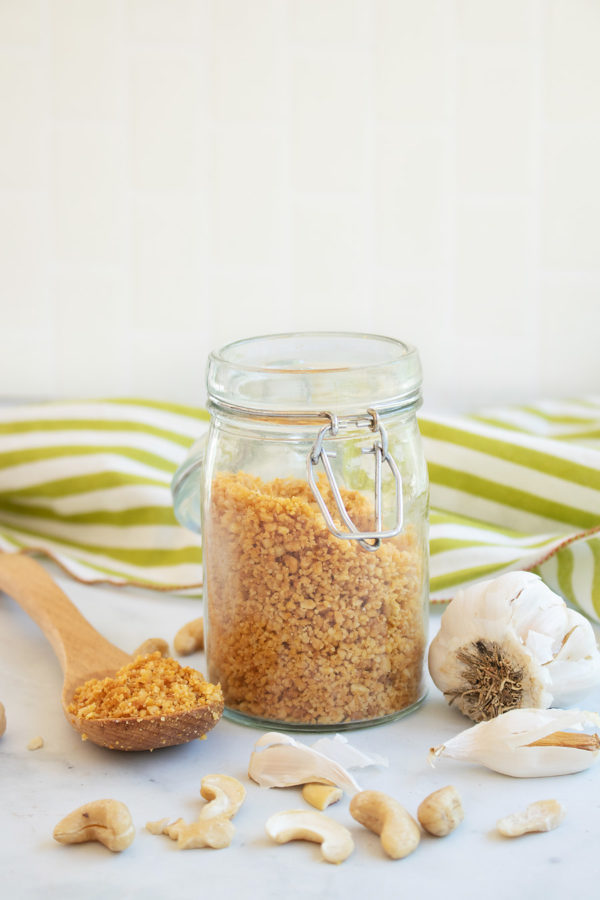 Print
Non-Dairy Parmesan Cheese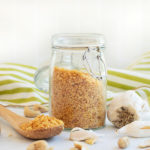 Sure, you could spend $10 plus on a vegan cheese at a grocery store like Whole Foods, but save your money by making your own vegan cheese with this simple recipe.
With a prep time of only five minutes, you can add a cheesy element to any meal. This dairy-free parmesan works great on lasagna, veggies, meatballs, zucchini noodles, or eggplant parm. 
Author:
Total Time:

5 minutes

Yield:

1 cup

1

x
Instructions
Add all ingredients to a high-speed blender or food processor and mix on high to desired texture.  Do not over blend.  

Adjust seasoning to taste.
Nutrition
Serving Size:

1 tablespoon

Calories:

41

Fat:

3g

Carbohydrates:

2g (Net: 2g)

Fiber:

0g

Protein:

1g