If you've been wondering whether fasting can help you lose weight, you're in the right place. We've seen many people use fasting to benefit their health and speed up weight loss while doing it safely and in a way that sets them up for success.
To help you get a clear picture of how intermittent fasting can affect weight loss, we'll cover the main benefits of fasting specifically for weight loss as well as how to get started and any concerns to consider.
Benefits of Fasting for Weight Loss
Intermittent fasting, the most popular form of fasting right now, is all about eating within a specific window and fasting for the rest of that day. For example, one of the most popular versions of intermittent fasting is the 16/8 method where you eat within an 8-hour window during the day, such as 11am to 7pm, and fast outside that time period.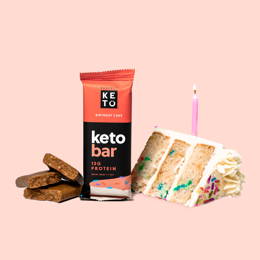 Birthday Cake Keto Bars are here!
The answer to your sweet tooth. 17g of fat, 3g of net carbs, incredibly delicious.
Shop Now
Intermittent fasting guidelines vary per person and goals, so that eating window could be smaller, could happen on just a few days each week, or could even involve periodic 24-hour fasts, usually for 1-2 times a week.
There are several benefits of this type of fasting for weight loss:
You'll likely eat less calories overall due to the shorter "feeding" timespan, which can promote weight and fat loss much faster than simply trying to restrict calories on your own schedule. Plus, many people end up eating the bulk of their calories in the evening or later at night, and intermittent fasting windows tend to end too early to "allow" it anymore, encouraging a more healthy eating schedule each day.
Intermittent fasting can help maintain healthy levels of hormones related to weight, including human growth hormone, insulin, and norepinephrine. Here are some more details on each of those:
Healthy human growth hormone levels help with muscle and bone growth, fat loss, metabolism of sugar and fat, and more.
Insulin levels increase whenever we eat, so by fasting, we're able to decrease insulin so it benefits us in many ways, such as through fat burning.
Norepinephrine helps our fat cells break down fat to be used for energy through to facilitate ketosis.
Other Benefits of Fasting
Fasting is a good way of training yourself to get comfortable with the feeling of hunger and being able to ride it out. So many of us are 1) conditioned to eat so frequently that we might never feel true hunger and therefore 2) not giving our bodies enough time to digest and repair in between meals or snacks. Fasting helps you understand this function of waiting to eat and knowing you won't waste away.
Fasting gets you into ketosis faster, which is the desired metabolic state for weight loss and fat burning. The longer you're in a healthy state of ketosis, the better. That's why we also recommend eating a ketogenic diet along with intermittent fasting to keep you in ketosis even when you break the fast.
There's less to worry about. So many weight loss plans involve hours of prep and planning for regular meals and snacks. While planning is certainly a good idea in many ways, especially for healthy meals, fasting can give you some freedom to not worry so much.
Since your period of eating is smaller now, whether you do the 16/8 method or simple start skipping a daily meal, there's less food to worry about during the day. If you happen to get stuck at a luncheon with coworkers who are eating only junk or have to travel for work, etc., it's much easier to count it as your fasting period and wait to eat when you can better access to healthy options.
Myths about Weight Loss and Fasting
You've probably heard the advice that in order to burn fat efficiently and keep our metabolism going strong, it's necessary to eat around six small meals throughout the day. This logic suggests our metabolic rate will become slow if we go too long without eating, causing us to store fat more quickly.
While the idea of eating more frequently might be appealing to some, it's just not true and really outdated advice. In fact, fasting for a short period of time can actually raise our levels of fat burning, not make them fizzle out.
What Type of Fasting is Best for Weight Loss?
There's likely not a 100% concrete answer for this, as there are different types of intermittent fasting and what's best can vary per person. If you're new to fasting for weight loss completely, it's often a good idea to start smaller and move up from there to allow yourself to adapt to not eating so frequently. This way, you are not overwhelmed with the transition.
Intermittent fasting or fast mimicking are generally better and safer for weight loss than doing a water fast, juice fast, or other fad diet for most people. You might start simple by skipping a meal here or there and getting comfortable with the fact that feelings of hunger aren't as scary as you might think. Then, perhaps move on to the 16/8 method of intermittent fasting and find out what window works for you.
Tips for Getting Started with Fasting
To help you begin your journey with fasting for weight loss, a few tips are helpful:
Focus on consistency. Pick one method of fasting, and stick with it long enough to really try it out. Change is uncomfortable at first, and it involves an adjustment period. Stick it out; you'll be happy you did.
Focus on quality. Even though you'll likely be eating less overall with fasting, the types of foods are still important if you want to weight loss — and keep it off — healthfully. For some ideas, see our ketogenic diet food list and list of foods to avoid on a keto diet.
Stay hydrated. Don't forget to drink water. It's important to stay hydrated when fasting since it'll be the only thing you consume during that time.
Check your level of ketosis. If your goal is to fast while in ketosis, make sure you still check your ketone levels. Even if you feel like you're in ketosis, you could be wrong. See our guide for testing your ketone levels to make sure you do it correctly too!
While exogenous ketones can't directly contribute to weight loss, they're a great tool for helping you get into ketosis faster and reap the benefits.
Concerns about Fasting for Weight Loss
No matter what type of fasting you try for weight loss, it's important to focus on healthy, nutrient-dense and high-fat foods outside of fasting periods so you continue to get optimal nutrition. Fasting helps your body "reset" and get ready for clean, fat-burning food choices that won't counteract any positive results you got from fasting.
And lastly, a healthy mindset is important for success when fasting for weight loss. Weight and fat loss due to lower calorie intake is absolutely possible as long as non-fasting times don't involve over-compensating for the fasting times.
Take Away Message
Overall, intermittent fasting can be a great tool for weight loss and alternative to traditional dieting methods like just calorie counting and portion control. The key is to treat it it as an experiment to find what works for you, focus on healthy foods in between fasts, and remember that you're doing something good for your body, your health, and your future.