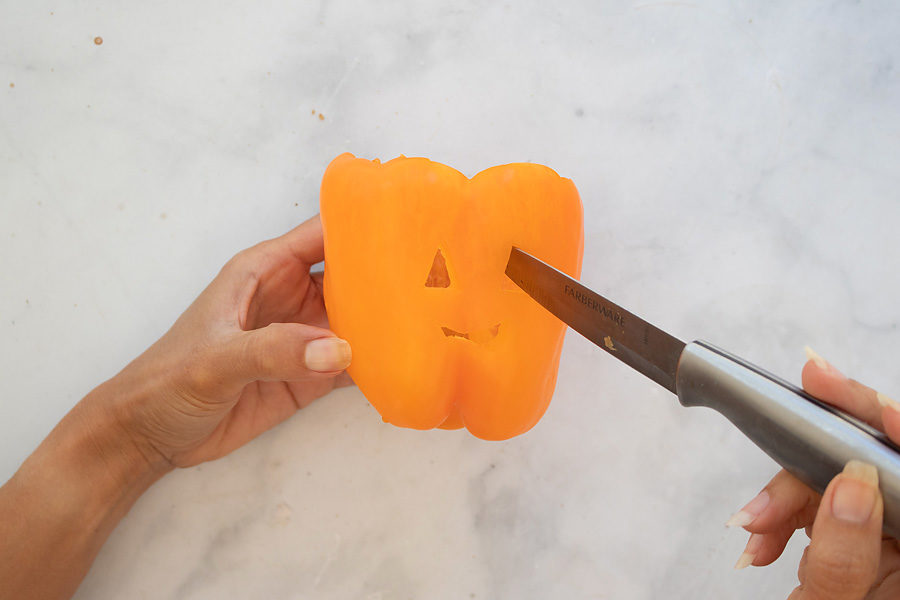 How do you make your traditional stuffed peppers a little more fun? Carve in some jack-o-lantern faces, of course.
This delicious recipe makes a fun and festive dinner dish or party platter.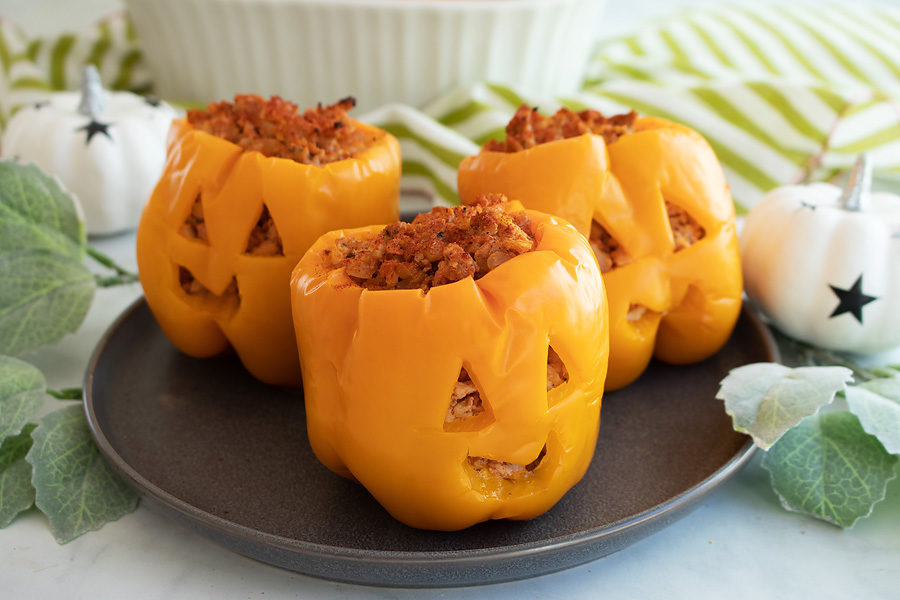 These Halloween stuffed peppers are:
Flavorful
Fun
Satisfying
Spicy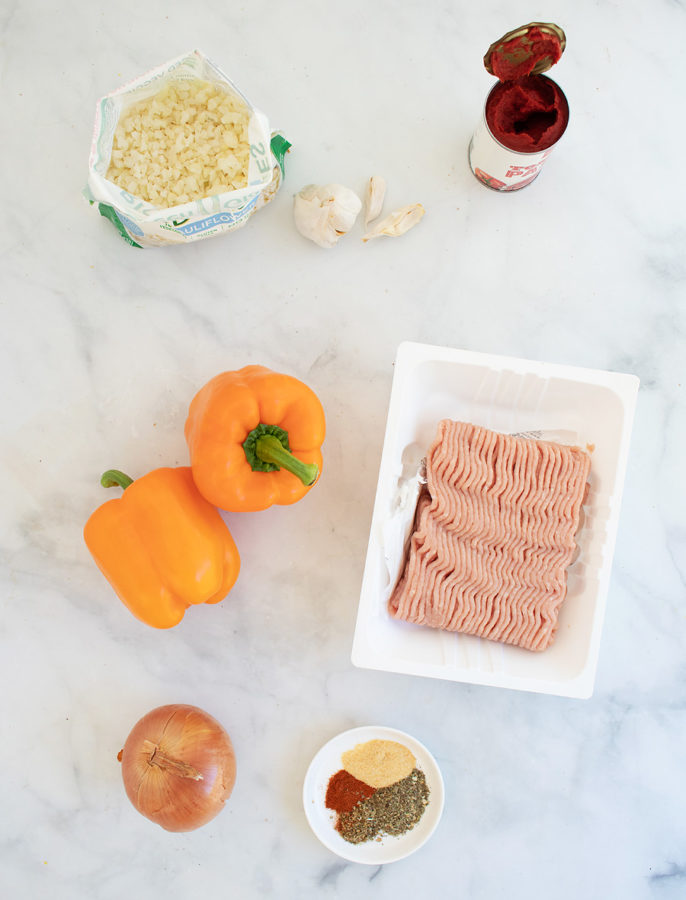 The main ingredients are:
Orange peppers
Ground beef or turkey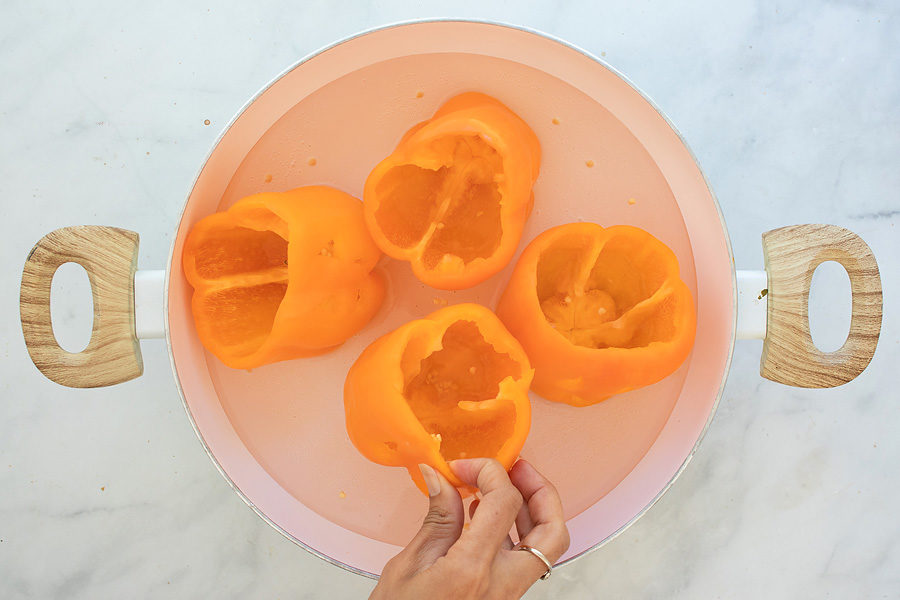 Optional additional ingredients: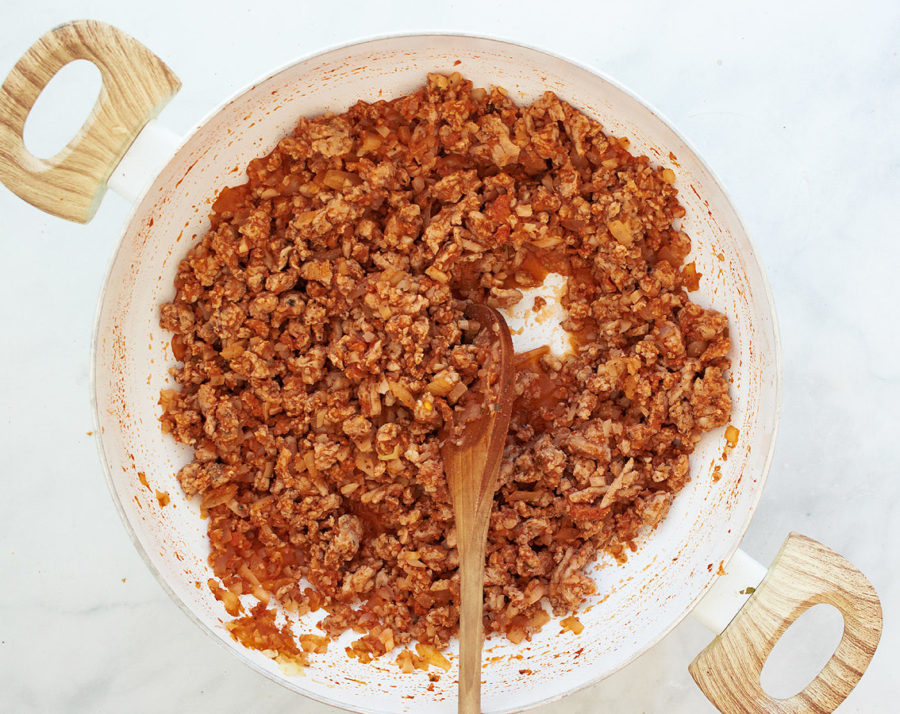 3 Health Benefits of This Recipe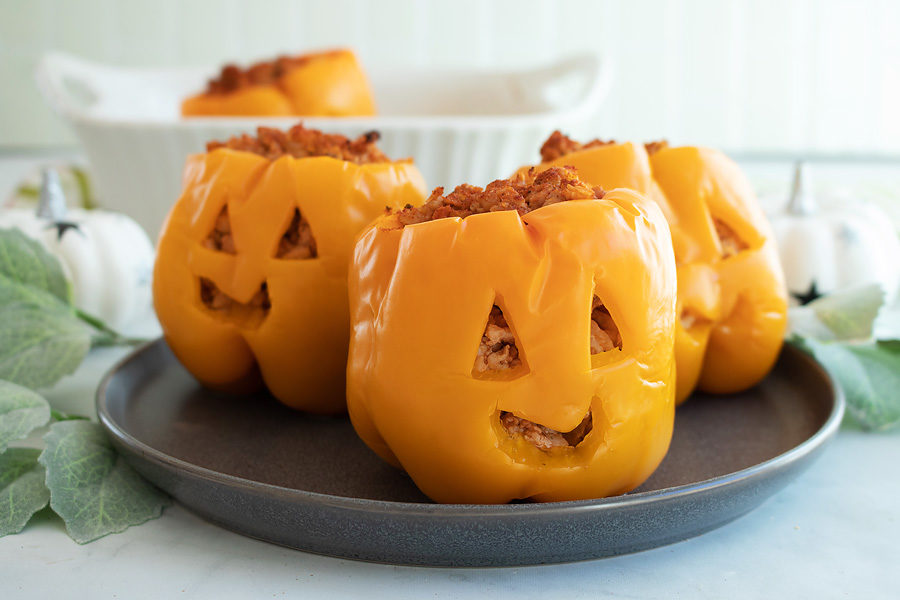 #1: Rich Source Of Vitamin C
Bell peppers are an excellent source of vitamin C, which among many other functions, acts as a powerful antioxidant in your body[*].
Oxidative stress is a normal part of living. It's not necessarily a bad thing unless it gets out of balance. Luckily, your body knows exactly what to do to keep oxidation in balance, as long as it has ample antioxidants.
Due to its antioxidant activity, vitamin C can help keep the cells of your body healthy by assisting your immune system. Research shows that vitamin C may play a role in the prevention of cancer, cardiovascular disease, macular degeneration, and the common cold[*].
#2: Supports Brain Health
The topic of brain health is getting more attention these days than ever. While heart disease is always top of mind when it comes to wellness, neurological disease has become a close second.
One of the best ways to nourish your brain is through diet. Vegetables like cauliflower offer a great source of brain-supportive nutrients. Aside from its vast array of vitamins and minerals, cauliflower is also a fantastic vegetable source of the nutrient choline[*].
Research on the importance of choline is growing, but what we already know is that it plays an essential role in the development of your brain, as well as your DNA.
Choline is also essential in maintaining the structural integrity of your cells as well as the signaling functions so that neurotransmitters can signal throughout your body[*].
#3: Enhances Heart Health
It should come as no surprise that vegetables are good for your heart. But some veggies seem to be tailor-made for promoting heart health — and tomatoes are one of them.
Along with an array of vitamins and antioxidants, tomatoes are a rich source of the phytonutrient lycopene.
Lycopene is a type of carotenoid that's known for its antioxidant and immune-enhancing properties.
When it comes to heart health, two of the primary concerns are oxidation and inflammation. Keeping your immune system pumped up with potent antioxidants can be a vital aspect of heart health.
Research shows that lycopene from tomato consumption is associated with a decreased risk for cardiovascular disease. This may be in part due to lycopene's cholesterol-lowering activity[*].
In addition, low serum levels of both lycopene and beta-carotene (another compound found in tomatoes) are associated with an increased risk of heart attack[*].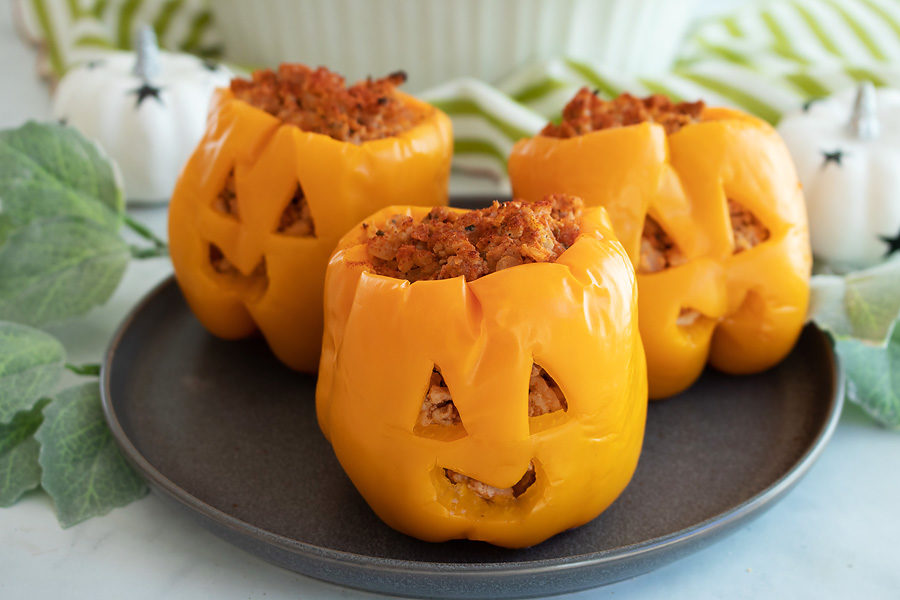 Print
Stuffed Pepper Jack O' Lanterns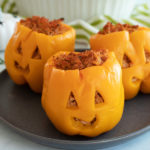 If you're a fan of pumpkin carving, then you're going to love pepper carving.  Grab a sharp paring knife and get to work on these Halloween stuffed peppers. 
Author:
Total Time:

40 minutes

Yield:

4

stuffed peppers

1

x
Instructions
Cut the tops off of the peppers and remove the core & seeds. Cut out eyes and mouth to form the face of the jack-o-lantern. Place the peppers in a large saucepan and cover with water. Bring to a simmer and cook 3-4 minutes, just until the peppers are slightly softened. Drain, rinse with cold water drain on paper towels.  Set aside.

Add olive oil to a large skillet set over medium-high heat.  Add onions and riced cauliflower. Saute for 5-6 minutes until slightly softened.  

Add ground meat, garlic powder, cumin, salt, pepper, garlic, and paprika.  Mix well and cook until meat is browned. Stir in tomato paste and chicken stock.  Turn off heat.

Preheat oven to 350 degrees and coat a baking dish with nonstick spray.

Place peppers in the baking dish and spoon in filling.

Bake for 25-30 minutes, serve hot.
Nutrition
Serving Size:

1 stuffed pepper

Calories:

161

Fat:

8g

Carbohydrates:

11g (Net: 8g)

Fiber:

3g

Protein:

14g