There's nothing better than warm soup on a cool day. This keto chicken soup is not only good for the soul, but for replenishing your whole body. Once you check out the benefits of this tasty soup, you'll be making big batches on repeat all season long.
The main ingredients in this keto chicken soup recipe include:
Chicken
Garlic
Radishes
Kale
Keto Chicken Soup Health Benefits
Aside from being a favorite comfort food, this keto chicken soup is loaded with benefits for your health.
#1. Combats Inflammation
Fun fact: You know how when you crush garlic it has that crazy-potent smell to it? That's called allicin. This enzyme is basically a defense mechanism that garlic releases when it's crushed. It's so powerful that it's been linked to reducing inflammation within the body and the risk of several illnesses, including heart disease[*].
Something else that's epic about garlic is that it keeps vampires away. If you think of vampires as bad cholesterol, that is. Studies have shown garlic not only reduces inflammation but also lowers "bad" LDL (or low-density lipoprotein) and regulates HDL (or high-density lipoprotein). This is great, especially for those suffering from type 2 diabetes[*].
Bone broth is also pretty helpful because it's good for just about everything in your body, including your gut.
Time and time again the gut has been referenced as "your second brain." If your second brain is out of whack, then the rest of your body is too[*].
By consuming more bone broth, you're getting essential amino acids, collagen, and gelatin. These may work in conjunction to help seal up any openings in your gut lining (aka leaky gut syndrome).
Healing your gut may support normal levels of inflammation within your body[*].
Grass-fed butter contains a helpful little fatty acid called butyric acid. You won't find it on a store-bought nutrition label but this healthy acid is very beneficial for reducing inflammation, especially with those suffering from Crohn's[*].
#2. Helps Detox the Body 
Kale. Many people love it, but is it more than just a trend? Oh, yes. Kale lives up to its hype for sure[*].
It contains glucosinolates which are broken down into metabolites during the digestion process. Your body already naturally produces metabolites to help regulate your metabolism. But it also promotes enzymatic reactions, such as detoxification.
#3. Helps Maintain Heart Health
Some seem to forget about the low-carb, keto option that is the radish. However, it's time for these root veggies to shine.
Radishes contain anthocyanins, which is a flavonoid found in berries, such as blueberries. Studies have shown that by consuming foods with anthocyanins, you may be lowering LDL (low-density lipoprotein) and helping regulate HDL (high-density lipoprotein)[*].
When this takes place, you could be simultaneously reducing inflammation and the risk of cardiometabolic disease[*].
You may have heard the rumor that saturated fats cause heart disease.This general assumption was made years ago by the American Heart Association. However, this was proven to be false and it's now known that including healthy, saturated fats, such as chicken in your diet is a good idea[*].
Consuming healthy saturated fats like chicken also improves cholesterol levels. By doing so, it may reduce the risk of cardiovascular disease[*].
Who knew one cup of this satiating soup could hold so many health benefits while also keeping you in ketosis?
Cooking Suggestions
If you would like more veggies in this low-carb keto chicken soup, feel free to add some cauliflower. If you're craving chicken noodle soup, you could make some noodles from zucchini and add them at the very end, simmering just enough longer that they're done to your liking.
Do you need your soup to be dairy-free? Simply saute with a dairy-free oil such as coconut, avocado, or olive oils instead of butter. This recipe has you covered if you're gluten-free as well.
You'll be happy to know this easy keto dish is very leftovers-friendly. Simply substitute an equal amount of boneless chicken breast or rotisserie chicken in place of the chicken thighs called for in the recipe. You can also use any leftover chicken broth or chicken stock in place of the bone broth.
A great side dish would be fluffy keto biscuits. You can use cheddar in place of the mozzarella to make them taste like those yummy cheddar biscuits from a certain restaurant.
If you're dreaming of a creamy chicken soup, you can try this easy keto cream of chicken soup recipe.
Cooking Variations
There are many cooking options these days, so it's nice when recipes give variations for the cooking appliances you have in your kitchen. Rest assured, this keto chicken soup is versatile.
Stovetop
While this recipe is made in the Instant Pot, you can easily cook it up on the stovetop with just a few easy modifications:
In a Dutch oven or large saucepan, melt butter over medium heat. Lightly season chopped chicken thighs with salt and pepper, then add to pot. Cook until browned, 3-5 minutes.
Add remaining ingredients (except kale) to pot and bring to a boil. Cover; reduce heat, and simmer 20-30 minutes or until veggies are tender.
Once vegetables are done, shred chicken and stir the kale into the soup. If you like softer kale, you can put the lid back on and simmer another few minutes until the kale is cooked to your preference.
Slow Cooker
The slow cooker is an easy adaptation too:
Toss all ingredients, except for kale, into the crockpot and cook on low for 4 hours or on high for 2 hours.
Once the veggies are done to your liking, shred the chicken, stir in the kale, and you're ready to eat. If you prefer your kale a bit softer, you can put the lid back on and cook on high another 20-25 minutes until done to taste.
For more high-fat, low-carb recipe ideas, check out the Perfect Keto recipe section.
Print
Soothing Keto Chicken Soup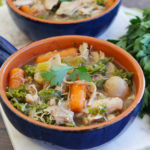 Cozy up with a bowl of this keto chicken soup any night of the week and nourish your body, inside and out. This comfort food is great for anyone following a ketogenic diet and can be easily prepped ahead to accommodate your meal plans.
Author:
Total Time:

30 mins

Yield:

4

-

5

cups

1

x
Scale
Ingredients
1 ½

lbs chicken thighs, chopped

3/4 teaspoons

salt

1/2 teaspoon

pepper

1 tablespoon

butter

6

finely chopped garlic

4 cups

chicken bone broth

1 cup

baby carrots

2 cups

radishes (cut in half)

2 cups

kale

1

bay leaf

1

medium onion (sliced thin)
Instructions
Turn Instant Pot ON and set to SAUTE function +10 minutes, then melt butter. Lightly season chopped chicken thighs with 1/4 teaspoon salt and a few pinches of pepper. Add chicken to Instant Pot and brown for 3-5 minutes.

Add all remaining ingredients (except

kale) to pot. Turn Instant Pot OFF, then back ON, set to STEW function +25 minutes. Replace lid and close valve.

When timer goes off, release pressure manually. Shred chicken, stir kale into soup, and adjust salt and pepper to taste.
Nutrition
Serving Size:

1 cup

Calories:

267

Fat:

17g

Carbohydrates:

12g

Fiber:

3g

Protein:

17g
Keywords: Keto Chicken Soup