Often referred to as "liquid gold," bone broth provides many nutrients that are typically much more difficult to find from exogenous sources.
Bone broth is made up of type II collagen which is only found in bones and connective tissue. Type II collagen is a protein source that improves skin, teeth and joint health — you might think of it as an anti-aging elixir.
But the benefits don't end there.
There are a countless number of benefits that bone broth offers for improving overall health and wellness. In this article we are going to focus on the five main benefits that give bone broth it's well deserved nickname — liquid gold.
The Health Benefits of Bone Broth on the Keto Diet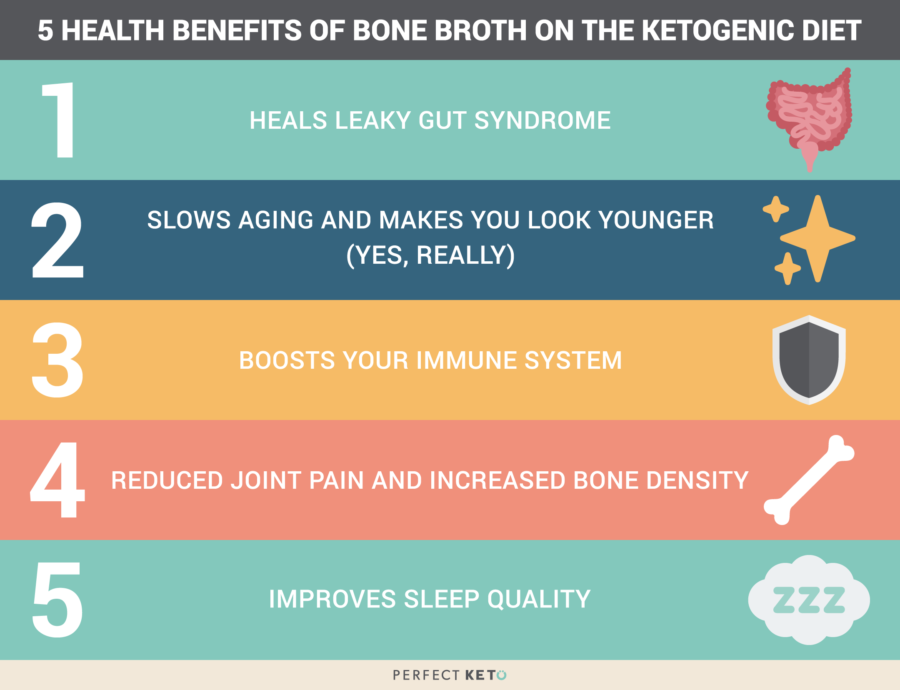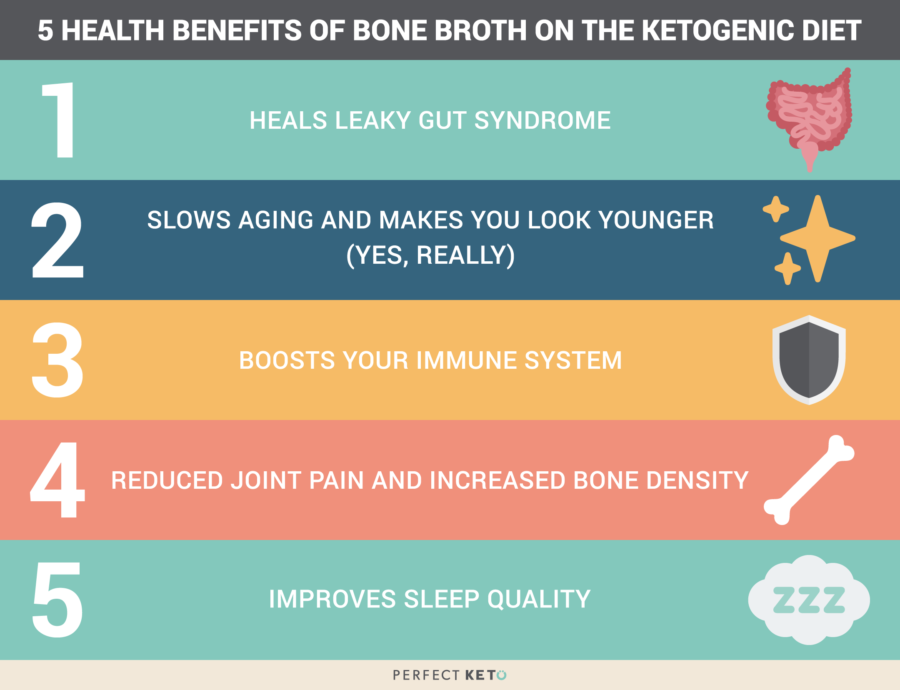 #1: Heals Leaky Gut Syndrome
Due to it's abundance of collagen, consuming bone broth is one of the top ways to heal a leaky gut.
The same can be said for gelatin (a cooked-down version of collagen). Collagen, because it's a rich source of key amino acids, is the special ingredient that gives bone broth it's ability to reduce inflammation.  
Your body breaks down collagen and then uses it's components to heal leaky gut by sealing holes caused by inflammation and other "bad" bacteria that live in the gut.
But what is collagen?
Simply put, collagen is the glue that holds your body together.
It's the main structural protein found in the extracellular space of mammal tissues. We have a lot of collagen in cartilaginous tissues (like our ears and nose), joints (arms, legs, hips), and other types of tissues such as tendons, nails, hair and skin.
Collagen is a naturally occurring and abundant protein found in mammals.
As we age, our bodies naturally produce less collagen making it more important to preserve what we do have. This is where collagen supplements come in handy. They are extremely important to prevent the breakdown of tissue and other cells — especially the breakdown of collagen itself.
There are two specific amino acids found in collagen that make it extra special: proline and glycine.These amino acids work tirelessly to help heal damaged cell walls caused by leaky gut syndrome.
Other side effects of leaky gut — that are potentially cured by consuming bone broth — include anxiety, depression, brain fog, autoimmune diseases, skin issues and chronic low energy.
#2: Slows Aging and Makes You Look Younger (Yes, Really)
The beauty industry has long known about collagen for its many health benefits for skin, hair and nails.
But despite the role collagen plays in keeping our skin, hair and nails strong, the beauty creams out there that are boasting collagen additives don't do as much as they claim. This is because the intact collagen molecules that these creams contain are too large to be absorbed through the skin.
Consumption of bone broth is another story — collagen consumed in bone broth is broken down and absorbed by your digestive system and has been shown to clinically improve the appearance of skin, hair and nails [*][*][*][*].
In one study, skin elasticity levels in elderly women increased significantly after just four weeks of consuming collagen [*].
Increasing your intake of bone broth can also reduce cellulite. In one study, collagen ingestion led to a "decrease in the degree of [visible] cellulite and a reduced skin waviness on thighs" of the participants.

Collagen (unlike collagen-rich creams that are applied topically) helps to increase skin elasticity, strength, smoothness and reduces the visible appearance of cellulite [*].
#3: Boosts Your Immune System
Bone broth is thought to be beneficial for the gut and can boost your immune system [*][*][*].
There's a reason for the warm chicken soup cravings you get when you're feeling under the weather. Our body is craving something to help it heal and bone broth is the answer — similar to chicken soup, but even better!
The main difference is that bone broth is loaded with bioavailable collagen — that is, collagen that's been extracted from bone marrow during the slow simmering process required to make bone broth.
But how does collagen boost your immune system?
Collagen is a powerful cell signaling protein — it floats around in your bloodstream and plays a major role when it comes to combating inflammation, fibrosis and cellular repair.
One study actually found that collagen (IV) levels in blood serum (that's the non-oxygen carrying part of your blood) were significantly lower in patients with chronic inflammatory disease [*].
Basically, this all boils down to:
Low collagen levels = increased risk for disease.
High collagen levels = overall health and wellness.
So, it stands to reason that eating collagen rich foods (like bone broth) is a viable way to restore collagen levels in the blood and improve important cellular repair processes. This in turn will enhance gut function and boost your immune system.
Tip: If you're sick and have no appetite but don't want to drop out of ketosis — just make yourself a warm cup of bone broth (we like Kettle and Fire's chicken or beef bone broth) to get you back to your normal, fat-burning self!
#4: Improved Joint Pain and Arthritis
Consuming the very nutrients that make up your bones, joints and connective tissues is a scientifically proven way to enhance bone and joint health.
This is because when your body has all the essential building blocks it needs — including nutrients, vitamins, cofactors, proteins, etc. — it's much easier to protect, maintain, and rebuild bone, joint and surrounding connective tissues. 
So don't let your diet (something you can control) be the weakest link.
Enter: Bone broth and collagen supplements.
Bone broth is jam-packed with essential nutrients such as hyaluronic acid, glucosamine, chondroitin, calcium and magnesium. Plus, it contains key amino acids — like glycine and proline — clinically proven to accumulate in cartilage [*][*].
Research shows that having abundant glycine and proline in cartilage leads to reduced pain, inflammation and better joint mobility [*][*][*][*].
In one study, joint pain was significantly reduced by simply consuming collagen-rich foods and/or supplements. This finding is consistent for issues of joint pain from multiple causes including running, walking, weight lifting and even decreasing pain at rest. 
So, even if you're not an athlete you can still benefit from consuming bone broth!
The mechanism of how it works at the intra- and intercellular levels is still a grey area. However, scientists have definitely traced these benefits directly back to dietary collagen being the main factor in improving these health issues [*][*][*][*].
Collagen intake has also been shown to significantly increase bone mineral density. This discovery is especially important for postpartum, menopausal and older women who may produce lower levels of estrogen making it harder to maintain sufficient bone and joint health [*].
#5: Improved Sleep Quality
Who doesn't want to sleep like a baby?
If you want better sleep quality without having to turn to drugs that can actually cause more harm than good in the long term (due to their addicting nature) — bone broth may be your answer.
Bone broth contains a powerful amino acid called glycine that can enhance sleep quality — especially when paired with magnesium and calcium [*].
These desirable effects of sleep quality are complex and mediated through the central nervous system.
One study revealed that oral ingestion of glycine can improve more than just sleep quality, including [*]:
Sleep efficacy (the amount of time asleep and in bed)

Sleep onset times

Daytime alertness

Performance of memory recognition tasks
Since bone broth is high in glycine, it's a natural sleep-solution that won't have you relying on sleep medications.
How To Make Keto Bone Broth (And What to Do If You Don't Have Time)
All of these benefits are great but I bet you're wondering how you actually make keto-friendly bone broth, right? Well, there are actually a variety of ways. For example, you could follow our bone broth recipe or try out the recipe below.

Four pounds of beef bones with marrow, chopped

Two celery stalks, chopped

Two onions, chopped

Four garlic cloves, peeled and smashed

A variety of herbs of your choice

About 18 cups of water
Put all of these ingredients together in a large pot and bring to a boil. Then let them simmer for 48 hours. (Alternatively, you could use a slow cooker or Instant Pot).
If you don't have the time to wait, or prefer a faster option, we recommend Kettle and Fire Bone Broth.
Getting your hands on some bone broth has never been easier — make a huge batch and freeze it in individual mason jars or buy the pre-made version — either way it should definitely be a staple in your keto diet!
Enjoy a hot cup of keto bone broth in the morning for a light breakfast or as an easy meal throughout the day to get all your favorite nutrients in while maintaining ketosis and burning fat.