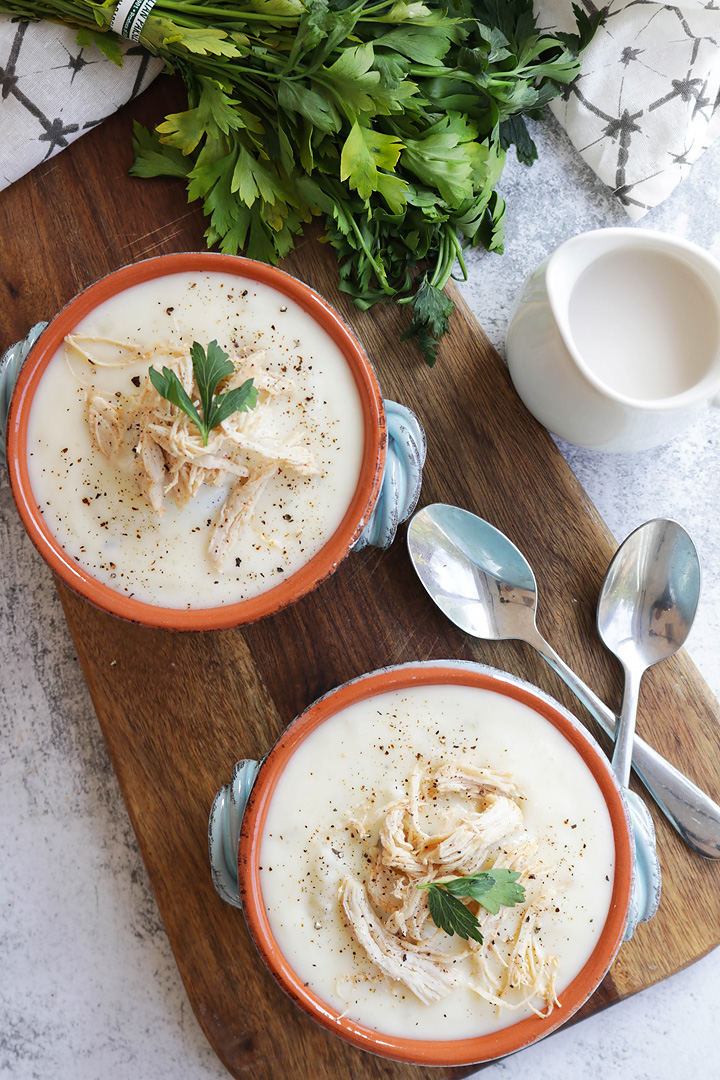 Finally, a hearty keto chicken soup that's not just warm and comforting — it's 100% low-carb and won't kick you out of ketosis. The best part? It's ready in less than half an hour with very little prep time.
Add this chicken soup recipe to your list of quick and easy keto recipes or double your batch and freeze what you don't eat for a satisfying snack on super busy days.
Most canned cream of chicken soups contain fillers, thickeners, and tons of hidden carbs. Not to mention gluten and other additives you don't want in your body.
This keto chicken soup comes with health benefits instead. This keto chicken soup is:
Creamy

Hearty

Warm

Comfort food

Gluten-free

Dairy-free (optional)

Sugar-free

Keto
The main ingredients in this creamy chicken soup include:
Health Benefits of Creamy Keto Chicken Soup
Beyond the fact that this is one yummy soup, it's genuinely good for you. Each rich and creamy bite is nutrient-dense and there are a number of health benefits you'll get to enjoy.
#1. Promotes Glowing Skin
Bone broth contains crucial amino acids that help build and maintain your connective tissue and promote younger-looking, more hydrated, healthier skin[*][*].
Carrots are also packed with skin-supporting nutrients like beta-carotene, which act as antioxidants in your body. Phytonutrients like beta-carotene may protect against oxidative damage from UV rays, pollution, or poor diet choices[*][*].
#2. Anti-Inflammatory
The keto diet is known for its anti-inflammatory effects, specifically when it comes to brain inflammation[*].
This is mostly because high-carb diets cause an inflammatory response via chronic high blood sugar and corresponding insulin levels. A healthy ketogenic diet is a high-fat, low-carb diet that still incorporates plenty of nutrient-dense, fresh foods.
Celery, onions, and carrots all provide important phytonutrients that can quell inflammation, but bone broth and coconut cream also offer benefits.
Bone broth is rich in the amino acids glycine, glutamine, and proline, which can help reduce inflammation and heal the sensitive lining of your intestines[*][*].
Coconut cream is rich in vitamins C and E, which are potent antioxidants that can help fight inflammation. And MCTs (medium-chain triglycerides) in coconut are linked to fat loss and lowering your risk of heart disease, which is connected to high inflammation levels[*][*].
Grass-fed butter contains butyric acid, which may reduce inflammation by downregulating inflammatory protein molecules. Oral butyric acid has been shown to improve symptoms of Crohn's disease and colitis[*].
#3. Helps Support a Healthy Gut
Celery is loaded with powerful nutrients that support digestive health, including antioxidants, fiber, and water. Celery extracts are studied for their potential medicinal properties, from lowering blood glucose and serum lipid levels to providing anti-inflammatory and antibacterial benefits[*][*].
MCTs in coconut oil have anti-fungal and antimicrobial effects, which may help reduce the overgrowth of non-beneficial bacteria like Candida albicans and Clostridium difficile[*][*].
The nutrients in bone broth are also well-known for their gut-healing properties. Gelatin, which is abundant in properly-made bone broth, may support and protect your gut by balancing gut bacteria and strengthening your gut lining[*]. 
Get plenty of bone broth, veggies, and healthy fats for a strong gut and anti-inflammatory benefits that will keep you and your body strong.
This low-carb soup is the perfect addition to your ketogenic diet meal plan. Use it as your main course or as a side dish to a veggie-centric meal.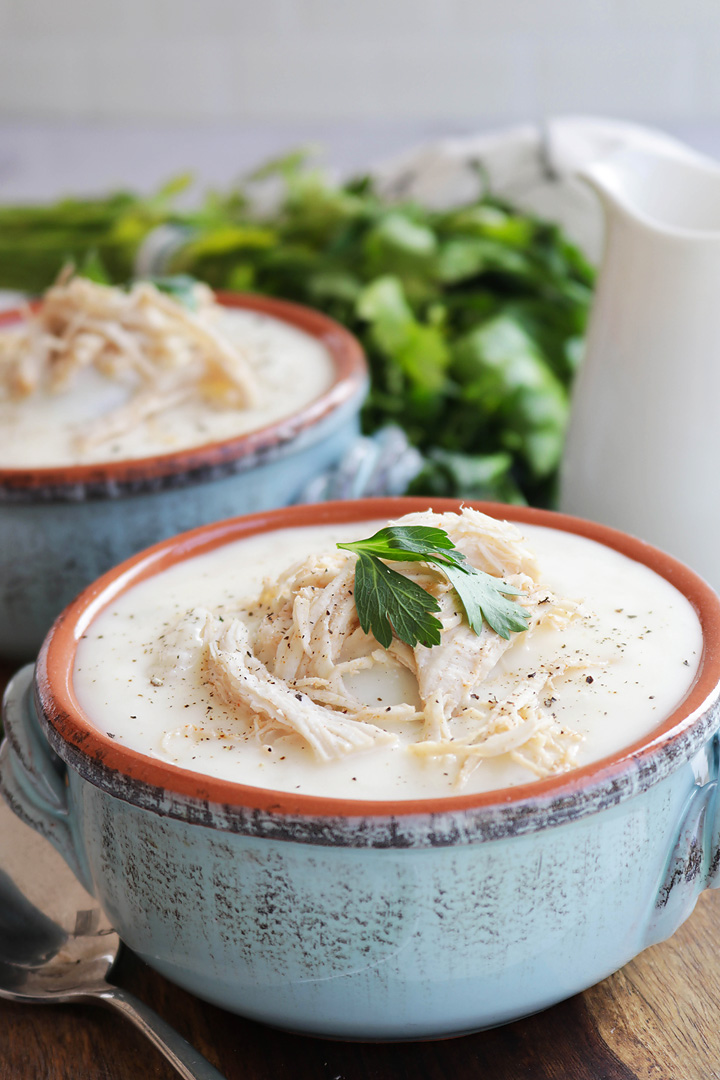 Other Vegetables to Add
Soups like this one are incredibly easy to customize. What are your favorite vegetables? Add them (as long as they are keto-friendly veggies) and amp up the flavor.
Keep in mind that the more vegetables you add, the more net carbs there will be. It can still be keto-friendly, you just have to keep the carb count in mind. 
Here are a few vegetable ingredients that you can start with: 
Cauliflower:

Chop it into very small pieces so it blends in better.

Avocado:

Add just a tablespoon to make this keto chicken soup even creamier. 

Zucchini:

This vegetable cooks faster, so add it last.

Pepper:

Chop the peppers up into thin slivers so they cook faster. 
Other Ways to Make Keto Chicken Soup
This recipe shows you how to make chicken soup on the stove top. But it can also be made in a variety of other ways too. 
Slow Cooker

: Combine all the ingredients in a Crock-Pot. Turn it on low heat and cook for 6-8 hours or on high for 4-6 hours. 

In the Oven:

Put all the ingredients in a Dutch oven and cover it. Bake at 350°F for about an hour, or until the vegetables are tender. 

Instant Pot:

How you use the Instant Pot will depend on whether your chicken is pre-cooked or not. If you use pre-cooked chicken, simply add all the ingredients to the pot. Secure the lid and manually cook for about 5 minutes. If the vegetables still aren't tender enough, cook for another 5 minutes. 
Time-Saving Shortcuts
The most time-consuming part of this recipe is chopping up all the ingredients. After everything is in the pot, it just takes about 20 minutes to cook. 
To save on prep time, cut up all the vegetables beforehand. You can store the vegetables in sealed containers in the refrigerator for up to a week. 
Another shortcut is to cook and shred the chicken in advance. Boil the chicken breasts, then shred them with a fork. Store the shredded chicken in the refrigerator until you're ready to make the soup. 
Chicken Breast or Chicken Thighs
You can use either chicken breast or chicken thighs in this recipe. Both will taste amazing, but consider the texture. Chicken breasts shred easier and have less fat. They are better for soups for this reason. 
Print
Easy, Creamy Keto Chicken Soup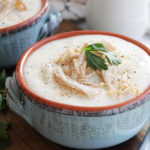 This low-carb keto cream of chicken soup recipe will satisfy all your cravings for a hearty, cold-weather meal. Plus, it takes less than 30 minutes to make.
Author:
Total Time:

25 minutes

Yield:

6 cups

1

x
Instructions
Melt butter in a large saucepan set to medium heat.

Add carrots, celery, onion, salt, and pepper. Saute for 5-6 minutes until vegetables are slightly softened.

Stir in shredded chicken, then pour in the chicken stock or broth and cream.

Cook for 12-15 minutes under low-medium heat.

Sprinkle in xanthan gum while continually stirring. Simmer soup for an additional 5-6 minutes.

Add more xanthan gum for a thicker consistency if you want. Serve and enjoy.
Nutrition
Serving Size:

1 cup

Calories:

433

Fat:

35g

Carbohydrates:

8g

Fiber:

2g

Protein:

20g
READ NEXT: Like this low-carb chicken recipe? Then you'll love this Creamy Mushroom Chicken, with all the flavor of your favorite cream of mushroom soup.