In this article, we compare exogenous ketones from two well-known brands: Zhou Nutrition's Keto Drive and Perfect Keto Exogenous Ketones.
You'll learn how the brands measure up against each other in terms of ingredients, quality and quantity of BHB salts (Beta-Hydroxybutyrate), taste, customer reviews, and price.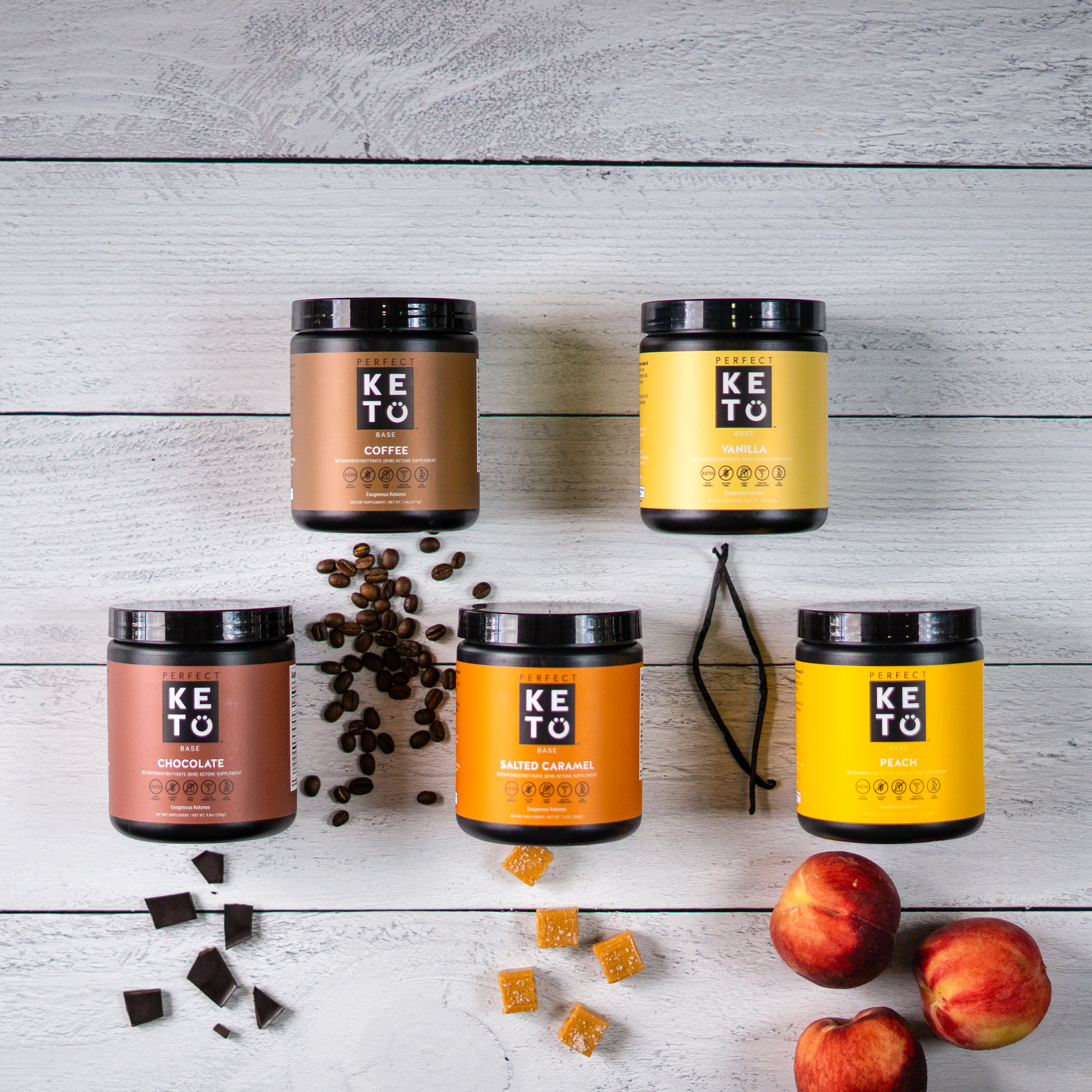 What Are Exogenous Ketones?
Exogenous ketones are supplements that rapidly increase your blood ketone levels. People often use them on the keto diet, but you can also take them even if you aren't keto.
Studies show that ketosis from supplements mimics the effects of fasting or restricting carbs and appears to offer some of the benefits of the keto diet, including mental clarity and increased energy[*].
Exogenous ketones come in two forms: ketone esters and ketone salts. Ketone esters are generally less popular because they're more expensive and have an unpleasant taste. Aside from that difference, there's no evidence that one form of ketones is better than the other.
You can take exogenous ketones to enhance your keto diet results, but they also work for people who are looking for some of the benefits of going keto without a full commitment to cutting carbs.
Health Benefits of Exogenous Ketones
Exogenous ketones may decrease appetite and cravings[*].
Perfect Keto ketones contain electrolytes like calcium, potassium, sodium, and magnesium, which offer additional health benefits, particularly if you're new to the keto diet, or for physically active people in need of hydration.
Taking ketones supports mental energy, focus, and physical performance during workouts. They can also help you avoid energy slumps in the middle of the day.
Ketone supplements may have a beneficial effect on blood sugar. Studies suggest they could help prevent sharp increases in blood glucose after a meal[*]
Keto Drive Exogenous Ketones Overview
Keto Drive Exogenous Ketones are made by supplement company Zhou Nutrition. Zhou Nutrition was founded in 2014 and has since grown into a large company that carries more than half a dozen categories of supplements.
According to Zhou, Keto Drive BHB salts offer faster ketosis, sustained energy, and improved mental performance.
This product comes in two flavors:
Keto Drive Matcha-Lemonade
Keto Drive Orange-Mango
Zhou also provides Keto Drive capsules that contain apple cider vinegar.
Perfect Keto Exogenous Ketones Overview
Perfect Keto exogenous ketones are designed to assist with controlling your appetite, reducing keto flu symptoms, and providing a steady source of energy throughout the day.
Perfect Keto Exogenous ketones come in 5 flavors:
You can also get them as Unflavored Perfect Keto BHB Capsules.
Perfect Keto vs. Keto Drive Compared
Ingredient Comparison
Both products contain a similar amount of exogenous ketones, but that's where the similarity ends.
Keto Drive contains several gums, filler ingredients, and preservatives, while Perfect Keto's exogenous ketones are free of unnecessary additives.
Keto Drive Ingredients
Keto Drive ingredients are:
Keto Drive Performance Complex (goBHB), Vitamin A, Calcium, Sodium, Magnesium, Citric acid, Malic acid, Natural orange flavor, Other natural flavors, Silica, Stevia, Natural color, Acacia gum, Xanthan gum, Guar gum, and Sea salt.
Ingredients summary
Keto Drive contains three different types of gums: acacia gum, xanthan gum, and guar gum. While gums are generally regarded as safe by the Food and Drug Administration, they can sometimes cause harmful side effects in some people.
Guar gum, in particular, can trigger digestive symptoms like gas and bloating. Any unnecessary ingredient such as guar gum increases the risk of experiencing unpleasant effects due to a sensitivity.
Perfect Keto Ingredients
Perfect Keto Exogenous ketones are made with all-natural clean ingredients with no fillers or substitutes. The ingredients for Perfect Keto's Chocolate Base ketones are:
Natural flavors
Stevia extract
Monk fruit extract
Calcium
Sea salt
Ingredients summary This product does not contain any gums, colors, fillers, or substitutes. It is also free of gluten, dairy, and soy.
Ketosis
Both Perfect Keto and Keto Drive exogenous ketones are designed to help you achieve ketosis rapidly. They are both keto-friendly and contain zero carbs.
Keto Drive contains 11.7 grams of the proprietary blend "goBHB" but does not specify the amount of each actual BHB salt present per serving. Proprietary blends allow manufacturers to disclose ingredients without specifying the exact amounts of each.
On the other hand, Perfect Keto has precisely 11.3 grams of high-quality BHB ketones per serving coming from equal parts magnesium beta-hydroxybutyrate, sodium beta-hydroxybutyrate, and calcium beta-hydroxybutyrate.
Taste
Most users seem to find the taste of Keto Drive palatable. Many of the reviews report a pleasant, sweet taste.
The only downside is that only two flavors are available. If you are neither a fan of orange mango nor matcha lemonade, then you're out of luck.
Perfect Keto Exogenous Ketones base went through six months of reformulation and reiteration to arrive at a pleasant taste without adding any sugar or artificial sweeteners. Instead, the ketones are sweetened with natural, keto-friendly stevia and monk fruit extract.
According to reviewers, you won't notice any of the bitterness that's found in most other ketone salts. Instead, you will get delicious ketones that taste great mixed with just water.
Reviews
Keto Drive has largely positive reviews. The most common themes are its sweet taste and ability to mix well with water.   For example:
"Great flavor and mixes perfectly. I normally hate powders, but this one has a great flavor!"
"Absolutely delicious. Just mix with water and ice. Don't need to add anything else. Love it. It's A++"
"I've only had it a few days. Flavor isn't bad at all"
Here are some less favorable reviews of the product.
"The product tastes good but I have not felt any difference, no energy, no weight loss..nothing (I workout and eat healthy)."
"My keto strips did not show any difference with this product. However, the taste was great!"
Thousands of customers have reviewed Perfect Keto Exogenous Ketones positively:
"Yummy! I was on the hunt for ketones and I spent quite a bit of time reading reviews on the Strawberry Lemonade, I'm so glad I pulled the trigger! It is not too sweet, doesn't leave an aftertaste, and is incredibly refreshing. The only downfall is I drink this once a day which means I went through the container very fast, I wish there was a larger/bulk container for those of us who are obsessed!"
"I just received my order of Strawberry lemonade base and I am addicted! I added a couple of strawberries, a bit of watermelon, Ice, and some lemon carbonated water and this is better than the frozen lemonade you get at any amusement park or refreshment stand! I have no doubt I will be able to maintain my goal to take off another 30 lbs this summer with treats this good."
"I've been adding this to my iced coffee in the mornings and it's made a huge difference. Way more energy throughout the day and less cravings. Coming back to order more!"
"I cannot say enough about this product. This is the first time that I've ever tried it. I just got back into ketogenesis and I had zero keto withdrawals and for me, that's absolutely amazing because I am a sugar addict. I have no cravings. I feel energy. This is definitely going to be a staple for me moving forward!"
"I've been using this product for over a year. So that should tell how good it is. 50 lbs lighter and more active. Won't lie I've tried others but it was the last time I did. Stick with the quality and service, it's the best."
Most reviews of Perfect Keto that aren't favorable relate to the price point (which is somewhat higher than non-premium, generic brand products) or individual flavor preferences.
You can also browse our exogenous ketones on Amazon to read thousands of reviews from real customers or order them with free shipping or Prime delivery.
Price
Keto Drive and Perfect Keto exogenous ketones have a similar price point. The containers both cost $39.99 for 15-16 servings.
Although you can find cheaper exogenous ketone products on the shelves, going generic isn't always a better value.
Generic products don't usually offer the same guarantee of quality and may contain fillers or artificial ingredients, or present other downsides.
Which Is Best?
Keto Drive is an above-average product, but unlike Perfect Keto, Zhou Nutrition doesn't specialize in keto supplements. Perfect Keto, on the other hand, draws from deep expertise in all things keto.
The most important criteria for choosing an exogenous ketone supplement include: quality of ingredients, quality of BHB salts, amount of BHB, and of course, taste.
Perfect Keto Exogenous Ketones excels in all four categories. Between the two products, Perfect Keto is the clear winner for the quality and amount of BHB, quality of ingredients, and flavor variety.
If you're looking for all-natural clean ketones that taste good, will help you with appetite, increase your blood ketone levels, and support your keto lifestyle, Perfect Keto's Exogenous Ketone Base is the best choice.