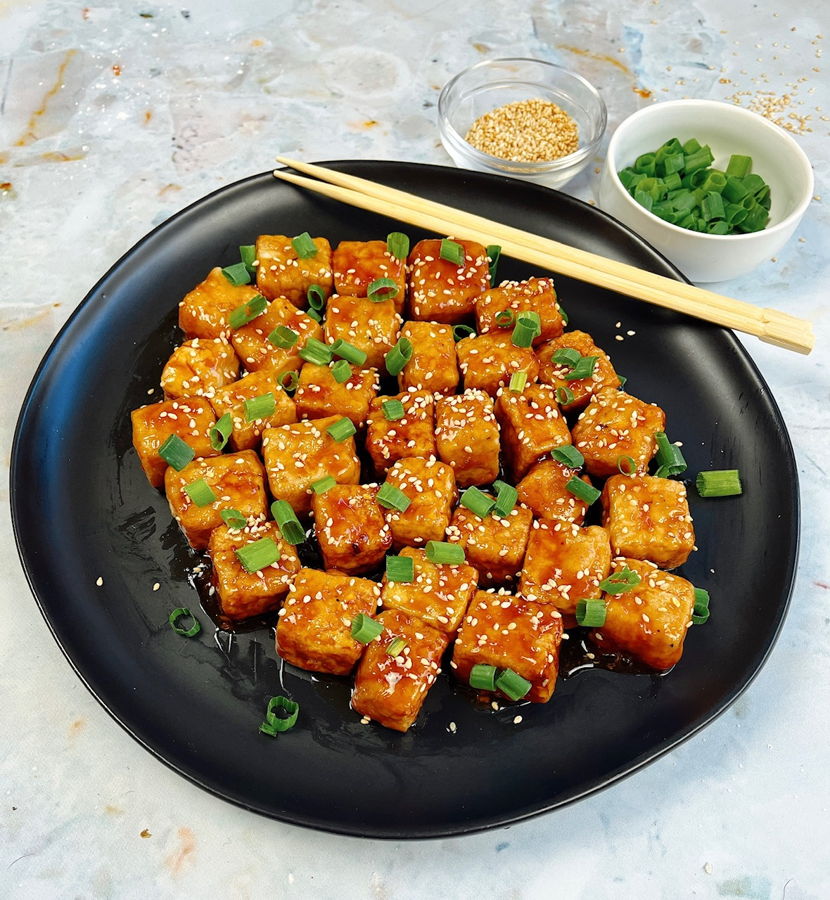 Even if you are a tofu skeptic, you will most likely change your tune with this foolproof method for cooking and crisping your tofu. Draining and pressing the tofu is key, and adding arrowroot starch for that extra crispy kick makes a huge difference in the texture of your dish. If you add those two steps, you can cook your keto friendly tofu in the oven or on a stovetop if you choose and it will still come out crispy.
Toss your low carb tofu in the savory sauce, add a side of your favorite vegetables and you are good to go. You can even double the batch to keep it on hand for extra meals throughout the week!
Is Tofu Allowed On Keto?
In case you weren't aware, tofu is a type of bean curd that is prepared using soybeans as the main ingredient. It is then turned into soymilk and coagulated. The curds that remain from that process are transformed into the tofu you see in the supermarket.
Soybeans are a low carb food, but remember when you are eating tofu, it is not straight soybeans. These soybeans have been through a manufacturing process to become tofu. Firm tofu, which is used in this recipe, only has about 2 grams of net carbohydrate per serving, making this a ketogenic winner.
Of course it is important to remember that different forms of tofu have varying degrees of net carbohydrates per serving and it is important to read the nutrition labels and ingredient lists to pick the right tofu product for you.
Keto Tofu Ingredients
The main ingredients for this keto tofu recipe include;
Extra-firm tofu
Arrowroot starch
Umami powder
Kosher salt
Low-sodium soy sauce
Rice wine vinegar
Stevia or monkfruit sweetener
Fresh garlic
Fresh ginger
Sesame oil
How To Make Crispy Keto Air-Fried Tofu
The first thing you will want to do to create this dish is start by taking your piece of tofu and use either a press or something heavy covered with paper towels and press the tofu for 15-20 minutes. This step is essential in eliminating excess water. The less moisture the tofu has, the crispier it can get in the cooking process.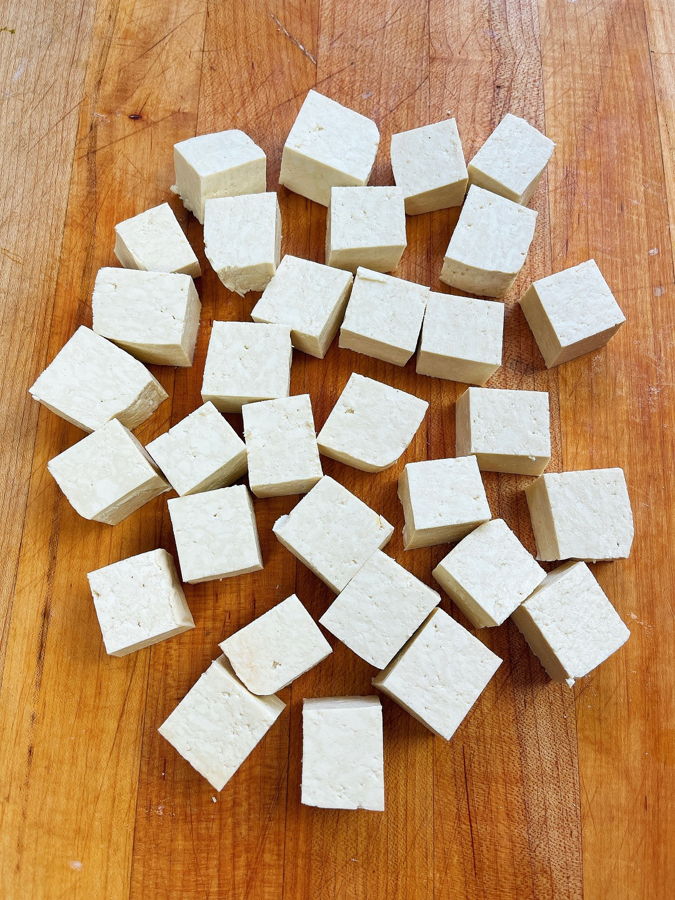 Next, you will cut your tofu into small cubes, about 1 inch in diameter. At the same time, you will take a small bowl and put your arrowroot starch, umami powder and a pinch of salt in it. Mix it up a little, and then add your tofu into this bowl and toss it until all the pieces are coated.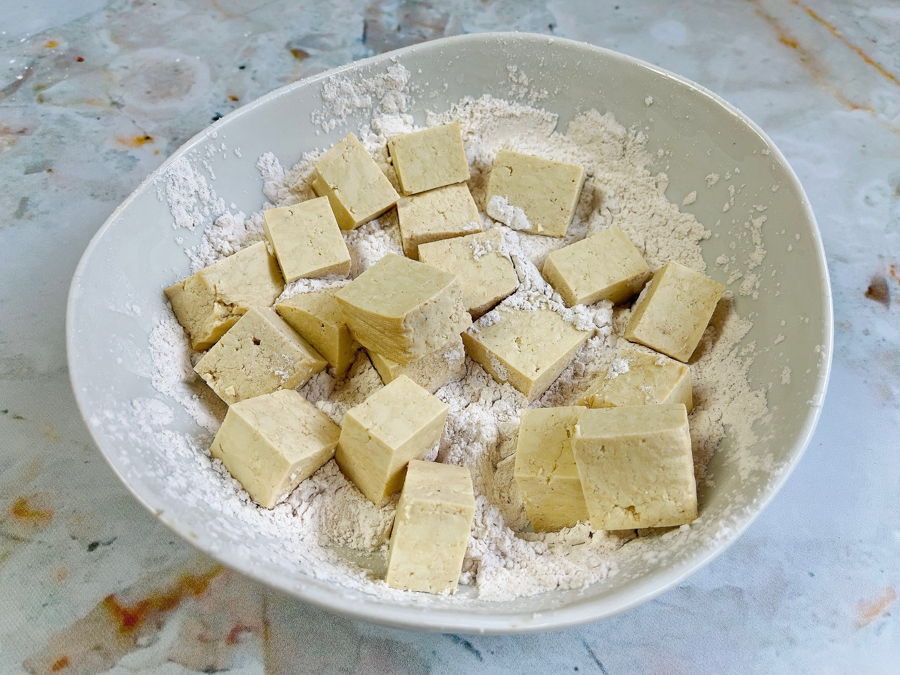 Add your tofu to your air fryer in a single layer. You will probably have to do this twice to get all the tofu cooked. Once the tofu is in the basket, spray it down lightly with olive oil or avocado oil spray and let it cook at 375F for 15 minutes. The tofu should be a light brown when cooked. Take it out and set it aside.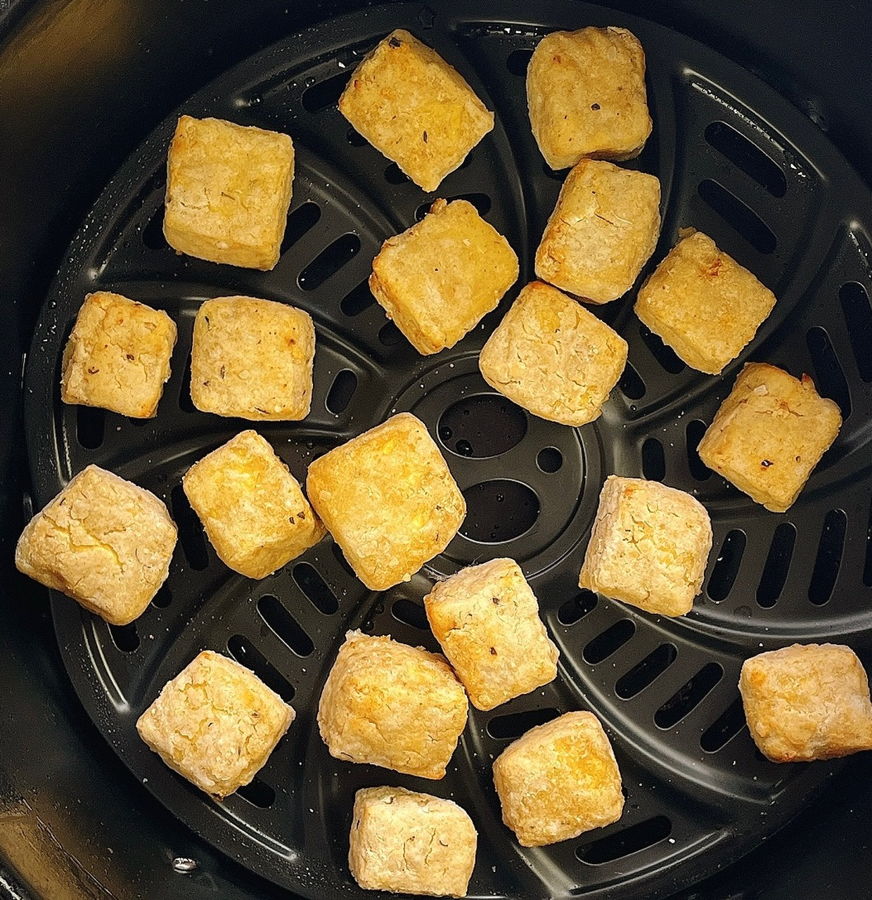 Then you will make the sauce that goes on the tofu. You will use the soy sauce, rice wine vinegar, sweetener of choice, minced garlic and ginger and sesame oil, plus two tablespoons of arrowroot starch and 2-3 tablespoons of water to thin out the sauce if needed. Allow these ingredients to boil for a minute and then bring the heat down for 2-3 minutes. The sauce will be thick at this point and you can add the water as needed to get the sauce to the consistency you desire.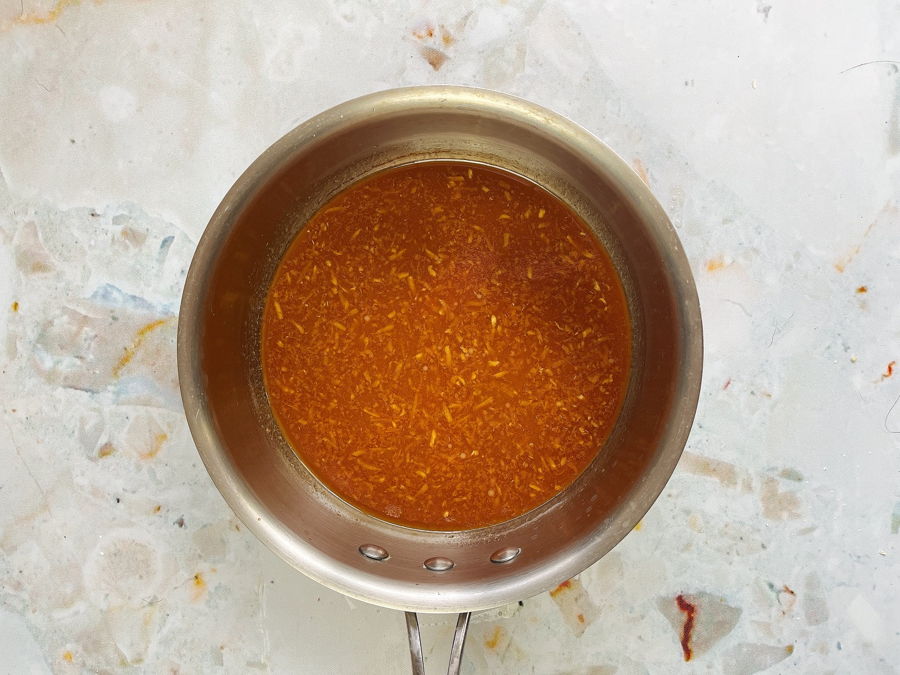 Last, you will add your tofu from the plate into the pot where the sauce is and toss the tofu around until all the pieces are coated. Now you can remove the tofu from the pot and place it on a plate. Garnish it with green onion and sesame seeds if you desire.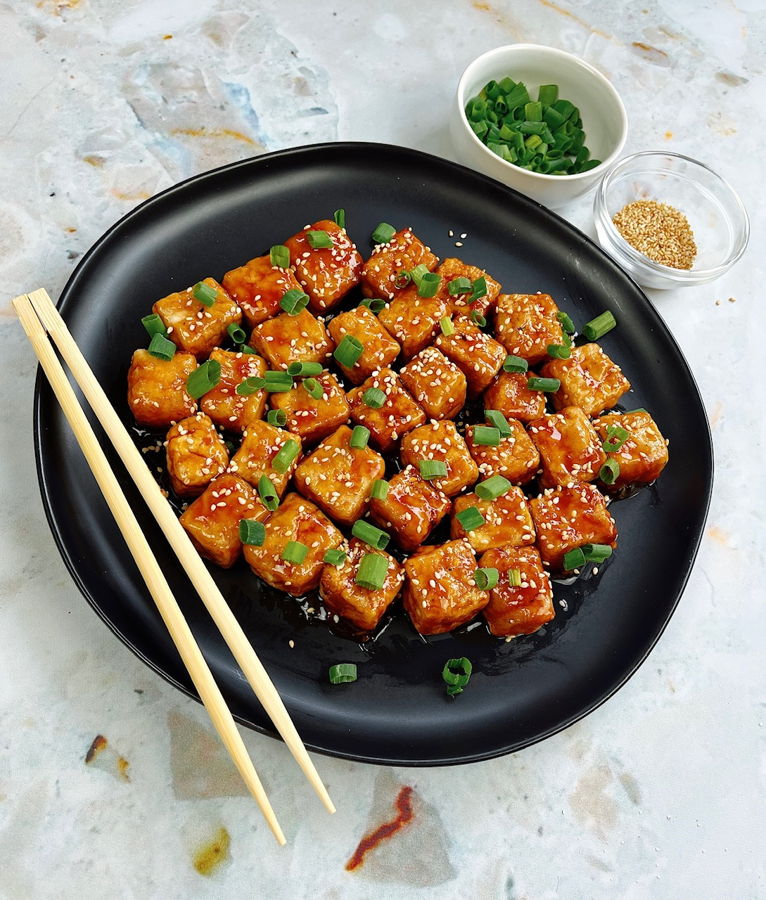 Storing Keto Tofu
Leftover keto friendly tofu should be stored in an airtight glass container in the refrigerator. It will keep well for 3-4 days. You can also freeze your tofu, but it will not ever be as crispy again after you've frozen it.
How to Reheat Keto Tofu
To reheat this low carb tofu recipe, you can warm it over low heat on the stove or put it in the air fryer again at 350F for 4-5 minutes.

Print
Crispy Keto Air-Fried Tofu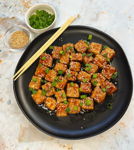 This tofu recipe is unlike others because it is cooked in an air fryer, leaving it crispy on the outside and soft on the inside. Crispy keto air-fried tofu recipe is delicious, quick and easy to prepare, making it a welcome addition to any ketogenic diet.
Author:
Prep Time:

15 minutes

Cook Time:

15 minutes

Total Time:

30 minutes

Yield:

4

1

x
Scale
Ingredients
16 oz

. extra-firm tofu

½ cup

of arrowroot starch

1 tbsp

. umami powder (garlic powder is fine as well)

½ tsp

. sea salt
For the sauce:
½ cup

low sodium soy sauce

3 tbsp

. rice wine vinegar

2 tbsp

. liquid stevia 

1 tbsp

. sesame oil

2 tbsp

. Arrowroot starch

1 tsp

. fresh ginger, finely minced

1 tsp

. fresh garlic, finely minced

2

–

3

tbsp. water to thin out the sauce, optional

Sesame seeds and green onion for garnish, optional
Instructions
Press tofu under a tofu press or something heavy wrapped in paper towels for 15-20 minutes.

Take a small bowl and place the arrowroot starch, powder and salt in it. Mix well.

Cut the tofu into small 1 inch pieces and toss it in the mixture in the bowl until well coated.

Place the tofu in the air fryer one layer at a time at 375F for 15 minutes. Open the airfryer midway through the cooking and toss the pieces around so they are cooked evenly. When your tofu is cooked, set it aside on a plate.

Take all of the non-optional sauce ingredients and add them to a saucepan on high heat. Stir and take the heat down to medium/low heat for 2-3 minutes. The sauce should be thick by then. If you prefer your sauce thinner, add water at this time.

Take your tofu you set aside and put it in the pan with the sauce. Toss it all around until the tofu pieces are well coated. Take the coated tofu out and place it on a plate. Sprinkle sesame seeds and green onion on your tofu if you desire. Serve with cauliflower rice, your favorite steamed or roasted veggies or a leafy green salad.
Nutrition
Serving Size:

4

Calories:

169

Fat:

10g

Carbohydrates:

7.6g

Protein:

13.5g