While most pastas are loaded with carbs and therefore not keto-friendly, there are others you might not be so sure about. For instance, are shirataki noodles keto?
When it comes to a low-carb or ketogenic diet, certain foods are off limits. This includes pasta, noodles, chips, rice, and legumes. But that doesn't mean you have to entirely give up the tastes and textures you love.
One of the easiest ways to transition to a keto diet is to find a low-carb substitute for your favorite foods instead of banning them completely from your diet. That's right — you can have noodles on a low-carb diet. You can also try our New Keto-Friendly Mac & Chesse.
Chances are you grew up loving noodles, whether in traditional pasta, mac and cheese, or another noodle-filled dish like lo mein. Noodles are a staple in practically every kitchen, so it's no wonder they have their own aisle in the grocery store.
However, these delicious pasta dishes are bad news for your blood sugar and ketone levels. This guide will help you understand why most noodles aren't fit for a keto diet and how you can find satisfying alternatives to help you stay on track with your health goals.
What Are Noodles and Why Aren't They Low-Carb or Keto-Friendly?
The first record of noodles dates back to 4,000 years ago in China, although these high-carb strips have clearly spread all around the world. Noodles are a key ingredient in the traditional meals of many cultures around the globe, such as in Italian and Asian cuisines. From angel hair to fettuccine, rice noodles to ramen, miracle noodles to pho pasta, these staples come in a variety of shapes, sizes, and textures.
Noodles are made from a flour-and-egg dough which is stretched and rolled flat before being cut into long, thin pieces. Often made from wheat flour, they are classified as a grain product. Noodles are often made with unleavened dough, which means there was no chemical or artificial leavening added to make the dough rise.
As far as preparation goes, noodles can be boiled al dente, tossed in a stir fry, or deep-fried. Traditional noodle dishes usually include an egg and are eaten with some type of sauce or soup.
One cup (or about 160 grams) of traditional cooked egg noodles contains a total of 221 calories, including 40 grams of carbohydrates, 38 grams of net carbs, 2 grams of fiber, 3 grams of fat, and 7 grams of protein[*].
That's right — 38 grams of net carbs per cup. Yikes.
Lacking fat and protein, noodles don't provide many nutrients either. One serving (or about one cup) of noodles provides a small amount of vitamin B6, vitamin B, vitamin D, calcium, magnesium, and iron.
Even gluten-free noodles like black bean pasta have a high carb count.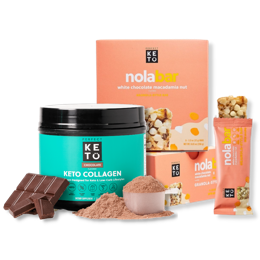 Browse our curated collection of fan-favorites and discover your new favorite snack or supplement.
Shop Best Sellers
4 Low-Carb Substitutes for Noodles
Given the high amount of carbs in one cup of regular pasta, it's no surprise they aren't low-carb or keto-friendly. However, a keto diet doesn't mean you can never have food similar to noodles.
In fact, there are plenty of low-carb noodles and pasta alternatives out there today, just like there is low-carb bread. Some of these great low-carb noodles include:
1. Shirataki Noodles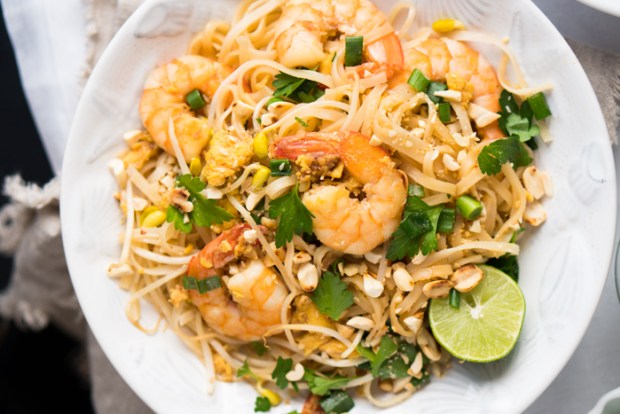 Image: Gluten-Free and Keto Pad Thai With Shirataki Noodles
Are shirataki noodles keto? You bet they are.
Shirataki noodles, also known as miracle noodles, are one of the top zero-carb, calorie-free noodles you can safely eat on the ketogenic diet. Being the only carb-free noodles in existence today, it's no wonder they're called a miracle.
Shirataki is a type of Japanese noodle made from the konjac yam, which is also called konnyaku. Not only are they vegan and low-carb friendly, they're virtually tasteless too. They absorb the flavor and color of whatever they're cooked with.
Unlike most noodles and pastas today, shirataki noodles are most commonly pre-packaged in liquid. The liquid tends to have a fishy odor, which leads some to believe the noodles must taste this way. Simply break out your colander and give them a thorough rinsing in cold, running water, and the odor goes away entirely.
Around 97% of shirataki noodle content is water, and the other 3% is a water-soluble fiber called glucomannan. This amazing noodle has zero calories. One serving size (about three ounces) also has 0 grams of fat, less than 1 gram of carbs, and 0 grams of protein[*]. With macronutrients like these, you can easily maintain ketosis while indulging your noodle cravings.
Toss these humble konjac noodles with a little sesame oil, keto chicken or shrimp, coconut aminos in place of soy sauce — add all the veggies you love — and you can still enjoy stir fry.
Thankfully, shirataki noodles can be found in most grocery stores today. You can even buy them on Amazon. Give them a try and start giving your favorite noodle-based dishes a low-carb spin.
2. Zoodles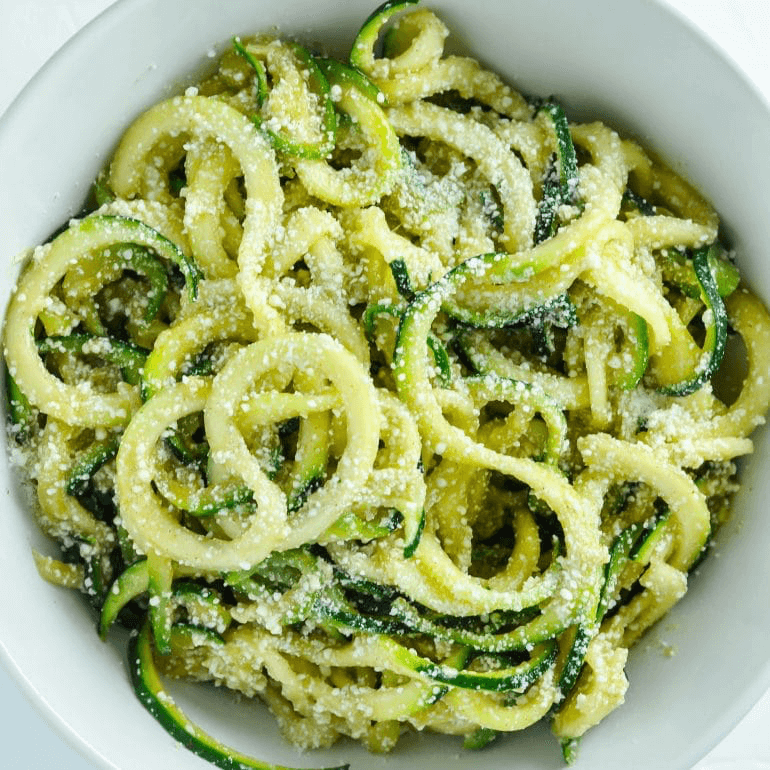 Image: Zoodles With Browned Butter and Mizithra Cheese
Another fun way to add noodles to your keto meals without adding carbs is zoodles. But what exactly are zoodles?
Zoodles or "zucchini noodles" can be found pre-packaged in the produce section of your local grocery store or can be easily formed in your own kitchen.
Zoodles are made by spiralizing your favorite veggies into ribbon-shaped noodles — it's that simple. While the "z" in zoodles stands for zucchini, you can make noodles out of different veggies, including carrots and beets. However, zucchini contains the lowest carb count.
Unlike traditional noodles, zoodles are wheat-free, vegan, grain-free, gluten-free, and extremely nutritious. Take a look at the nutrition facts: One cup of zoodles or "zucchini noodles" contains 20 grams of calories including less than 1 gram of fat, 4 grams of carbs, 2.5 grams of net carbs, 1.5 grams of fiber, and 1.5 grams of protein.
Along with being the perfect low-carb noodle substitute, zoodles also provide abundant health benefits. Zoodles are a high source of antioxidants, contain anti-inflammatory properties, provide a rich amount of potassium, help improve digestion and eye health, and can even help individuals suffering from diabetes and obesity.
3. Low-Carb Egg Noodles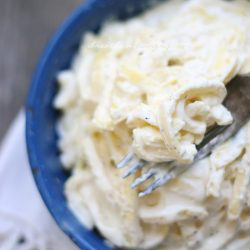 Image: Keto Egg Fast Fettuccini Alfredo
Want to get creative with your noodles? Try making your own low-carb egg noodles at home. (It's easier than you think). What favorite dishes would you make if your egg noodles were keto-friendly?
The ingredients you need to make your own egg noodles are:
2 eggs
1 oz cream cheese
1 tsp salt
1 tsp pepper
1 tsp garlic powder
1 oz shredded cheese
1 tbsp butter
Directions:
Combine these ingredients in a blender and then pour into a greased 8-by-8-inch pan.
Bake the dough at 325°F for about 8 minutes or until you see the dough begin to set.
Once cooled, roll up the pasta and slice it with a sharp knife into ⅛ inch-thick pieces. Then, unroll the slices and continue to prepare the pasta to your liking (with keto-friendly ingredients, of course).
Since the two main ingredients of this pasta are egg and cream cheese, rest assured the macronutrients are low-carb and keto-friendly. One serving of this recipe is only 60 calories — and that includes 5 grams of fat, 0 carbs, and 3.5 grams of protein.
4. Spaghetti Squash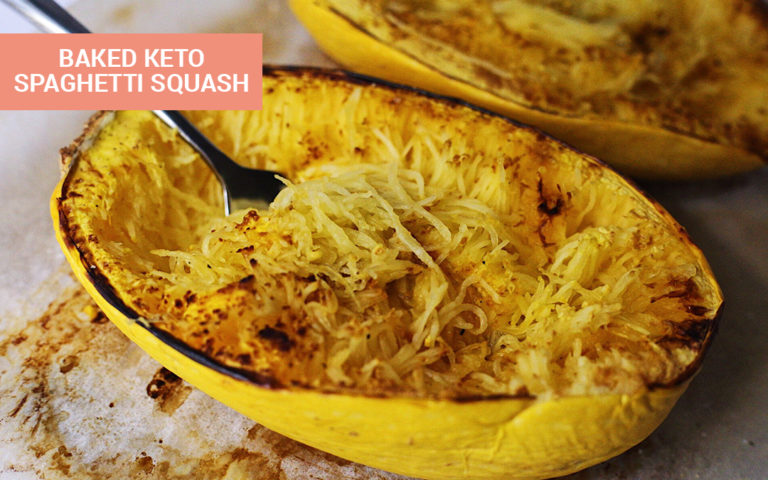 Last but not least, another popular go-to option for the ultimate low-carb pasta or noodle is spaghetti squash. Not only is it low in total carbohydrates and high in fiber, this big yellow vegetable is also jam-packed with nutritional value that will keep you energized throughout the day.
What makes spaghetti squash so great?
Spaghetti squash provides significant amounts of vitamin A, vitamin C, and potassium[*]. Plus, all you really need to make these noodles is the squash, some olive oil, and a hint of salt and pepper.
How do you exactly prepare spaghetti squash?
In order to turn your spaghetti squash into the perfect low-calorie, low-carb noodle substitute, you'll have to follow a few simple steps:
Preheat the oven to 400°F.
Cut the spaghetti squash in half (either direction).
Drizzle olive oil, salt, and pepper on the inside of the squash.
Set on a baking sheet and bake in the oven for about 40 to 45 minutes.
One cup of spaghetti squash contains a total of 31 calories which includes less than 1 gram of fat, 7 grams of carbs, 5.5 grams of fiber, 1.5 grams of net carbs, and less than 1 gram of protein.
With the key nutrients and fiber this veggie provides, you'll be satiated without any worry of getting kicked out of ketosis.
Try These Shirataki Noodles Keto Style and More
If you've been feeling deprived without a good low-carb noodle substitute that fits your keto diet, you now have options. With these low-carb substitutes, there is no limit to the noodle dishes you can make while following a low-carb or ketogenic diet.
Do yourself a favor and try one of these noodle alternatives today. You'll get the guilt-free joy of noodles with all the additional benefits your favorite noodle substitute has to offer.