Looking for low-carb pressure cooker recipes your whole family will love?
Consider your wish granted because this recipe roundup has options for breakfast, lunch, dinner, and even dessert.
Don't have a pressure cooker and wondering if you should invest in one?
Pressure cookers and Instant Pots are trending because they let you cook food up to 70% faster. And that means you can make homemade, healthy meals that fit your keto macros even if you're super busy.
What's the difference between a pressure cooker and an Instant Pot?
And how do you even use one?
This guide covers the basics, compares both options, and gives you 13 tasty keto recipes to start your pressure cooking adventure.
But first…
What's the Difference Between a Pressure Cooker and an Instant Pot?
An Instant Pot is a type of electric pressure cooker. But this small kitchen appliance also functions as a slow cooker, rice maker, warmer, and more.
Essentially, both pressure cookers and Instant Pots work the same way — they cook food fast.
But how exactly does a pressure cooker work?
Pressure cookers like the Instant Pot seal in the steam that builds as your food cooks, creating a high-pressure system in your cooker.
You may assume this method would dry out your food but just the opposite happens; pressure cooking helps lock in moisture.
And it does this in a fraction of the time.
Where a Crock Pot may take six hours to tenderize meat, a pressure cooker may achieve the same result in under an hour.
Pressure cookers can also be used to sauté, brown, and caramelize meats and veggies.
But that's pretty much all a regular pressure cooker can do. You can accomplish much more in the kitchen with an Instant Pot. You can use this modern cooking gadget for so much more.
An Instant Pot can make rice, sauté or warm foods slowly, make yogurt — the choice is yours.
The Instant Pot also has features like a delayed start, which helps time your meals perfectly with your busy schedule.
If you're deciding between a traditional pressure cooker and an Instant Pot, which should you choose?
Which Pressure Cooker Is Right For You?
The answer depends on whether you like having a big gadget on your counter preloaded with tons of features.
Instant Pots take the guesswork out of when to release your steam, and how fast or slow to do so. This is something you have to do manually with a regular pressure cooker.
You'll also find automatic lid locks on the Instant Pot so you don't open it too early and lose all your pressure.
Automatic temperature control settings also ensure nothing overheats.
If the Instant Pot becomes your choice after reading this, you can find delicious low-carb Instant Pot recipes in this guide.
But if you're someone who likes to keep things simple and small, a standalone pressure cooker may be better suited for you.
And if you already have an old-school pressure cooker, there are plenty of tasty keto recipes to try.
But before you begin, it's essential to know all the ins and outs about cooking with pressure cookers to keep it safe.
How to Use a Traditional Pressure Cooker
Traditional pressure cookers don't have as many standard safety features as electric pressure cookers and Instant Pots. But many do still have built-in mechanisms to keep you safe.
Take the pressure cooker lid, for example.
Most models stay locked until enough pressure has been released.
You should also have valves on your pressure cooker to let out even more steam (and pressure) manually.
Still, you don't want to only rely on what's built-in to protect yourself.
Whether yours is new or it's been handed down, there are a few safety precautions to take when using one.
Safety Precautions
Start by giving your pressure cooker a once over before each use.
Make sure all your rubber seals are in good condition. The seals shouldn't be coming apart or loose in any areas.
You also want to be careful about over- and under-filling your pressure cooker.
Add too much food and you may block important vents; add too little and you may not build enough steam or pressure to cook with.
Now when it comes to releasing pressure, you have a few options:
Get the pot off the heat and let it sit until the pressure naturally goes down.

Use the release valves to slowly let out pressure.

Run cold water over the lid.
It's also essential to read your user manual before getting started to see what's unique with your unit.
If you're using one second-hand, try performing a Google search on your make and model. Oftentimes you'll find digital versions now for older cookers.
With this safety brief out of the way, you're ready to check out the best low-carb recipes up next.
13 Easy and Delicious Low-Carb Pressure Cooker Recipes
These low-carb recipes help you solve what's for dinner (and dessert) and make pressure cooking a breeze.
The first is perfect for anyone new to pressure cooking or using an Instant Pot.
#1: Make Your Own Keto Bone Broth Using a Pressure Cooker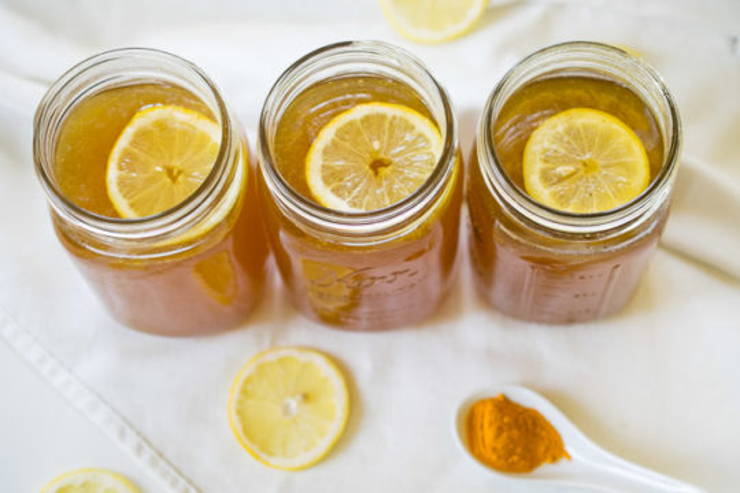 Bone broth is one of the best things to drink on a keto diet.
It's loaded with vitamins, minerals, and collagen, which supports your hair, skin, nails, joints, and organs.
Collagen from bone broth is also great for gut health, immunity, and wound healing.
But classic stove-top bone broth recipes can take hours and sometimes days. Not anymore. Use this keto bone broth recipe in your pressure cooker and you'll have affordable, homemade bone broth in no time.
You can even whip up a batch to use for this next recipe.
#2: Pressure Cooker Low-Carb Keto White Chicken Chili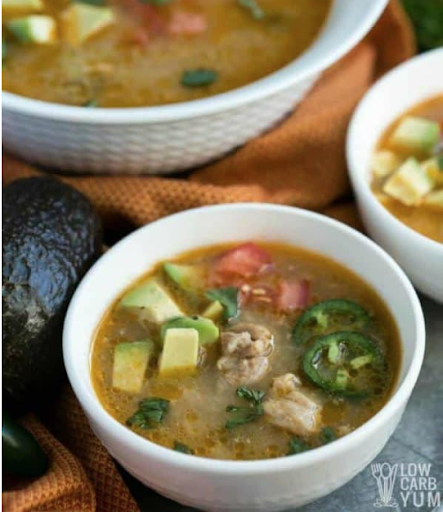 For a dairy-free free chili your whole family will love, try this easy low-carb recipe.
This one uses chicken breasts as the protein source and can be made in just over 30 minutes. And that includes both prep time and cook time.
This version is also light, filling, and ideal for weaving into your weekly keto meal plans. A serving will only cost you 5g of net carbs for close to 30g of protein.
The next recipe will also become a weekly favorite.
#3: Fall Off the Bone Keto Lamb Shanks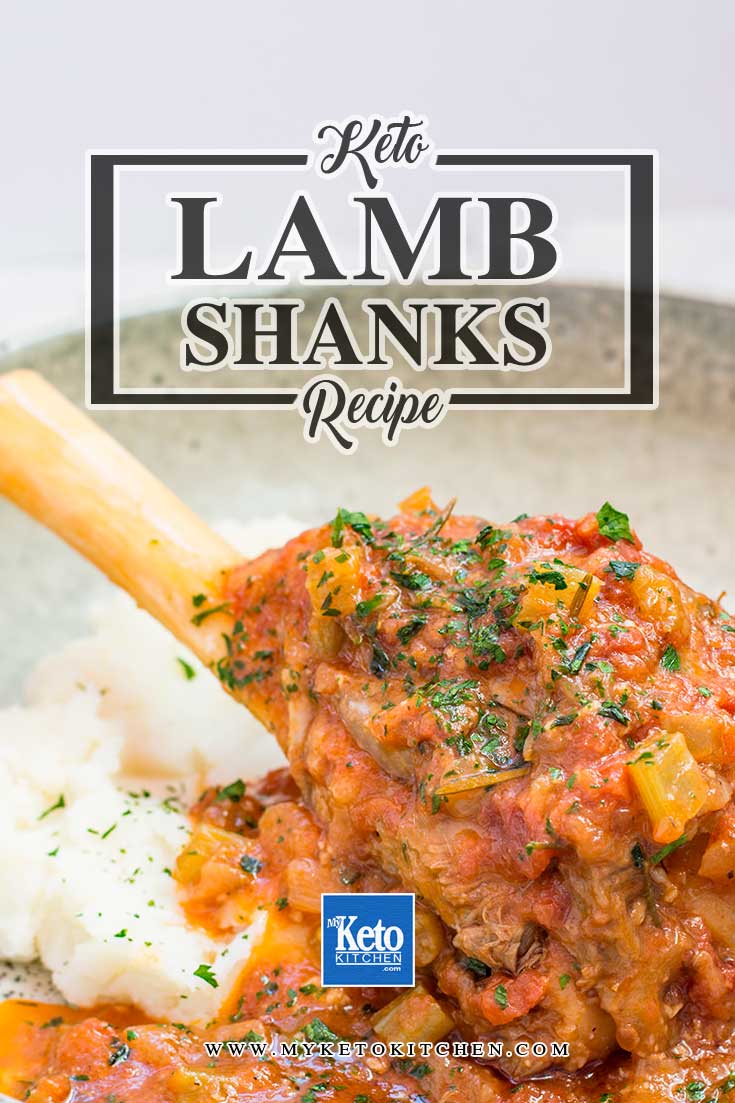 If you're looking for new recipes to try, consider switching up your usual protein sources. You'll uncover a wealth of different flavor options.
Choosing lamb, for example, will wake up your tastebuds if you've been living on chicken and ground beef.
Not sure how to cook lamb?
This first recipe shows you how to turn lamb shanks into a fall-off-the-bone dish you'd swear came from a restaurant.
The next two lamb recipes are just as easy and tasty.
#4: Keto Lamb Stew (Two Ways)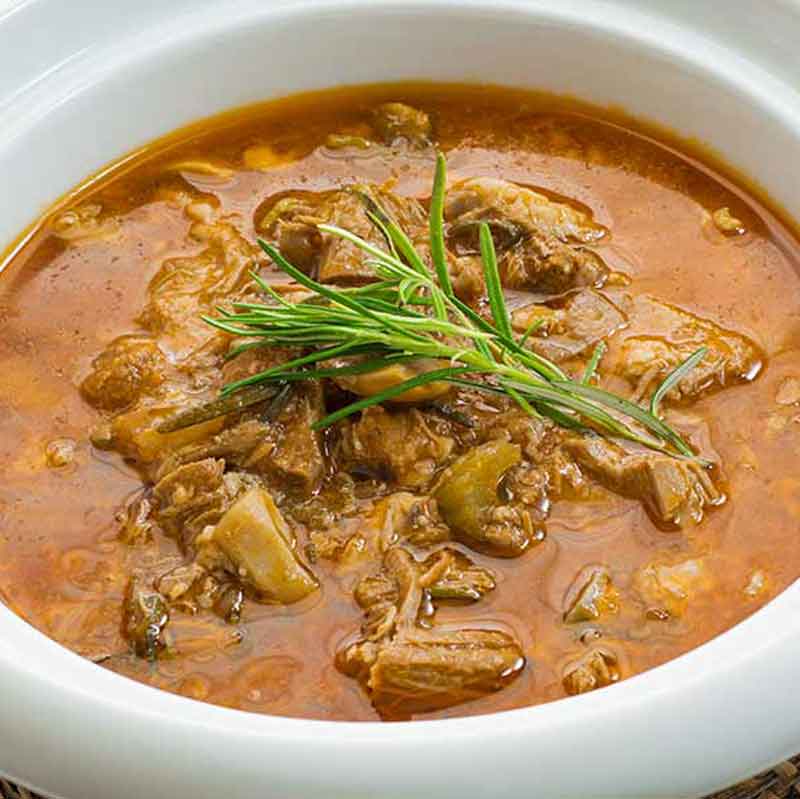 For a twist on hearty stew, try this keto lamb pressure cooker recipe pictured above.
You'll have 15 filling servings of soft, tender meat to keep you and your family satisfied throughout the week.
The second low-carb pressure cooker lamb recipe is packed with Middle Eastern flavors.
It also comes with a recipe for a delicious and authentic poppy seed garam masala sauce.
Try it the next time you're craving flavors of that region.
And if you want a dish closer to American-style comfort food, you'll love the next recipe.
#5: Ultimate Low-Carb Keto Pot Roast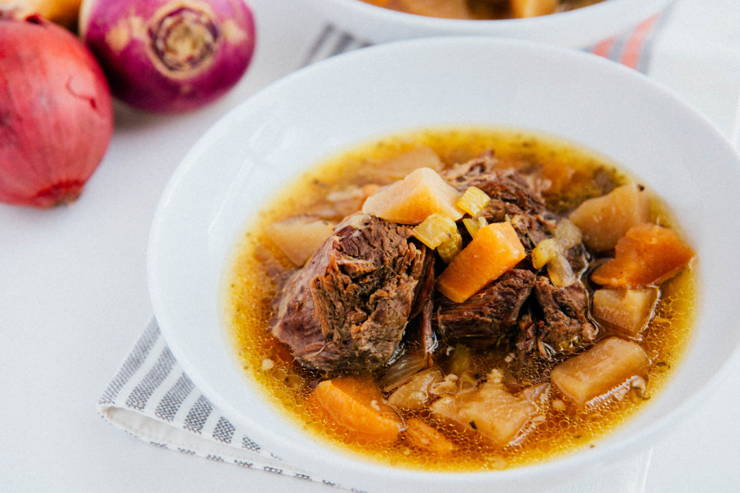 The pot roasts you enjoyed pre-keto were probably packed with big chunks of beef, carrots, and potatoes.
To make this dish low-carb diet-approved, swap those starchy sides for celery, rutabaga, and turnips like this recipe does.
This simple substitution helps you ditch energy spikes from high-carb veggies in favor of a sustained energy boost.
Use this recipe anytime you're craving pot roast and it may become your new favorite low-carb dish.
Especially since a serving contains just 6g of net carbs for almost 80g of protein and nearly 30g of satiating fat.
The next recipe gives you a faster, arguably tastier, way to cook pork loin.
#6: Pressure Cooker Pork Loin Roast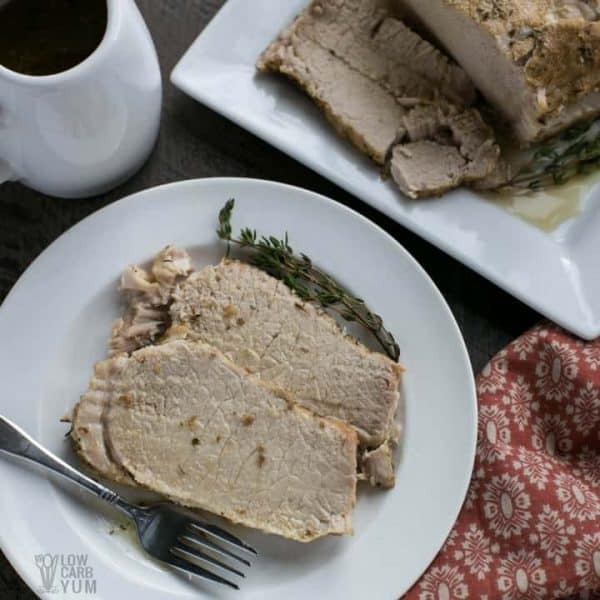 Tired of drying out pork loin in the oven or waiting for it to cook all day in a slow cooker?
Then this pressure cooker recipe is for you.
The 10 minutes of prep time is similar to using your Crock Pot. But this dish only takes 35 minutes to cook after that so it's much faster.
You'll have a low-carb dinner that's tender, juicy, and bursting with flavor in less than 45 minutes from start to finish.
Make this next unique lunch or dinner recipe if you have chicken thighs on hand.
#7: Lemon Balsamic Chicken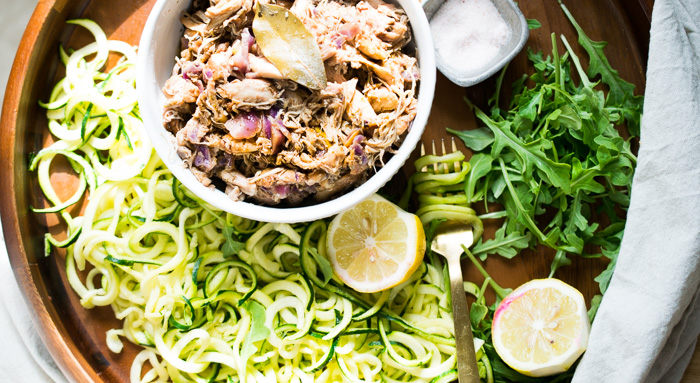 When your dinner cravings lean toward Italian flavors, this lemon balsamic chicken pressure cooker recipe will satisfy.
It's also an easy Instant Pot chicken recipe you can make any weeknight in just 35 minutes total time.
So before you're tempted to order takeout, whip up this dish and you'll have a healthy keto dinner ready to go.
The next recipe also serves up Italian flavors for an easy Instant Pot low-carb meal.
#8: Low-FODMAP Pressure Cooker Italian Beef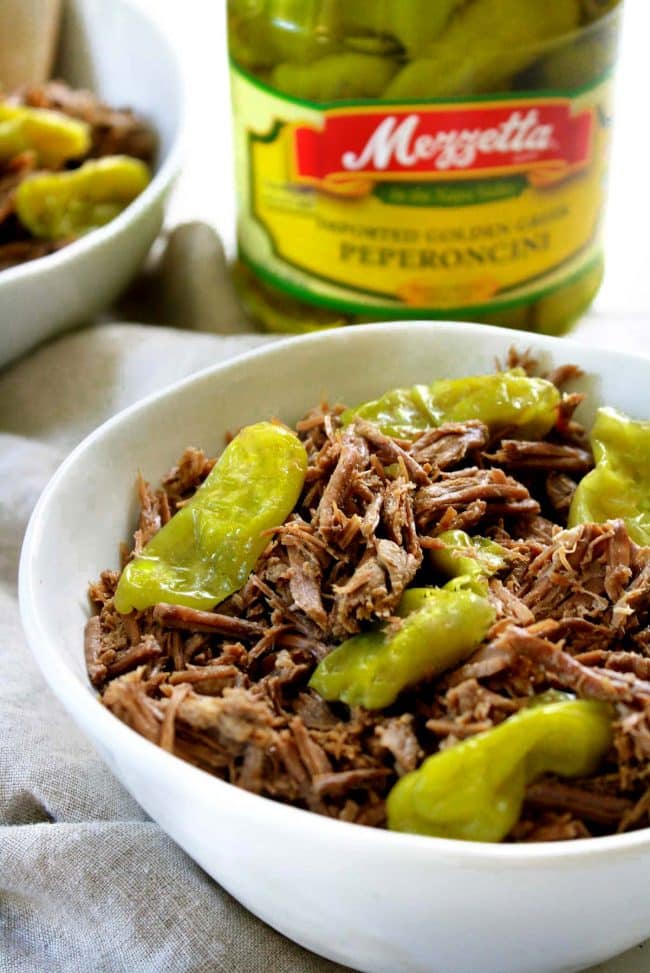 Finding low-FODMAP pressure cooker recipes that also happen to be safe on keto is no simple task.
Fortunately, this classic Italian beef recipe checks all those boxes and more.
It's gluten-free, sugar-free, and free of grains and dairy; or basically everything you'd want in a low-FODMAP recipe.
After you satisfy your Italian beef craving, the next recipe from the same recipe creator covers pork tacos — and still keeps it low-FODMAP.
#9: Pressure Cooker Low-FODMAP Citrus Carnitas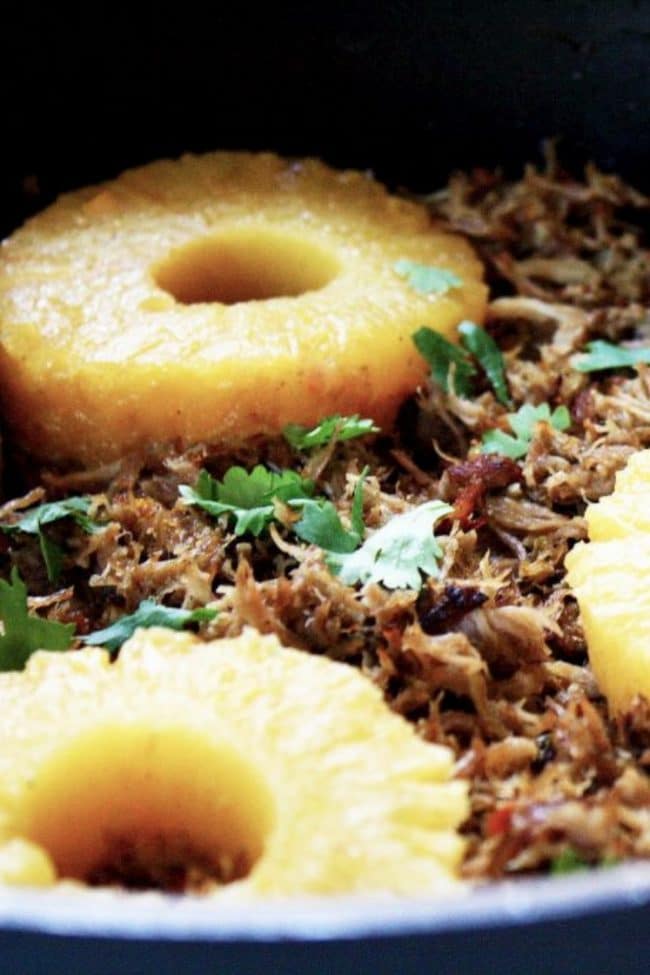 This pressure cooker low-FODMAP citrus carnitas recipe perfectly balances salty and savory with sweet — while staying totally keto-friendly.
Despite the tropical fruit and spices, it's sugar-free and gluten-, dairy-, and grain-free too.
So no matter how sensitive your dietary needs, you may be able to add this to your weekly rotation without worry.
But you also don't need to be on a limited diet to appreciate this carnitas recipe either.
You can serve this flavorful pork with low-carb rice substitutes, over a salad, or make your own keto tortillas.
The next recipe turns a classic high-carb dish, chicken and dumplings, into a meal that won't kick you out of ketosis.
#10: Keto Low-Carb Gluten-Free Chicken and Dumplings Pressure Cooker Recipe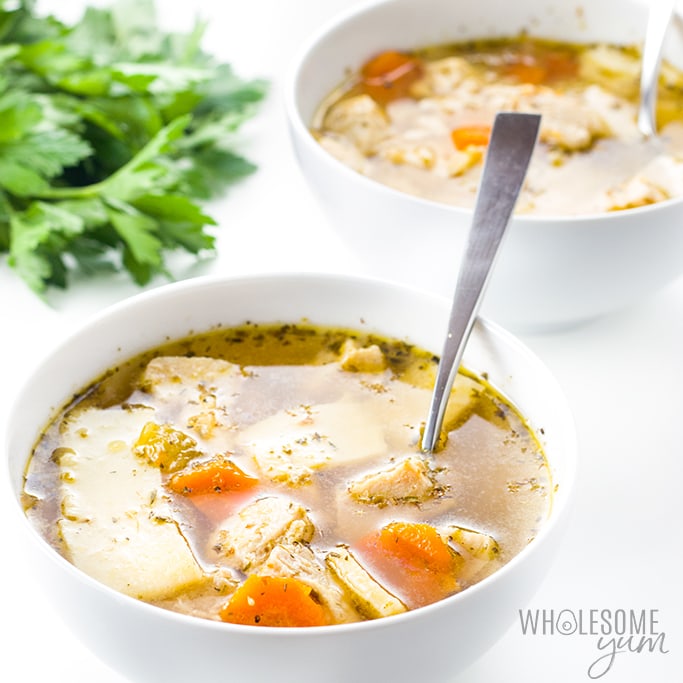 This chicken and dumpling soup recipe is perfect for cozying up during colder months or when dumplings are on your mind.
With this soup recipe, you won't have to veer off keto just to enjoy the same American comfort food you love.
This gives you greater flexibility with your low-carb dinner options and makes keto less restrictive.
The next recipe delivers a bit of Indian flair thanks to the star ingredients: turmeric and ghee.
#11: Keto Pressure Cooker Chicken Recipe with Garlic "Butter"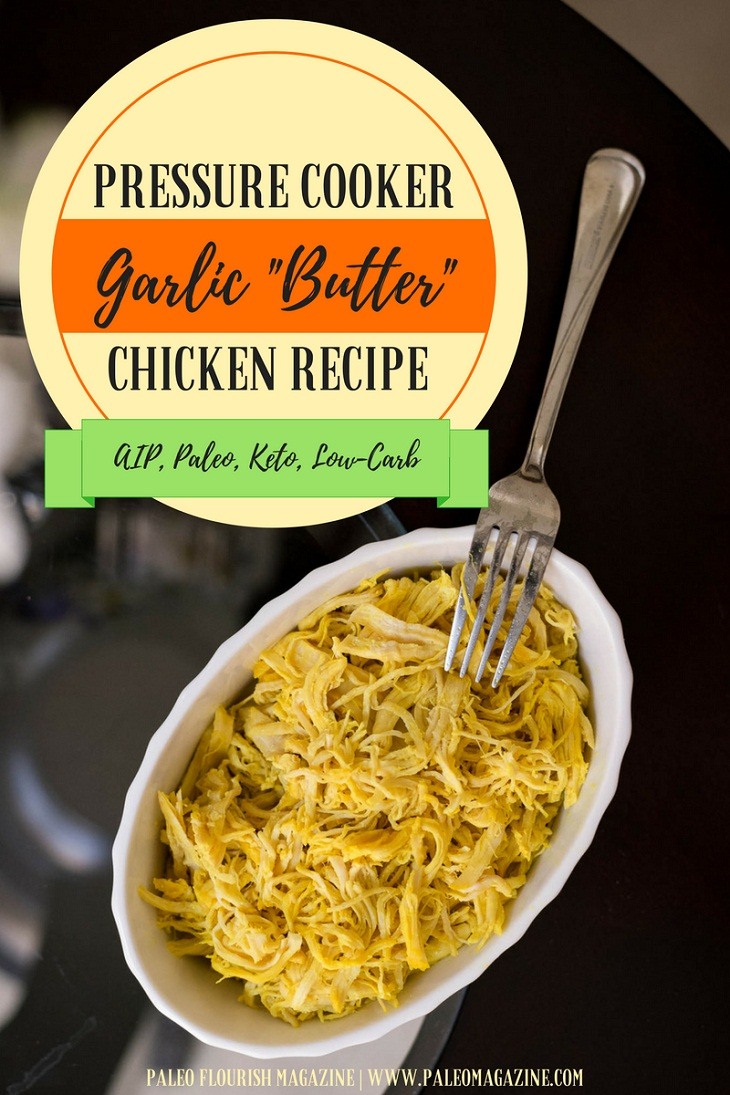 You may be familiar with butter chicken, a fan-favorite Indian takeout dish traditionally served over rice.
But this keto pressure cooker garlic butter chicken recipe may be more unexpected.
Instead of butter, you'll use turmeric ghee to flavor your chicken. This gives the dish a bright yellow color and cuts dairy if you're sensitive.
Serve this chicken over cauliflower rice, zoodles, or spaghetti squash for a memorable low-carb dinner that beats takeout any day.
The next recipe can be made and enjoyed any time — and even packs well for traveling.
#12: Low-Carb Poblano and Cheese Frittata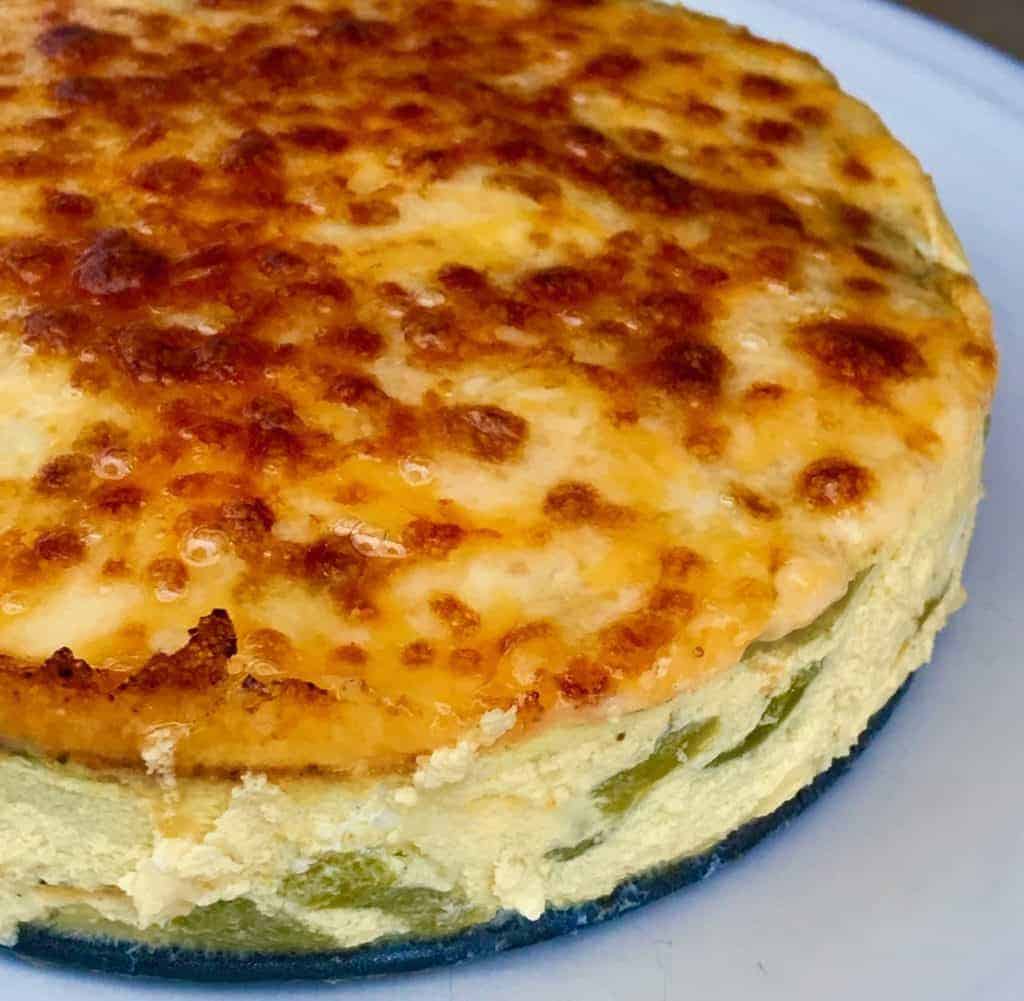 For a twist on your usual frittatas, try this low-carb poblano and cheese recipe made in a pressure cooker.
Frittata recipes like this are great for meal prep since you can make one dish to last a few days.
And you can try adding different proteins, such as ham, buffalo chicken, or bacon, to switch it up and never get bored.
You can even make it while you get ready in the morning and pack it for lunch since it only takes 40 minutes total.
You'll have to wait a bit longer to dig into the final recipe in this roundup.
But it's definitely worth it.
#13: Pressure Cooker Keto Low-Carb Pumpkin Pie Pudding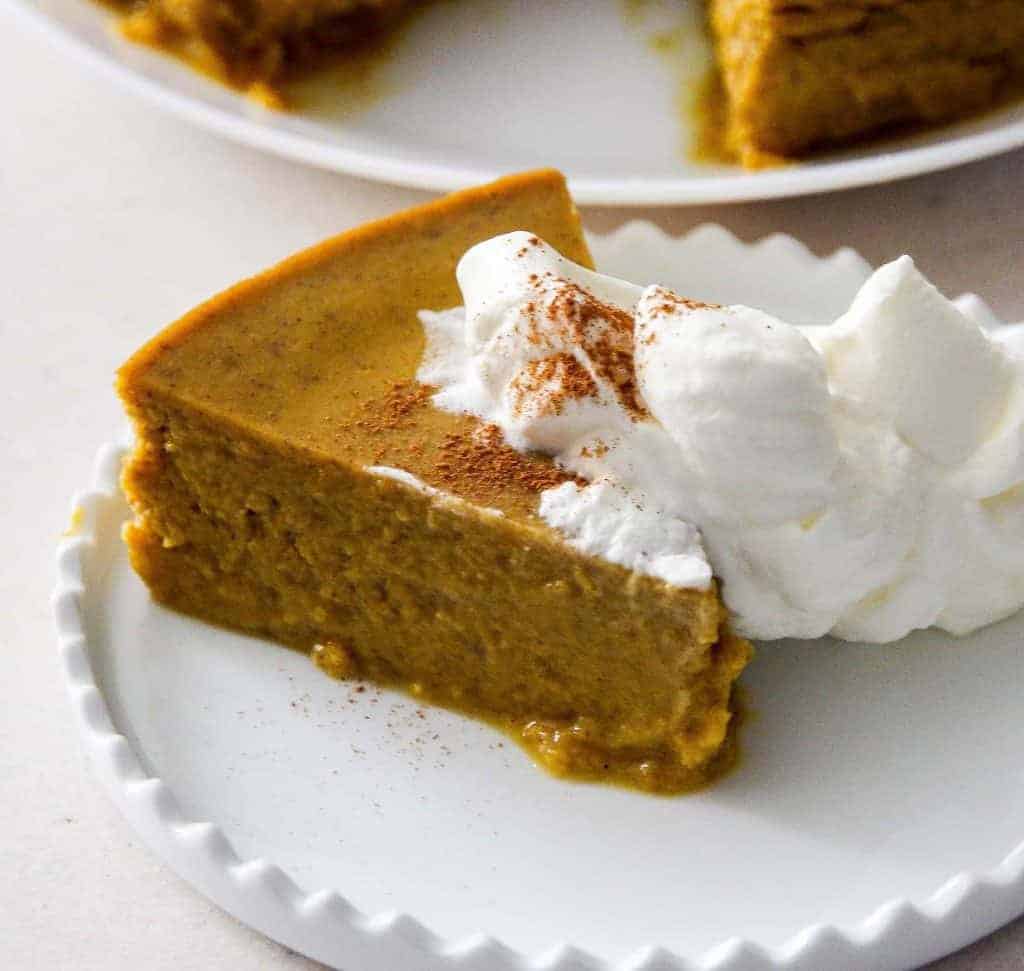 Good luck keeping any leftovers of this keto pumpkin pie pudding made in a pressure cooker.
Follow this recipe just once and it will become your family's new favorite low-carb dessert.
And since this keto-friendly treat is high in fiber and both dairy- and gluten-free, you won't feel an ounce of guilt enjoying it.
One serving of this crustless pumpkin pie will only cost you 6g of net carbs.
Stick to the serving and don't overdo it on carbs for the day and you'll be able to squeeze this in without sabotaging ketosis.
The same can be said about all the other low-carb pressure cooker recipes in this roundup.
Start Using Your Pressure Cooker To Make Eating Keto Easier
With all these amazing low-carb pressure cooker recipes, it's time to pull yours out of hiding and put it to good use.
If you haven't used yours in a while, give it a good inspection and read over the instructions again for a refresher.
Doing so will keep you safe and help build confidence so you can master pressure cooking like a pro.
Feel like upgrading to an Instant Pot? You'll have a pressure cooker and slow cooker in one — and double the keto recipes to choose from.
These time-saving gadgets let you cook plenty of delicious keto options to have ready to go each week. And that makes sticking to a ketogenic diet so much easier.
Let us know how your recipes turn out in our private Facebook group here!