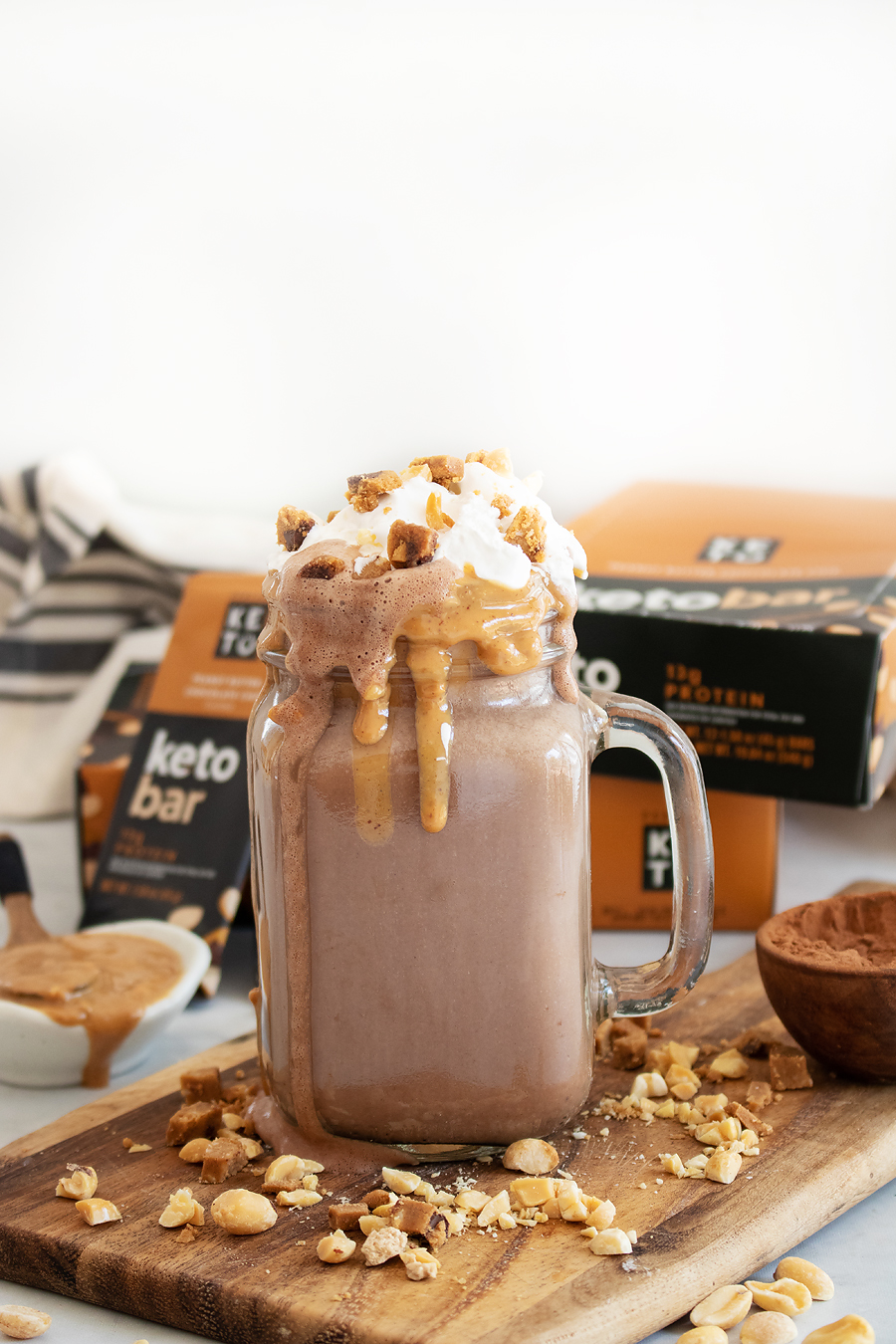 The incredible combo of peanut butter flavor mixed with chocolate is what makes peanut butter cups so delicious — so why not try it in a different format? If you're looking for a healthy way to satisfy your sweet tooth, this delicious smoothie recipe tastes like ice cream but has the health benefits of a protein shake. It's naturally sugar-free, gluten-free, and keto-friendly.  Instead of whey protein powder, you'll be adding in collagen protein, making it perfect for the dairy-free folks out there. You also get to reap the health benefits of unsweetened cocoa powder.  You can feel free to add additional sweeteners like stevia or monk fruit, but most people find this recipe to be sweet enough as-is.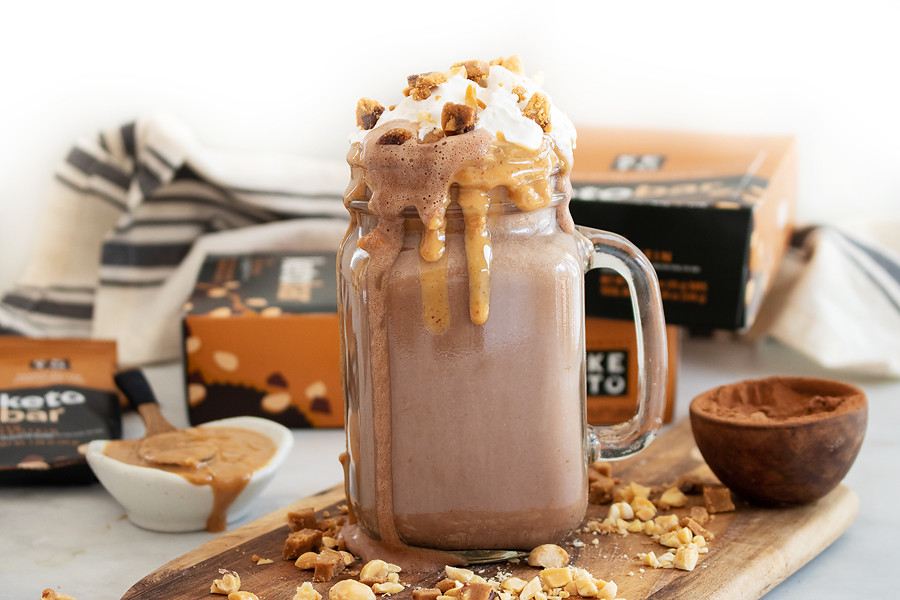 This peanut butter chocolate smoothie recipe is:
Sweet
Satisfying
Chocolatey
Tasty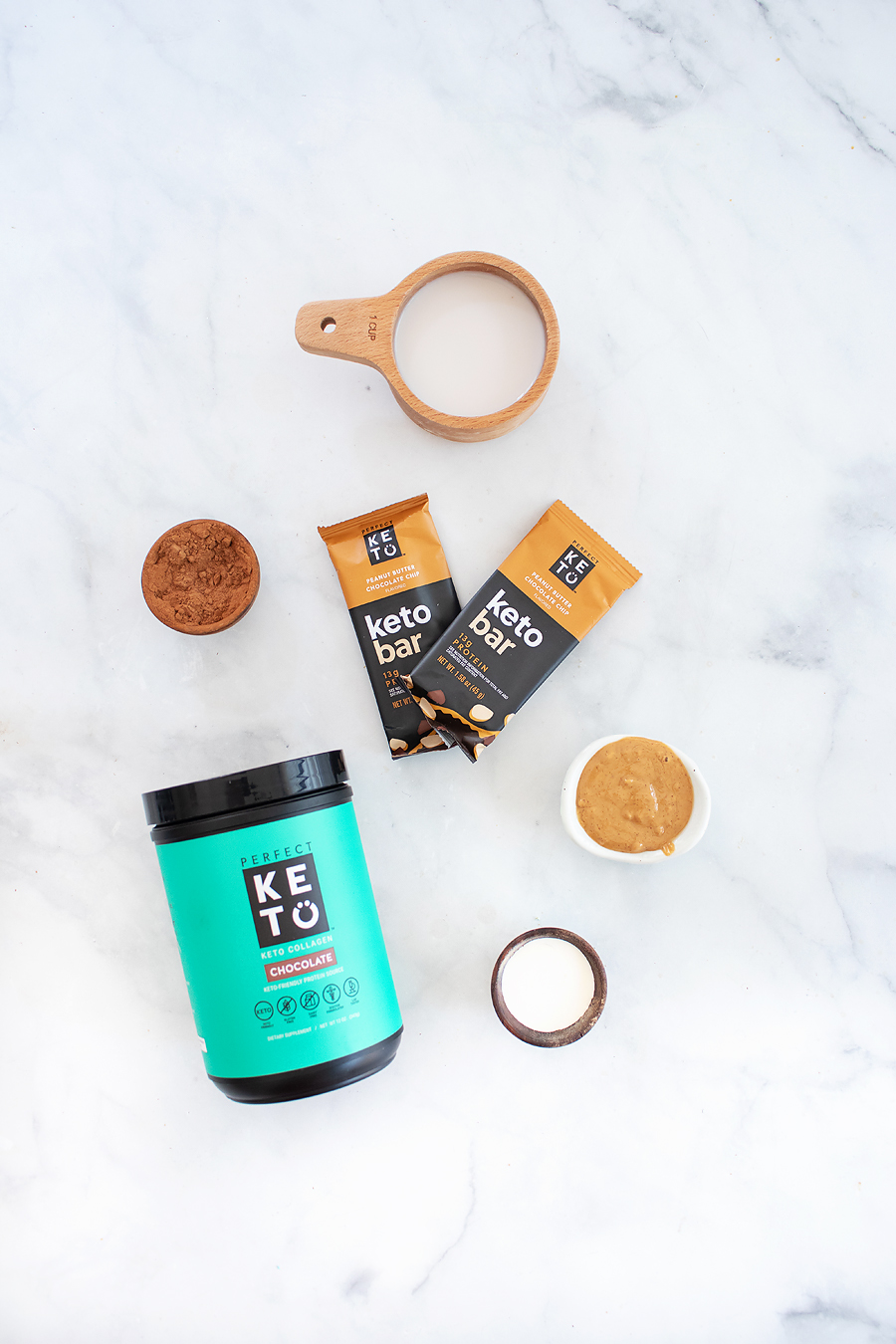 The main ingredients are: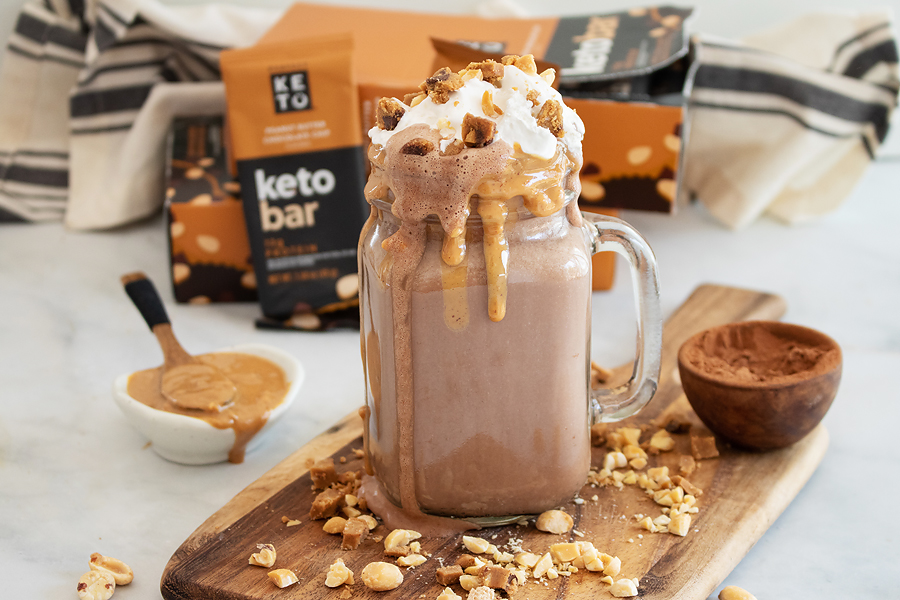 Optional additional ingredients
Health Benefits of Peanut Butter Chocolate Smoothies
Peanuts Are Rich In Vitamin B6
Vitamin B6 is an essential nutrient for over 100 enzyme reactions in your body involved in protein, carbohydrate, and lipid metabolism. It's also a crucial component in the synthesis of neurotransmitters and cognitive development[*].  While vitamin B6 can be found in a variety of foods, peanuts happen to be a great source of this vital nutrient. In fact, one serving of peanut butter provides around 10% of your daily needs[*].
Collagen Supports Skin Health
The chocolate collagen powder that's added to this recipe doesn't just add a delicious flavor — it also nourishes your largest organ; your skin.  As a key component of your extracellular matrix (ECM), collagen supports your skin from the inside out — literally. Research shows that when you consume collagen, it can increase your skin elasticity and reduce the appearance of wrinkles.  This is due to the structure that it provides, allowing your skin to sit firmly on top of the supportive tissues of your ECM[*].
Peanut Butter Chocolate Smoothie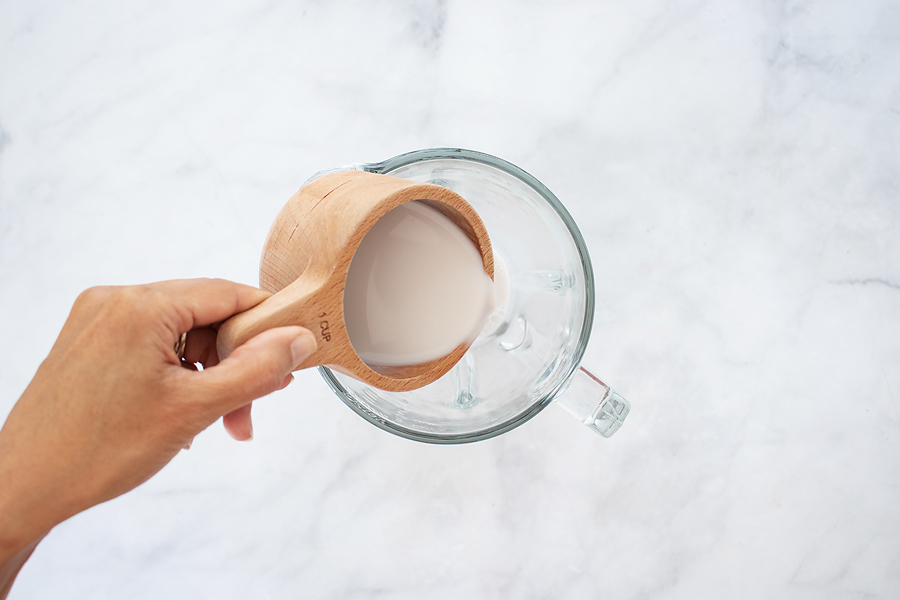 Enjoying a peanut butter chocolate milkshake isn't something you would typically do every day, until now. While it may taste like an indulgence, this smoothie is actually packed with healthy ingredients and loaded with protein.  You can enjoy it for breakfast, as an afternoon snack, or even serve it as dessert after dinner.  To begin, grab your blender and gather your ingredients.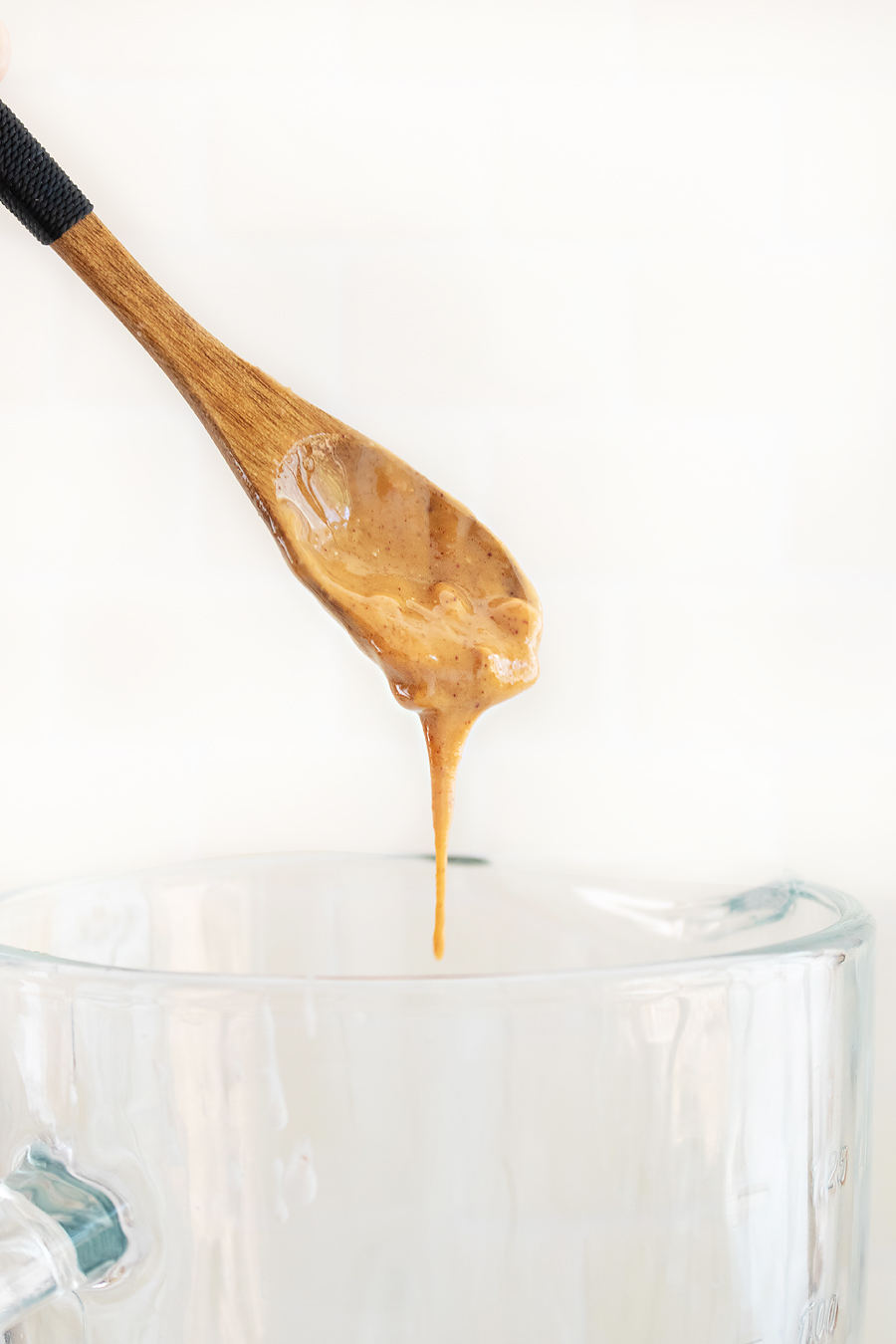 Add all of your ingredients to the blender (with the exception of the bar), and blend on high until all ingredients are well incorporated. Add ice cubes if you want it nice and cold. Divide the mix into two cups, and then top with your crumbled chocolate peanut butter bar.  Optional addition toppings include whipped cream, chocolate chips, or crumbled peanuts.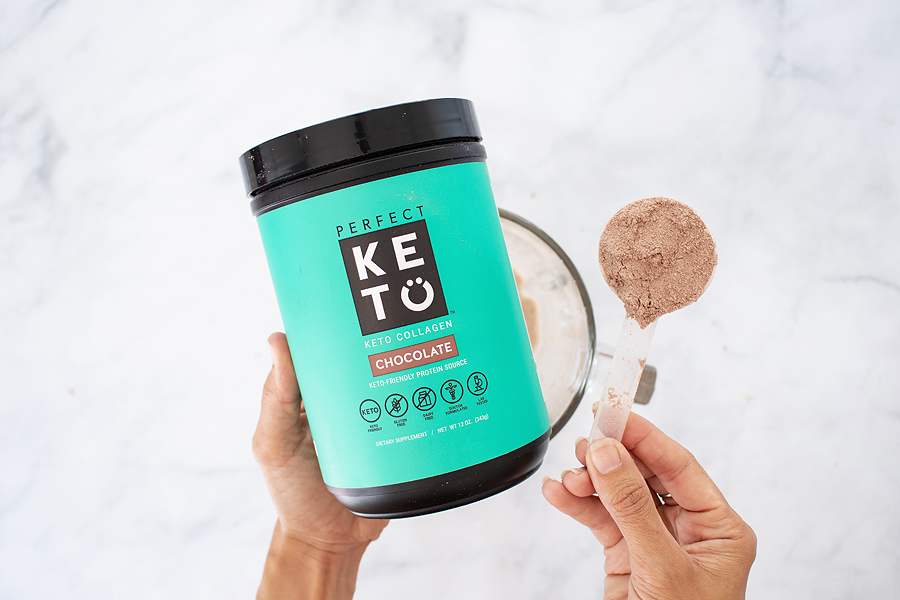 Tips For Making a Chocolate Peanut Butter Smoothie
How To Make Your Smoothie Thicker
If you prefer a thicker smoothie, you can either add more peanut butter or less milk. You can also increase the amount of collagen powder, or if you like it really thick and creamy, you can even add some avocado or Greek yogurt.
Can You Add Fruit?
Many peanut butter chocolate smoothie recipes call for a frozen banana. While bananas can certainly add a nice texture, they are too high in sugar to work on keto. However, if you would like to add some fruit, try ¼ cup of berries like blueberries or strawberries.
Can You Use a Different Nut Butter?
If you prefer a different type of nut butter — no problem. Cashew butter or almond butter both work perfectly in this recipe.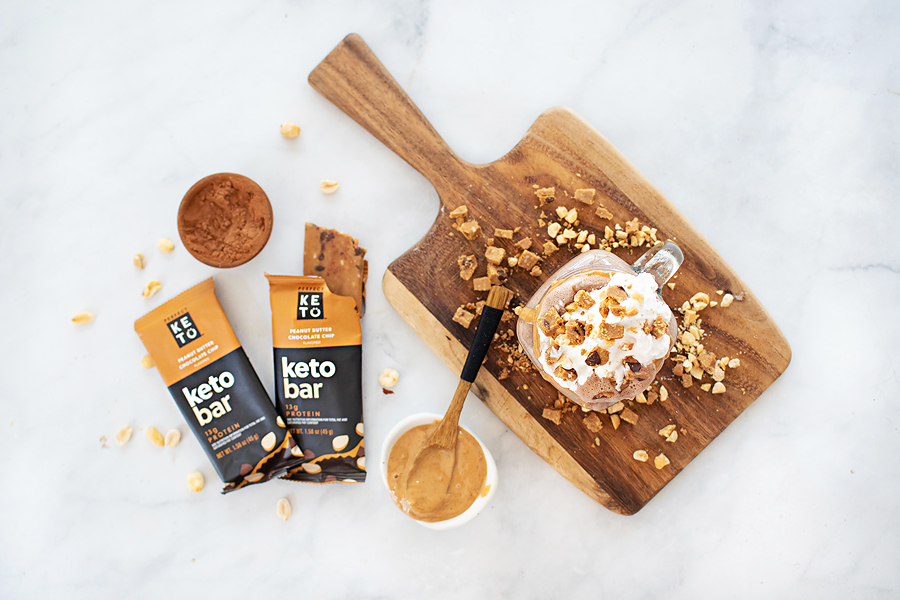 Print
Creamy Peanut Butter Chocolate Smoothie Recipe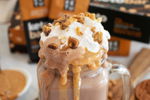 Author:
Total Time:

10 minutes

Yield:

2 cup

1

x
Instructions
Add all ingredients (except the bar) to a high-speed blender. Mix on high until ingredients are well incorporated. Blend in 1 cup of ice if desired.

Divide smoothie between two glasses. Add optional whipped cream & peanuts and crumbled Perfect Keto bar. Serve immediately.
Nutrition
Serving Size:

1 cup

Calories:

372

Fat:

29g

Carbohydrates:

13g (net. 7g)

Fiber:

6g

Protein:

19g
Keywords: Peanut Butter Chocolate Smoothie Recipe