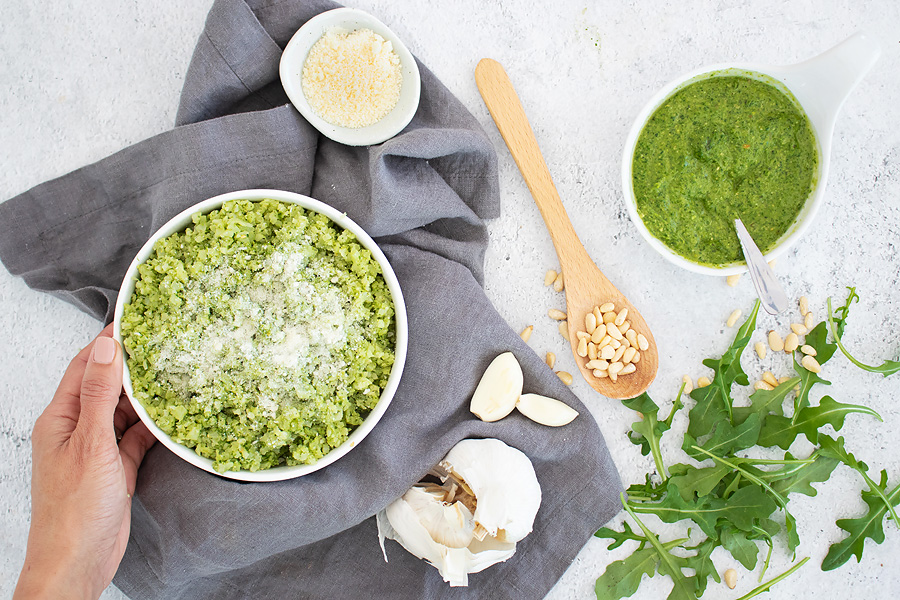 One of the reasons why cauliflower has become so popular in low carb lifestyles is its versatility. This cruciferous vegetable is not only high in vitamins, minerals, and fiber, but is also fairly mild in taste. It can take on virtually any flavors you want. This pesto cauliflower rice is perfect for any busy weekday keto meal and it's a dish you can feel good about serving. It can also be prepared ahead of time and only gets better when all of the ingredients come together. Your new favorite side dish is only 10 minutes away!
Pesto Cauliflower Rice Ingredients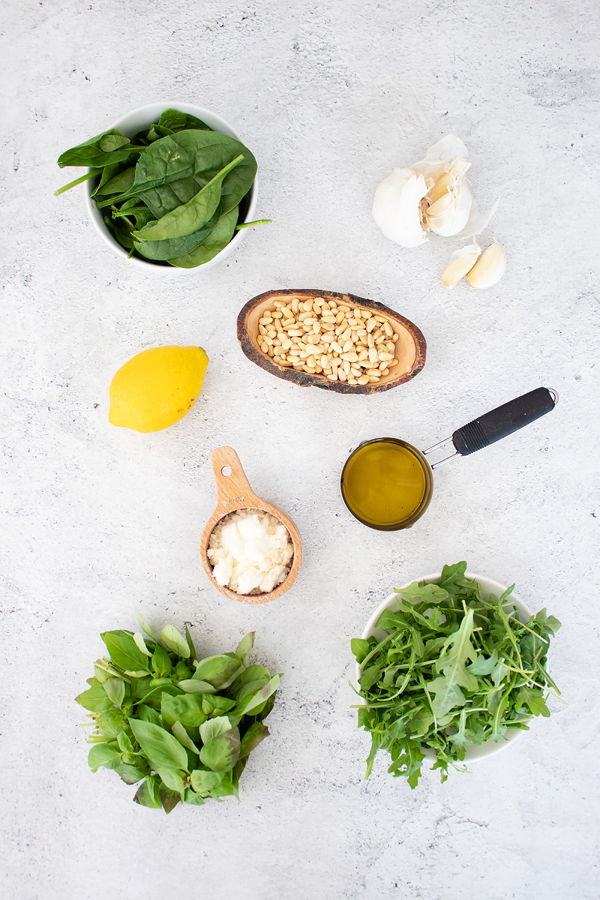 Cauliflower – This is the main ingredient in this dish. Cauliflower has an impressive nutritional profile and loaded with nutrients like Vitamin C, antioxidants, and choline.
Spinach – The main reason spinach is included in this recipe is to boost the vitamins and minerals even more. It also provides a much richer and deeper green color, making this quite the show stopper of a side dish.
Arugula – In addition to the bright vibrant color, arugula adds a bit of unique spiciness to the dish. It has a very mild peppery flavor that blends well with the richness of the pine nuts.
Basil – No pesto would be complete without basil. This herb has such a unique flavor that pairs well with the tangy lemon and salty parmesan cheese.
Pine Nuts – These provide such a rich and nutty flavor, especially when lightly toasted. Pine nuts are also rich in magnesium, iron, zinc, vitamin E, and protein.
Parmesan Cheese – This is a hard, dry cheese that has a nutty flavor. It is rich in protein and fat.
Olive Oil – The oil brings the pesto together into a smooth sauce. It is also rich in healthy monounsaturated fats.
Pesto Cauliflower Rice Variations
Pesto Cauliflower Rice with Chicken
Use this pesto cauliflower rice as a side dish for grilled chicken. Marinate 4 uncooked thinly sliced chicken breasts with 1/2 teaspoon salt, 1 tablespoon lemon pepper, 1 tablespoon of olive oil, and the juice of one lemon. Let sit for 1 hour in the fridge. When ready to cook, remove chicken from marinade and grill for 4-5 minutes per side. Remove from heat once cooked through and cut into small slices. Stir into pesto cauliflower rice to serve.
Pesto Cauliflower Rice with Salmon
This pesto cauliflower side dish is perfect to serve alongside salmon as well. Marinate 4- 4 ounce salmon steaks with 1/2 teaspoon salt, 1 tablespoon lemon pepper, 1 tablespoon of olive oil, and the juice of one lemon. Let sit for 1 hour in the fridge. When ready to cook, remove salmon steaks from marinade and grill for 3-4 minutes per side until cooked to desired wellness.
Parmesan Pesto Cauliflower Rice
Make this pesto cauliflower creamy by stirring in an additional 1/4 cup grated parmesan cheese and 1/2 cup of heavy cream once fully cooked. Simmer on low heat for 5 minutes until heavy cream is completely absorbed.
Lemon Pesto Cauliflower Rice
Add an extra burst of citrus flavor by stirring in an additional tablespoon of lemon zest and 2 tablespoons of lemon juice when the cauliflower is done cooking.
Pesto Cauliflower Rice FAQs
How do you make cauliflower rice not soggy?
The key to making cauliflower rice not soggy is ringing out any extra water before cooking. Add freshly processed cauliflower (or thawed frozen riced cauliflower) to the center of a kitchen towel.   Ring out any extra liquid.
Is cauliflower rice healthier than rice?
Cauliflower is a nutritious alternative to rice. It is low in calories and carbohydrates which is perfect for low carb and keto lifestyles. It also contains more fiber, vitamins and minerals than plain rice.
Can you make pesto cauliflower rice ahead of time?
Yes!   This is a great side dish to make ahead of time. Make the whole recipe in advanced and store in the fridge for 3-4 days or you can prepare the pesto 3-4 days ahead of time and prepare the cauliflower when you are ready. Reheat in a large skillet until warmed through.
Can this recipe be made vegan?
Yes!  Instead of using parmesan cheese, try nutritional yeast. This will help boost the nutritional profile even more and provide the cheesy flavor it needs to shine!
Can I use frozen riced cauliflower?
Yes! This is a great way to save some time. Frozen and thawed riced cauliflower tends to get a bit mushy, so be sure to ring out any additional liquid before cooking.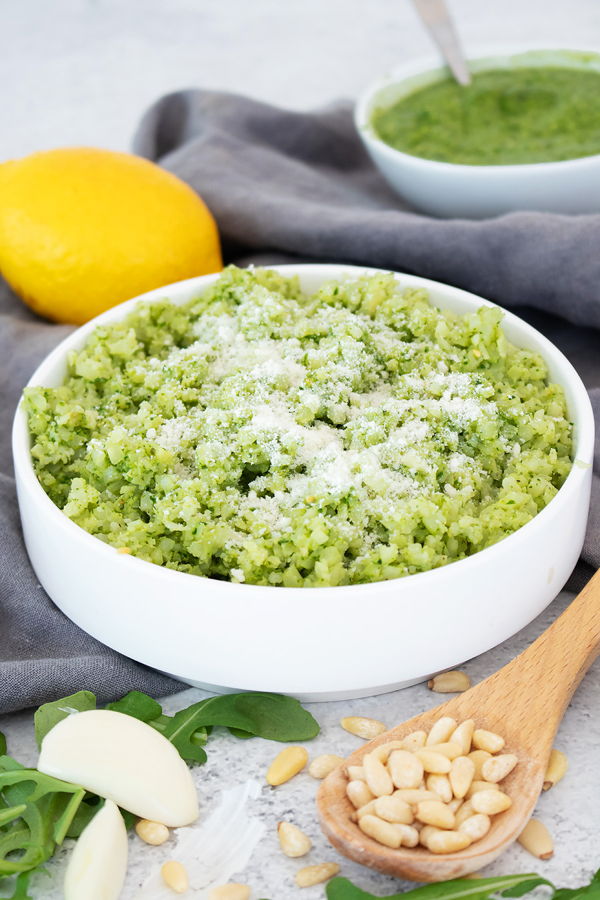 Print
Pesto Cauliflower Rice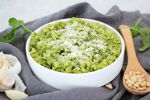 Spruce up your main course with this flavorful pesto cauliflower rice recipe. This side dish can be made in 10 minutes and is bursting with bright, tangy goodness, and loaded with healthy fats.
Author:
Total Time:

10 minutes

Yield:

8

servings

1

x
Category:

Breakfast
Scale
Ingredients
4 cups

riced cauliflower

1/2 cup

spinach (tightly packed)

1/2 cup

arugula (tightly packed)

1 cup

basil (tightly packed)

1/2 cup

pine nuts

1/4

parmesan cheese

1/4 cup

olive oil +

1 tablespoon

1

lemon (zest and juice reserved)

1 1/4

  teaspoons salt

1/2 teaspoon

pepper

1

–

2

tablespoons water
Instructions
Add pine nuts to a small dry skillet set over low-medium heat.  Lightly toast nuts for 2-3 minutes until golden brown and fragrant.   Remove from heat and let cool.

To a high speed blender add cooled pine nuts, spinach, arugula, basil, 1/4 cup of olive oil, parmesan cheese, lemon zest, lemon juice, 1 teaspoon salt, and 1/4  teaspoon pepper.   Blend on high until smooth. Add 1-2 tablespoons of water if needed to reach desired consistency.  Adjust seasoning to taste.

In a large skillet set over medium heat, add remaining olive oil.   Toss in riced cauliflower, 1/4  teaspoon salt, and remaining pepper.   Cook for 5-6 minutes until tender, tossing gently every couple of minutes to avoid burning.

Add desired amount of pesto to the cauliflower.  Start with 2-3 tablespoons and adjust as needed.
Nutrition
Serving Size:

1/2 cup

Calories:

192

Fat:

18g

Carbohydrates:

4g

Fiber:

2g

Protein:

4g
Keywords: pesto cauliflower rice