Following a keto diet has probably made stopping at  Starbucks on your way to work a little less exciting. Gone are the days of coffee drinks like pumpkin spice lattes and peppermint mochas.
But avoiding the artificial flavors and high-sugar treats at your local coffee shop doesn't mean you can't jazz up your cup of coffee at home.
This salted caramel creamer recipe is simple, delicious, and way better for you than those sugar-free syrups you'll find in most low-carb flavored coffee drinks.
Add a scoop of sugar-free chocolate powder and make this into a salted caramel mocha or enjoy this salted caramel coffee creamer on its own in place of your heavy cream.
This creamer recipe is:
Rich
Sweet
Flavorful
Satisfying
Gluten-free
The main ingredients in this homemade coffee creamer are:
Optional additional ingredients:
Dairy-free cream
Coconut milk or cream in place of heavy cream
3 Health Benefits of Salted Caramel Coffee Creamer
#1: Boosts Fat Burning
MCTs (medium chain triglycerides) are processed by your body differently than their long-chain counterparts. While long-chain fatty acids have to travel through your lymphatic system before being sent to your liver, MCTs can go directly to your liver to be used as fuel.
Studies done in animals show that this difference in processing leads to a high rate of energy use. In other words, an increase in metabolism.
Feeding rats MCTs not only increased their metabolism, but it also decreased their body weight[*].
#2: Enhances Exercise Performance
If you're looking to kick your exercise program up a notch, this is the creamer for you.
Another benefit of MCTs and their readily available energy is a boost to physical performance.
Athletes given MCTs before cycling showed better endurance as indicated by prolonged time to exhaustion.
They also experienced less lactic acid build-up (the most frequent cause of muscle pain after exercise) and enhanced fat oxidation during the workout[*].
#3: Anti-inflammatory
Monk fruit is much more than a replacement for sugar; it's a powerhouse food that's been used for thousands of years as a medicinal plant in Chinese Medicine.
The beneficial properties of monk fruit include antioxidant, anti-carcinogenic, anti-diabetic, and of course — anti-inflammatory.
Animal research suggests that a compound in monk fruit called mogroside acts as an anti-inflammatory agent by down-regulating inflammatory pathways, and up-regulating genetic pathways associated with anti-inflammation.
In fact, the anticancer and anti-diabetic activity of monk fruit may come from its ability to quell inflammation[*].
Salted Caramel Coffee Creamer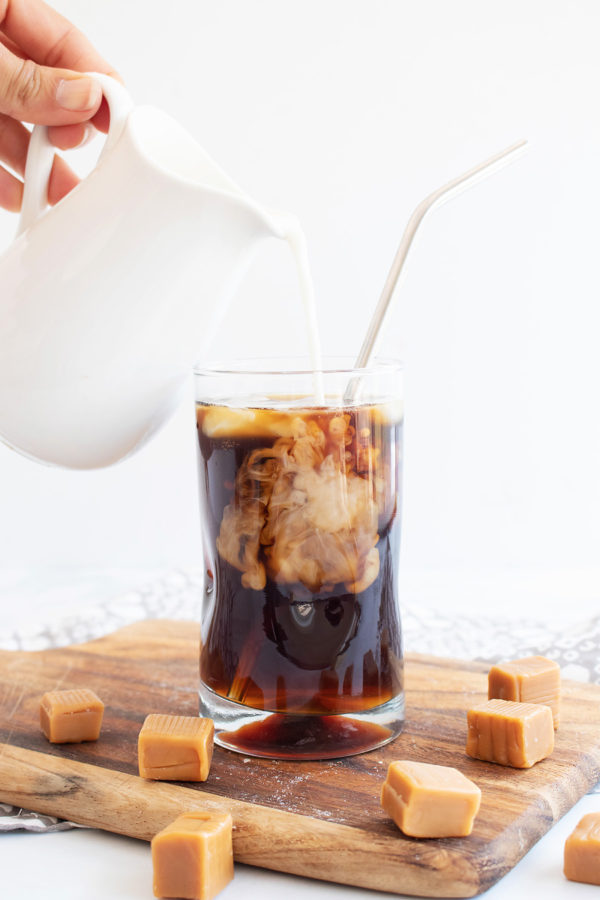 If you're a salted caramel fan, then this coffee creamer recipe is about to replace your half and half and sugar-laden Coffeemate.
In fact, you may never need grocery store-bought creamer again. Because even "natural" coffee creamers contain things like cane sugar, coconut sugar, and artificial flavors.
Instead of sugar and questionable additives, this homemade coffee creamer gets its flavor from salted caramel MCT powder. One scoop and your heavy cream will taste like you added real caramel sauce with a sprinkle of sea salt into your coffee.
It also pairs beautifully with french vanilla or hazelnut coffee, but the caramel flavor stands perfectly on its own in unflavored coffee as well.
The best part? It only takes 5 minutes to prepare.
Start by brewing up your favorite coffee. While the coffee is brewing, gather your MCTs, caramel extract, heavy cream, and monk fruit.
Place a small saucepan on your stove and pour in the heavy cream and caramel extract, followed by the MCTs and monk fruit.
Whisk the ingredients together until all the powder is completely dissolved.
Next, grab your blender and pour the caramel mixture into the blender. Mix on high until all the liquid is smooth.
Pour your coffee in your coffee mug, and then add in as much caramel creamer as you like.
Store the remaining creamer in an airtight container or mason jar, and refrigerate.
If you want to mix it up even more you can add some cacao to your coffee along with the creamer for a salted caramel mocha coffee creamer.
Print
Salted Caramel Coffee Creamer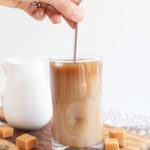 Make your cup of coffee a little more exciting with salted caramel coffee creamer. Heavy cream, caramel flavor, MCTs and a touch of monk fruit are all you need.
Author:
Total Time:

5 minutes

Yield:

1 cup

1

x
Instructions
Add all ingredients to a small pot set over low heat. Whisk well until powder and sweetener are dissolved. Make sure not to heat the creamer too much — just until the powder dissolves.

Pour contents into a high-speed blender and mix on high until completely smooth, but not enough to whip the cream.

Store in an airtight jar up to one week in the fridge.
Nutrition
Serving Size:

2 tablespoons

Calories:

138

Fat:

14g

Carbohydrates:

3g (2g net)

Fiber:

1g

Protein:

0g
Keywords: salted caramel coffee creamer