There can be a lot of confusion regarding which fruits and veggies are allowed on the keto diet. While no one is going to debate whether fruit fits into the healthy food category when it comes to watching your carb intake, the natural sugar in fruit may inhibit your body from reaching a state of ketosis.
​But what about strawberries? Can you reap the benefits of keto like weight loss and mental clarity while still enjoying nature's candy?
Read on to learn more.
Are Strawberries Keto?
When it comes to fruit on the keto diet, most of the time it's off-limits.
However, there are a few exceptions to this rule that every health conscious keto-dieter should know. Lemons, limes, avocados, and berries are all fruits that can hold a spot in your keto shopping list.
Strawberries are a rich source of nutrients. They contain phytochemicals like ellagic acid and anthocyanins, and they're packed with vitamin C. All of these compounds have an antioxidant effect in your body, helping you quench free radicals and combat oxidative stress[*][*].
Although these berries are made up of mostly carbs (around 96%), they can still fit into a keto diet due to their low-calorie count and high fiber content. This means that the amount of carbs you end up getting in a serving is still relatively low, even though berries are naturally a high-carb food.
Of course, you wouldn't want to go overboard with any carb-heavy food, but strawberries in moderation can safely add sweetness and nutrients to your keto diet.
Strawberries Nutrition
Let's take a look at the macronutrients in one cup of strawberries[*]:
Calories: 46 kcal
Fat: 0.43 grams
Total Carbohydrates: 11.1 grams
Dietary Fiber: 2.88 grams
Net Carbs: 8.2 grams
Protein 0.96 grams
Although it's clear that strawberries are very carb-forward, they also have a fair amount of fiber, bringing their net carb count down to 8.2 grams per one-cup serving. While they won't provide much in the way of fat or protein, adding a few strawberries to your keto desserts, smoothies, or other keto-friendly snacks is a great way to get more nutrients into your diet.
Strawberries Compared to Other Berries
So, where do strawberries stand when compared to other popular berries?
All berries offer an abundance of bioactive compounds, but each berry has a unique nutrient makeup. For instance, blueberries happen to be one of the most abundant sources of anthocyanins, which display a wide range of health benefits, including antioxidant and antidiabetic[*][*].
Raspberries, on the other hand, are the richest source of ellagic acid, which has been studied for its anti-cancer and anti-inflammatory effects[*][*][*].
As mentioned above, strawberries contain both anthocyanins and ellagic acid, along with an abundance of vitamin C.
From a macronutrient perspective, each berry has its own unique ratio and caloric value as well. Here is a breakdown of the macronutrient makeup of three common berries; blueberry, raspberry, and blackberry with a serving size of one cup[*][*][*]:
Blueberry
Calories: 84.4 kcal
Fat: 0.48 grams
Total Carbohydrates: 21.4 grams
Dietary Fiber: 3.55 grams
Net Carbs: 17.85
Protein: 1.1 grams
Raspberry
Calories: 64 kcal
Fat: 0.80 grams
Total Carbohydrates: 14.7 grams
Dietary Fiber: 8 grams
Net Carbs: 6.7 grams
Protein: 1.48 grams
Blackberry
Calories: 61.9 kcal
Fat: 0.70 grams
Total Carbohydrates: 13.8 grams
Dietary Fiber: 7.63 grams
Net Carbs: 6.17
Protein: 2 grams
In a side by side comparison with strawberries:

Taking a look at the different berries side by side, blueberries come in with the highest grams of net carbs per serving, with one cup equaling nearly 18 grams of carbs — a hefty load for a keto dieter. That's over twice as many net carbs as you would find in a cup of strawberries. Before scrutinizing these berries for their carb count, it's important to subtract the grams of fiber so we can get an accurate look at their net carbs.
However, both blackberries and raspberries have an even lower carb count than strawberries, closer to the 6-6.5 grams per cup range.
In truth, if you're following a keto diet, you probably won't be consuming a full cup of any type of berry. A half-cup serving is typically more appropriate and safe in terms of keeping your blood sugar levels low. With blueberries, however, you may want to cut that serving size down even further to one-fourth of a cup.
The fat and protein content of the berries also vary quite a bit. While none of these berries are particularly great sources of fat, raspberries offer slightly more fat than the other varieties. In terms of protein, blackberries provide two grams per one-cup serving, which is not incredibly impressive but worth a mention.
All in all, strawberries, raspberries, and blackberries all seem to fit nicely into a keto diet in moderation. Blueberries can also be enjoyed, but with a bit more scrutiny than the other berries.
Keto Strawberry Recipes
If you're wondering how to enjoy the benefits of strawberries while staying in ketosis, here are some delicious sugar-free keto recipes for you to try out.
Strawberry Cream Cheese Fat Bomb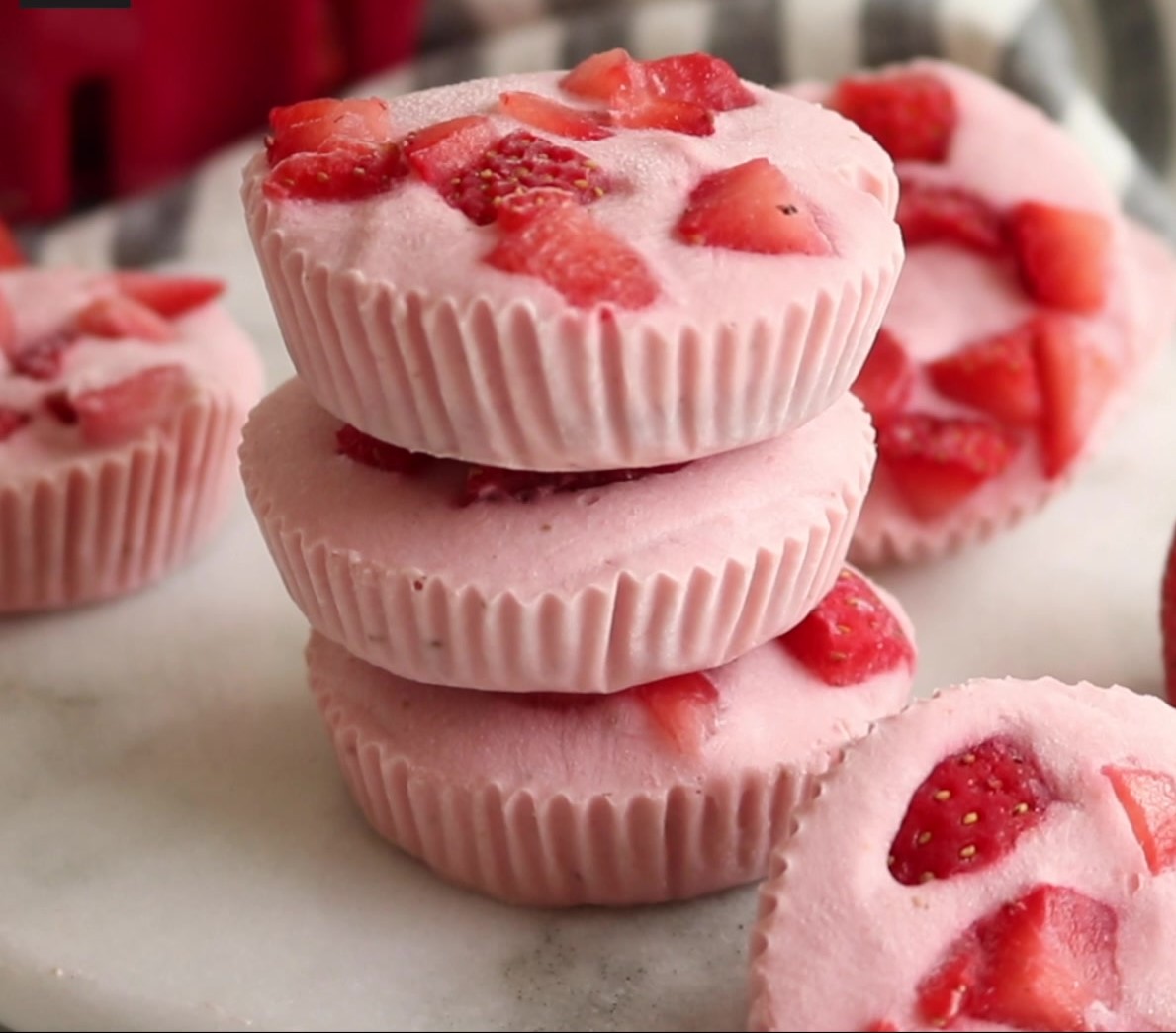 Fat bombs are the quintessential keto snack. These creamy fat bombs come packed with fresh strawberries and MCT oil for a sweet, satisfying, and energizing treat. Each fat bomb is only 1.2 net carbs and 121 calories.
Keto Strawberry Peach Margarita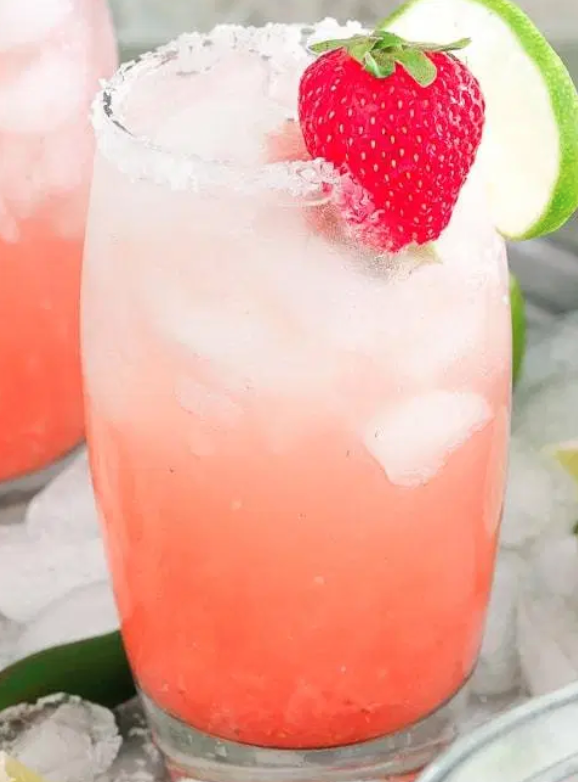 This strawberry margarita takes the concept of skinny margs to the next level. While most margaritas are loaded with sugar, this fruity cocktail comes in at only three net carbs per serving. And of course, no corners are cut with fresh strawberries and lime juice for a refreshing summer drink.
Chocolate Strawberry Gummies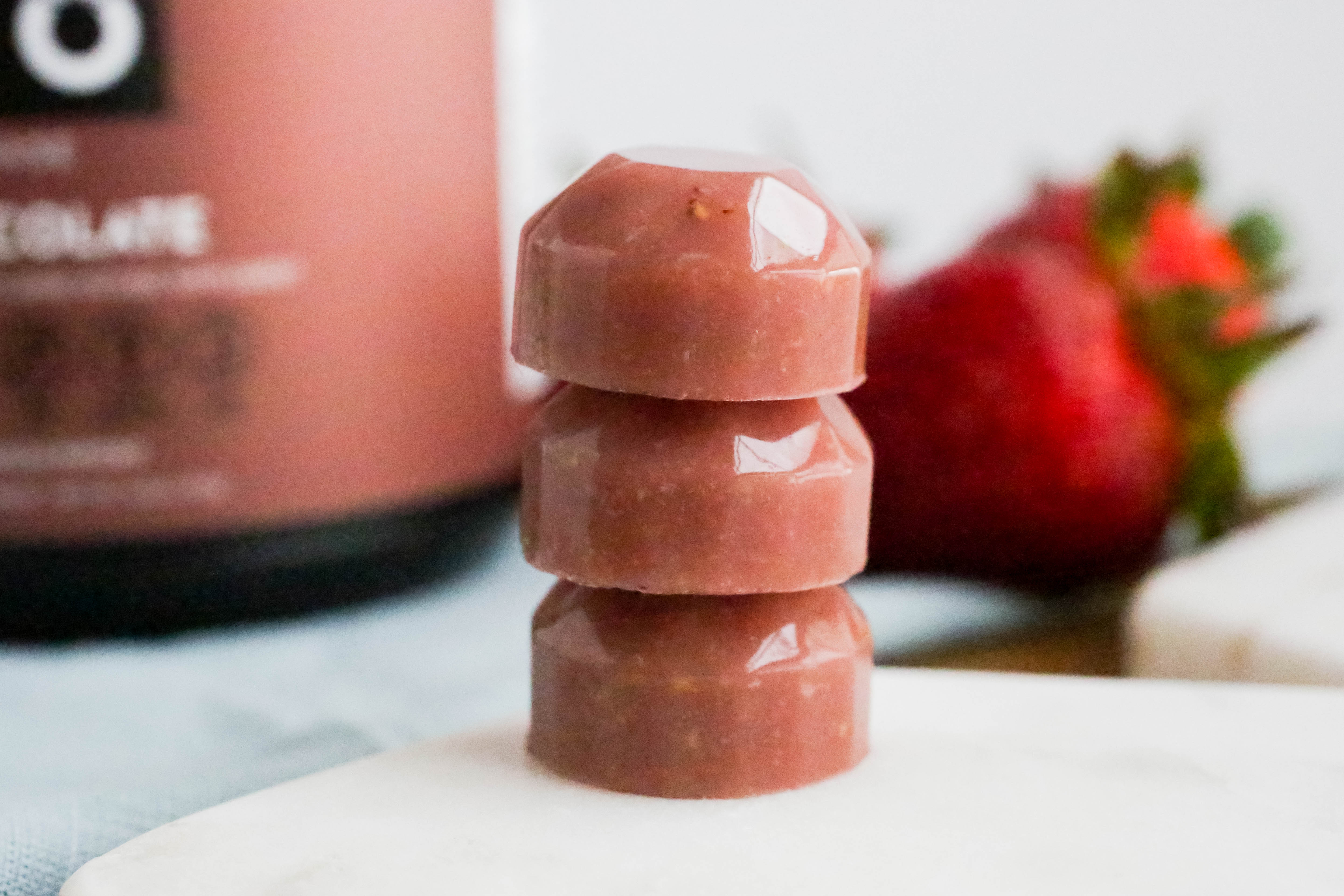 Gummies make an excellent keto treat. They're part snack, part dessert, part candy, and fully delicious. They also come with the added benefits of gelatin. And these chocolate strawberry gummies have one ingredient that makes them extra special — exogenous ketones.
Matcha Strawberry Latte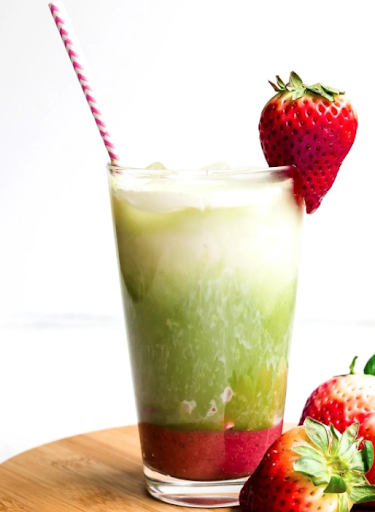 Matcha lattes are delicious all on their own but add some strawberries, MCT oil, coconut cream, and monk fruit, and you have a keto delight. This matcha strawberry latte has only three net carbs and packs 18 grams of healthy fats to keep you satisfied and happy if you want to add even more creaminess top it off with some whipped cream.
Strawberry Panna Cotta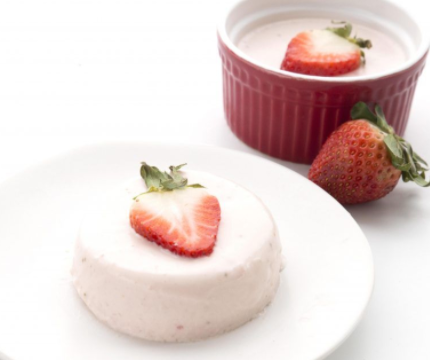 Got a sweet tooth? This low-carb strawberry panna cotta is a sweet and satisfying answer to your dessert cravings. It only takes four ingredients (gelatin, strawberries, heavy cream, and a keto-friendly sweetener), a few hours to set, and you're good to go.
Takeaway
Do strawberries fit into a low-carb diet? Absolutely.
In fact, contrary to popular belief, there are a handful of keto-friendly fruits out there, including berries, avocado, lemons, and limes. While the carb content of most fruits like watermelon, citrus fruit, and cantaloupe may be out of range for the typical keto dieter, strawberries can be enjoyed in moderation without a problem.
Of course, the key word here is moderation. You always want to stay within your carb allowance to avoid kicking yourself out of ketosis.
But all in all, strawberries are a great addition to a well-balanced keto meal plan.