When a dessert like panna cotta is mentioned, most people may assume it's far too complicated to make.  Little did you know, it only requires 5 minutes of your time, a few simple ingredients, and it is perfect on the ketogenic diet.  Whether you are looking for a new fat bomb to end your day, need a simple summer dessert, or are hosting a classy dinner party, panna cotta might become your new 'go to' sweet treat that you make over and over again.
The Main Ingredients in This Panna Cotta Include:
Grass fed gelatin
Strawberries
The main reasons why panna cotta may become your new best dessert friend is that it is easy to make and can be prepared ahead of time for meal prep or batch cooking at the beginning of the week.  However, it is also extremely versatile and you can play around with flavors, depending on your mood and what you have on hand in the pantry.  Another bonus is that this panna cotta contains grass-fed gelatin, a type of protein rich in amino acids and important nutrients.
Benefits of Grass Fed Gelatin:
#1: Gut Health and Digestion
Gelatin works similarly to collagen in the stomach.  It will help nourish and seal the lining in your digestive tract which helps reduce the chances of particles, food, and bacteria from entering the bloodstream.  Gelatin will also help increase the gastric juices needed for proper digestion. This will help improve the absorption of nutrients and reduce the chances common digestive problems like acid reflux, bloating, and indigestion.
#2: Reduce Joint Pain
Your joints are greatly made up of collagen.  As we age, we tend to have more joint pain, stiffness, and limited mobility.  Both gelatin and collagen help stall those chronic inflammatory responses in the joints that lead to things like arthritis and degenerative joint disease.
#3: Improve Skin Health
Collagen and gelatin are the building blocks in your skin.  They provide skin's elasticity, youthfulness, and protection against harmful UV sun exposure.  Gelatin not only helps to renew and regenerate skin cells, but is what also helps maintain strong bones, nails, and hair.
A dessert that nourishes you from the inside out.  You will fall in love with this strawberry panna cotta and will probably find yourself going back to it time and time again.  It is creamy, decadent, and oh-so-easy to make. Remember the flavors can easily be changed, so feel free to try classic vanilla, chocolate, and even coffee the next time you want to spruce things up.
Print
Decadent Strawberry Panna Cotta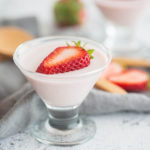 Author:
Total Time:

5 minutes + 2-3 hours setting time

Yield:

1 cup

1

x
Scale
Ingredients
3 tablespoons

warm water

2 teaspoons

grass-fed gelatin

1 1/2 cup

heavy cream

6

strawberries

2

–

3

heaped tablespoons Stevia or keto friendly sweetener of choice
Instructions
Add warm water to a small bowl and sprinkle gelatin on top. Stir well until dissolved and let bloom for 5 minutes.

In the meantime, add strawberries and heavy cream to a blender. Mix on high until very smooth. Add contents to a small pot set to low-medium heat. Stir well.

When mixture just begins to bubble, turn off heat and let cool slightly. While whisking, slowly pour in gelatin mixture. Portion and divide mixture into serving dishes.

Refrigerate for 3-4 hours or until completely set.
Nutrition
Serving Size:

¼ cup

Calories:

209

Fat:

20g

Carbohydrates:

Net Carbs: 4g

Protein:

1g