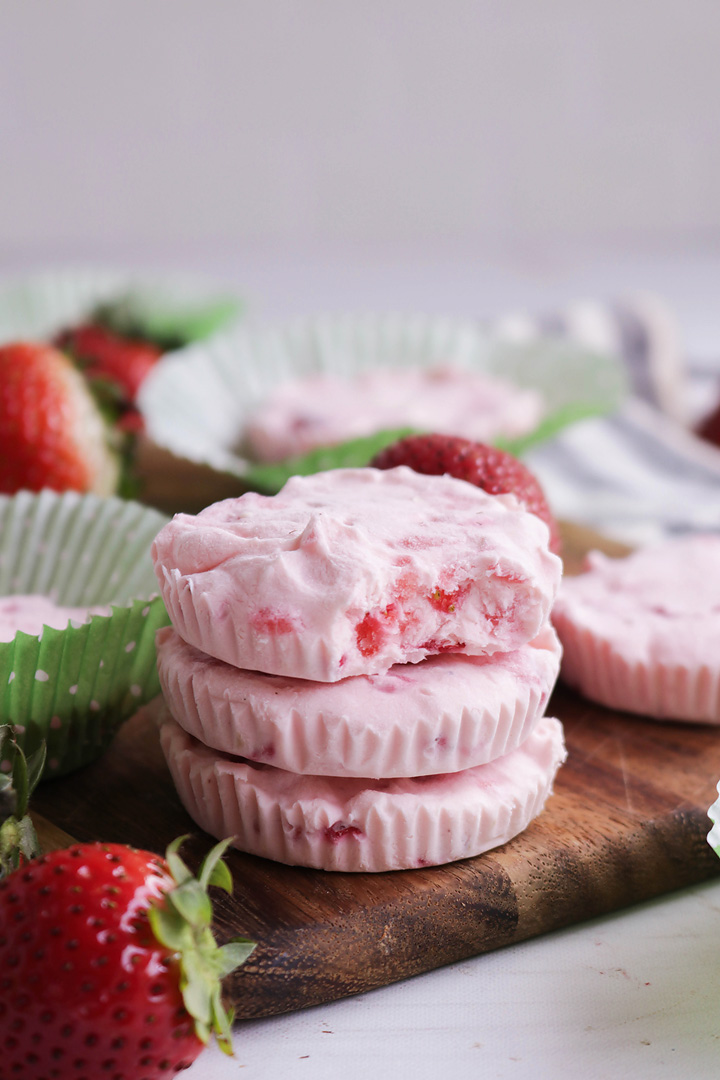 Keto dieters often complain about the lack of sweets on the diet. That's because this low-carb way of eating is very focused on eliminating harmful sugar from your diet. But there are options for that lingering sweet tooth in your life. These strawberry cream cheese fat bombs are the perfect example.
Fat bombs are a great way to help you reach your macro goals while simultaneously satisfying your sweet cravings. These strawberry cheesecake fat bombs are low-carb and packed with healthy fats and antioxidants. Satisfy your cravings with this real-fruit fat bomb recipe.
What Is a Fat Bomb?
If you've been following the ketogenic diet for a while, you're probably familiar with the concept of "fat bombs."
Fat bombs are coconut oil-, nut-, or dairy-based bite-sized treats whose main ingredient is healthy fat. Getting enough fat into your diet can be a challenge when you're first starting out on the keto diet. The macronutrient requirements are likely balanced in a way you've never practiced before. Fat bombs are the perfect keto snack to help you up your fat intake and keep you in ketosis, one delicious bite at a time.
Keto Fat Bomb Options
Fat bombs are also versatile, with different flavors like lemon, mocha, chocolate chip, and "Almond Joy" on the roster. While many fat bomb recipes out there are meant to replace dessert foods like cupcakes, muffins, cheesecake, cookies, cookie dough, brownies, and even some chocolate candies, there are also delicious savory fat bombs you can try. Savory fat bombs feature ingredients such as bacon, eggs, salmon, cream cheese, and more.
Check out this list of 35 of the best keto fat bomb recipes whether you're in the mood for sweet or savory.
How to Use Sweeteners on Keto
When it comes to making keto-friendly recipes — particularly those that are sweet — you may be wondering what you can use instead of regular table sugar (or any of the other sugar forms that can spike your glucose levels).
Keto-friendly sweeteners include stevia, monk fruit, or sugar alcohols like erythritol-based Swerve. These options have zero (or close to zero) net carbs, due to the canceling effects of sugar alcohol and fiber. For every gram of fiber present in a serving of food, you can cancel out one gram of carbohydrates.
For sugar alcohol, it can get a little tricky. Most experts suggest a .5 to 1 relationship between sugar alcohols and carbohydrates. In other words, to calculate net carbs when some of those carbs come from sugar alcohols, you'll want to subtract .5 grams of carbohydrates for every 1 gram of sugar alcohol. If there are 6 total carbs and 2 are sugar alcohols, the net carbs for that food is 5 grams[*]. Make sense?
Give each of these keto sweeteners a try to see which one works best for you, both for your digestive system and your personal palate preferences.
Keto Strawberry Cream Cheese Fat Bombs
Not only are these cream cheese fat bombs insanely delicious and easy to prepare, but they also come with some surprising health benefits. From vitamins and minerals to plenty of healthy fats that support hormone health and neurotransmitter production, these cream cheese fat bombs are the perfect addition to your keto diet plan.
These keto fat bombs are:
Sweet
Creamy
Fruity
Satisfying
Sugar-free
Gluten-free
High-fat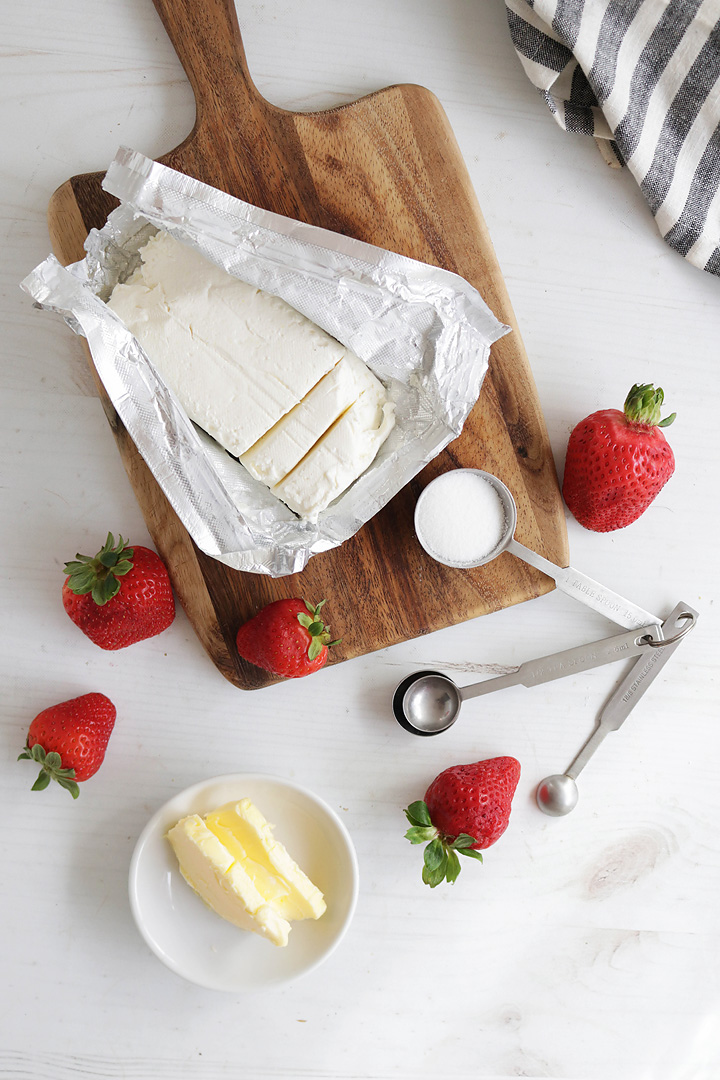 The main ingredients in these tasty cream cheese fat bombs are:
Health Benefits of Strawberry Cheesecake Fat Bombs
These super delicious strawberry cream cheese fat bombs taste just like traditional strawberry cheesecake bites, but with a fraction of the carbs and zero added sugar. They also offer some fantastic health benefits.
#1. Anti-Inflammatory Properties
Strawberries are packed with powerful antioxidants that help reduce oxidative stress and aid in the fight against free radicals. Antioxidants like ellagic acid, procyanidins, flavonols, and vitamins A and C also reduce inflammation and strengthen your immune response[*][*][*].
Strawberries are also a relatively high-fiber fruit that allows you to enjoy something sweet without ruining your carb count for the day.
#2. Supports Heart Health
The antioxidant, anti-inflammatory effects of the nutrients in strawberries also play a role in heart health. By preventing oxidative stress and inflammation, you protect your vascular system and support better cell health[*].
According to some data, eating various berries, including strawberries — whether, fresh, juiced, freeze-dried, or frozen — can help reduce inflammatory markers and improve LDL oxidation and glucose metabolism[*].
It makes sense that berries are good for your heart. But butter?
Grass-fed butter (as opposed to conventional butter or margarine) is packed with nutrients, including anti-inflammatory omega-3 fatty acids and vitamin K2.
Vitamin K2 is an essential nutrient that you only get in large amounts in foods like butter and organ meats.
K2 helps to usher calcium into your bones where it belongs, as opposed to staying in your arteries, where calcium can harden and lead to Atherosclerosis[*].
Grass-fed butter contains a fatty acid called butyric acid, a powerful anti-inflammatory compound that contributes to gut health[*]. It's also rich in CLA (conjugated linoleic acid), a fatty acid that studies have shown may[*]:
Reduce atherosclerosis
Enhance the immune system
Prevent and treat diabetes
Aid in weight loss
Reduce body fat
Increase body protein
Enhance bone formation
#3. Builds Stronger Bones
While dairy isn't universally accepted as a health food, the right kinds of dairy can provide you with hefty amounts of protein, calcium, and fat.
Organic cream cheese and butter from grass-fed cows contain more nutrients than conventionally-raised cows.
Organic dairy can improve your bone mineralization and lower your risk of fracture and osteoporosis, especially as you age[*].
Grass-fed butter and other organic dairy products also contain vitamin K2, which is known for helping shuttle calcium from your bloodstream into your bones where it belongs. This means stronger bones and healthier arteries for you.
If you don't have a known dairy allergy or intolerance, you should be fine with a few servings of dairy per day.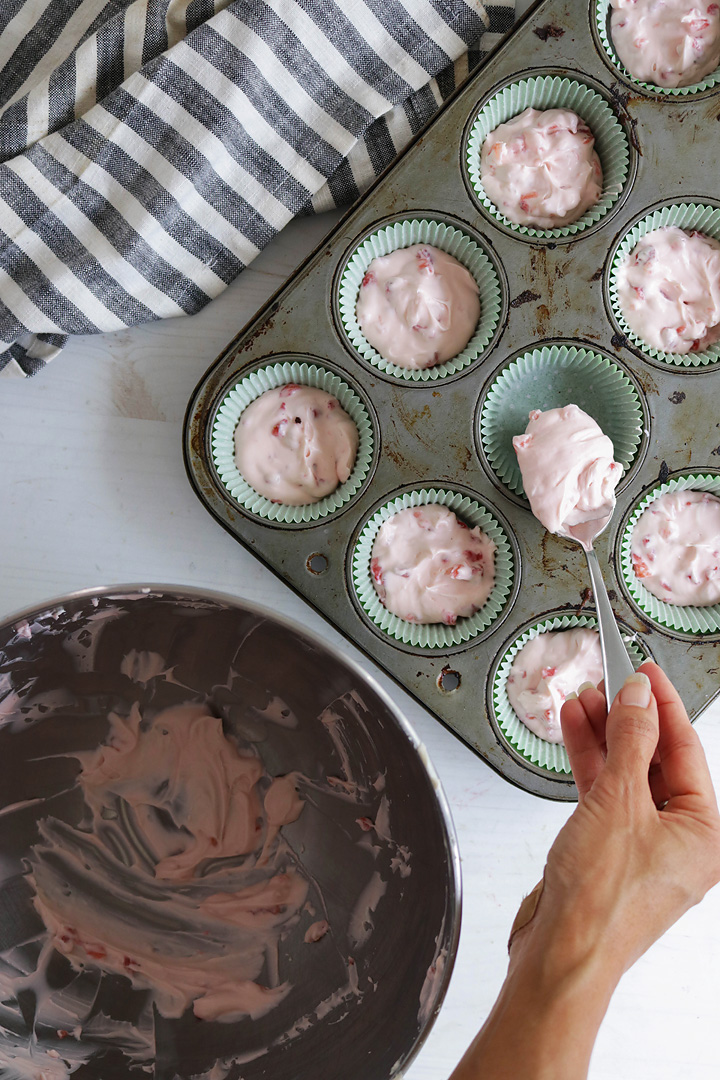 Keto Fat Bombs: Healthy Cheesecake You Can Enjoy
These are the perfect keto desserts if you're craving cheesecake or strawberry ice cream.
To prepare, simply puree fresh or frozen strawberries in your food processor and mix in your room temperature cream cheese and butter.
Once your strawberry cheesecake mixture is ready, pour into prepared muffin tins or a silicone candy mold and place in the freezer to chill for about 40 minutes. Keep this low-carb dessert in your freezer for a sweet frozen snack or make a batch or two for a party.
Even non-keto folks will appreciate this perfectly sweet, creamy treat.
Print
Strawberry Cheesecake Fat Bombs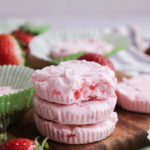 These strawberry cream cheese fat bombs are keto-friendly and packed with healthy fats and antioxidants. Crush your sweet cravings with these no-bake, real-fruit treats.
Author:
Prep Time:

15 minutes

Total Time:

1 hour

Yield:

10

1

x
Instructions
Puree the strawberries in a small blender or using a hand mixer. 

Add a small splash of vanilla and mix to incorporate.

Prepare a muffin tray with muffin liners.

Melt the cream cheese and butter together.

In a medium-sized mixing bowl, combine the dairy mixture and the strawberry mixture, and mix well.

Pour evenly in muffin tins or silicone mold and place in the freezer to chill for no less than 40 minutes.
Nutrition
Serving Size:

1 fat bomb

Calories:

121

Fat:

12.8g

Carbohydrates:

1.2g (net)

Protein:

1.4g
Keywords: Strawberry Cheesecake Fat Bombs