It can be tough, as someone following a keto diet, to walk into a coffee shop and see all of the delicious pastries.
You know that those all-purpose flour treats, loaded with sugar and carbs, are the worst thing for you.
And yet…there's a little voice in your head that still wants a taste.
Good news — the internal battle is over. With these delicious blueberry protein scones, you can have your cake and stay in keto too. Or, should I say, have your scone.
These blueberry scones are:
Warm
Comforting
Delicious
Sweet
The main ingredients are:
Optional additional ingredients
3 Health Benefits of Blueberry Protein Scones
#1: Enhances Skin Health
Collagen is a structural protein and makes up a significant part of your connective tissue. Connective tissue is found throughout your body; binding, supporting, and connecting organs and other tissues together.
Collagen can break down with age or due to lifestyle factors. One area where you may notice a loss in collagen as you age is in your face. Wrinkles are, in part, due to a loss of this essential structural protein.
But there's good news;
Increasing your collagen consumption may improve the appearance of wrinkles on your skin.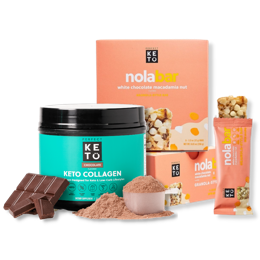 Browse our curated collection of fan-favorites and discover your new favorite snack or supplement.
Shop Best Sellers
When a group of women aged 35-55 were given collagen for eight weeks, they noticed significant improvements in the elasticity of their skin[*].
#2: Improves Gut Health
Grass-fed butter has health benefits that set it miles apart from grain-fed butter. Grass-fed butter comes from cows that are allowed to graze on the pasture and eat the grass, which is a natural part of their diet.
Most cows in the U.S. are not offered this luxury and are forced to eat grains which don't agree with their digestive system. Grain-fed cows result in butter and other dairy products that have a suboptimal nutrition profile.
One of the benefits of grass-fed butter is its butyric acid concentration. Butyric acid (or butyrate), is a short chain fatty acid that's known for its anti-inflammatory effect in your body.
Butyrate is naturally occurring in your digestive system and works to balance your gut microbiota and keep the environment in there copacetic. Increasing butyrate consumption can decrease your gut inflammation, and may even improve Crohn's disease[*].
#3: Antioxidant Rich
Oxidative stress is a natural process that your body goes through. Simply living and breathing create oxidative stress in your body, and this isn't necessarily a bad thing.
The crucial component of oxidative stress is making sure it doesn't get out of control, by balancing it with antioxidant activity. Your body has multiple antioxidant systems to combat stress, but getting enough antioxidants through food is one of the most essential pieces to the puzzle.
Blueberries are among the most potent sources of antioxidants in the fruit world[*].
Anthocyanins, a type of phytonutrient that acts as an antioxidant, are found in abundance in blueberries. They give blueberries their deep blue/purple color and help your body fight oxidative stress.
Blueberries, due to their antioxidant activity, support both your brain and heart[*].
Blueberry Protein Scones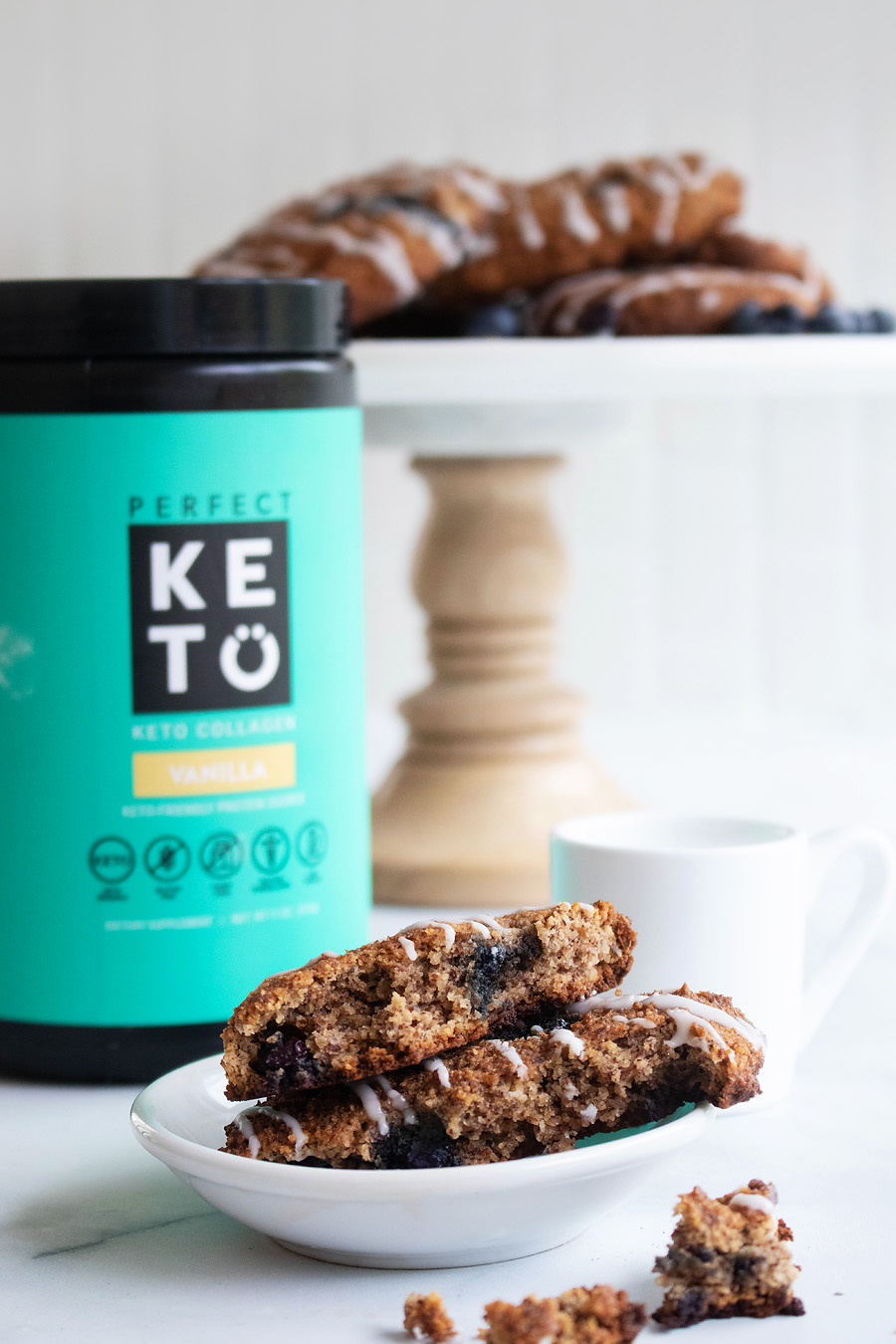 These delicious blueberry protein scones pair beautifully with your morning coffee or afternoon tea.
Begin by preheating your oven to 350 degrees f. While your oven warms up, gather all of your ingredients to have them handy.
Pull out your food processor and add your dry ingredients; Perfect Keto Vanilla Collagen Protein, almond flour, coconut flour, monk fruit, salt, baking powder, and baking soda.
Pulse a couple of times to mix the ingredients.
Next, slowly add in your wet ingredients; cold butter, heavy cream, vanilla extract, and egg and pulse again until dough mixture forms.
At this point, you can gently mix in your blueberries.
Set aside your mixture and line a baking sheet with parchment paper.
Grab your 1/4 cup measuring cup and scoop out eight even molds onto your baking sheet and mold them into scone shapes. Make sure to allow at least two inches of space between each scone as they will expand while baking.
Bake your scones for 34-40 minutes, or until they're golden brown on top.
Allow to cool slightly, and serve topped with your favorite fruit or coconut butter.
You can store any extras in an airtight container in your refrigerator to be enjoyed for a few days.
Print
Blueberry Protein Scones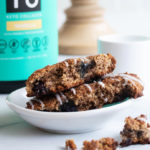 These golden brown, gluten-free blueberry protein scones made with fresh blueberries and almond flour put coffee shop scones to shame.
Author:
Total Time:

45 minutes

Yield:

8

scones

1

x
Instructions
Preheat oven to 350 degrees and line a baking sheet with parchment paper

Add collagen, almond flour, coconut flour, sweetener, baking powder, baking soda, and salt to a large food processor.  Pulse a couple of times to combine.

Slowly add in heavy cream, egg, vanilla extract, and cold butter.  Pulse until dough comes together without over mixing. Gently stir in blueberries.

Scoop dough out onto baking sheet using a ¼ measuring cup.  Make 8 even mounds and form into scone shapes. Give 2" between scones to bake evenly.

Bake for 35-40 minutes until golden brown and bake through.

Drizzle coconut butter and extra sweetener on tops of scones if desired.
Nutrition
Serving Size:

1 scone

Calories:

226

Fat:

20 g

Carbohydrates:

7g (3g)

Fiber:

4 g

Protein:

8g
Keywords: blueberry protein scones