If you're just starting the keto diet, breakfast might seem like the most challenging meal of the day. Lunches and dinners can easily be made keto by preparing recipes you already enjoy. Meals like salads, steak, salmon, and stuffed peppers are inherently low carb. But what about your favorite breakfast foods? Waffles, oatmeal, and pancakes are all off-limits.
Most people are intimidated by a ketogenic breakfast because they overthink the process. Below, you'll learn how to prepare a low carb breakfast, how to re-think breakfast entirely, and a few low carb recipe ideas.
How to Prepare a Ketogenic Breakfast
Preparing a keto breakfast is no different than preparing any other meal. Simply focus on your macros, then fill in those macros with nutrient-dense foods. For example, if you know you're sticking to 70% fats, 25% protein, and 5% carbs, you know you need a protein source, a low carb vegetable, and a fat source, either for sauteing or by preparing a sauce.
#1: Pick Your Protein
Virtually any protein source works well for breakfast. But if a low carb breakfast is still new to you (meaning you grew up on cereal and toast) you might want to stick to those foods commonly associated with breakfast. This might include scrambled eggs, sausage patties, smoked salmon, and bacon.
Here are a few protein-packed keto breakfast recipes you might enjoy:
#2: Pair With a Low Carb Vegetable
Within the standard American diet (SAD), breakfast is extremely lacking in the vegetable department. While eating veggies for breakfast might be a new concept for you, know that it's important to get these micronutrients throughout the day, rather than just at lunch and dinner.
When selecting a breakfast side dish, you'll forgo your typical breakfast hashbrowns, selecting a low carb vegetable instead. Here are a few ideas to get you started:
#3: Include a Healthy Fat
Finally, choose a healthy fat to include with your breakfast. These choices might include coconut oil, avocado oil, grass-fed butter, ghee, or bacon fat. You will probably be cooking your protein source and vegetable in your chosen fat source, but you might also use it in a sauce. When adding flavor to any recipe (not just breakfast recipes) the sauce can make or break the dish. Here are a few sauces you might choose to include:
Re-Think Your Definition of "Breakfast"
Most breakfast foods are very high in carbohydrates, which is exactly what you don't want on a ketogenic diet. If you can do a mental shift as to what foods are classified as breakfast, you will spare yourself a lot of headaches. No matter what you've been told in the past, any food can be eaten for breakfast. A bowl of beanless chili made with ground beef, pulled pork, or baked salmon can all be "breakfast foods."
If this is too great a mental leap, here a few other keto tricks:
Find a Keto Version for Your Favorite Breakfast Foods
If there is a keto version of your favorite dessert, there is certainly a keto version of your favorite breakfast foods. Here are a few keto recipes you might want to try:
Re-Think Your Breakfast Beverage
When you first start the keto diet, you might want to skip your morning Starbucks run. Lattes, blended coffee drinks, and iced beverages are often loaded with unwanted ingredients. Instead, make your own beverage at home. Here are a few recipes to include as part of your new morning routine:
Or, You Can Never Go Wrong With Breakfast Tacos
Want to know one more recipe you can enjoy any time of day? Tacos.
Tacos can easily be made into a low carb, delicious breakfast dish by swapping out the tortilla for a low carb alternative, then adding in a breakfast protein such as bacon or sausage.
In the recipe below, you'll create a low carb "tortilla" using shredded cheddar cheese and egg, then top with bacon, arugula, and cilantro. And the best part? They contain just 4 net carbs per serving.
Your Morning Is About to Get Even Better
Hopefully, this post gave you a long list of keto breakfast ideas to work into your weekly round-up.
Remember, you can easily make a breakfast skillet or a breakfast bowl by focusing on your macros and choosing a protein source, a low carb vegetable, and a fat source.
If you're ever at a loss for ideas, simply browse the Perfect Keto breakfast recipe section on this site. These recipes will keep your blood sugar in check, your carb count low, and your body energized throughout the day.
Print
Easy Ketogenic Breakfast Tacos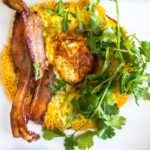 Boy, do I wish ketogenic breakfast tacos grew on trees. If you don't have a breakfast taco tree in your backyard either, this is the next best thing.
Author:
Prep Time:

15 minutes

Cook Time:

10 minutes

Total Time:

25 minutes

Yield:

1

1

x
Category:

Dinner

Cuisine:

Mexican
Instructions
Cook bacon first, you can pan fry it or pop it in the oven at 350F until crispy. Set aside.

Shred your cheese with a cheese grater.

Heat skillet on medium high heat. Once it's come to temperature add the ghee into the skillet.

Sprinkle the cheese into the skillet in a circle.

It will begin to melt almost instantly. Once all of the cheese is melted and bubbling, crack the egg into the center of your cheese circle. Sprinkle the yolk with salt, pepper and turmeric.

Cook here for 2 minutes until the egg begins to become opaque and the cheese begins to brown.

Cover with a tight fitting lid and lower the heat. Cook covered for 2 minutes.

Remove from heat, the egg should be fully cooked and the cheese crispy.

Carefully slide your cheese egg onto a cutting board or dish. Use two bowls or cups, or even the cheese grater to hold up the sides of the sheet taco so that as the shell cools and hardens the sides stay up.

Add in your bacon, arugula and cilantro.

Grab your shell and dig in. Eat over a plate because you don't want your yolk to run all over the floor!
Nutrition
Serving Size:

1 Taco

Calories:

360

Sugar:

2

Fat:

29

Carbohydrates:

4

Protein:

20
Keywords: breakfast tacos