Today's keto success story is from Brian, who credits keto with helping him get off medication and take control of his health. 
A year go, Brian was on infliximab, a prescription immuno suppressant for managing ulcerative colitis. Common side effects include frequent respiratory infections, chest pain, chills, fatigue, weakness, and difficulty breathing — and despite the medication, Brian was still struggling with his digestion. 
One day, he decided to see if he could take his health into his own hands. 
"I looked up how other people have combated ulcerative colitis via diet," Brian says. "I saw many testimonies and real-life stories of people using keto for healing."
Hearing genuine success stories, he explains, was what convinced him to try keto. 
"I wanted to read about real people who had success with the diet, rather than listen to a gastrointestinal doctor who just pumps patients full of medication. I wanted to be in control of my life, and didn't want to be at the mercy of big pharma." 
Brian started keto 12 months ago, and a year later, he has good news. 
"I can go backpacking without worrying about carrying any meds. I can choose how I feel by making conscious food decisions. I can now say I am medication-free!"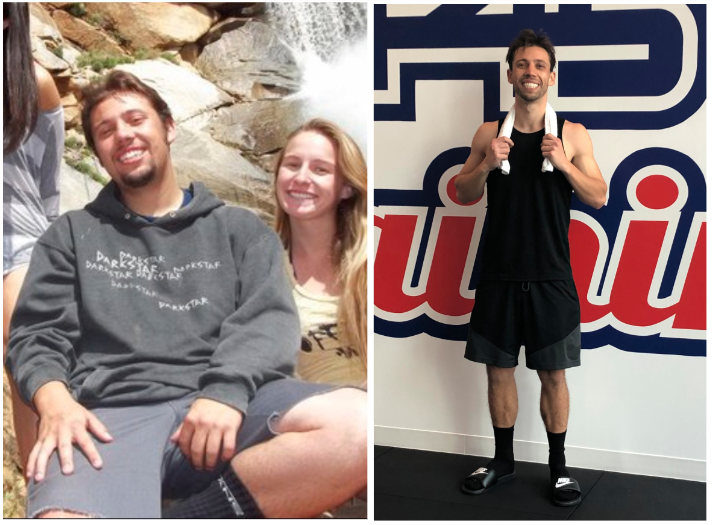 Brian's Keto Success Story
Any major lifestyle change comes with its difficulties, and Brian's keto journey is no exception. 
"The biggest challenge has been time to meal prep and/or cook food. I love cooking but it definitely takes its toll. But I have become a much better cook, and I enjoy all the food I make."
To save on time, Brian has started intermittent fasting a few days a week. 
"I can go all day without eating," he says. "I always thought fasting was crazy before this."
He also has a couple of strategies for saving on time in the kitchen. 
"[Perfect Keto] has helped me find good products that taste good, as well as given me a plethora of information. I love the products, from protein powder to bars to nootropics to collagen. They've given me clean supplements and good snacks."
When asked about his favorite time-saving keto snack, Brian replied immediately. 
"The almond butter brownie keto bar with coconut butter! And high-fat mochas in the mornings. I mix coffee, ghee, coconut oil, and Perfect Keto Chocolate Collagen. It's the best breakfast. The powder mixes so well!
A big thank you, Brian, for sharing your story with the Perfect Keto team. Hearing about these successes is what keeps us doing what we do. 
Have a story to share? Fill out this form and look out for your keto success story on our blog and social media.
Keto Success Stories are shared by our readers and customers in their own words. The keto diet and any nutrition advice found on this blog are not meant as a medical intervention, advice, or diagnosis. If you're interested in trying a new diet, supplement, or lifestyle change, please speak with your doctor or another qualified healthcare provider. As with any diet or lifestyle protocol, individual results may vary.