Prepping for a keto potluck? There can be a little pressure to deliver when it comes to bringing food to a social gathering. 
If the stress is on, rest assured that this keto potluck roundup has something for everyone. Whether you're looking for a main dish, an appetizer, or a dessert — you'll find a tasty and easy option here. 
Main Dish
#1 Keto Shepherd's Pie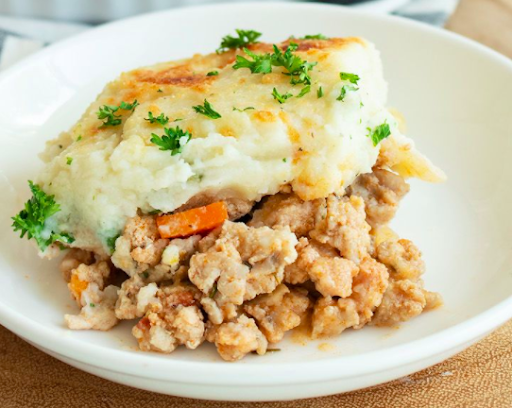 Shepherd's pie is the quintessential comfort food. This recipe is fantastic for a winter or fall potluck where your guests or friends are hoping for something warm and grounding. The serving size is one cup, but for a potluck, you can make the serving sizes smaller since their will likely be plenty of dishes to choose from.  
Top with a dollop of sour cream or cheddar cheese for extra flavor.
#2 Mini BBQ Meatloaves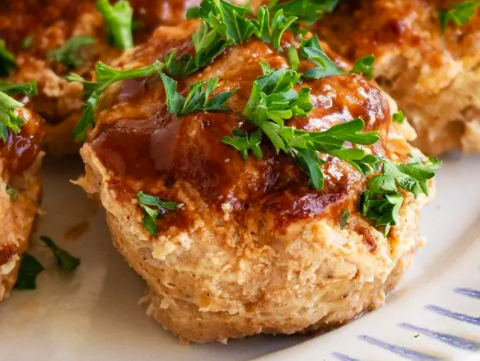 These mini meatloaves make an excellent potluck dish as they're already perfectly portioned out. Made in a muffin tin for small but satisfying bites of meatloaf, you can up the serving size by multiplying the recipe, or for a small gathering just go with the six servings.
#3 Italian Stuffed Peppers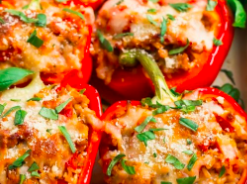 If you or your friends like spicy foods, these stuffed peppers are the way to go. Packed with flavor, this delicious blend of veggies and cheese is sure to please a crowd. You can cut the portions in half, (halve the peppers) if you want more servings for your potluck. 
#4 Slow Cooker Taco Soup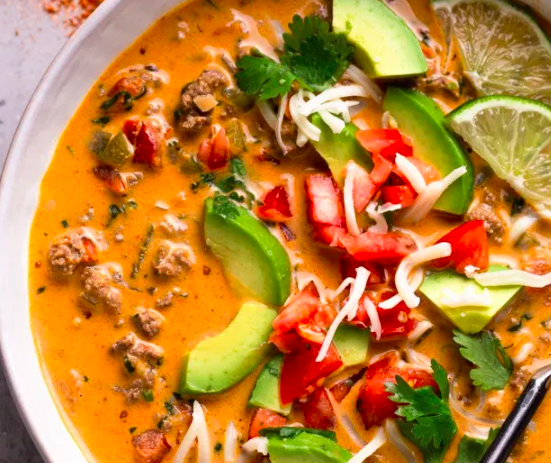 Everyone loves tacos, but making a bunch of tacos for a potluck can be time-consuming and can quickly become quite the ordeal—solution: keto taco soup. 
This taco soup recipe captures all the flavors you love from a traditional taco, but lets you make one big batch to share. 
#5 Cheesy Broccoli Chicken Casserole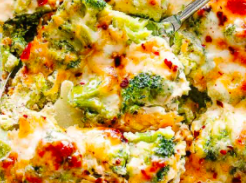 Nothing says potluck like a good 'ol casserole. This cheesy broccoli chicken casserole is always a favorite and only takes 30 minutes to prepare. The best part is,it's only 179 calories per serving– which means you'll have plenty of room for all the other potluck goodies.
#6 Chili Lime Tuna Salad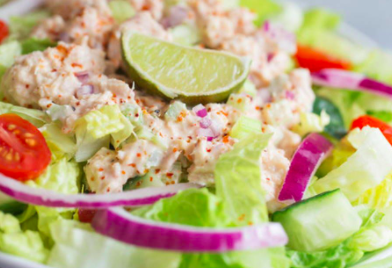 If you're looking for something a little more exciting from a tuna salad recipe, this chili lime tuna fits the bill. You'll never go back to plain old mayo, salt, and pepper again. 
Bring along some lettuce leaves for optional tuna lettuce wraps.
#7 Sheet Pan Sausage and Peppers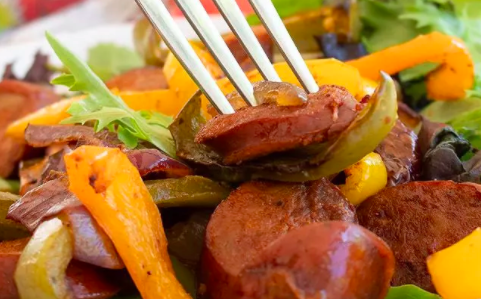 If you're looking for a quick and easy recipe that's packed with flavor, these sheet pan sausage and peppers are made to deliver. With a prep time of five minutes, this no-fuss recipe will make your potluck prep a breeze.
#8 Instant Pot Beef Stew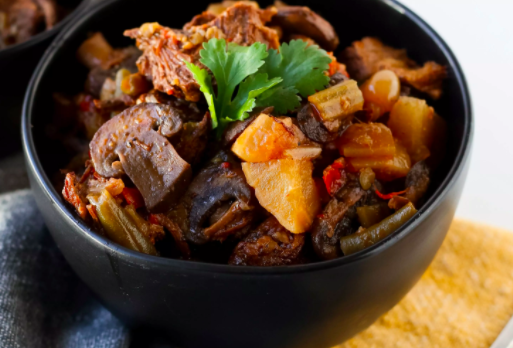 Beef stew can be a time-consuming dish if you make it the traditional way. However, with an instant pot, you can create a rich and flavorful stew in a fraction of the time. Add a little sour cream or fresh herbs for even more flavor.
#9 Cheeseburger Casserole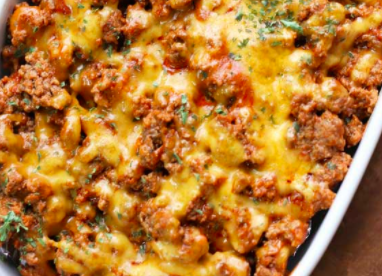 If you're in a burger mood, but don't feel like firing up the grill for your potluck, take the easy route — make a cheeseburger casserole. All you need is some ground beef, cream cheese, cheddar, mustard, and a selection of herbs, and you've got a burger-less cheeseburger.
#10 Crispy Chicken Thighs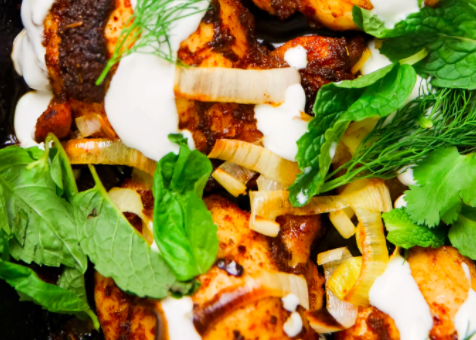 Chicken tenders are always a welcome addition at a potluck. However, most of the time, they're made with flour and end up being way too high on the carb count to be considered keto. These crispy chicken thighs skip the carbs and opt for collagen and spices for a low-carb and incredibly flavorful crispy chicken dish.   
Appetizers and Sides
#11 Mozzarella Sticks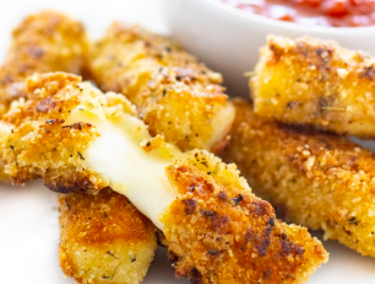 Mozzarella sticks are always a fan favorite when it comes to finger foods. This recipe offers the crispy, cheesy texture you know and love, with only five net carbs per three sticks. That's right, just over 1.5 net carbs per mozz stick. This recipe is best made fresh, or heated in the oven before serving for optimal flavor.
#12 Spicy Deviled Eggs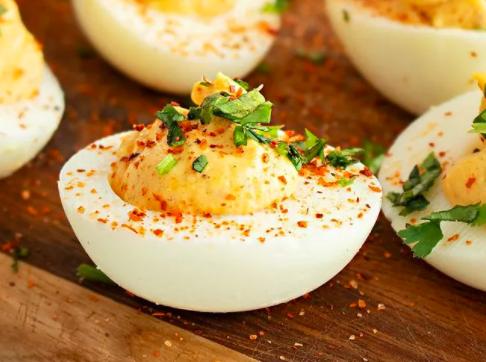 It's just not a potluck without some deviled eggs. This recipe kicks the spice up a notch and offers an excellent source of protein to keep you satisfied while you graze the spread at your potluck. The best part is that one batch yields 24 servings, so there should be more than enough spicy deviled eggs to go around.
#13 Jalapeno Poppers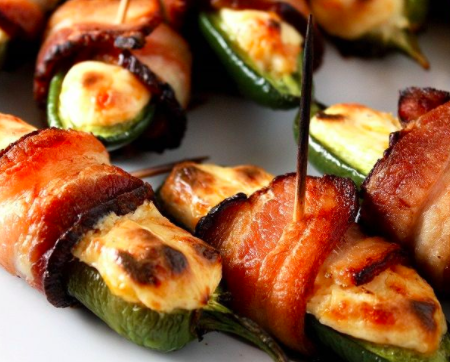 If you like it hot, these jalapeno poppers are an absolute must. Anything wrapped in bacon is sure to please, but the juxtaposition of crispy bacon with spicy peppers and the cream cheese makes this appetizer a no-brainer. The best part? Each popper is less than one net carb. 
#14 Parmesan Chicken Wings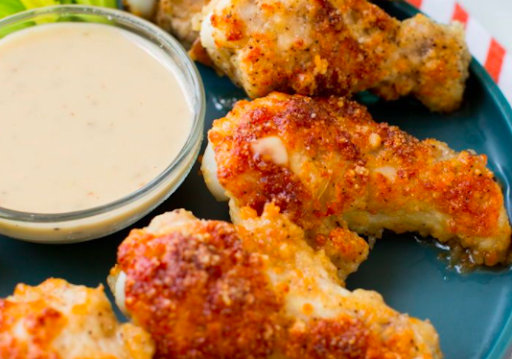 Chicken wings are the ultimate party food, but the carb count can vary widely depending on who's making them and what ingredients they use. These parmesan chicken wings have zero net carbs, making them the perfect keto appetizer. Serve them with your favorite keto-friendly sauce, or enjoy them as is. 
#15 Cheesy Buffalo Chicken Dip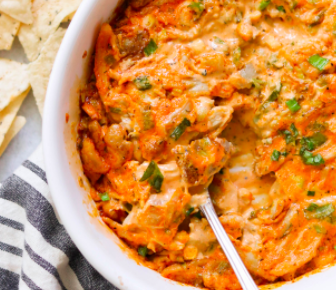 Two things that are always welcome at a potluck are dips and buffalo chicken wings — so why not combine them? This cheesy buffalo chicken dip gives you the best of both worlds, buffalo chicken flavor in a creamy dip. You can use your favorite low-carb crackers for dipping, or go with cut-up veggies like cauliflower or zucchini if you want to add a little fiber.
#16 Keto Crack Slaw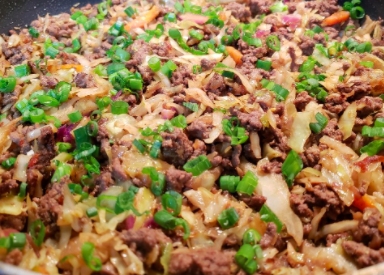 There's coleslaw…and then there's crack slaw. This keto crack slaw recipe turns traditional coleslaw on its head by adding extra spices and a secret ingredient — pork. You'll never look at coleslaw the same again. 
#17 Chicken Cauliflower Fried Rice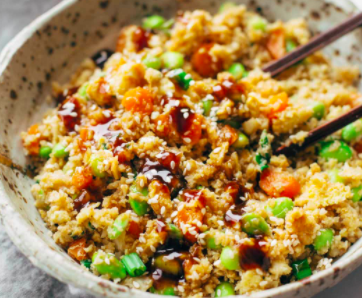 Cauliflower rice is a keto staple, but sometimes you need to jazz it up a bit. Even if your fellow potluck attendees aren't keto, they're going to love this Asian inspired fried cauliflower rice dish. It's so rich in flavor and protein, it could even be considered a main dish, but for the sake of a potluck, you could go either way.
Dessert
#18 Strawberry Cream Cheese Fat Bombs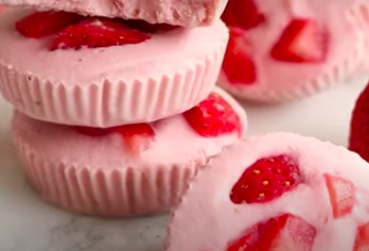 These delicious strawberry cream cheese fat bombs are like mini strawberry cheesecakes. With only 121 calories per fat bomb and just over one net carb, you'll want to make extras — they go quick. Be sure to chill them before serving.
#19 Keto Peanut Butter Pie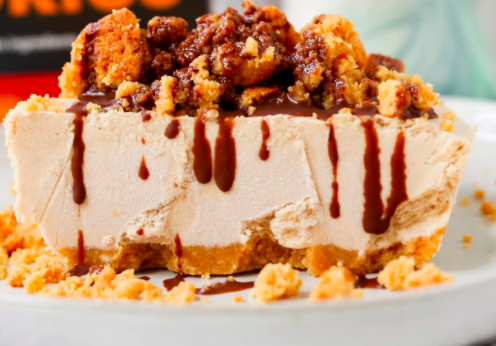 If you want to impress your potluck guests, pie is always the way to go. This keto peanut butter pie is made with a gluten-free cookie pie crust and contains only six ingredients — peanut butter, cream cheese, butter, vanilla extract, coconut cream, and Perfect Keto Peanut Butter Cookies.
#20 Avocado Brownies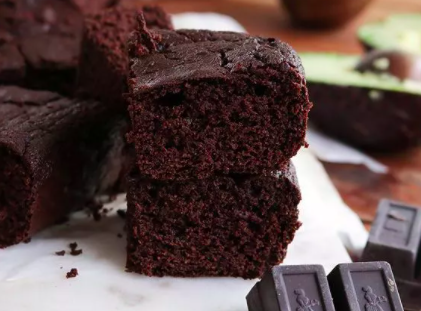 Skip the sugar and carb heavy brownies you're used to, these avocado brownies are made with almond flour, cocoa powder, monk fruit, and of course…avocadoes. With only 2.4 net carbs per brownie and over six grams of fiber, these desserts may taste like a treat, but they second as a healthy snack.
#21 Pecan Pie Fudge Bombs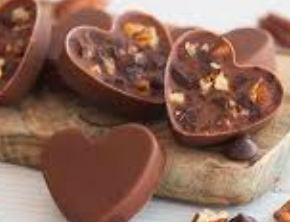 Pecan pie fan? These pecan pie fudge fat bombs have all the flavor of pecan pie, with a fraction of the carbs. And they're the perfect potluck food because they're already portioned out.
#22 Keto Nut Butter Cookies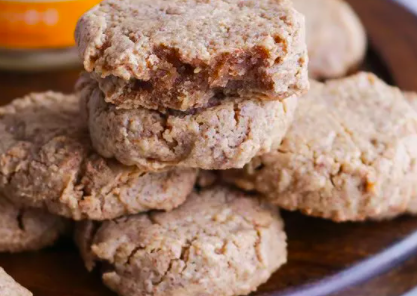 With just over 1.5 grams of net carbs, these nut butter cookies are the perfect keto cookie to share at a potluck, Be sure to make plenty though, because these guys tend to go quick. 
#23 Fudgy Flourless Chocolate Cake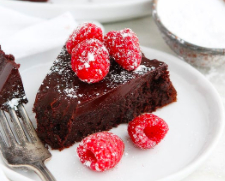 Nothing finishes off a dessert table like a rich and decadent flourless chocolate cake. This cake comes together with just a few simple ingredients, including; eggs, sugar-free chocolate chips, monk fruit, cacao powder, and vanilla extract. Top with some fresh raspberries or keto whipped cream.
Takeaway
There is no shortage of easy low-carb recipes out there to choose from. For your next potluck, try out on or two of the recipes above. They may even become weeknight staples.