There have to be about one million types of cheesecake out there.
You've got your oreo cheesecake, strawberry cheesecake, cheesecakes with frosting — the possibilities are limitless.
Sometimes, however, it's nice to keep things sweet and simple.
This cheesecake recipe is a modern keto twist on your traditional cheesecake, with a touch of cinnamon.
The Perfect Keto Cinnamon Roll bars make an excellent swap out for a standard graham cracker crust. You just add some butter and almond flour and voila — keto cinnamon "graham cracker" crust.
For the cheesecake layer, you'll make a delicious creamy cinnamon mixture with cream cheese, cinnamon, eggs, and monk fruit.
Pop that bad boy in the oven, and you have some delicious keto cheesecake bars.
This cheesecake recipe is:
Sweet
Rich
Satisfying
Satiating
The main ingredients are:
Optional additional ingredients
Sugar-free chocolate chips
Hazelnut flour
3 Health Benefits of Cinnamon Roll Cheesecake Bars
#1: Boosts Antioxidant Support
When you see the word cinnamon, you should automatically think, "antioxidants."
This sweet spice is a fantastic source of a variety of antioxidant compounds including flavonoids, catechins, and cinnamaldehyde.
Among the many activities of these compounds, their free-radical-fighting activity may support your heart health by protecting your LDL cholesterol. When free radicals attack LDL cholesterol it becomes oxidized and can lead to plaques which progress into heart disease[*].
Cinnamon is such a powerful antioxidant that its extracts may even be used in food to protect against spoilage. That's a much better option than some chemical preservative, wouldn't you agree[*]?
#2: Source of CLA (Conjugated linoleic acid)
CLA is a type of fatty acid found in meat and dairy, with grass-fed butter being one of the most abundant sources.
In fact, grass-fed cows produce butter that can contain up to 500% more CLA than grain-fed cows[*].
So what's the deal with this fatty acid?
Research shows that CLA may support a variety of health conditions, including weight loss, heart disease, and diabetes[*][*][*].
Some research even suggests that CLA may be protective against breast cancer[*].
So next time you're grabbing some butter in the dairy department — make sure you go for the grass-fed.
#3: Balances Blood Sugar
Yes of course, if you're looking at a recipe on a keto website it better not throw your blood sugar out of balance.
But there's more to the blood-sugar balancing benefits of this recipe than the optimal macronutrient profile (10 grams of protein with only 5 net carbs anyone?)
Cheesecake wouldn't be cheesecake without the sweet flavor, that would pretty much just be cheese. But this cheesecake gets its sweetness from an ingredient so far superior to sugar that it actually benefits your blood sugar health — monk fruit.
Monk fruit is native to China and is getting more and more popular in the U.S. for its delightful taste that provides sweetness without a glucose crash.
How does it do this?
As a non-calorie sweetener monk fruit adds flavor without the carbs, but it also has a positive effect on your pancreas and stimulates insulin production.
That means that even if a few carbs slip by when you're eating a meal with monk fruit, your blood sugar will get an extra boost of support from enhanced insulin[*].
Cinnamon Roll Cheesecake Bars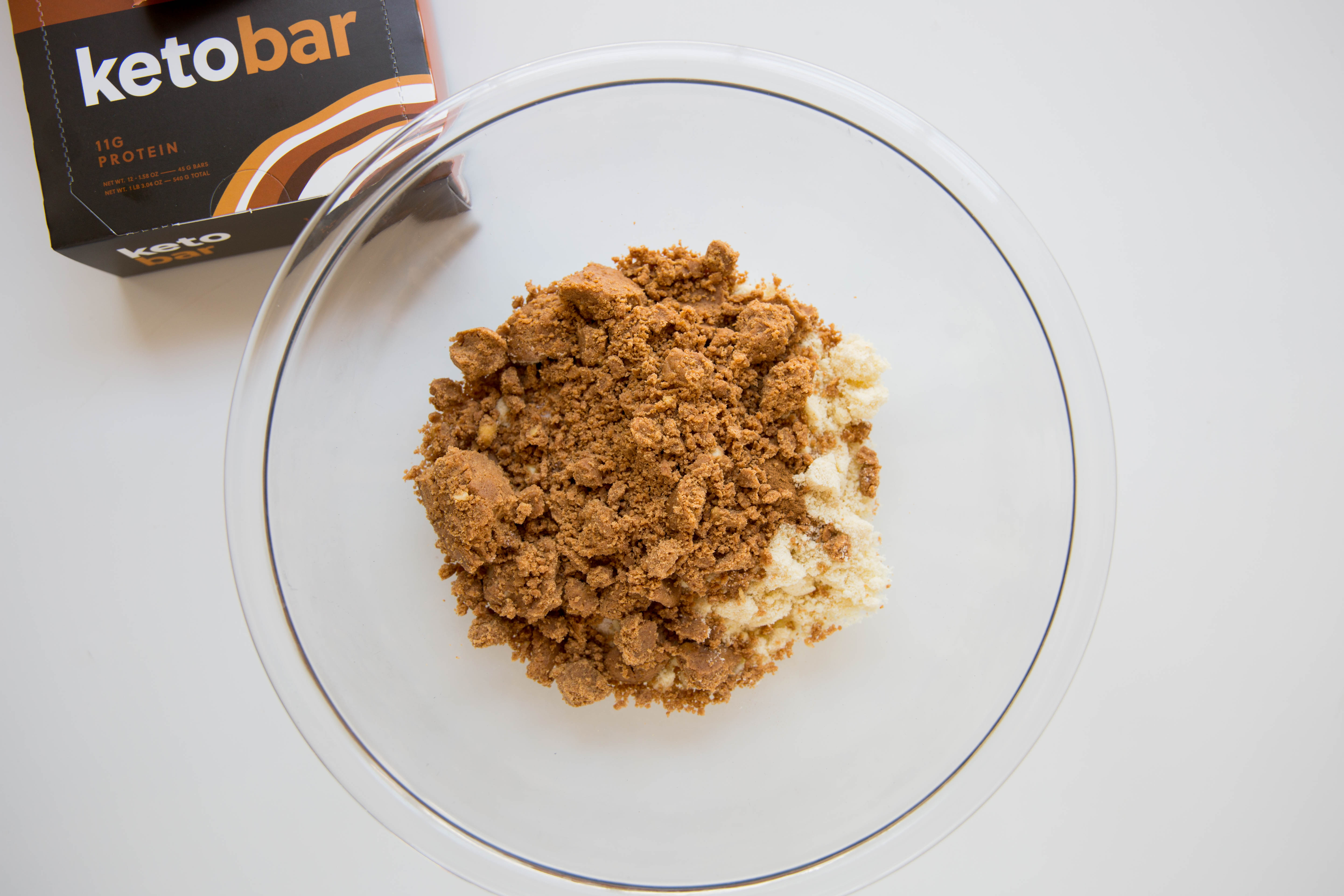 Making a cheesecake can be a bit of a hassle. Springform pans are no walk in the park, and if you don't let it cool just right, the whole consistency can be off. No one wants their cheesecake too jiggly.
That's why this cheesecake recipe opts for the bar version — simple, delicious, and equally as satisfying.
If you have a stand mixer or food processor they may be able to assist in creating a smooth consistency — but they're not necessary.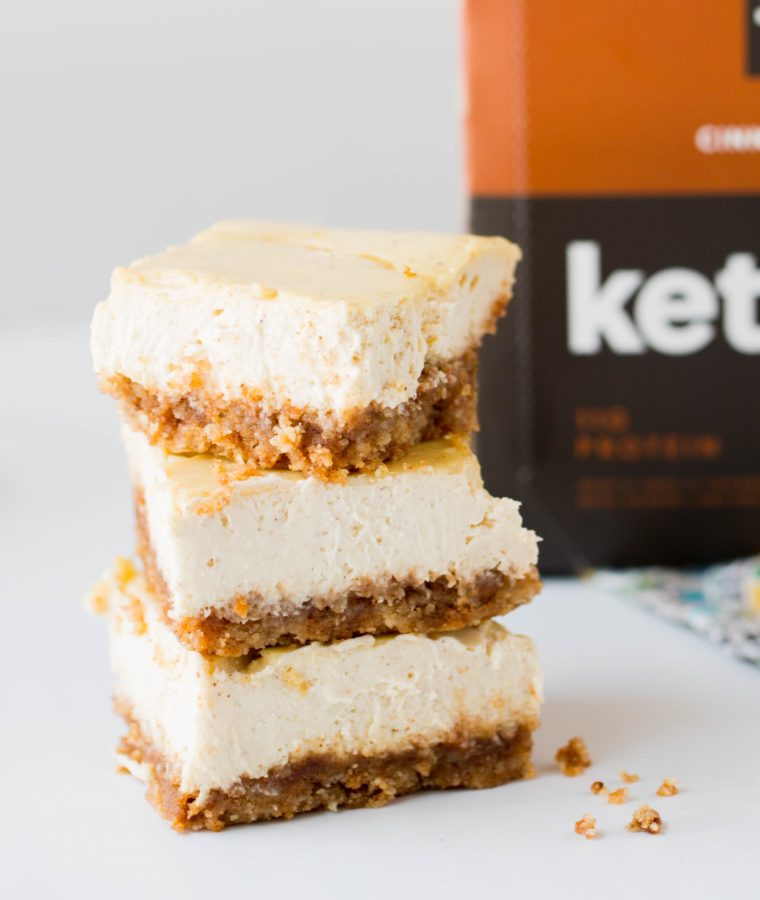 Print
Cinnamon Roll Cheesecake Bars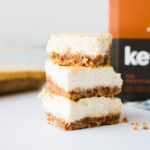 These keto cinnamon roll cheesecake bars are graham cracker free and have a cheesecake filling make with cream cheese, ground cinnamon, and a couple of large eggs.
Author:
Prep Time:

20 minutes

Cook Time:

50 minutes

Total Time:

1 hr 10 minutes

Yield:

16

pieces

1

x
Scale
Ingredients
Cheesecake Bar Crust
Cheesecake Filling
Instructions
Preheat the oven to 350 F.

In a medium bowl, mix together the ingredients for the crust.

Dump the mixture into an 8×8 baking dish and, using your hands, press the mixture out evenly.

Mix together the ingredients for the filling and pour the cheesecake mixture overtop of the crust mixture.

Bake for 35-40 minutes.

Allow to cool then refrigerate for 30 minutes before serving. Serve either cool or at room temperature.
Nutrition
Serving Size:

1 piece

Calories:

204.5

Fat:

16.8g

Carbohydrates:

7g (5g net)

Fiber:

2g

Protein:

10.3g
Keywords: Cinnamon Roll Cheesecake bars