Coconut syrup can transform any pancakes into a creamy coconut dream. Add some macadamia nuts and coconut flakes to some keto coconut pancakes, waffles or French toast, and you've got yourself a stack of coconut cakes that rival any dessert.
This rich, delicious homemade coconut syrup recipe is that versatile. Use it on breakfast or a moist keto cake for a decadent coconut flavor.
So next time you're craving low-carb, gluten-free pancakes, whip up a batch of this syrup and use the rest for dessert.
You can even mix it into your pancake batter for extra coconut goodness. Or into your coffee for a keto coconut latte.
Any way you use it — there's zero added sugar and it won't raise your blood sugar like store-bought syrup.
This coconut pancake syrup is:
Sweet
Rich
Satisfying
Delicious
The main ingredients in this coconut syrup are:
Optional additional ingredients:
3 Health Benefits of This Coconut Pancake Syrup
#1: Supports Diabetics
Coconut has been used for thousands of years as a healing plant in Eastern cultures. It's known to contain antioxidants as well as medium chain fatty acids that offer a vast array of health benefits.
For people with diabetes, finding the right foods that help control insulin as well as prevent complications of the disease is essential. As it turns out, coconut may be one of the best foods that diabetics can include in their diet.
Research suggests that coconuts not only improve insulin sensitivity in diabetics, but they may also be supportive to secondary conditions that go along with diabetes.
Lauric acid, a medium chain fatty acid found in abundance in coconuts, may help reduce kidney damage as well as retinopathy — two side effects of diabetes[*].
#2: Supports Heart Health
Switching out sugar for alternatives like stevia provide a number of benefits to your health.
However, one of the lesser known and most exciting benefits is the effect that stevia can have on your heart.
When researchers gave a group of women with high cholesterol stevia extract, the women exhibited a decrease in LDL cholesterol and triglycerides. In addition, their beneficial HDL cholesterol went up.
Since high levels of LDL cholesterol is a risk factor for cardiovascular disease, the researchers suggest that stevia may be used to reduce cardiovascular disease risk[*].
#3: Fights Inflammation
Another benefit of coconut is its anti-inflammatory activity.
The medium chain fatty acids in coconuts provide a source of nutrition that not only fights fat accumulation but also the inflammation that's often associated with obesity[*].
In one study, researchers fed a group of mice a diet high in refined carbohydrates. This type of diet caused increased fat accumulation and inflammation in the mice (no surprise there).
However, when the researchers gave the mice virgin coconut oil, they saw decreases in fat mass, along with a reduction in inflammation. In addition, the coconut oil fed mice experienced greater glucose tolerance[*].
Coconut Pancake Syrup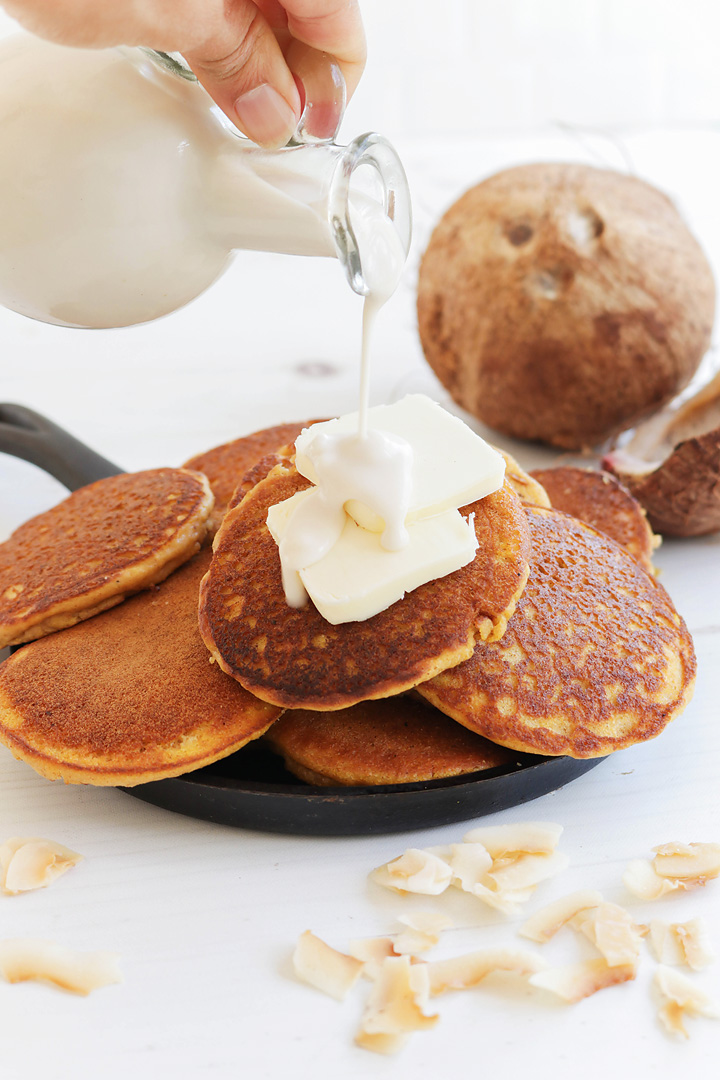 There's no shortage of low-carb breakfast options out there. The internet is full of sugar-free recipes that range from macadamia nut pancakes to protein muffins.
But when it comes to condiments, coconut rules the roost. This naturally sweet and fat-forward food provides the perfect taste and texture with minimal carbs.
With toasted coconut, coconut flakes, and now this coconut syrup, your standard blueberry pancakes will turn into tropical pancakes before you know it.
Pair this coconut pancake syrup with your favorite pancake recipe or pancake mix.
It tastes even better when poured on to of some melted butter, delicious.

Print
Creamy Low-Carb Coconut Pancake Syrup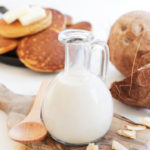 Pour this coconut pancake syrup on gluten-free coconut pancakes or french toast, and top with macadamia nuts, coconut flakes, and melted butter for a Hawaiian treat the whole family will love.
Author:
Total Time:

20 minutes

Yield:

26 tablespoons

1

x
Instructions
Pour your coconut cream into a small saucepan over low heat. If your using canned coconut cream and it comes out thick you can turn it up to medium heat to melt it.

Add in the maple extract and liquid stevia and stir to combine.

Finish with a pinch of salt, and allow the syrup to cool slightly.

Pour on your favorite pancakes, waffles, French toast, or cake, and enjoy.
Nutrition
Serving Size:

1 tablespoon

Calories:

45

Fat:

5g

Carbohydrates:

1g (0g net)

Fiber:

1g

Protein:

1g
Keywords: Coconut Pancake Syrup