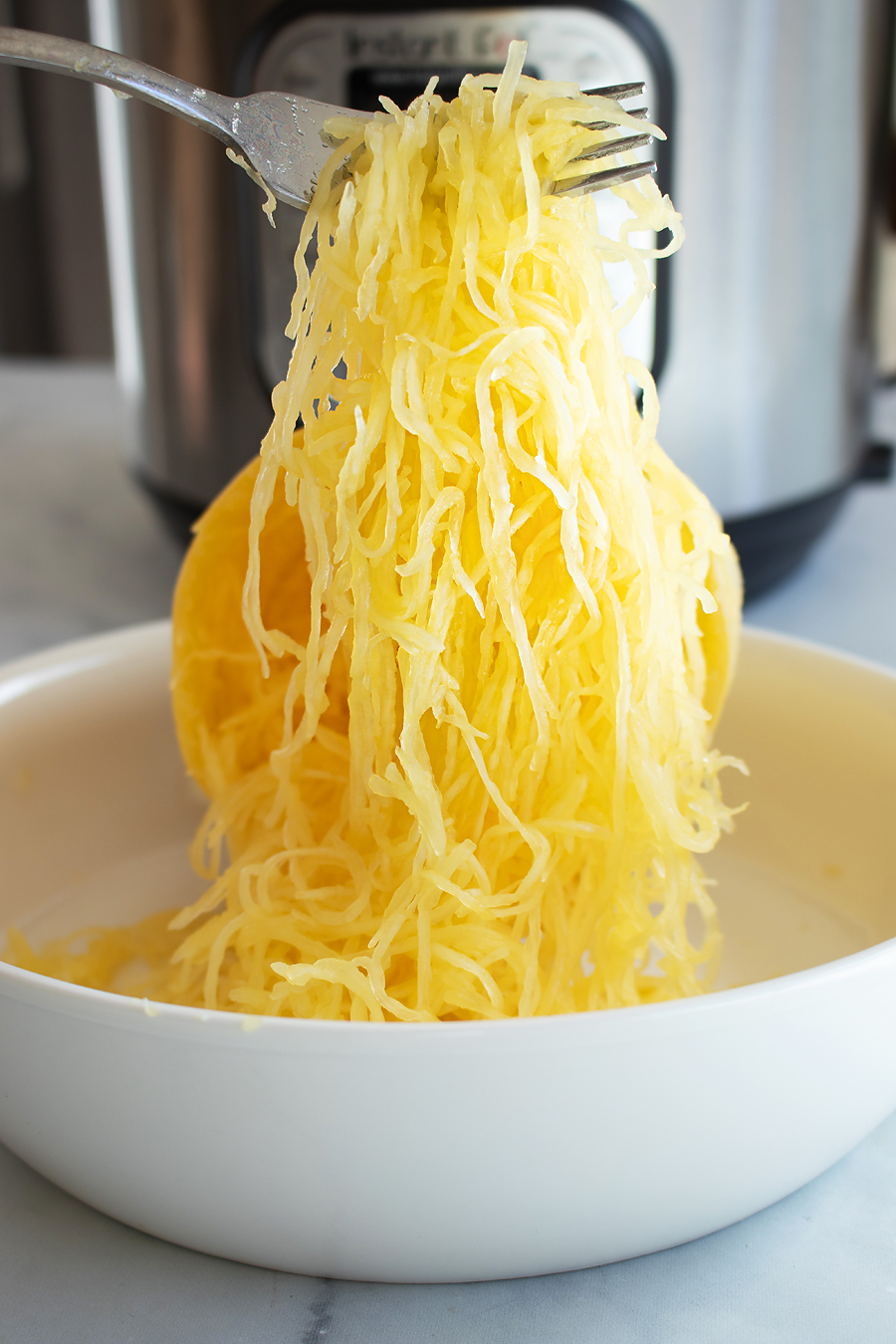 Spaghetti squash is a low-carb and keto staple. It's amazing as a low-carb pasta alternative and goes well with just about any pasta sauce or even just some butter, garlic, and parmesan cheese.
But prepping and cooking spaghetti squash can be a pain. Plus, cooking spaghetti squash in the oven can take anywhere from 45-60 minutes and can be tricky depending on how accurate your oven is and how well-done you like your squash.
Luckily, pressure cooking offers a simple and mess-free way to get your spaghetti squash cooked without the hassle of having to check on it every ten minutes. In this quick article, you'll learn how to use your high-pressure cooker (like an Instant Pot) to cook the perfect spaghetti squash every time.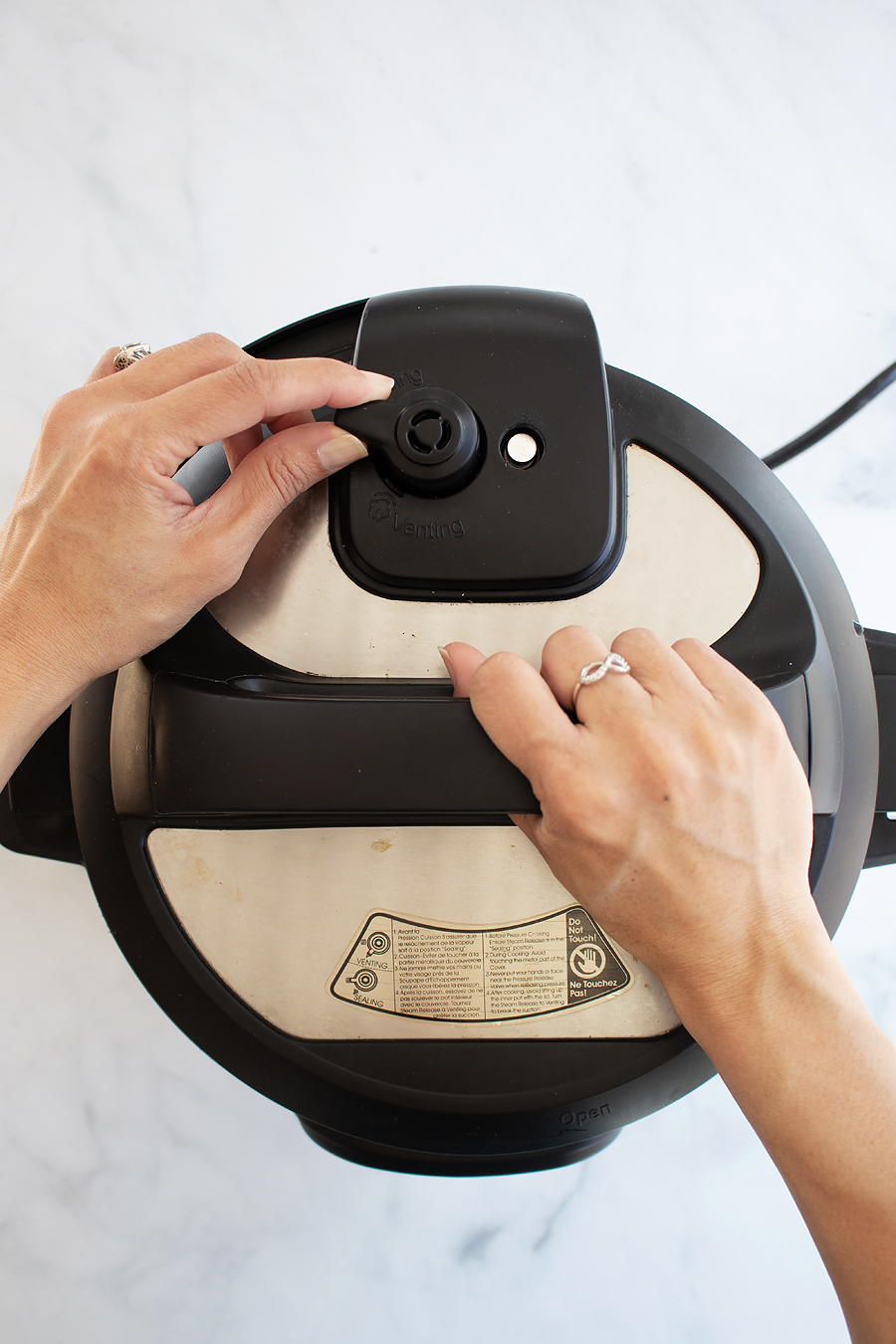 How to Cut a Spaghetti Squash
This is a much-debated issue in the cooking community, with many opinions on the best way to do it.
The first step is to get a very sharp knife. The outside of the squash is quite tough, and a dull knife can easily slip and hurt you.
For a shorter cook time, cut the squash in half lengthwise. If your knife gets stuck, simply wiggle the knife out and keep cutting in a different place. Once you cut through most of the shell, it should be easy to pry apart with your hands.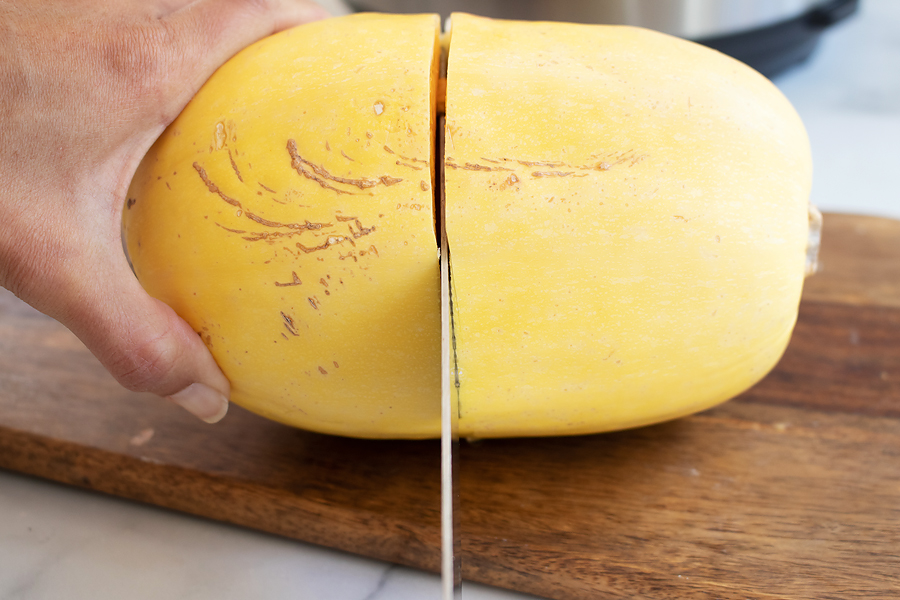 If you prefer longer strands of squash, cut the squash the other way — crosswise.
How Long Can You Store Spaghetti Squash?
Uncooked spaghetti squash lasts and stays fresh for months in a cool, dry place like your pantry. However, after it's cooked, it will only last for about a week before it starts to get funky.
You can also prep your spaghetti squash in the Instant Pot and freeze it flat in large Ziplock bags for easy use later.
Remember: this is a super versatile squash that goes well with a variety of sauces, dressings, gravies, and meats.
How to Make Instant Pot Spaghetti Squash
An Instant Pot is one of the best inventions for chefs that don't necessarily have the time to mess with complicated recipes. It acts as an electric pressure cooker, slow cooker, rice cooker, and more — all in one appliance.
In this recipe, you'll be taking a whole spaghetti squash and in just 15 minutes, it will be ready to go for whatever recipe you have in mind.
To begin, pull out your cutting board and grab a medium spaghetti squash. Next, cut spaghetti squash into two halves.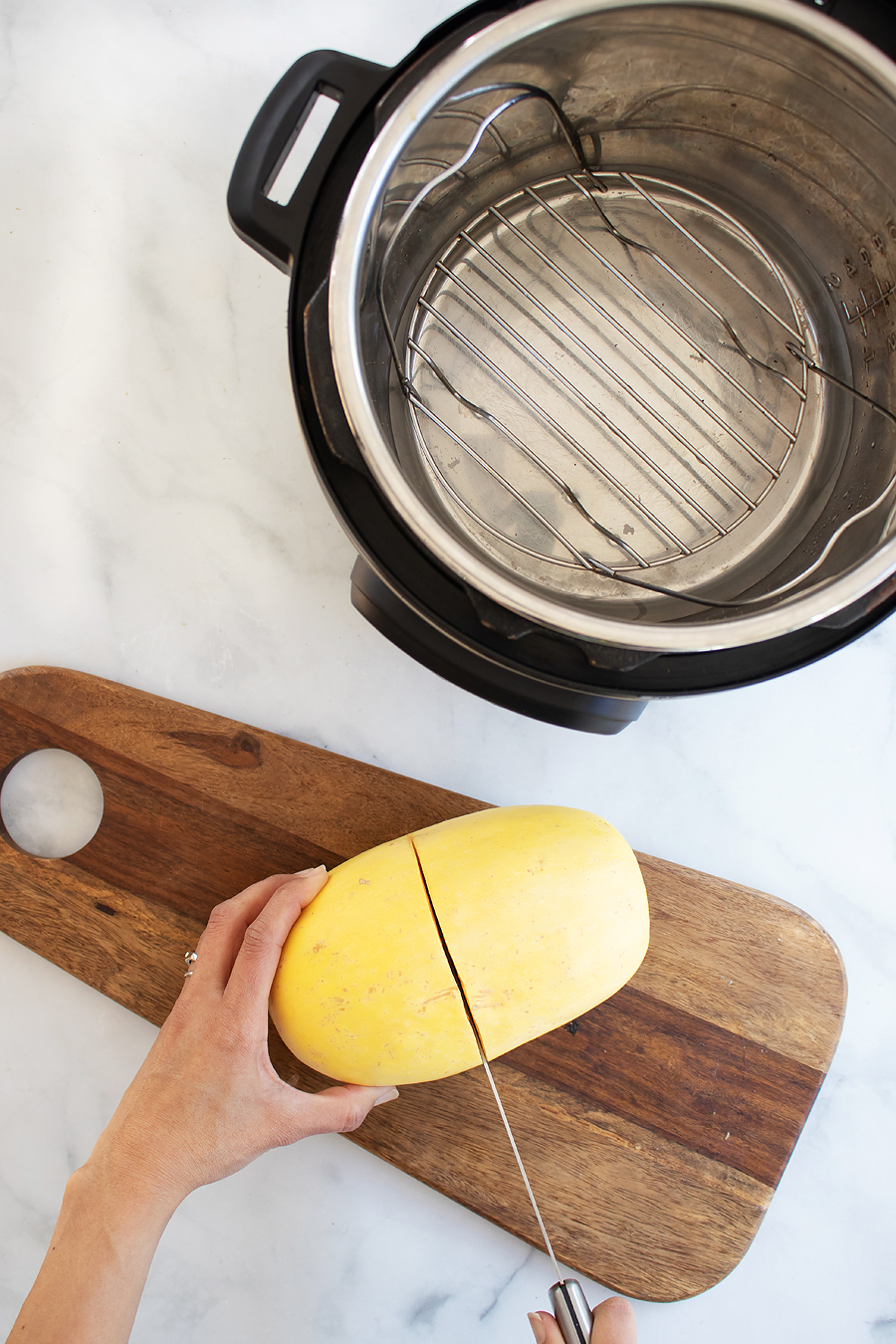 In your Instant Pot, pour water into the bottom and place a metal rack inside.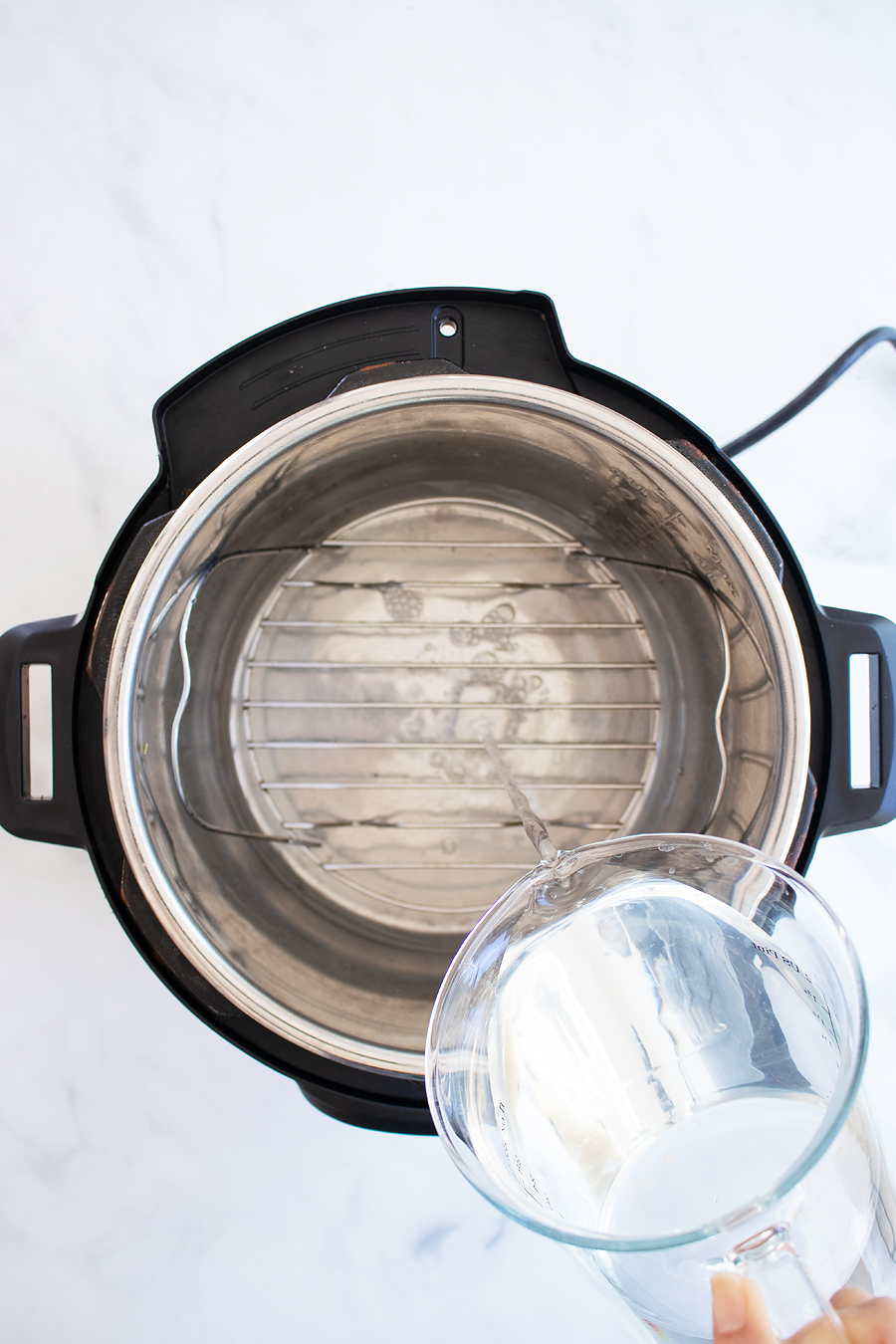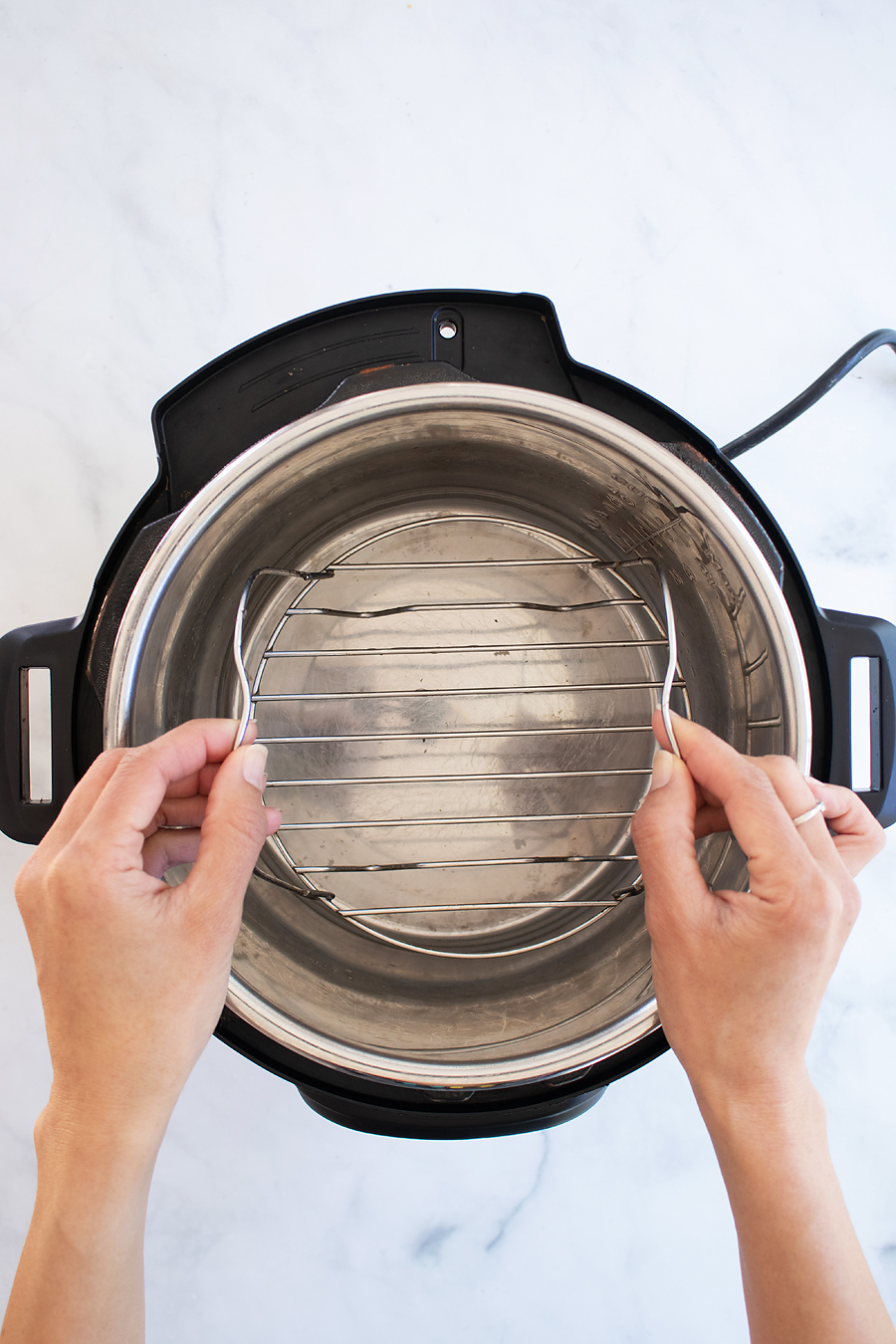 Then add the squash halves flesh side up, and close the lid and valve.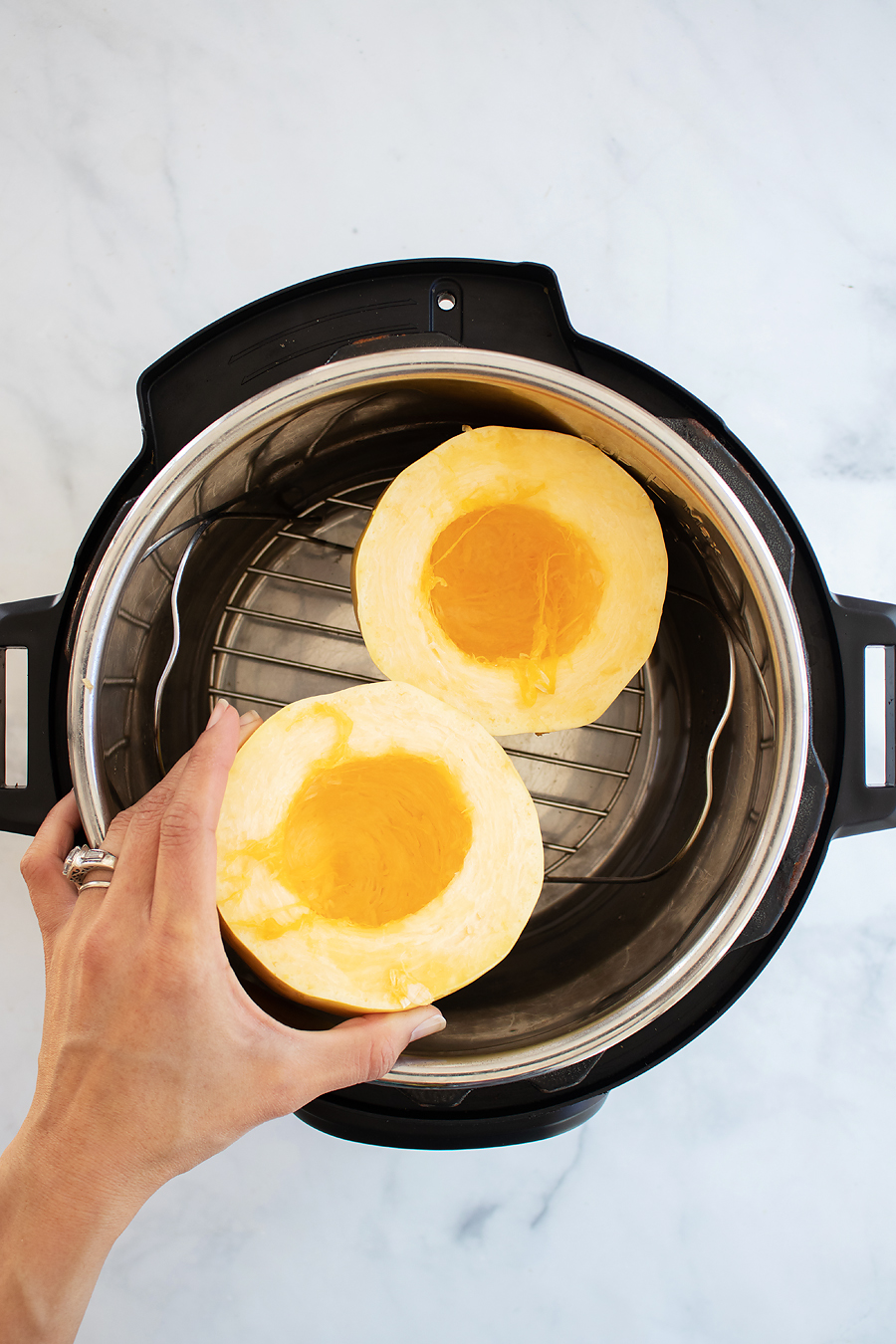 Cook on high pressure, press MANUAL +7 minutes.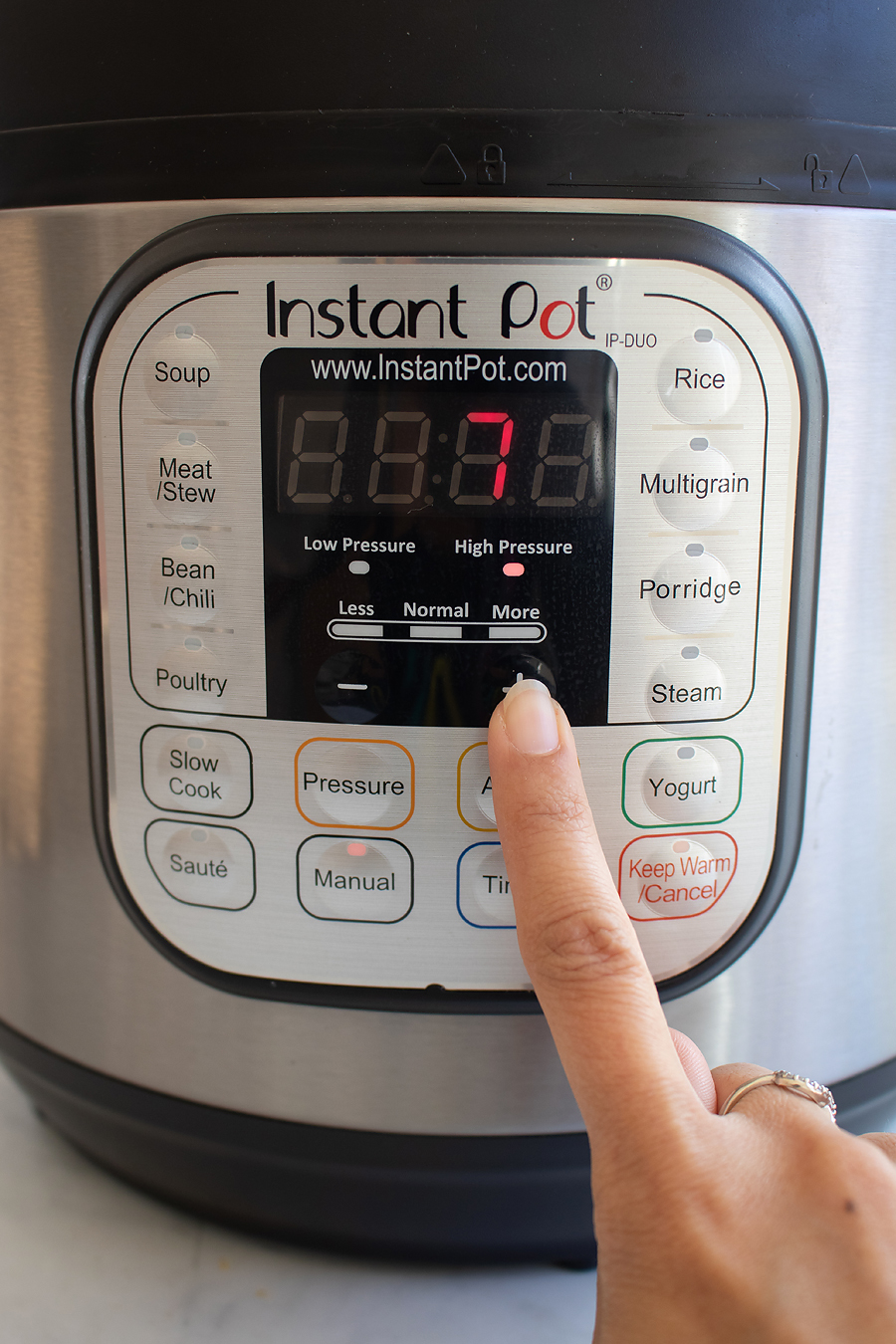 When the timer goes off, carefully pressure release manually.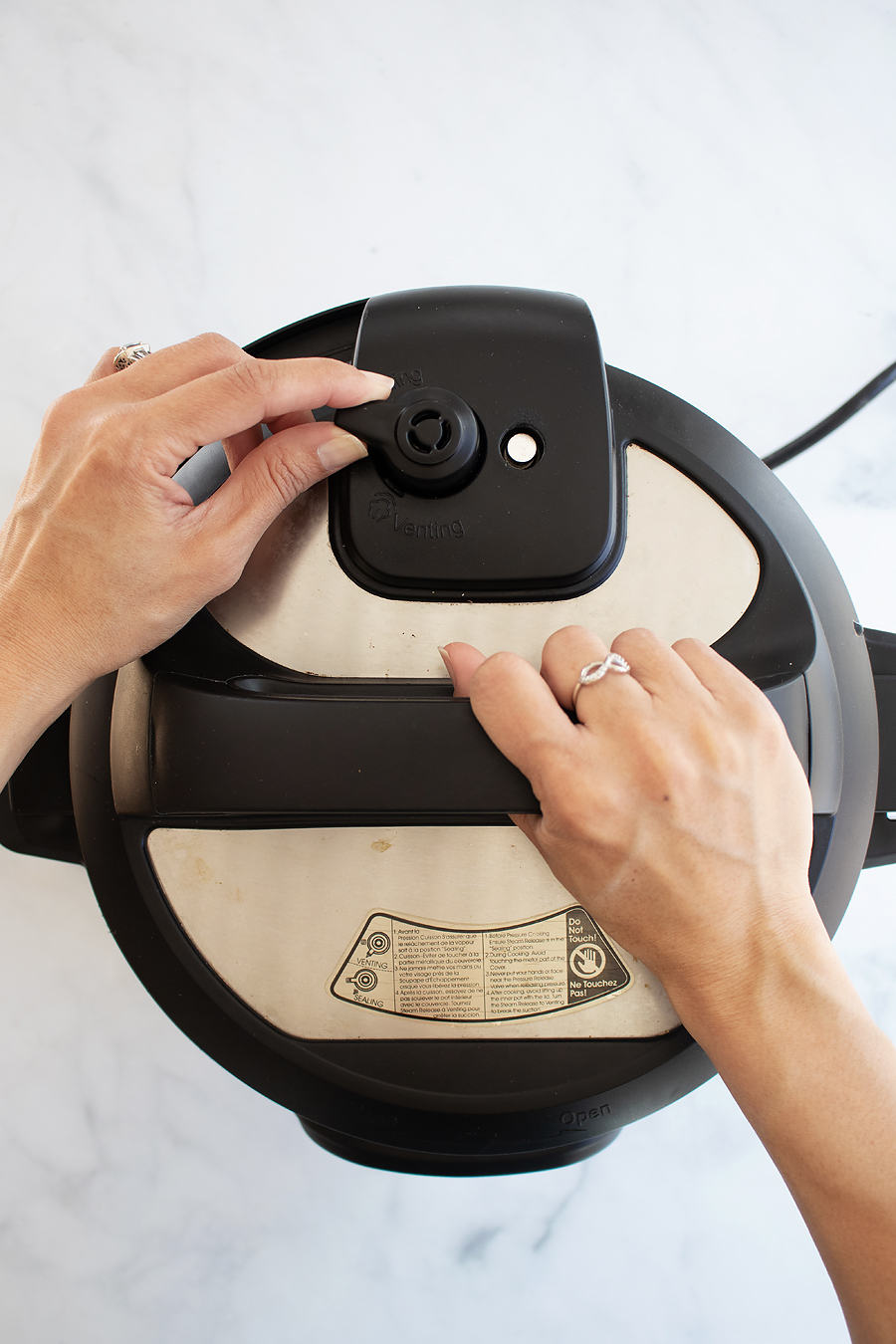 Remove the cooked spaghetti squash from the cooker and, with a fork, carefully start pulling out the squash strands.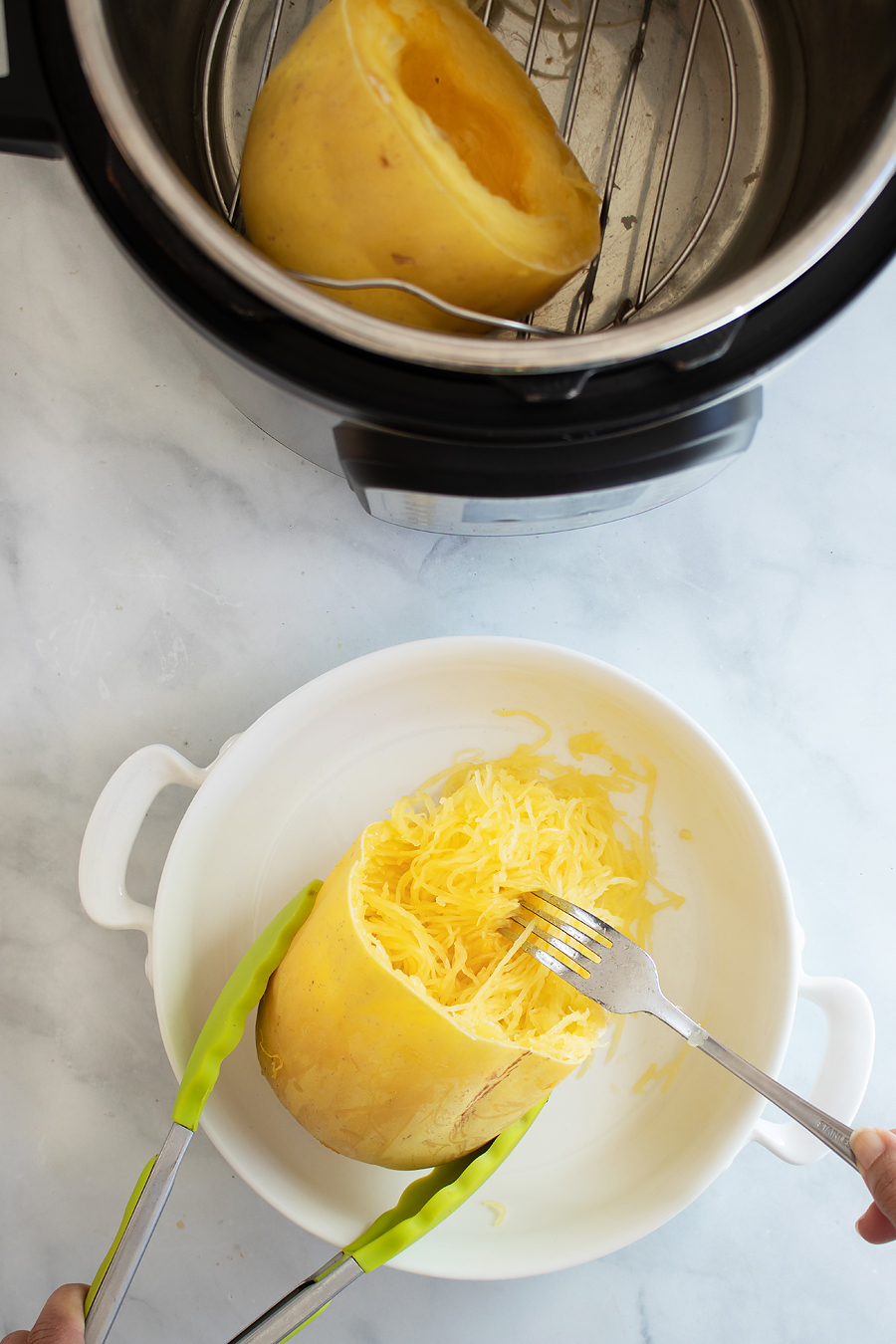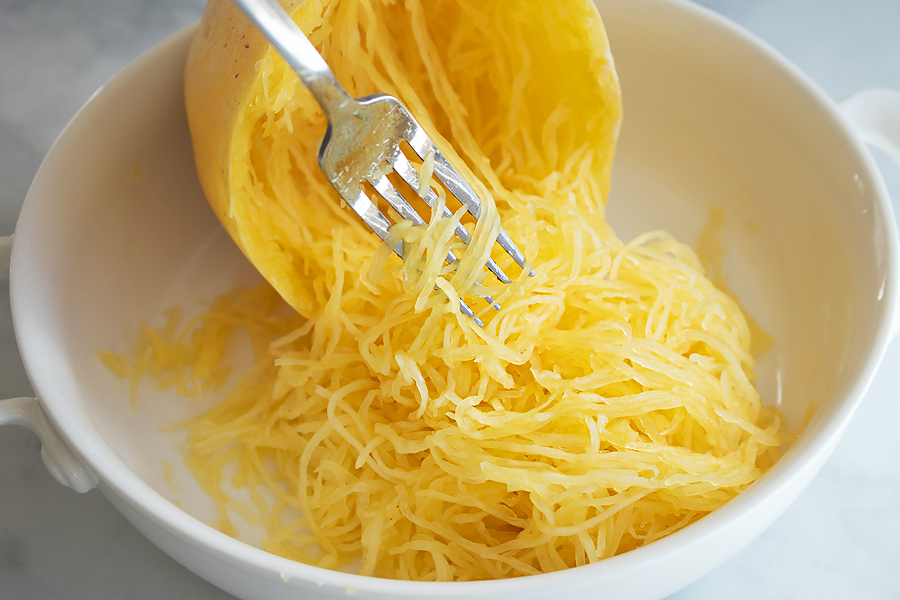 You can use spaghetti squash to replace pasta with marinara sauce, add some olive oil and sea salt, or use it in any other keto-friendly dish that would typically call for wheat pasta.
Health Benefits of Spaghetti Squash
Low-Carb Alternative to Pasta
Spaghetti squash makes an excellent low-carb alternative to pasta. It naturally takes on the shape of an angel hair-like pasta and is mild enough in flavor to take on any of the flavors of the recipes you're cooking with.
And of course, unlike traditional pasta, it's gluten-free and packs only 5 ½ net carbs per cup. That's about  33 grams less than wheat pasta[*].
Great Source of Beta Carotene
Spaghetti squash comes naturally packed with the phytonutrient beta carotene[*]. Beta carotene is an incredible nutrient that can impart positive health benefits to your body in a variety of ways, including:
Beta carotene is found in your yellow and orange colored veggies (like spaghetti squash), so enjoy your squash knowing that you're getting a hit of antioxidant love with each bite.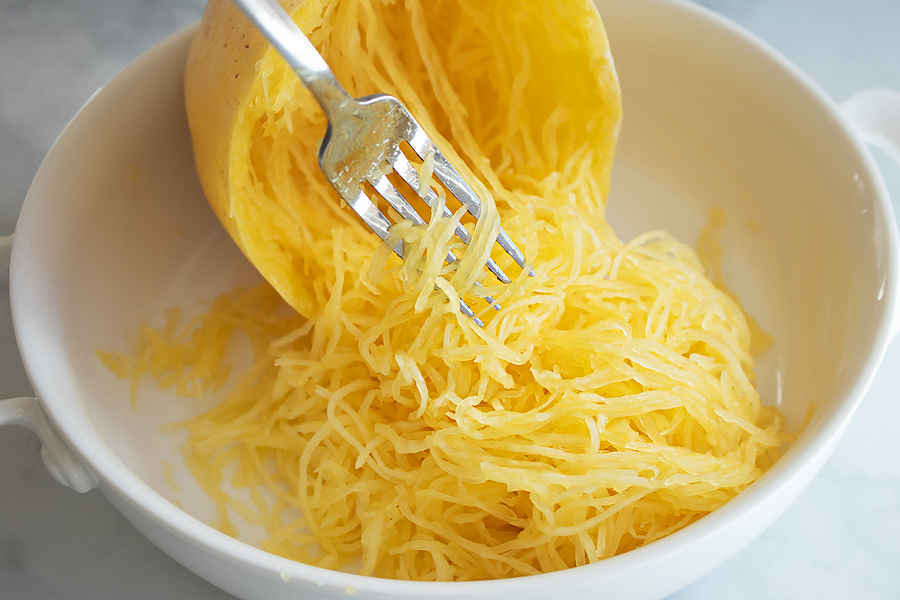 Print
Instant Pot Spaghetti Squash (Ready in Minutes)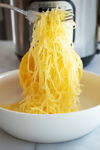 Try this Instant Pot spaghetti squash next time you're making a spaghetti squash recipe. Spaghetti squash is paleo, gluten-free, sugar-free and low-carb.
Author:
Total Time:

15 minutes

Yield:

2

-

3

cups

1

x
Scale
Ingredients
1

spaghetti squash (cut in half, seeds removed)

1 cup

water
Instructions
Pour water into the bottom of the Instant Pot.

Place metal trivet/rack inside.

Add squash flesh side up.

Return lid and close valve.  Cook on high pressure, press MANUAL +7 minutes.

When the timer goes off, carefully release pressure manually.
Nutrition
Serving Size:

1 cup

Calories:

48

Fat:

1g

Carbohydrates:

11g (Net: 8g)

Fiber:

3g

Protein:

1g