You're craving brownies, but you don't want the blood sugar drama — what's a low-carb, keto dieter to do?
Even recipes using gluten-free flour and coconut sugar can send your blood sugar sky-high and kick you out of ketosis. Luckily, here's a keto recipe for chocolatey brownies that happen to contain one of your favorite keto foods — avocados.
Finding your go-to low-carb dessert recipes is a crucial part of following the ketogenic diet. Having healthy, low-sugar (and no-sugar) favorites on hand is one of the best ways to ensure you stay on track, even when you have a sweet tooth emergency.
What You'll Need to Make Keto Avocado Brownies 
This keto-friendly brownie recipe not only provides an abundance of healthy fats, but it also keeps the total carbs low.
If you have food allergies, don't worry — this recipe is gluten-free and dairy-free as well.
These low-carb brownies are fudgy, chewy, sweet, delicious, and perfect for satisfying any sweet cravings. The main ingredients you'll need for this brownie recipe include:
Vanilla extract
Almond flour
Baking powder
2 ripe avocados
Unsweetened cocoa powder
Monk fruit
Coconut oil
Large eggs
Dark chocolate baking chips (suggestion: Try Lily's)
You'll also need a baking pan, food processor or hand mixer, a spatula, and parchment paper.
How to Make Keto Avocado Brownies 
You may not think of ripe avocados when you think of sweets or other baked goods. But it's the avocado, along with monk fruit, cacao powder, and almond flour that make these the creamiest and fudgiest avocado brownies you've ever had.
And because they're made with almond flour instead of coconut flour, you won't get that coconut flour taste with these brownies — something that's all too familiar in gluten-free and keto baking.
Making the brownie batter couldn't be easier. First, start with your dry ingredients, then add your wet ingredients to either a large bowl or food processor.
If you're using a bowl, make sure to thoroughly mix everything, mashing up the avocado until it becomes smooth. Be sure not to forget the melted chocolate chips.
Pour your brownie batter into a baking pan and bake at 350°F degrees for about 35 minutes. Then, check that the brownies are cooked through by inserting a toothpick into the center of the pan. If it comes out clean, the brownies are ready.
You can serve these brownies warm or at room temperature.
Pro tip: Find a low-carb recipe for vanilla ice cream to pair with this chocolatey keto dessert.
Keto Avocado Brownies FAQs
This recipe is fairly easy and requires only 10 minutes of prep time. However, if it's your first time trying your hand at keto baking, you may have a few questions. Here are answers to some of the most frequently asked questions — handy tips and tricks included.
Can you substitute another sweetener for monk fruit? You could substitute another low-carb, keto-friendly sweetener like granulated Swerve, erythritol, or stevia for these brownies, but it's best to avoid sugar alcohols.
Can coconut flour be substituted for almond flour? Unfortunately, no. Unlike "regular" baking, baking on the keto diet is pure chemistry. Since almond and coconut flour have different chemical makeups, they cannot be substituted.
How can you jazz up this recipe a bit? Feel free to add your own keto toppings to this recipe. Try topping your chocolate brownies with sugar-free chocolate chips, Perfect Keto nut butter (it's delicious and takes the place of peanut butter), or a touch of sea salt.
3 Health Benefits of These Low-Carb Avocado Brownies
These easy keto brownies don't just taste good — they're good for you. Keep reading to discover how these sweet treats may benefit your health.
#1: Rich In Fiber
You can probably tell that these keto brownies are far from your typical gluten-free, flour-based versions. Aside from having zero grams of sugar per serving, they're loaded with fiber that you would never find in a regular brownie.
With 6.6 grams of fiber per serving, these brownies take your net carbs down to only 2.4 grams per piece.
There are two main types of fiber — soluble and insoluble. Both types of fiber are crucial for the health of your gut and play essential roles in your digestion.
Soluble fiber can be fermented by your gut bacteria and may lower LDL cholesterol. Insoluble fiber, on the other hand, slows the emptying of your stomach, allowing you to feel full longer[*].
Avocados are a great source of fiber with 25% soluble fiber, and 75% insoluble fiber[*].
#2: Boosts Heart Health
One of the major risk factors for heart disease is high blood pressure. When your blood pressure is high, it can damage the walls of your blood vessels and arteries.
These sensitive tissues don't do well under pressure, and once damaged, you may potentially experience blood clots, ruptures, or leaks.
As you can surmise, managing your blood pressure is a critical component of maintaining a healthy vascular system.
One way to help manage your blood pressure is by making sure you're getting enough nitric oxide (NO). Nitric oxide helps your blood vessels to dilate, which in turn allows the pressure of your blood to slow down.
Cocoa is rich in antioxidants called flavanols, which exert beneficial effects on your nitric oxide system. They not only stimulate the NO pathway, but they also decrease the degradation of NO, so there's more available[*]
#3: Anti-Inflammatory
Avocados are loaded with monounsaturated fats (also known as omega-9s), a type of fat that can be hard to find in your diet.
Having a proper ratio of saturated fat, omega-9, omega-6, and omega-3 fatty acids is essential to the health of every cell in your body. Omega-9s are particularly helpful in calming inflammation.
Why does this matter?
Inflammation is at the root of many Western diseases like diabetes and heart disease. When people consume more omega-9 fatty acids, they experience a decrease in an important inflammation marker called c-reactive protein[*].
The anti-inflammatory effects of omega-9s may even assist in the suppression of cancer genes. In vitro studies have specifically shown the cancer suppression activity of omega-9's in breast cancer cells[*].
Keto Low-Carb Avocado Brownies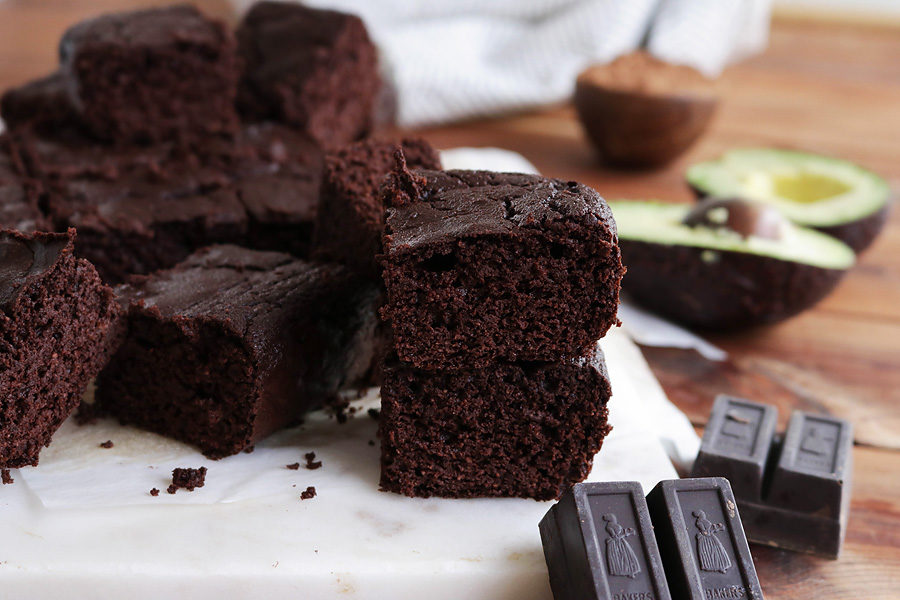 These keto brownies are the perfect low-carb sweet treat, just like our Keto Brownie Mix. Made from avocados, almond flour, cocoa, and eggs, they're full of fiber and healthy fats. Plus, because they're made with monk fruit — instead of white sugar — they won't kick you out of ketosis.
This recipe is easy to follow, even for the first-time keto baker. Plus, this dessert contains a number of hidden health benefits. Thanks to their list of healthy ingredients, these brownies are full of fiber, can boost your heart health, and fight inflammation.
Enjoy these brownies with a scoop of vanilla ice cream on top, or scan the Perfect Keto dessert section for more sweet ideas.
Print
Keto Low-Carb Avocado Brownies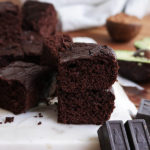 These keto-friendly avocado brownies are full of flavor and healthy fats. It's the best avocado brownie recipe to keep your total carbs low.
Author:
Prep Time:

10 minutes

Cook Time:

35 minutes

Total Time:

45 minutes

Yield:

12

brownies

1

x
Instructions
Preheat oven to 350°F.
Peel avocados and remove the pit, then place into a medium or large bowl.
Mash up the avocadoes until they're a similar texture to mashed potatoes.
Add the rest of the ingredients to the bowl until mixed well.
Cover a 30 cm x 20 cm baking dish with parchment paper.
Pour ingredients from the bowl into the baking dish.
Place in the oven and bake for 35 minutes.
Remove from the oven and insert a toothpick in the center of the brownies. If the toothpick comes out clean, the dish is ready. If not, place back in the oven for a few more minutes and monitor progress.
Serve warm or let cool to room temperature and enjoy.
Nutrition
Serving Size:

1 brownie

Fat:

14 g

Carbohydrates:

9g (2.4 g net)

Fiber:

6.6 g

Protein:

3.8 g
Keywords: Keto Avocado Brownies