The ice cream brand Halo Top is a supposed "healthy" ice cream alternative, but is there any foundation to this claim? Is Halo Top keto friendly and a viable addition to your dessert arsenal?
Halo Top ice cream grew exponentially in popularity over the past year for their low-calorie ice creams, sometimes packing less than 300 calories into a pint. It's not uncommon to find Halo Top completely sold out at grocery stores, and reportedly have a better taste than some competitors, like Arctic Zero. The brand is popular amongst wellness communities who name weight loss as a goal, but don't want to give up their favorite treat.
The ice cream is low-calorie, low-sugar and high-protein, with an abundant amount of different flavors to choose from. They even have dairy-free options including flavors like birthday cake, chocolate chip cookie dough, pancakes and waffles and toasted coconut[*].
But is it really healthy? And is it keto friendly? Before you indulge in this frozen treat, learn about what separates Halo Top from other ice cream brands below.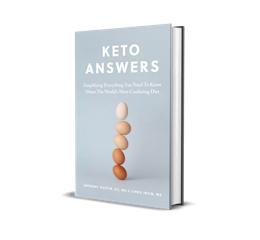 Keto Answers Book
Have a conversation with a leading keto doctor and keto researcher at your fingertips so you can feel better and keto with confidence.
Buy Now
What Is Halo Top and How Is it So Low in Calories?
Halo Top is a low-calorie, low-fat and low-sugar ice cream.
The company states the product started as a way to "enjoy ice cream as a regular part of our diets," with just 280–360 calories per pint[*]. The ingredients found in Halo Top include skim milk, eggs, cream, erythritol, organic cane sugar, milk protein concentrate, high fat cocoa, vegetable glycerin, prebiotic fiber, sea salt, organic carob gum, organic guar gum and finally, organic stevia leaf extract.
Where's the Sugar in Halo Top?
Organic stevia is the sweetener Halo Top boasts about the most, along with erythritol. Erythritol is a natural sweetener found in fruits such as pears and grapes. These make Halo Top different from other brands that rely on more harmful sweeteners — the two sweeteners don't have strong impact on blood sugar, nor do they cause bloating.
One pint of chocolate Halo Top has 280 total calories, including 10 grams of fat, 40 grams of net carbs, 8 grams of fiber and 20 grams of protein. If you ate half a pint, you would take in 16 grams of net carbs — a much better alternative than traditional ice cream.
Why Stevia and Erythritol Are Keto-Friendly
Stevia and erythritol are two of the most commonly-used sweeteners on keto. Both are sugar-free, low on the glycemic index and low in carbohydrates.
In its pure form, stevia contains zero calories and also ranks zero on the glycemic index. It's actually 200–300 times sweeter than regular sugar, which is why Halo Top still tastes sweet, like regular ice cream. Unlike regular sugar, stevia will not spike your blood sugar, which is what you're trying to avoid on keto. In fact, some studies show that stevia actually benefits blood sugar levels after a meal[*].
Erythritol also ranks zero on the glycemic index, and contains roughly 0.24 calories per gram (still only 6% of the calories in sugar). Erythritol is classified as a sugar alcohol, but can be found naturally in some fruits. Unlike other sugar alcohols, erythritol does not cause digestive stress.
The Best Low Carb Halo Top Flavors, Ranked
The nutrition facts between each Halo Top low carb ice cream are remarkably similar. Most flavors contain 5 grams of carbs, 70–90 calories per serving and 2–3 grams of fat. However, there are a few differences, which are noted below. Overall, the best flavor to consume on keto is the dairy-free Peanut Butter Cup, and the worst is dairy-free Cinnamon Roll.
If you do not tolerate dairy well, most Halo Top flavors also come with a dairy-free option. This is why you will see flavors listed twice below, under both "dairy flavors" and "dairy-free flavors."
Note: If noted with an asterisk (*), the flavor is not gluten-free.
The Best and Worst Halo Top Dairy Flavors, Ranked
The following flavors are ranked from "best" to "worst," based on how well they fit into the keto diet. Ironically, those with the highest carb counts also contain gluten.
The Best and Worst Halo Top Dairy-Free Flavors, Ranked
The following dairy-free flavors are ranked from "best" to "worst," based on how well they fit into the keto diet.
Does Halo Top Fit Into a Low Carb or Ketogenic Diet?
Sure, Halo Top may be one of the better options for ice cream out there today, but does it fit into a low carb or ketogenic lifestyle?
If You Can Limit Yourself to One Serving, Go For It
One serving of this low-sugar, low-calorie ice cream is about a half a cup. A serving of the Halo Top Chocolate flavor would come to only 10 grams of net carbs. Compared to other ice creams (and desserts in general) that carb count is hard to beat.
Can you limit yourself to a half-cup serving of ice cream? If yes, you are one of the few and we applaud your self control. The reason Halo Top has grown in such widespread popularity is because it suddenly gave consumers the freedom to eat the whole pint without guilt. If you're following the keto diet, a whole pint (remember, 40 grams of total carbohydrates) will probably be more than your carb allotment for your day. The good news? You may be able to get away with half a pint as a treat.
If You're Following the Targeted Keto Diet or Cyclical Keto Diet, Enjoy
When it comes to the ketogenic diet, there is a time and a place for carbs. On a standard ketogenic diet, the daily recommended intake for carbs is anywhere from 20 to 50 grams in order to stay in ketosis. However, this isn't the only type of keto diet out there. Here are two approaches to keto where it's appropriate to have a higher carb intake:
The Targeted Keto Diet (TKD): For active individuals who need a bit more carbs to get them through their workouts, the TKD is a great option. The TKD allows an extra 20–50 grams up to an hour before and after the targeted window of exercise.

The Cyclical Keto Diet (CKD): The CKD follows a standard keto diet approach for five days, followed by two days of carb loading that involve a higher carb and lower carb intake. The CKD is meant for extremely active individuals who need more carbs to fully replace their glycogen stores to operate at full intensity during tough training sessions.
Is Halo Top Keto Friendly? Yes, in Moderation
Halo Top can be a great low carb alternative to regular ice cream. However, unlike other consumers, you won't be able to indulge in an entire pint without getting kicked out of ketosis. Would it be nice if they used heavy cream instead of skim milk, increasing the fat content? Absolutely. However, the total carb count is still relatively low, similar to other keto dessert recipes.
The best way to consume Halo Top is by sticking to one or two servings, or one-fourth or one-half a pint. Like most treats, try to eat clean and keep your carb count low before enjoying. Because it uses two keto-friendly sweeteners, stevia and erythritol, and offers an entire line of dairy-free options for those who don't tolerate dairy, Halo Top can be consumed in moderation on keto.