Chocolate is one of the most popular foods on the planet.
The bad news is that most types of chocolate — even dark chocolate — contain too many carbs and sugars to fit your low-carb macros.
But that's not the case with this roundup of the best keto chocolate dessert recipes.
Each treat is more decadent than the last and filled with satiating, healthy ingredients. Plus, they're all super easy to make so you can avoid cheating anytime a sugar craving strikes.
So kick off your journey to low-carb chocolate nirvana with these brownie recipes up first.
Keto Brownies and Bars: The Ultimate Dessert for Chocolate Lovers
Warm, fudgy brownies are even better when they're as good for you as these recipes:
#1. Ooey Gooey Keto Almond Flour Brownies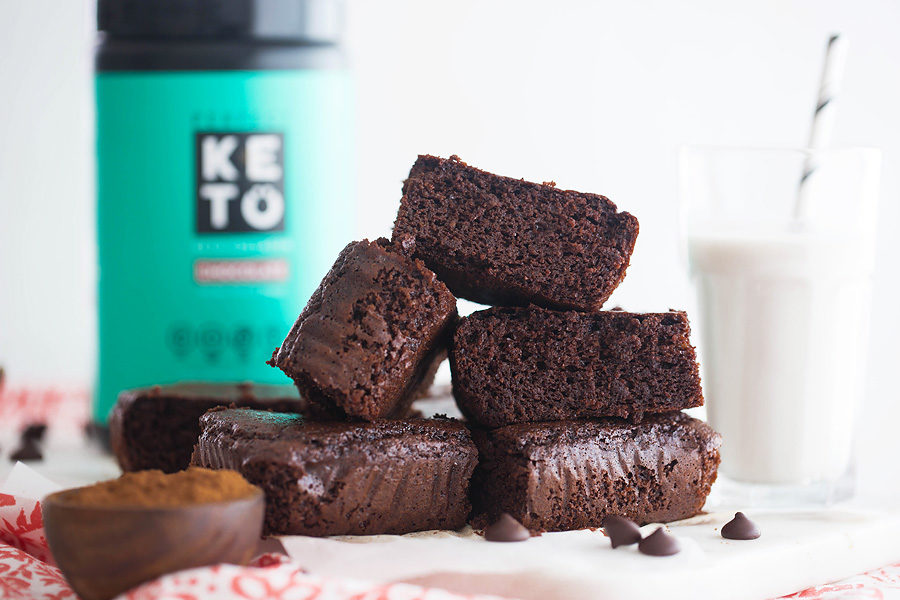 These almond flour brownies pack all the rich, chocolate taste of regular brownies thanks to chocolate flavored collagen and unsweetened cocoa powder. And they're only two net carbs each.
The next brownie recipe is bursting with healthy fats and fiber.
#2. Sugar-Free Keto Avocado Brownies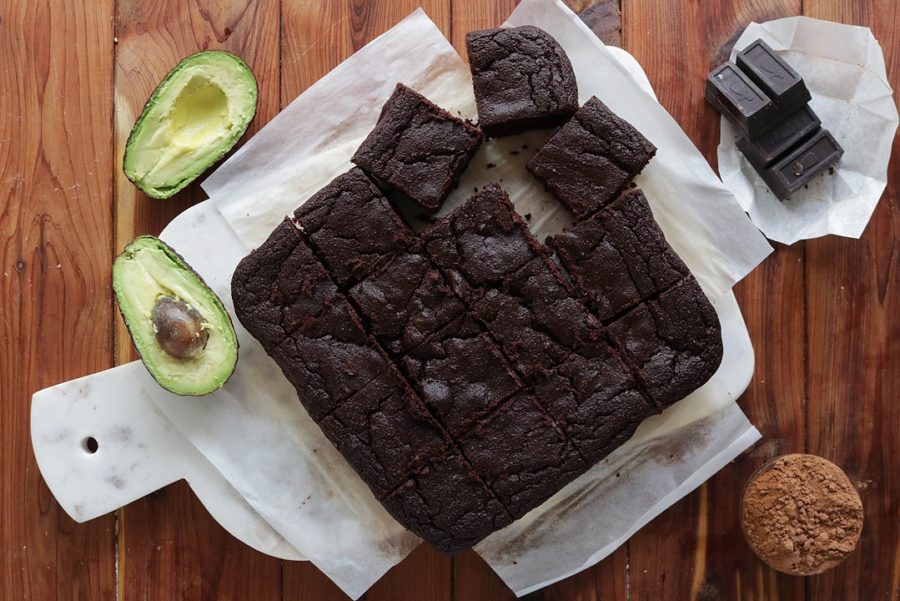 Turn your ripe avocados into these keto avocado brownies and they'll have a thick, fudgy consistency and 14g of healthy monounsaturated and saturated fats.
If you want your brownies to pull double-duty, the next recipe is sweet and satisfying.
#3. Triple Chocolate Fudge Protein Brownies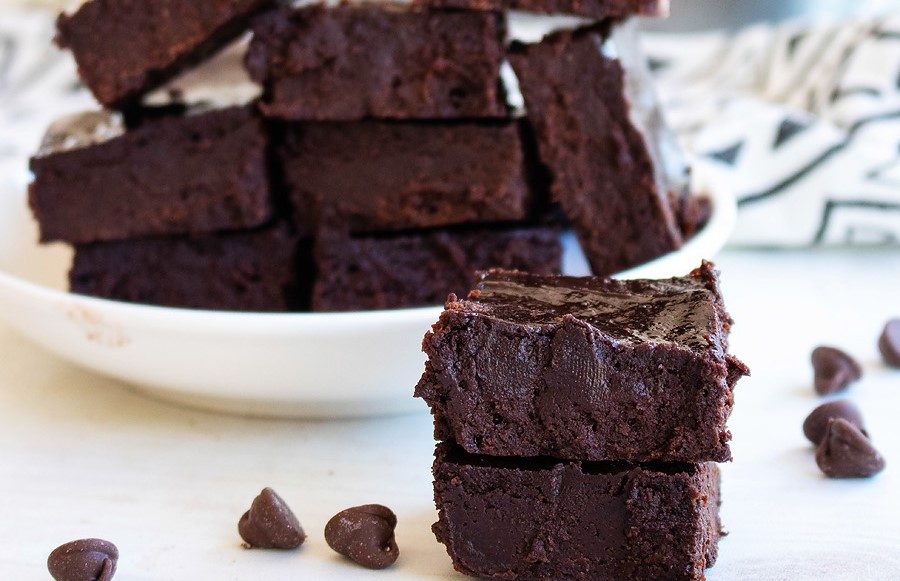 Making protein brownies requires chocolate whey protein powder, nut butter, and eggs. In return, they'll give you 7g of protein and almost 11g of fat per serving (for just 1.5 net carbs).
This final brownie recipe may be your favorite if you're a fan of chocolate and mint.
#4. Peppermint Crunch Brownies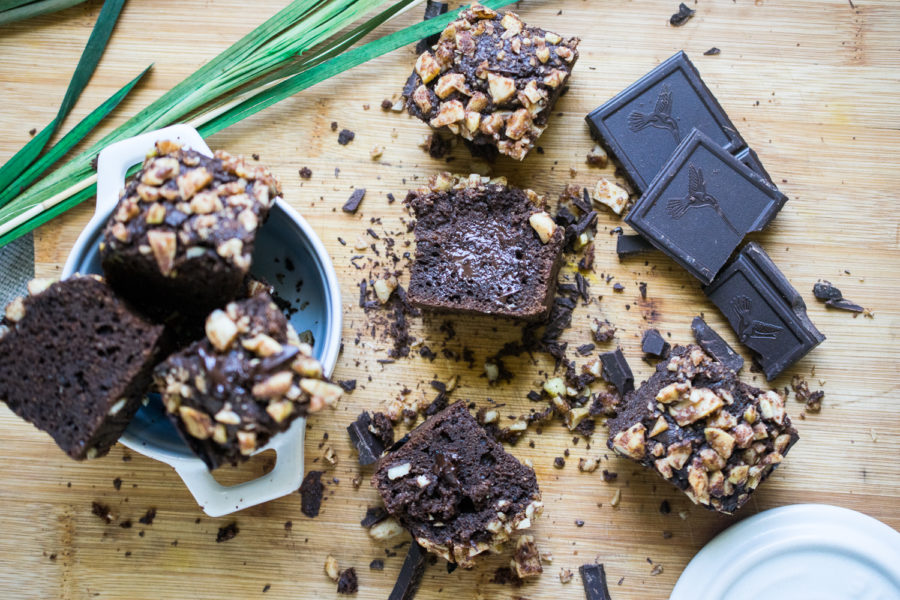 Don't wait till the holidays and cold weather roll around to make this keto recipe for brownies with peppermint crunch. These brownies wow without blowing your macros.
And if you prefer poppable, bite-sized brownies, look no further than the following recipe.
#5. Salted Caramel Brownie Truffles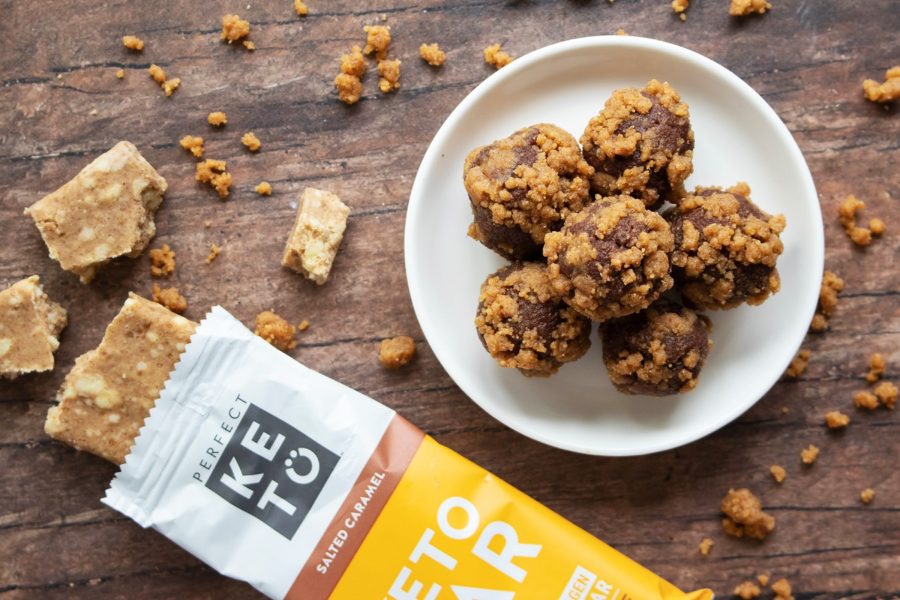 For a portable brownie with rich caramel flavor, dark chocolate, and a hint of sea salt, these salted caramel brownie truffles cannot be beat.
Don't let the healthiness of the next two recipes fool you; they still taste like dessert.
#6. Coconut Chocolate Collagen Bars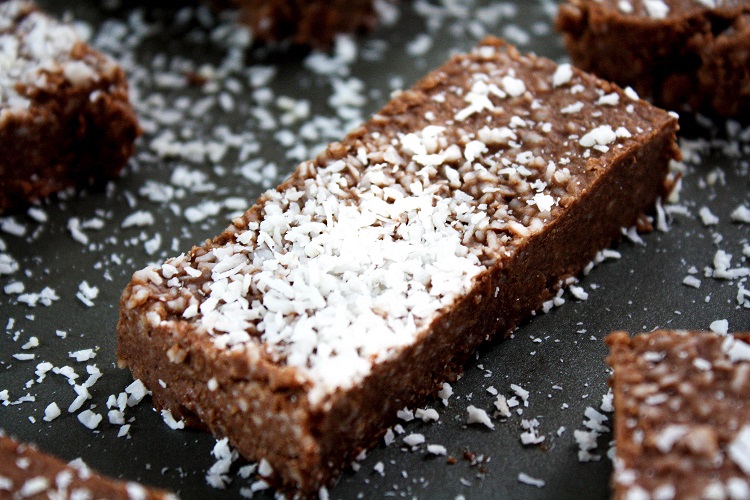 You only need six healthy ingredients to make 16 coconut chocolate collagen bars to stash for dessert throughout the week. Each filling bar loads your body with almost 20g of fat and 5g of protein.
If you want a chocolate bar like this and have a few keto nuts on hand, go for the next recipe.
#7. Chocolate Nut Butter Bars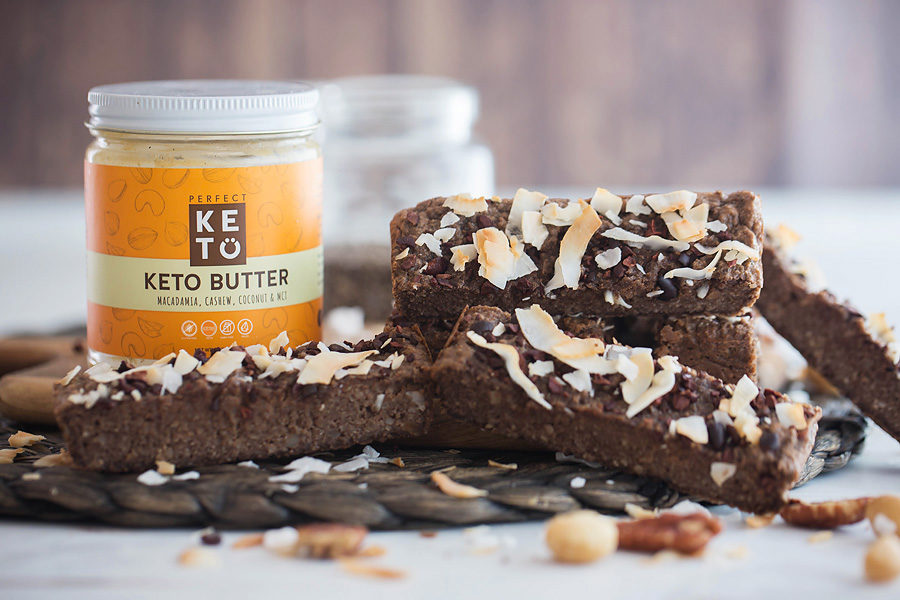 These chocolate nut butter bars are probably the healthiest brownie bar ever.
And that's because each bar contains bits of nutritious additions like shredded coconut flakes, macadamia nuts, pumpkin and chia seeds, and cacao nibs.
If a slice of cake is more your dessert style, the next group of recipes won't disappoint.
Low-Carb Recipes for Chocolate Cake and Other Bakery Goodies
Fill your kitchen with the guilt-free smells of chocolate baking in these cakes, donuts, muffins, and more:
#1. Fudgy Flourless Chocolate Cake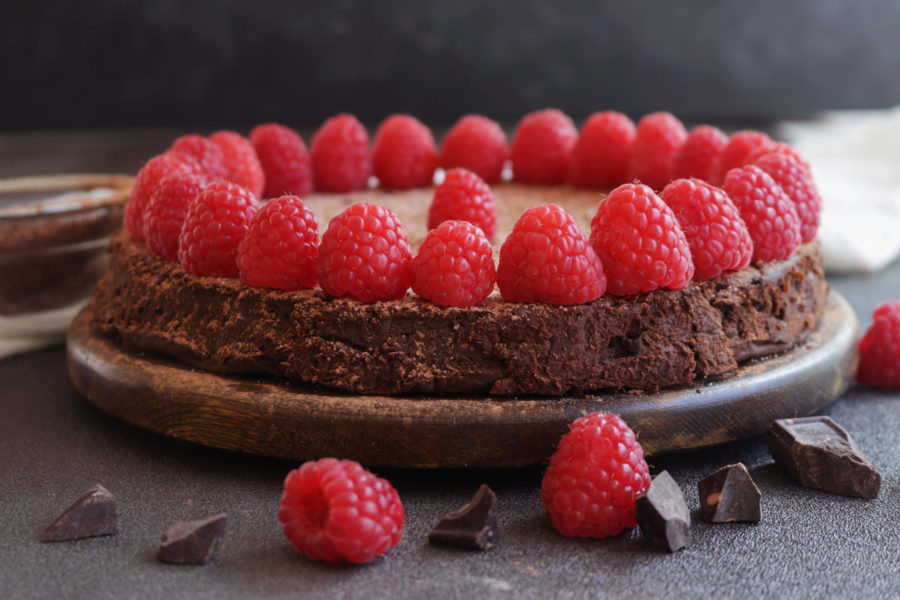 This moist, gluten-free, sugar-free flourless chocolate cake makes such a good impression at parties everyone will want to join your low-carb diet.
The next recipe was literally made for celebrations and gatherings.
#2. Keto Chocolate Cake With Vanilla Buttercream Frosting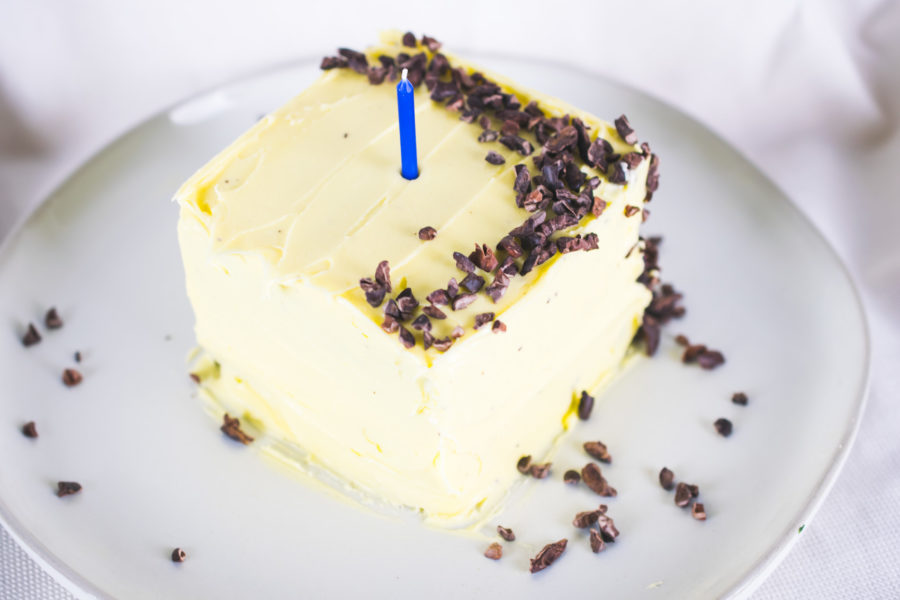 This recipe proves it's possible to recreate an entire chocolate cake with vanilla buttercream frosting for keto diet macros. Make every day a celebration with this one.
And let the next take you to the edge of a chocolate volcano.
#3. Easiest Keto Lava Cake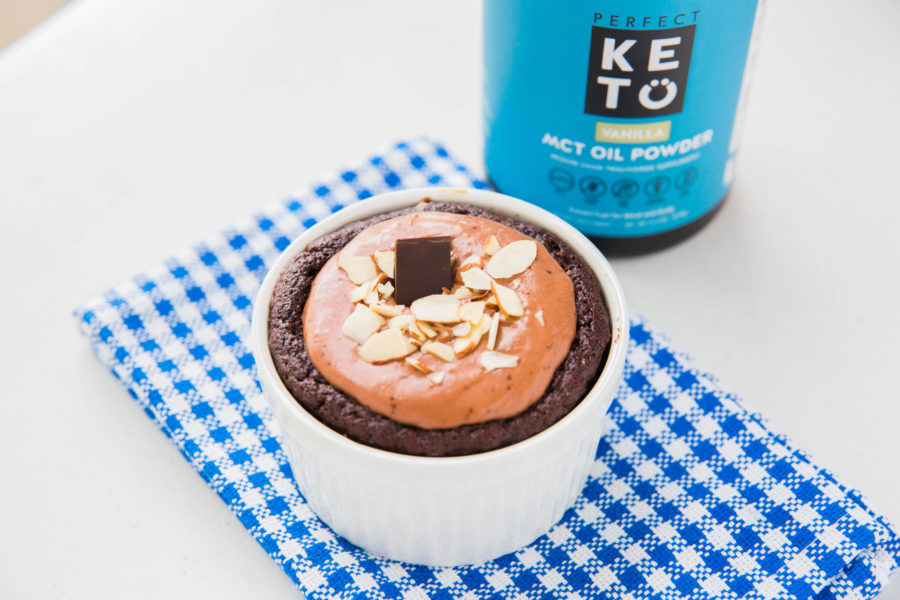 With a delicious cocoa cake and melty chocolate lava center, prepare to bake this recipe for keto lava cake on repeat at your house.
This recipe needs to be enjoyed warm but you may want to pop the next treats in your fridge.
#4. Peppermint Mocha Keto Cake Pops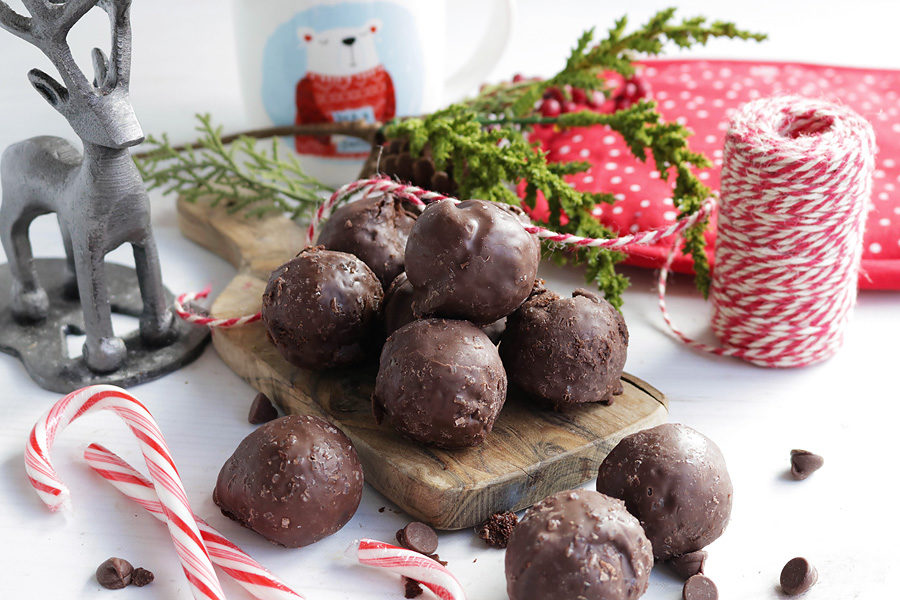 If you'd rather have portion-controlled bites of cake for dessert, make these chocolate and peppermint cake pops. Just be mindful not to sneak too many after dinner.
The next recipe guarantees no leftovers.
#5. Keto Chocolate Mug Cakes: Three Ways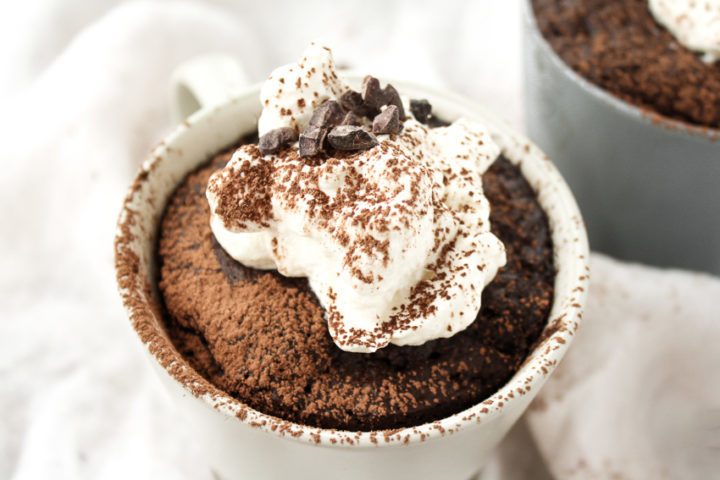 Mug cakes are the hands-down winner of after-dinner desserts. They're easy, customizable, and take less than five minutes total time to cook.
Plus, since they bake in a mug, single-serve portion size makes it easy to have your fill without overeating — especially late at night.
Try your hand at these keto chocolate mug cake recipes:
Then again, maybe you'd rather use that mug for a cup of decaf coffee and a donut.
#6. Keto Chocolate Donuts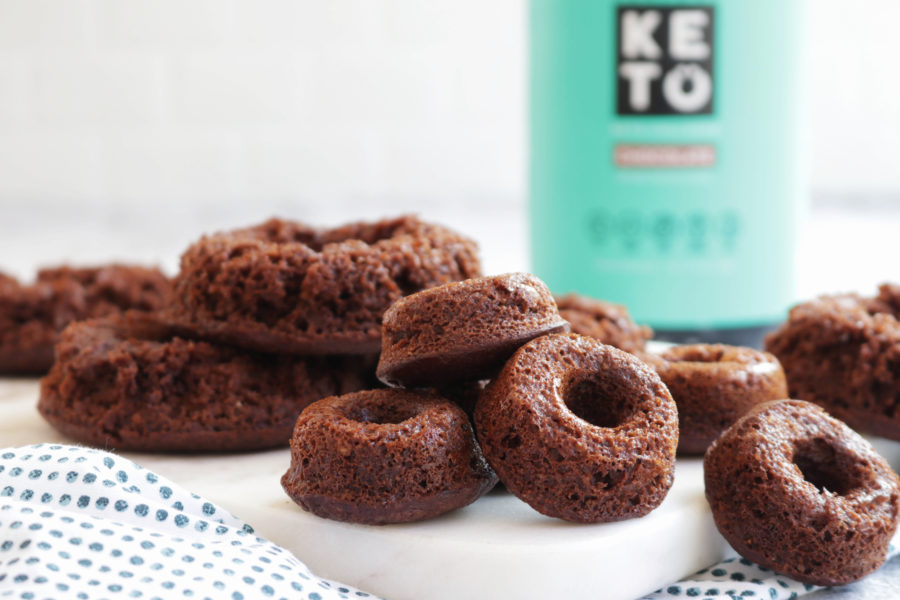 This recipe will make your tummy happy no matter if you eat your keto chocolate donuts early in the AM or late in the evening.
Same goes for these muffins.
#7. Decadent Double Chocolate Low-Carb High-Protein Muffins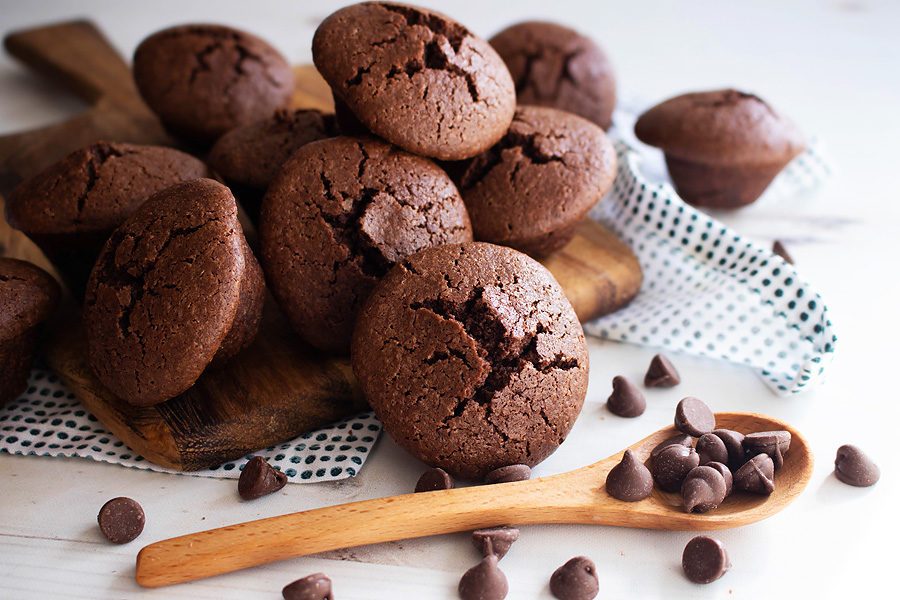 These snack-size double chocolate keto muffins are rad on their own, just like these chocolate chip keto muffins. But add keto-safe frosting to either when cool and you'll have awesome cupcakes too.
Cookie monsters will dig the next recipe.
#8. Soft-Baked Almond Chocolate Chunk Cookies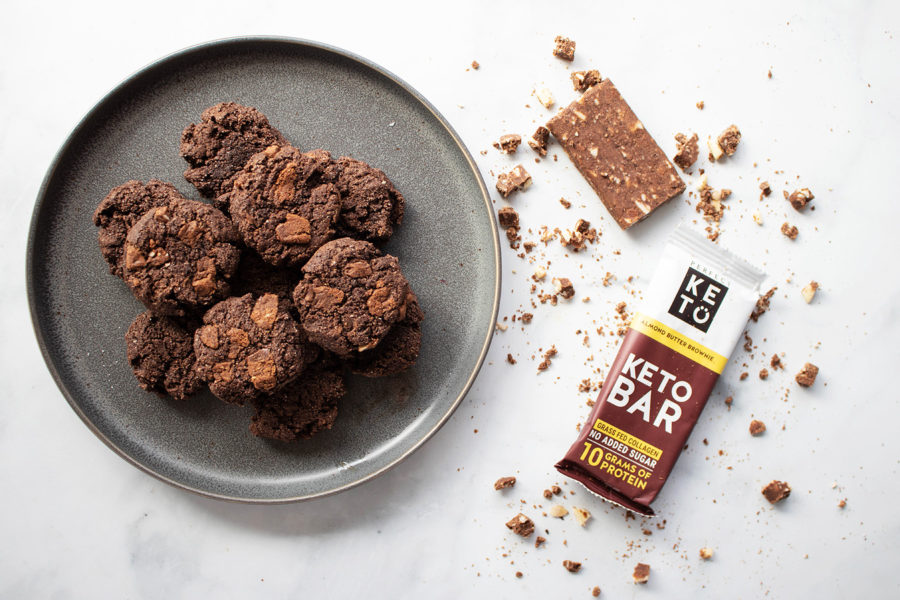 This chocolate cookie recipe incorporates one Perfect Keto Bar in Almond Butter Brownie flavor so each cookie contains 15g of satiating fat.
Like this recipe and you're probably also a fan of chocolate chip cookies.
#9. Keto Chocolate Chip Cookies: Three Ways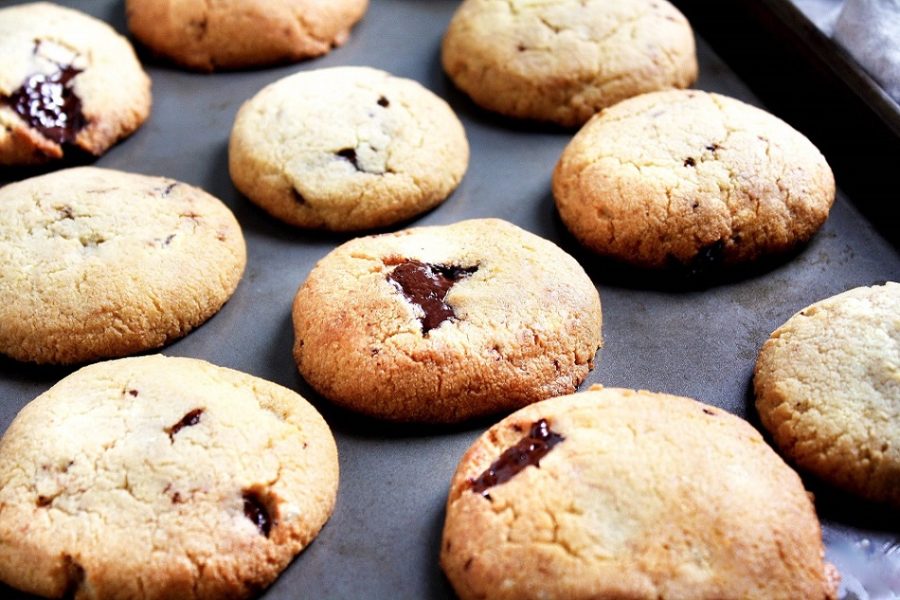 Perfect low-carb chocolate chip cookies don't require much.
You probably already have the grass-fed butter, pure vanilla extract, almond flour, eggs, stevia-sweetened chocolate chips, and keto-friendly sugar in your pantry.
So you're just a few ingredients away from making these soft and chewy chocolate chip cookies (pictured).
Need a protein boost? Add two scoops of whey protein to make these chocolate chip protein cookies with coconut flour.
And everyone will be obsessed with these chocolate chip cookie dough cookies. They take less than 20 minutes to create and call for creamy nut butter and a crumbled up Cookie Dough Perfect Keto Bar.
If you're too impatient for baking, you'll melt for the safe-to-eat keto cookie dough recipe up next.
#10. Edible Chocolate Chunk Cookie Dough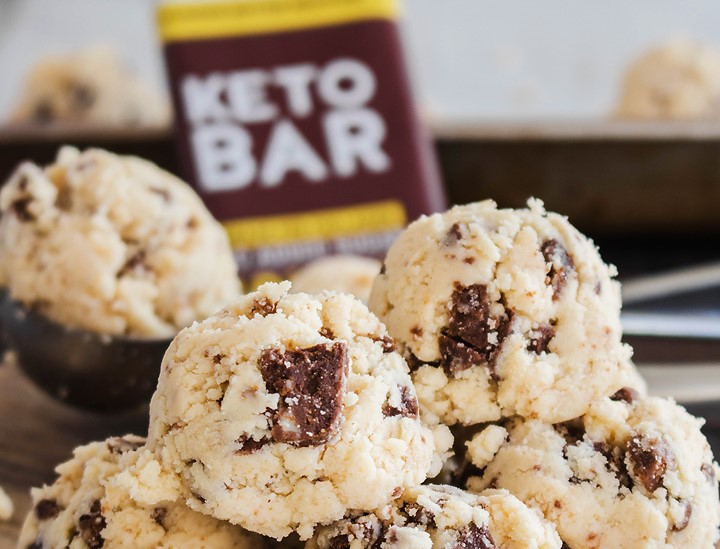 Because it's egg-free, this quick, keto chocolate chunk cookie dough is safe to eat without baking. You can snack on it straight from the one bowl you'll need to make it.
The next recipe says you don't have to decide between cookie dough and cheesecake.
#11. Instant Pot Chocolate Chip Cookie Dough Mini Cheesecakes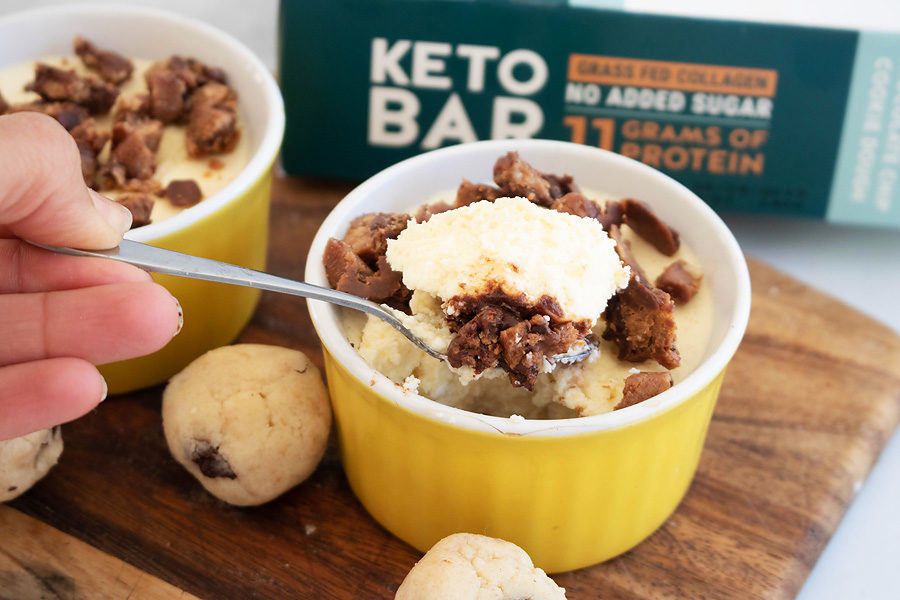 There are so many keto instant pot recipes to choose from but this one for cookie dough mini cheesecakes may take the cake.
Now it's time to leave the bakery and head to the candy shop for the next set of recipes.
Chocolate Candy, Truffles, Fudge, and Bark
Consider these recipes the golden ticket to your own keto chocolate factory:
#1. Homemade Keto Chocolate Bar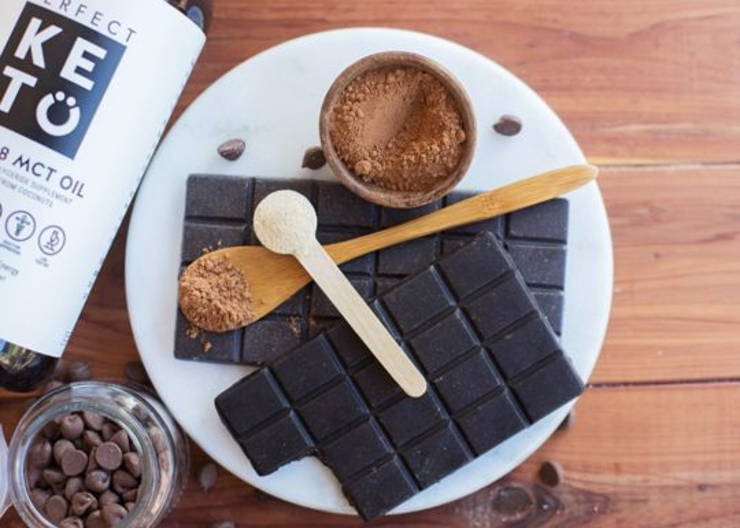 This recipe for healthy, homemade keto chocolate has a near-perfect recipe rating.
That's probably because in less than five minutes you'll have an entire bar of keto-friendly chocolate for just a single net carb.
You won't find any chocolate bar on the shelf with a carb count like that.
Using keto-approved ingredients also makes fudge a possibility in ketosis, as you'll see next.
#2. Keto Chocolate Fudge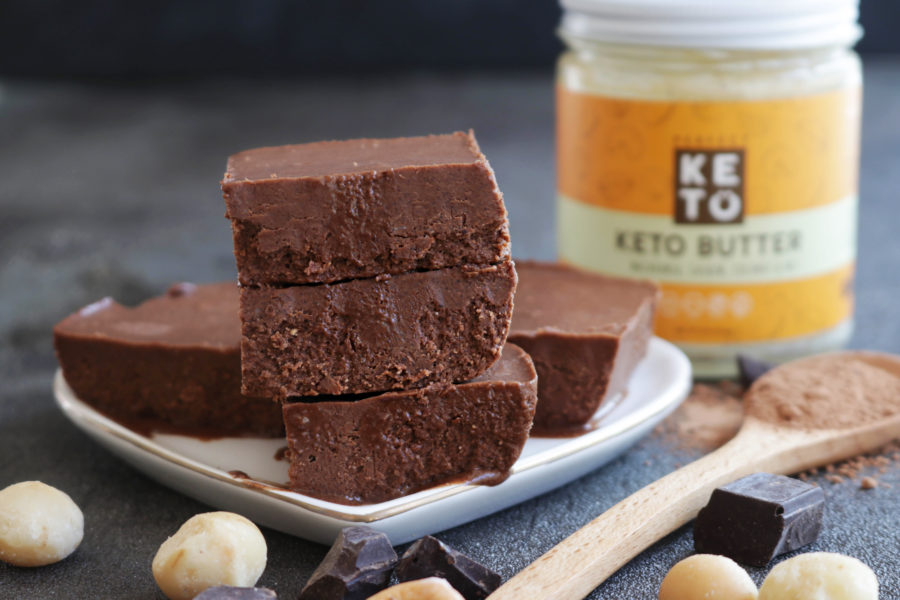 You only need six ingredients to make 16 servings of this killer keto chocolate fudge recipe to share. You'll also score options to make your fudge in flavors like peanut butter or peppermint.
Or use the next recipe to flip the chocolate and mint ratio.
#3. Keto Peppermint Patties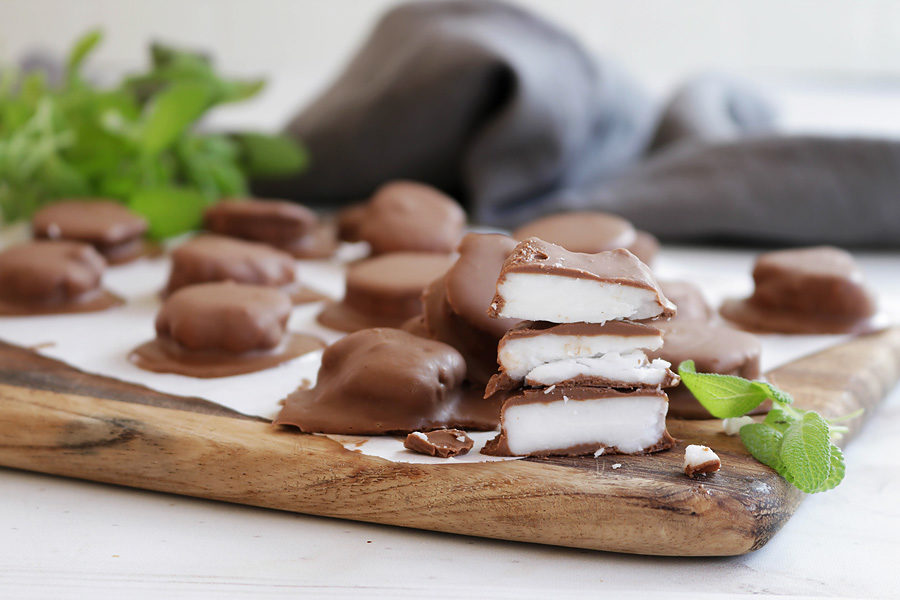 Skip the sugar-free peppermint patties full of artificial sweeteners, preservatives, and chemicals. This recipe for easy chocolate peppermint patties will become your favorite refreshing after-meal pick-me-up.
Pack a few of these or the next treats for lunch and you'll fly through your afternoon slump.
#4. Sugar-Free Chocolate Strawberry Gummies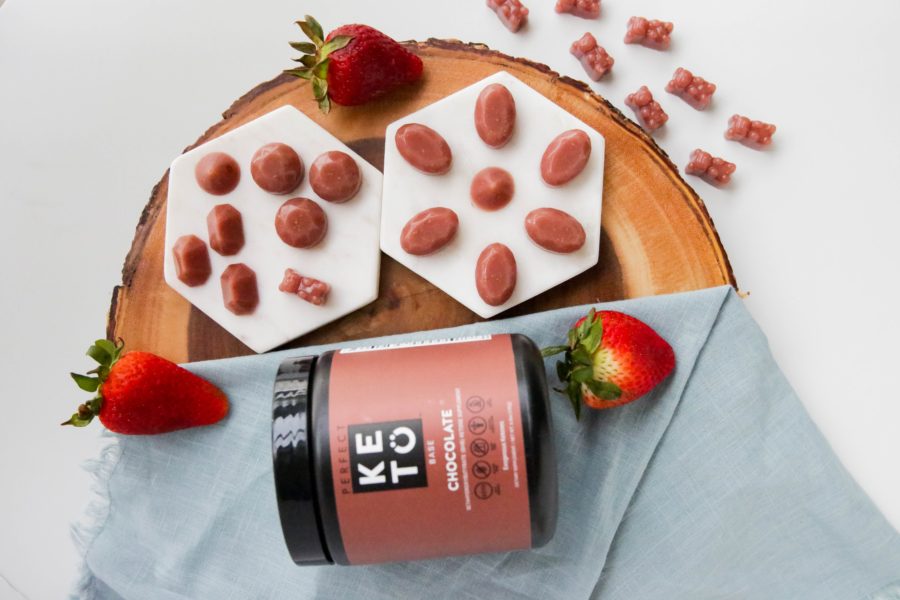 These sweet, chewy chocolate strawberry gummies taste like chocolate-covered strawberries. Snack on them and the chocolate exogenous ketones may help control your appetite.
You'll want to save room to indulge in the low-carb, sugar-free truffles ahead.
#5. Silky Mocha Truffles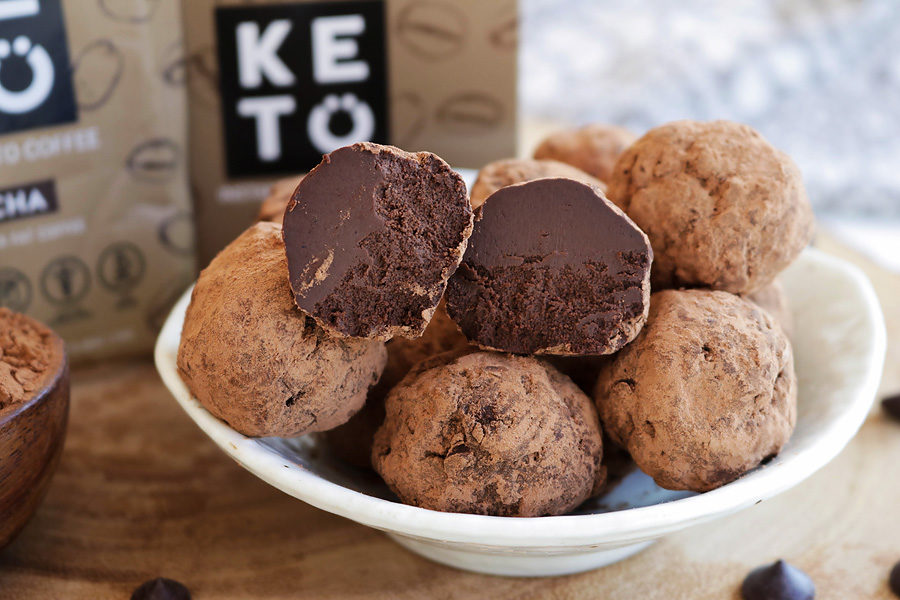 These low-carb chocolate truffles may give your brain a boost because they contain a packet of instant coffee with MCT oil. They only require five ingredients, can be made dairy-free, and don't taste remotely like diet food.
If you've never made homemade chocolate bark before, let these next recipes inspire you to take the plunge.
#6. Chocolate Macadamia Nut Bark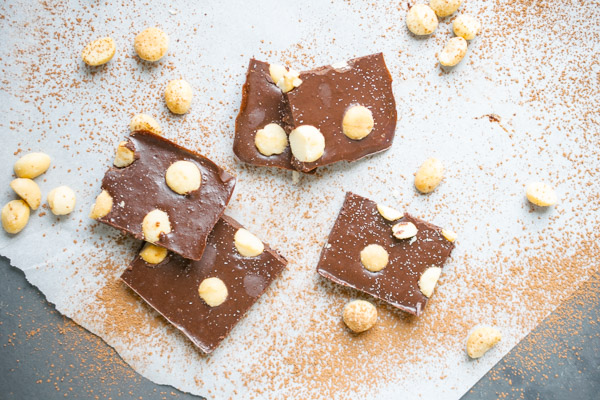 You probably have a stash of macadamias around since they're one of the best keto nuts.
So grab some cocoa powder, coconut oil, vanilla extract, and stevia to make this simple chocolate macadamia nut bark.
When you want more flavor than this bark or chocolate-covered macadamia nuts, go pro-level with the next recipe.
#7. Almond Joy Keto Bark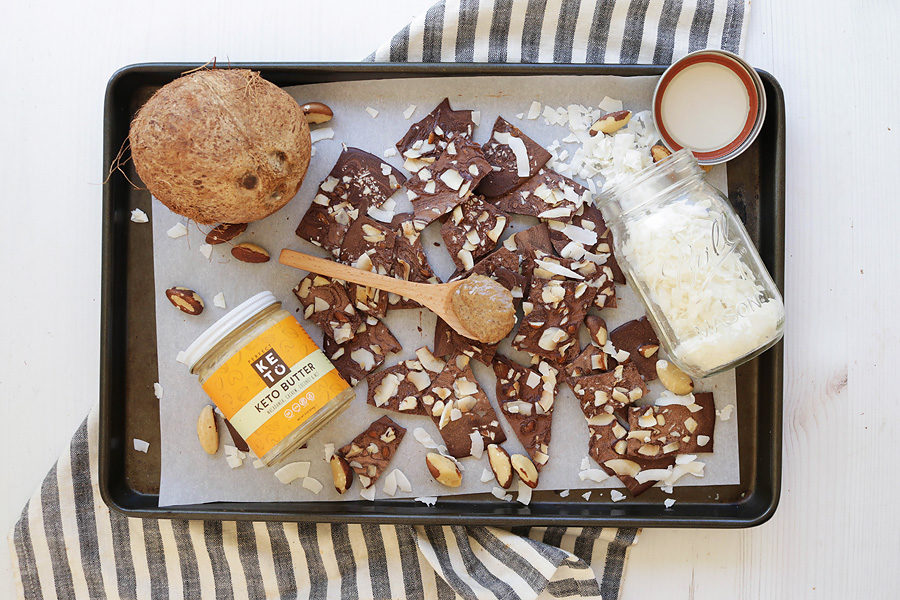 This keto and paleo recipe combines shredded coconut and sliced almonds and macadamia nuts with sea salt for an Almond Joy copycat bark.
Capture the winning combination of chocolate and nuts with the next recipes too.
#8. Keto Nut Butter Cups: Four Ways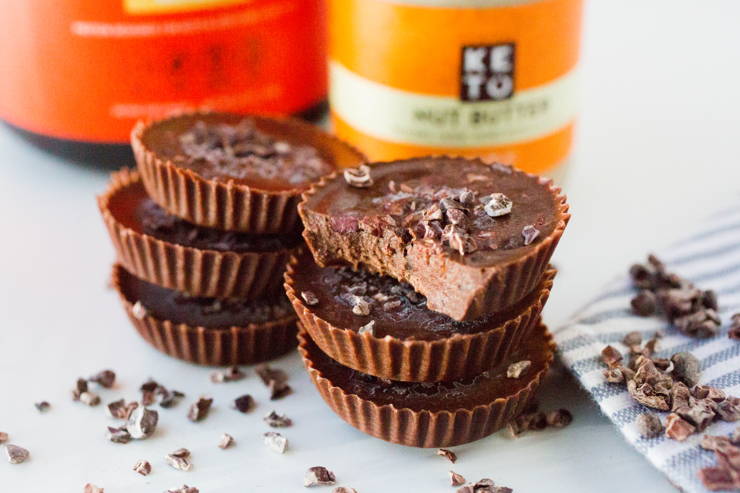 Don't let those chocolate peanut butter cup commercials tempt you to cheat on your ketogenic diet. There are so many recipes to recreate them without blowing your daily macros.
This super easy keto nut butter cup recipe only requires five ingredients to get right. And these indulgent chocolate peanut butter cups take just 15 minutes.
Or elevate your peanut butter cups with these special recipes:
The one pictured contains nut butter, vanilla extract, whey protein, and cinnamon. And this one alternates layers of chocolate, nut butter, and coconut in each cup.
If your cup overfloweth with chocolate and peanut butter love, break free of the mold with the next recipe.
#9. Chocolate Sea Salt Peanut Butter Bites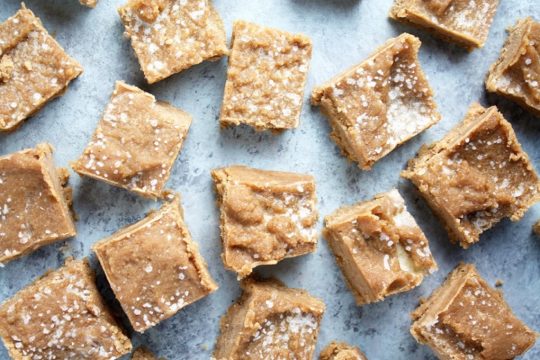 These chocolate sea salt peanut butter bites satisfy both sweet and salty cravings in one shareable dessert. Each bite adds 10g of fat to your daily macros for less than two carbs.
You can eat these treats with your fingers but you'll want a spoon for the next ones.
Spoon Meets Chocolate Low-Carb Desserts
Expect love at first spoonful with these recipes for chocolate ice cream, mousse, and pudding:
#1. Keto Chocolate Ice Cream: Four Ways and Flavors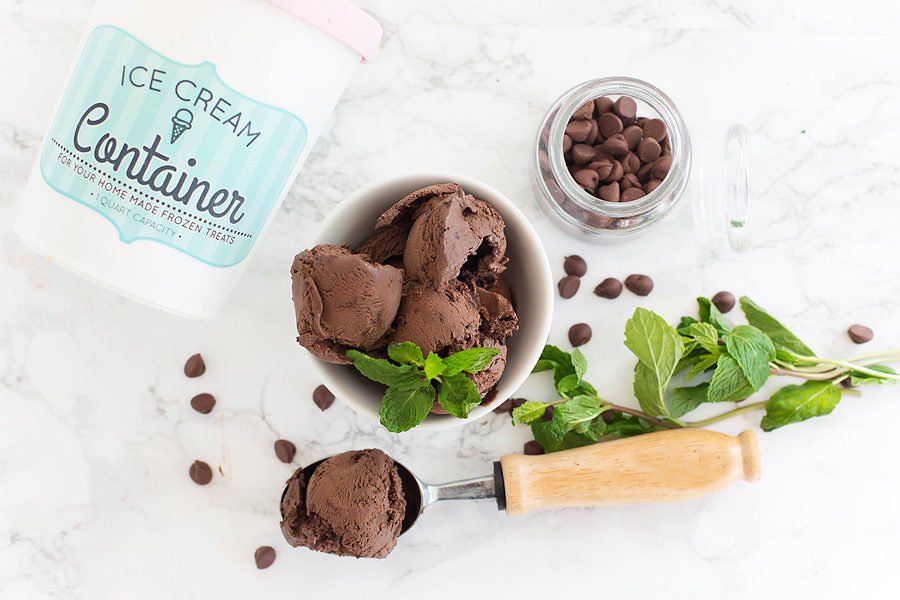 There's nothing like a bowl of ice cream for dessert.
And these recipes prove you can make a healthier version to fit your macros right at home:
The next recipes share the same smooth texture but the results aren't frozen.
#2. Keto Chocolate Mousse: Two Ways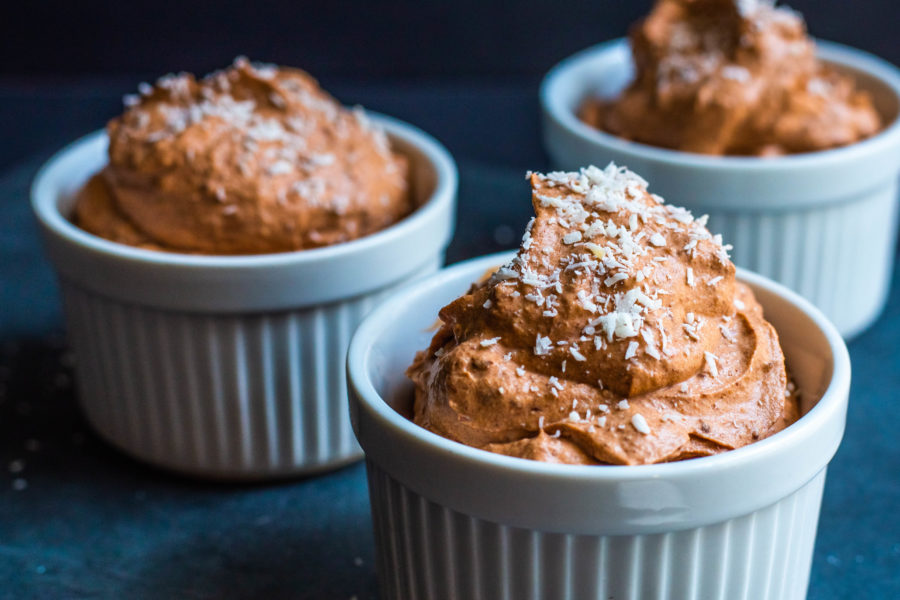 Decadent and chocolatey, this keto vegan chocolate mousse recipe (pictured) couldn't be easier to make and only requires four ingredients for a massive pay-off.
Or try this chocolate superfoods mousse recipe, which has a rich, velvety texture thanks to the help of blueberries, cauliflower, and avocado.
Count on another superfood to create the keto puddings up next.
#3. Keto Chia Pudding: Two Ways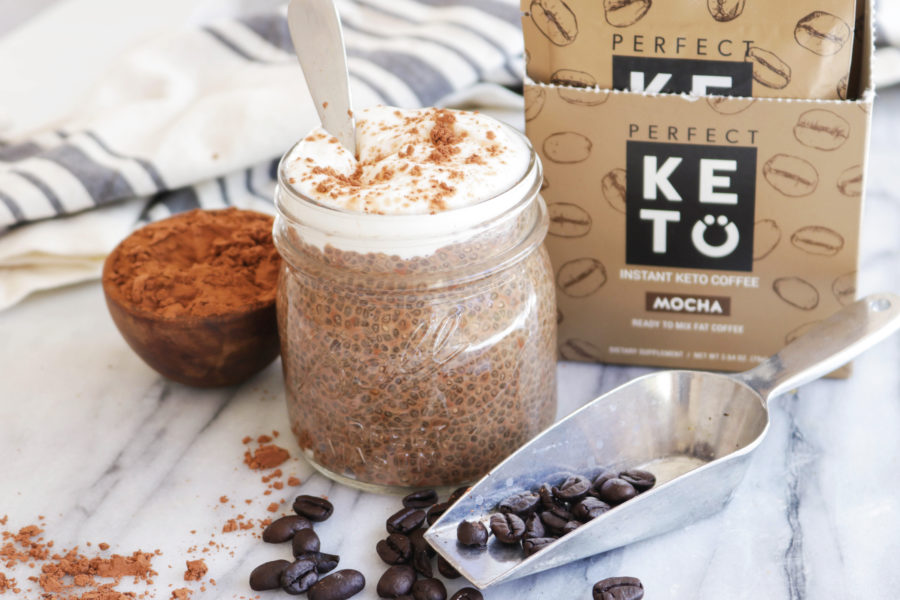 You'll be hard-pressed to find a sweeter way to get lots of low-carb fiber at once than chia pudding.
This crave-worthy keto chia pudding recipe (pictured) only has three ingredients: chia seeds, your fave unsweetened milk, and mocha-flavored instant coffee.
Too late for coffee? This chocolate chia pudding recipe swaps it for chocolate-flavored collagen so you're not missing out.
Finally, no keto chocolate dessert recipe roundup would be complete without a few fat bombs.
Portable, Poppable Chocolate Fat Bombs
Fat bombs are usually made with a base of satiating and energizing fat like grass-fed butter, coconut oil, cream cheese, or nut butter.
With more fat than carbs, these bite-sized treats are best if you have a little sweet tooth and want to stay in ketosis:
#1. No-Bake Nut Butter Low-Carb Protein Balls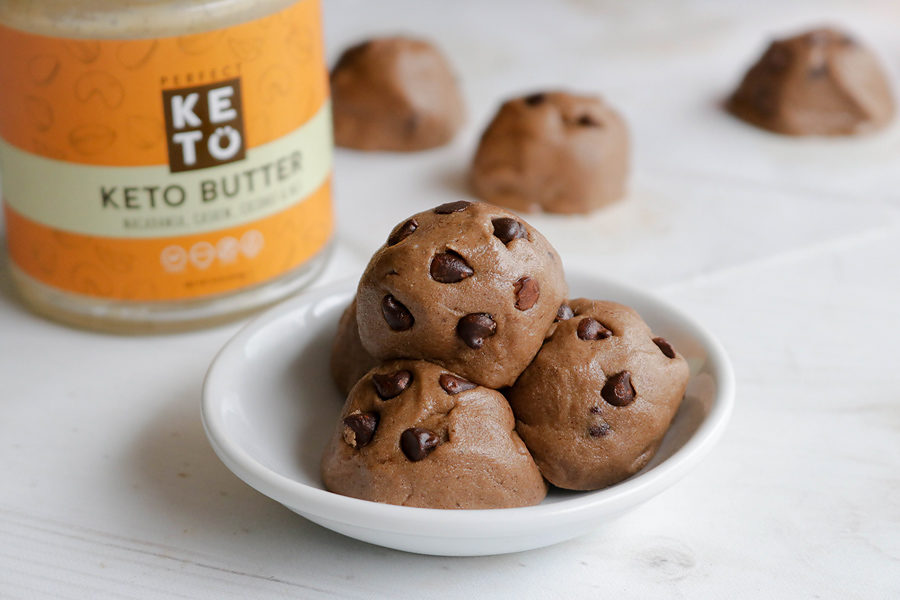 Master this easy dessert recipe and these chocolate and nut butter fat bombs will be your new favorite go-to. They only need nut butter, chocolate whey protein, stevia-sweetened chocolate chips, and 20 minutes of your time.
When you can handle these, you'll be ready to take on the next recipe.
#2. Creamy Chocolate Hazelnut Cheesecake Bites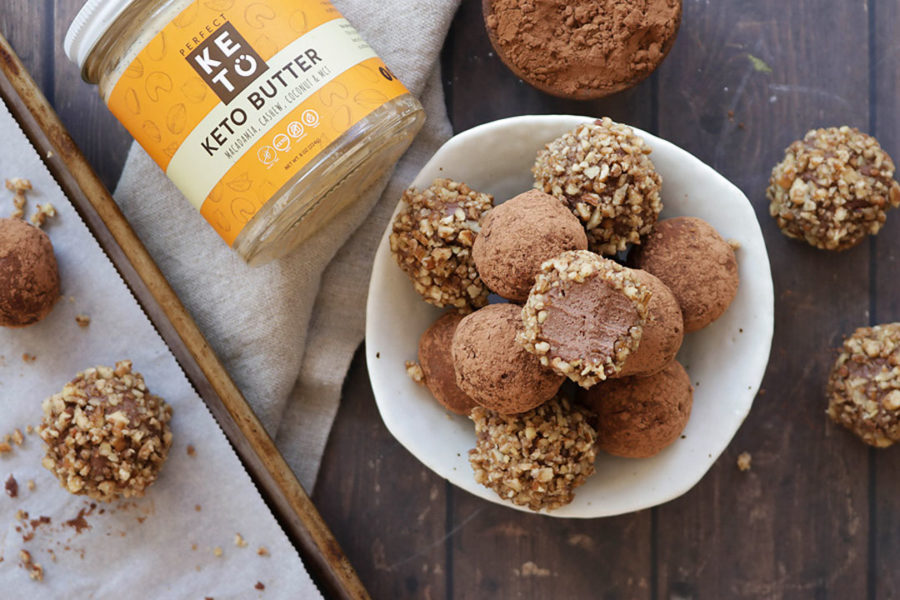 This chocolate and hazelnut fat bomb will blow your mind if you're craving Nutella or Ferrero Rocher candies. Unlike those sugar-filled nightmares, these fat bombs will be good to your body and provide the perfect bite of dessert.
Just like hazelnuts, pecans rank high on the list of keto nuts due to their low carb count.
#3. Decadent Pecan Pie Fudge Bombs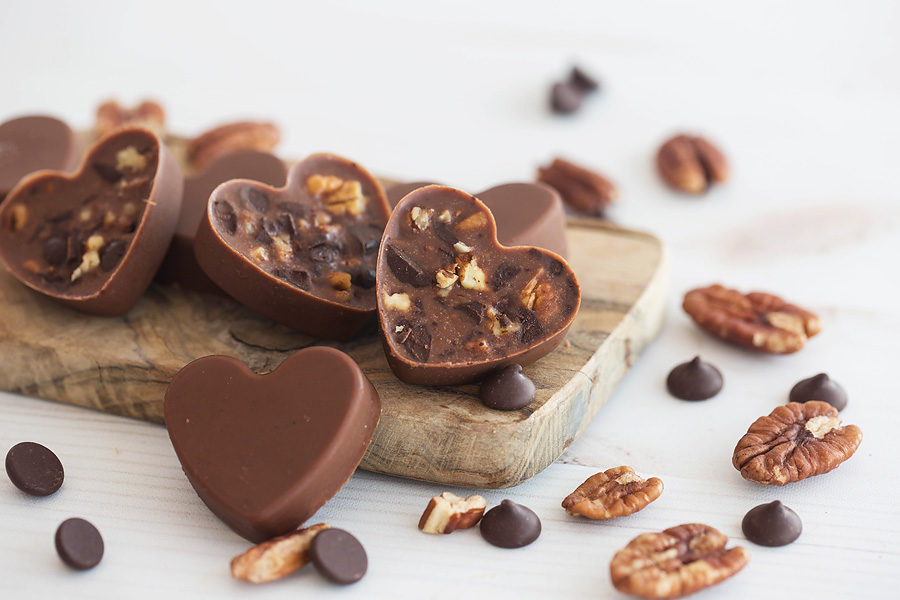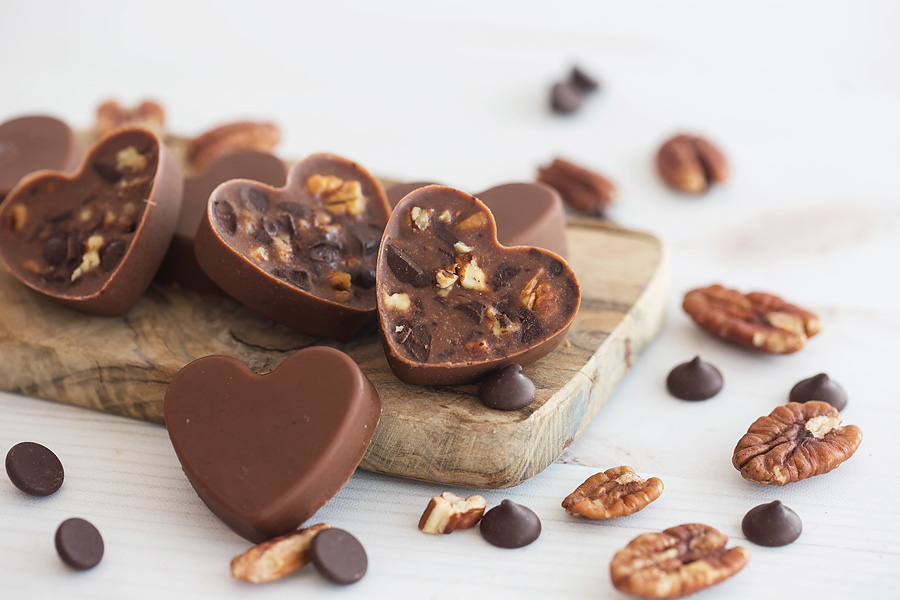 Pecan pie is considered an iconic American dessert. But when you learn it's mostly made of corn syrup, you'll be grateful for these pecan fudge bombs.
Ditto goes for the next recipe.
#4. Insanely Delicious Almond Joy Fat Bombs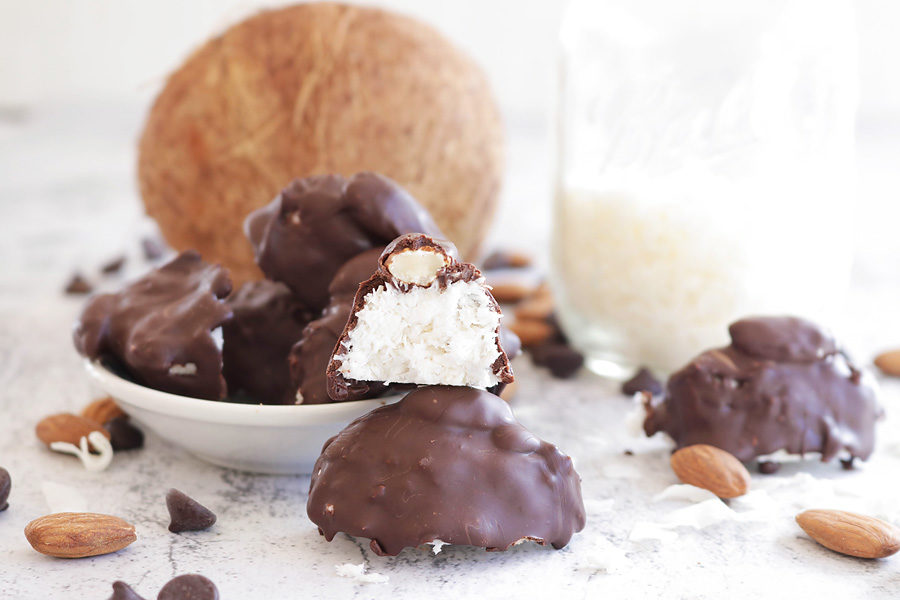 These Almond Joy fat bombs are way better than the chocolate-covered coconut and almond candy bars you used to adore. Each one will only set you back 2g of net carbs, unlike the 24g of sugar found in the real thing[*].
Coconut and chocolate fans who can't have almonds have a better choice up next.
#5. Brain-Boosting Chocolate Coconut Fat Bombs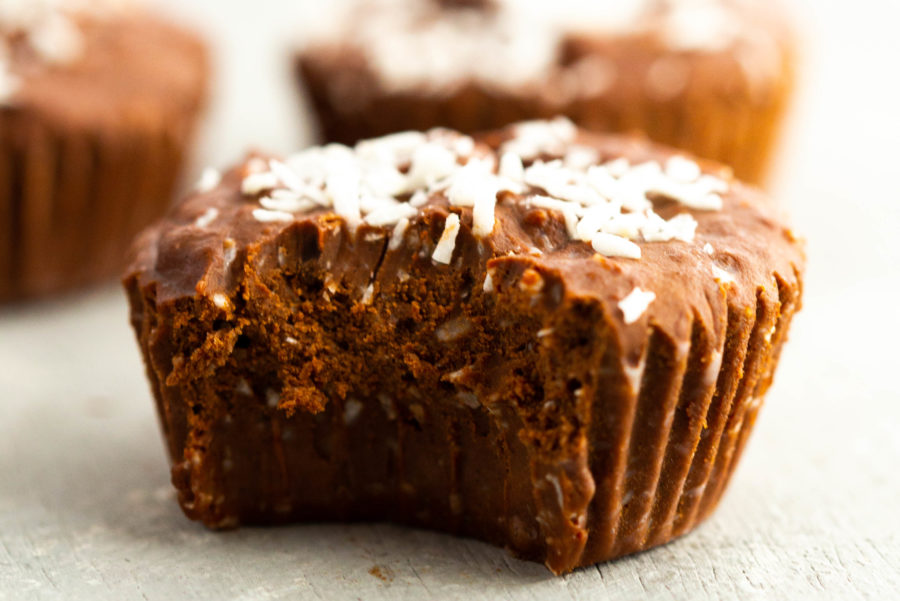 This nut-free chocolate coconut fat bomb recipe isn't just a satiating dessert.
The shredded coconut, coconut butter, coconut oil, and nootropics mean each one benefits your cognitive health and delivers a dose of amazing fats and fiber.
That seems to be a trend with many of the recipes in this roundup. Lucky you!
Satisfy Your Chocolate Craving With These 35 Keto Chocolate Dessert Recipes
True chocolate lovers already know which recipe they're making today. Do you?
Since you can't go wrong with any of them, pick one and keep experimenting with others so you're never bored.
Don't forget to top your chocolate desserts with keto whipped cream! You just need heavy cream, vanilla extract, and your favorite keto sweetener of choice (like stevia, monk fruit, or erythritol/Swerve).
When worked into your weekly meal plan, these keto chocolate dessert recipes may be the tastiest way to achieve your health and weight loss goals.
And there's nothing sweeter than that.
Over chocolate or always Team Vanilla? The Perfect Keto Dessert recipe archive has tons of chocolate-free desserts too.