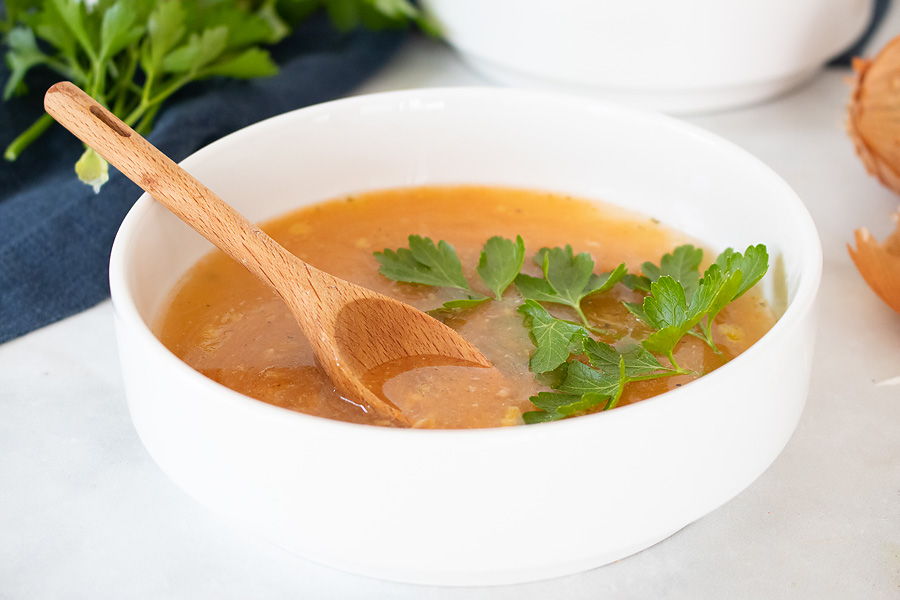 Winter is here and we can't think of a better way to get a ton of health benefits than by adding this rich and flavorful bone broth recipe to your daily regimen. Not only will it help keep you warm during the colder months of the year, but your body will thank you for providing it with a plethora of nutrients. This keto bone broth is rich in vitamins, minerals, collagen, and can even help improve your gut health.
And if you are just starting out on a ketogenic diet, this recipe might just make that transition even easier. One of the key tips to remember when you first start keto is balancing your electrolytes. Many people fall victim to the dreaded "keto flu" which can easily be avoided by adding something as simple as bone broth. It is naturally rich in electrolytes, but it also contains glycine which will help break down the higher amounts of fat you are intaking on a keto diet.
I remember when I first started on my keto diet, those first few days were rough. I kept pickle juice on hand because I knew it was rich in sodium and could help with any headaches that arose, but I really wanted something more substantial (and tasty) to get through the week. Fortunately during that transition I also had bone broth on hand. I started each day with a cup of piping hot broth and then anytime I started to feel any fatigue, headache, muscle cramps, or sugar cravings I would drink an additional cup. At that time, I didn't know how to make my own bone broth, so I grabbed a high quality store bought version. Little did I know how easy it was to make my own which is definitely even more delicious and nutritious.
So, whether or not you are using this bone broth recipe to help transition to a ketogenic diet, looking ro reduce inflammation, improve gut health, or simply want to help support your immune system, adding bone broth to your daily routine is one of the easiest things to achieve it all. Your body will reap the benefits in less than an hour!
Keto Bone Broth Recipe Ingredients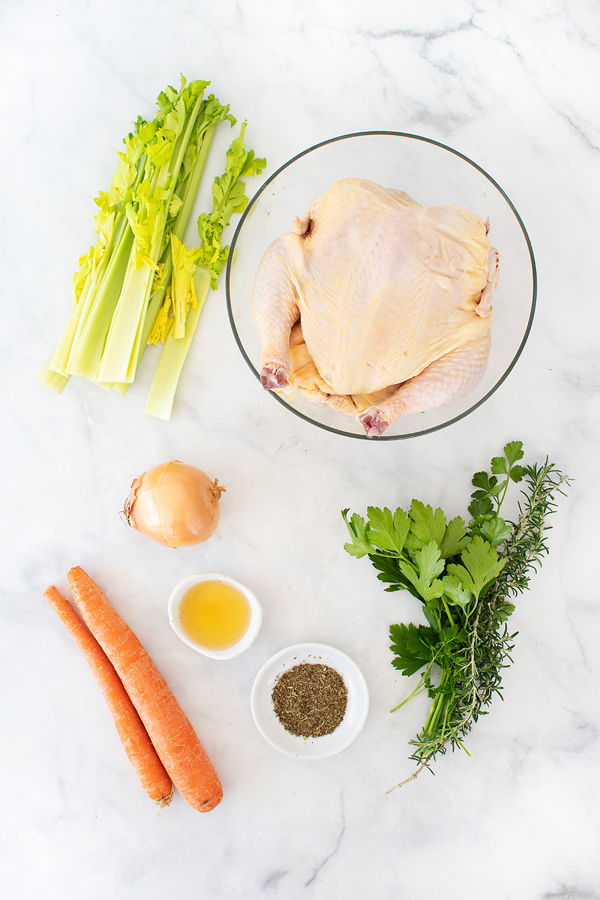 Chicken- You can either use a whole raw chicken or a leftover chicken carcass. A whole chicken will provide you with shredded meat to use in a soup or other recipes.
Vegetables- Vegetables are a great way to infuse your broth with flavor and extra nutrients. Use anything you happen to have on hand.
Apple Cider Vinegar- Vinegar will help break the bones and the meat down further.
Turmeric- Fresh turmeric is ideal, but 1 tablespoon of ground turmeric is great also.
Water- Fill pot to fill line with filtered water. Depending on the size of your chicken, you will need 6-7 cups of water.
Keto Bone Broth Variations
Keto Beef Bone Broth Recipe
Instead of using a whole chicken, you can also use grass fed beef bones to make bone broth. It is best to roast your beef bones first which will add a richer, more flavorful broth. Add the same seasonings, vegetables, vinegar, and water to your Instant Pot.
Keto Beef Venison Broth Recipe
Venison is a wonderful option to make a flavorful bone broth. You can also change the spices when using venison bones. Bay leaves, juniper berries, and all spice berries pair great for this bone broth recipe. Another way to bring out a richer flavor is to roast the bones first in a 400°F oven for 45 minutes. Then add them to your Instant Pot with the other ingredients.
Keto Beef Turkey Broth Recipe
Put that leftover turkey carcass to use by making homemade bone broth! Simply add any leftover turkey and bones into your Instant Pot with your vegetables, seasonings, sage, thyme, rosemary, vinegar, and water. Cook on manual HIGH for 45 minutes (close valve). When the timer goes off, let steam release naturally. Let cool for 30 minutes. Carefully remove lid and strain broth into mason jars or freezer safe containers. Let cool completely before storing in the fridge or freezer.
How to Make Keto Bone Broth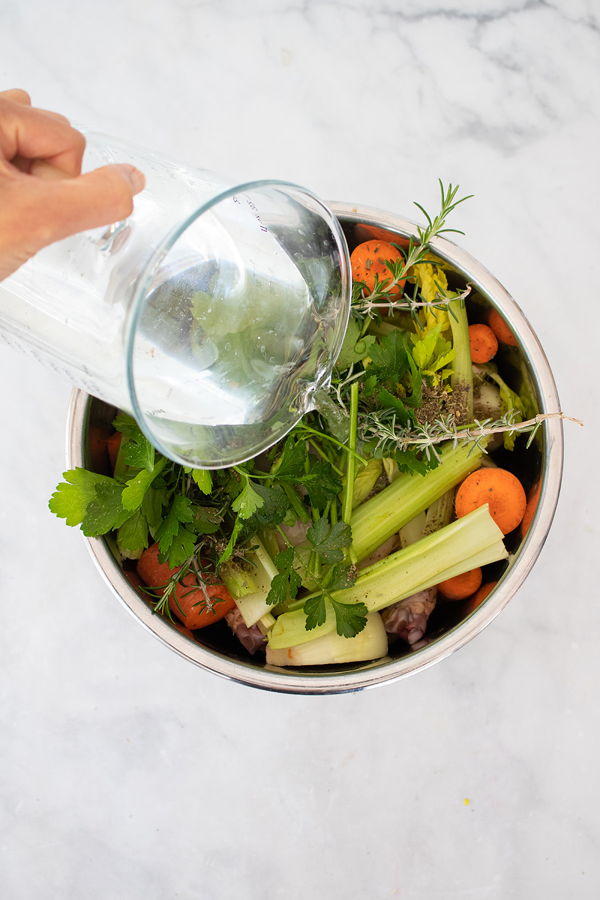 Bone broth recipes do not get much easier than this! Add everything to your Instant Pot and cook for 60 minutes on HIGH. You can let the steam release naturally or manually. Let cool and then remove the lid and strain broth directly into mason jars.
Keto Bone Broth FAQs
How is this keto bone broth recipe different from stock?
Stocks are typically made just from bones. Broth is made with roasted bones that have some meat still attached. Bone broth takes longer because you need enough cooking time to release the collagen and other nutrients . Stock is also something you are more likely to cook with and broth is a soup you would sip on.
Is bone broth good for the keto diet?
This keto chicken bone broth recipe is amazing on a keto diet. It can usually help in the early stages of transitioning to a low carb lifestyle because it is rich in protein and can help balance your electrolytes. Bone broth can help keep you feeling satiated with a moderate amount of protein, but also low in calories.
How much bone broth should I drink on keto?
We suggest consuming 2-3 cups of bone broth when you are first starting a ketogenic diet. This amount will help keep you full and help prevent the "keto flu". Once you are in ketosis, we recommend 1-2 cups a day for the amazing nutritional benefits.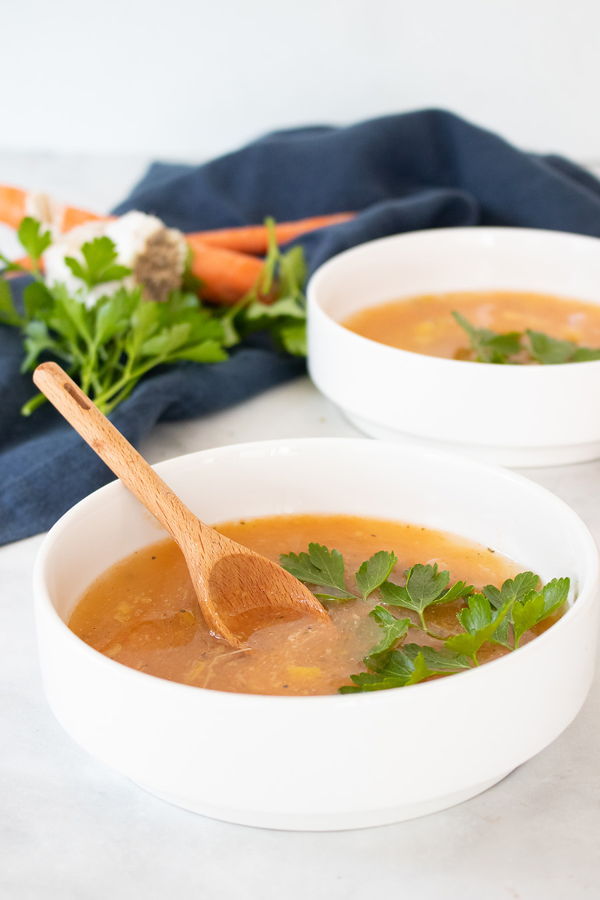 Print
Easy Keto Chicken Bone Broth Recipe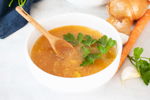 Help reduce inflammation, support gut health, and nourish your body with this easy keto bone broth recipe! Enjoy all of the benefits of healing bone broth in less than an hour.
Author:
Total Time:

60 minutes

Yield:

8

servings

1

x
Scale
Ingredients
1

whole chicken

1

small onion (roughly sliced)

2

carrots (roughly chopped)

2

stalks celery (roughly chopped)

4

garlic cloves, fresh

3

–

1

" pieces of ginger, fresh

2 tablespoons

apple cider vinegar

3

–

1

" pieces of turmeric, fresh

2 teaspoons

salt

1/2 teaspoon

pepper

6

–

7

cups of water
Instructions
Add water, onions, carrots, celery, garlic, ginger, vinegar, turmeric, salt and pepper to your Instant Pot.  Cover with water to MAX fill line, roughly 6 cups.

Replace lid and press +55 minutes MANUAL.  Close valve.

When timer goes off, carefully release steam.  Let cool for 1-2 hours.

Carefully strain contents into large mason jars.  Season with salt and pepper to taste.  Let cool completely and  store in the fridge.  You can also put these in freezer safe jars and store in the freezer for up to one month.

Remove meat from the carcass for later use.
Nutrition
Serving Size:

1 cup

Calories:

189

Fat:

2g

Carbohydrates:

5g

Fiber:

1g

Protein:

14g
Keywords: keto bone broth recipe