During the winter season, chillier weather calls for warm and hearty recipes. Stews, chilis or soups are always welcome, but who can forget about curry? Whether you like it mild or extra spicy, curry is a comfort food that most everyone enjoys. It is a good thing that coconut chicken curry can be made as a low carb and keto friendly dish.
This keto chicken coconut curry will not only warm you up with distinctive spices and healthy yet filling ingredients, it is also easy to refrigerate or freeze and eat multiple days in a row. Who doesn't love a "cook once, eat twice" recipe? This is also the type of meal that usually tastes even better the next day.
Full fat coconut milk is the perfect base for this keto and low carb dish. Make sure you double check the ingredient list to make sure the brand you purchase has no added sugars.
One batch of this recipe yields four servings, making it a great dish to serve to family or share with friends at a small dinner party. You can also have a few meals worth of delicious curry all for yourself!
Keto Chicken Coconut Curry Ingredients
The main ingredients in this keto chicken coconut curry include:
Chicken thighs
Coconut oil
Coconut milk
Tomato paste
Red bell pepper
Onion
Fresh garlic
Fresh ginger
Garam masala
Curry powder
Salt
Fresh cilantro
How to Make Keto Chicken Coconut Curry
To make this coconut chicken curry, you will start by cutting your chicken thighs into small pieces and using one tablespoon of coconut oil, brown them in your pan for 6-8 minutes. If you prefer chicken breasts, you may use those instead, but you will cut your cooking time in half because breasts have less fat than thighs and need less time to brown. Once the chicken is cooked, take it out of the pan and put it off to the side.
Next you add the other two tablespoons of coconut oil and cook your chopped onions for 8-10 minutes. They should be caramelized (gold brown in color)at this point. Add your chopped bell pepper now, and then add your grated ginger and grated garlic.
Now add your spices. Cooking these spices, the garlic, ginger, garam masala and curry powder, in oil helps to maximize their flavors and aids in distributing the flavors around the entire dish. You can also add salt here at your own discretion. Salt also helps bring out the flavors in this low carb chicken curry dish.
Last, add your tomato paste, coconut milk and the chicken back into the pan. Stir it until the sauce bubbles and then set the dish to simmer for about 10 minutes. At this point, taste your dish and if it is to your liking, remove it from the stove. Add your fresh chopped cilantro to each individual serving.
Keto Chicken Coconut Curry FAQs
Is Curry Okay On Keto?
Traditional curries are made of a blend of spices that are keto-friendly. It's base is usually composed of a variety of herbs, chilies and spices that are generally not high in carbohydrates. However, if you are eating curry from a mass produced grocery store brand or at a restaurant it is ideal to inquire or check the label if you are not sure. Some store bought curries could include sugar or flour in their final product.
What Should I Serve With Keto Chicken Coconut Curry?
To keep your curry dish low carb, it would be ideal to serve it over cauliflower rice. You can make your own in a food processor, but many stores sell it already "riced" in the fresh or frozen section of the grocery store. Serving curry over a steamed vegetable like broccoli would also be delicious. You could even serve your curry over zucchini noodles.
How Do I Store The Leftovers?
Store your leftover curry in small batches in shallow glass containers. The curry should be consumed within 3-4 days if left in the refrigerator and within 2 months if stored in the freezer.

Print
Keto Chicken Coconut Curry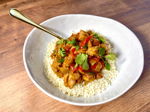 This hearty and savory curry dish is bursting with big flavors! Fresh ginger and garlic help complete this low carb, gluten free one pot meal, creating the ultimate healthy comfort food.
Author:
Prep Time:

10 minutes

Cook Time:

28-30 minutes

Total Time:

40 minutes

Yield:

4

1

x
Scale
Ingredients
2

lbs. Chicken thighs, cut into small pieces

3 tbsp

. Coconut oil

1

small yellow onion, chopped

1

red bell pepper, chopped

1 tbsp

. Fresh ginger, grated

4

cloves of fresh garlic, grated

3 tbsp

. Tomato paste

1

13.5 oz. can full fat coconut milk

2 tsp

. Garam masala

4 tsp

. Curry powder

2 tsp

. Salt, divided

1/2 cup

fresh cilantro, chopped for topping
Instructions
Heat 1 tbsp. of coconut oil in a large skillet over medium/high heat. Chop your chicken into small pieces. Add chicken to the pan and cook for 6-8 minutes until browned. Remove from the pan and set aside.

Add the remaining coconut oil to the pan. Add the chopped onions and let them cook 8-10 minutes to carmelize. About halfway through this process, add the chopped red pepper. After the 8-10 minutes pass, add the grated garlic and ginger and let it all cook for another minute. Then add all the spices and 1 tsp. of salt and let it all cook one more minute together. 

Add the tomato paste, coconut milk and the reserved chicken back to the pan. Stir it up on medium heat until it bubbles, then reduce the heat to low for 10 minutes until the sauce is thickened.

Add a second tsp. of salt here if desired. Garnish each bowl you serve with fresh chopped cilantro.
Nutrition
Calories:

595

Fat:

41g

Carbohydrates:

11g

Protein:

47g
Keywords: keto coconut curry