What side dishes work best on the keto diet? When you cut out french fries, mashed potatoes, and rice, you may be wondering what to pair with your favorite entrees.
Fortunately, you have plenty of options. Fresh salads, roasted vegetables, and low-sugar fruits can make your plate colorful, appetizing, and nutritionally balanced. Plus, you can use low-carb veggies to replace your former starchy sides. Keep reading for new, flavorful keto side dishes that will step up your next meal.
Tips for Choosing Low-Carb Sides 
Food is meant to be enjoyed, but if you entered the low-carb lifestyle for weight loss or health goals, you might want to think further than flavor on your side dishes. When selecting fruits, low-sugar veggies, or even keto baked goods, keep the following things in mind:
#1: Choose the highest-quality produce you can reasonably afford: Select organic leafy greens and saving conventional produce for the "clean fifteen," or those with minimum pesticide residue.
#2: Remember that macros still matter within your keto meal plan: Choose sides high in dietary fiber and low in net carbs. But on keto, feel free to roast veggies in olive oil, grass-fed butter, or coconut oil for added flavor and healthy fats.
#3: Focus on getting as many micronutrients as possible: Aim for veggies filled with vitamins and minerals. While keto breads or crackers are tasty, they don't deliver as much nutrition as fresh or roasted vegetables.
23 Tasty Keto Side Dish Recipes
Even if you miss ordering onion rings or fries, you'll love the following low-carb recipes for side dishes. Here are winning ideas for low-carb dips, soups, salads, vegetables, and reinvented favorites that fit perfectly within a ketogenic diet.
#1: Cranberry Sauce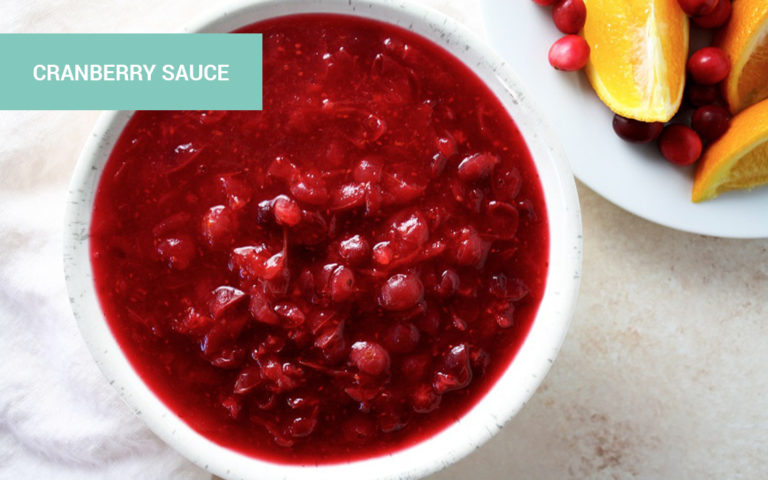 This side dish gives you a dose of antioxidants within every spoonful[*]. This cranberry sauce recreates one of your favorite holiday sides without the added sugar. Made with oranges, fresh cranberries, and sweetened with stevia, no one at your table will know this recipe is low-carb.
#2: Low-Carb Stuffing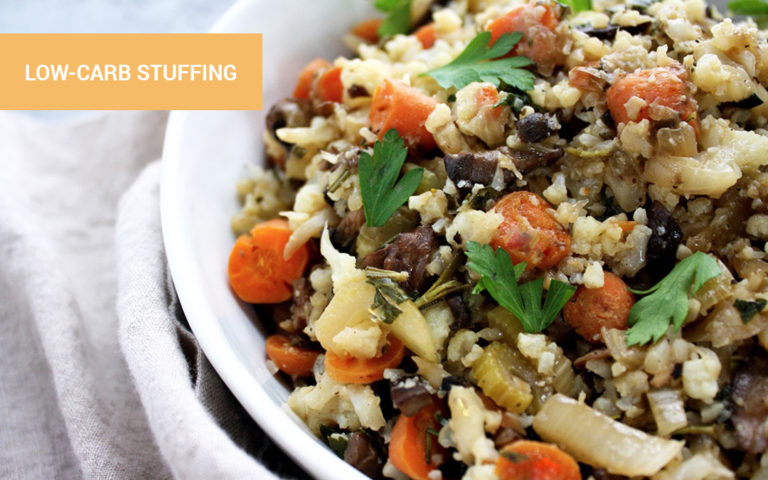 How can you make low-carb stuffing without the bread? Tons of veggies. This side dish is really a cauliflower casserole packed with mushrooms, onions, and celery, then seasoned with sage, rosemary, and parsley. As an added benefit, gut-healing bone broth is used to marry all the flavors together, coming with a few extra health benefits[*][*].
#3. Brown Butter Buffalo Bites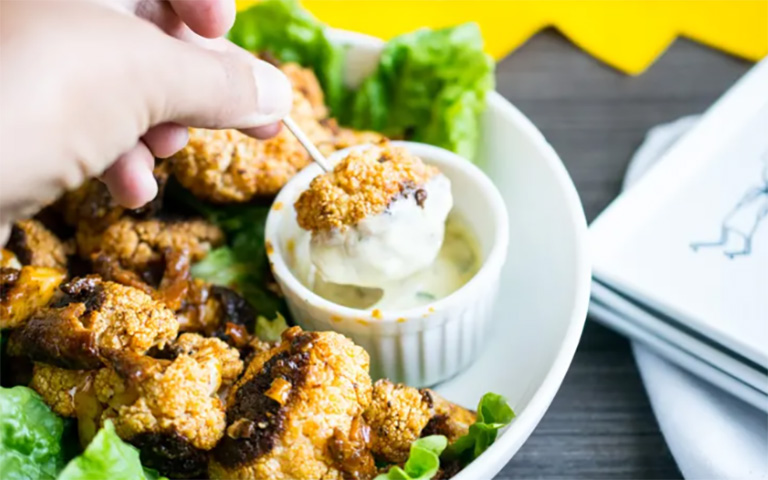 If you've been craving buffalo wings, you're going to love this healthy recipe for buffalo bites. Instead of chicken, you'll dip cauliflower florets in hot sauce for a vegetarian, gluten-free twist on your favorite appetizer. You'll fry your cauliflower bites in grass-fed butter, then transfer them to the oven to bake until crisp.
#4: Keto Chicken Hemp Heart Tenders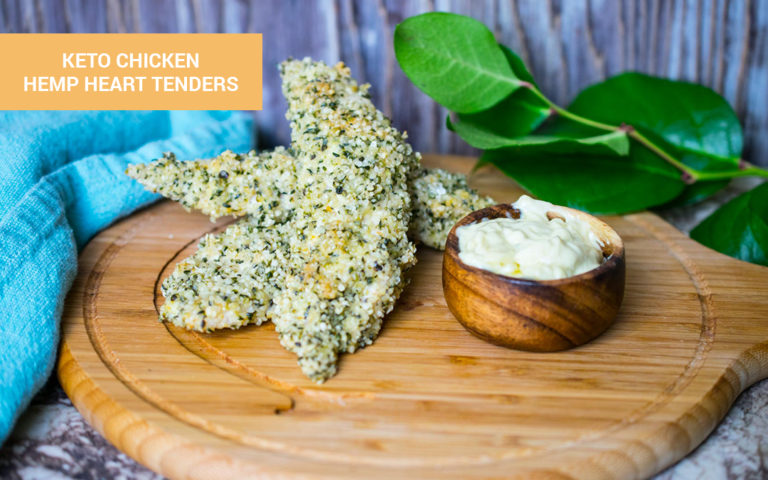 This chicken and hemp heart recipe is a workhorse of nutrients. You get the essential amino acids from pastured chicken breast, and the anti-inflammatory effects, omega fatty acids, and digestion-boosting fiber from hemp hearts[*]. Plus, it tastes just like chicken nuggets, only better.
#5: Loaded Keto Coleslaw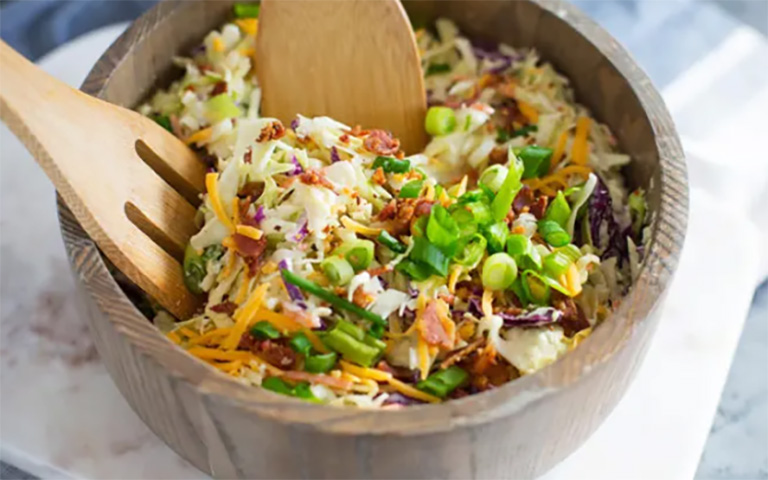 This low-carb side dish will dress-up any backyard bbq or family gathering. Bacon, cheddar cheese, and green onions are tossed over coleslaw for an extra spin on the classic coleslaw recipe. For dressing, use this zero-sugar, keto-friendly mayo and you'll be completely carb-fine.
#6: Tantalizing Cucumber Caprese Salad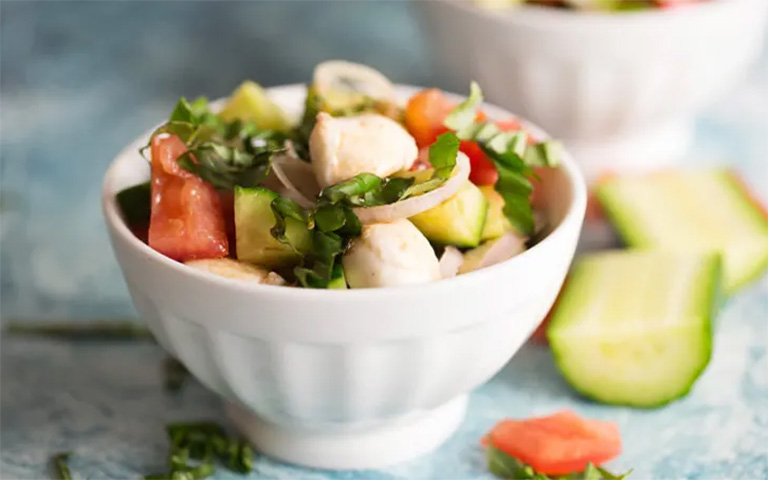 This fresh, crunchy salad is a new take on the Italian classic. Cherry tomatoes, mozzarella, cucumbers, and shallots are tossed in a homemade dressing made from olive oil, balsamic, and garlic for a dish you can't resist. Pair with zucchini noodles or a low-carb keto lasagna for a low-carb spin on an Italian meal.
#7: Two-Step Garlic Parmesan Zucchini Pasta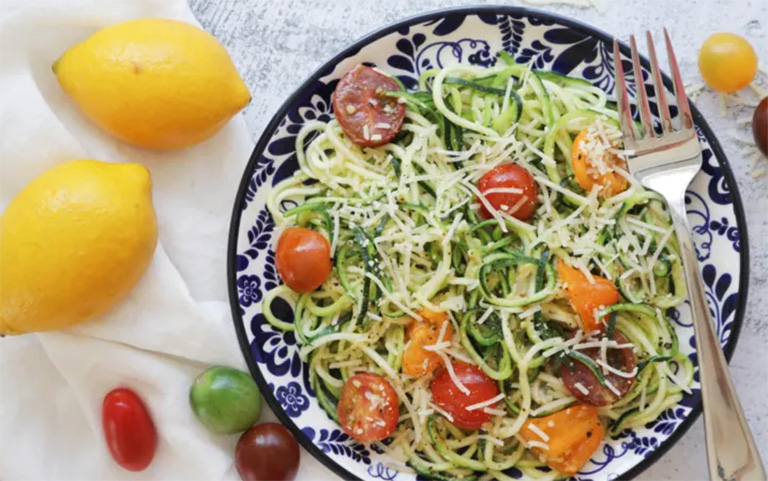 All you hardcore Italian lovers, try to stay open-minded as you read the next few sentences. If you're used to consuming pasta with a side of pasta, you might want to familiarize yourself with zucchini noodles. With a fraction of the carbs and packed with vitamins and minerals, zucchini noodles make the perfect gluten-free substitute to end your pasta cravings. Try this zoodle recipe — loaded with olive oil, cherry tomatoes, basil, parmesan cheese, and lemon juice.
#8: Easy White Turkey Chili
Do you love a good cup of chili? Then you'll love this beanless, low-carb version — made with ground turkey, cauliflower rice, and onions. Pour in full-fat coconut to make your soup extra creamy, sprinkle with salt and pepper, and enjoy.
#9: Balsamic Roasted Turnips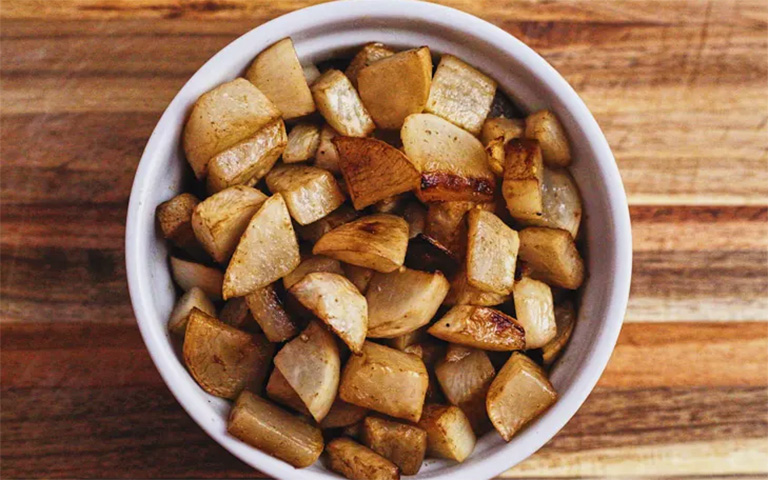 If you grew up with three options for side dishes — baked potatoes, mashed potatoes, or french fries — you might want to try this keto-friendly dish. Your favorite starchy side is replaced with low-carb turnips, drizzled with balsamic, then roasted to perfection. With just three ingredients and 30 minutes in the oven, you have a low-carb side that tastes just like breakfast fries.
#10: Crispy Kale Chips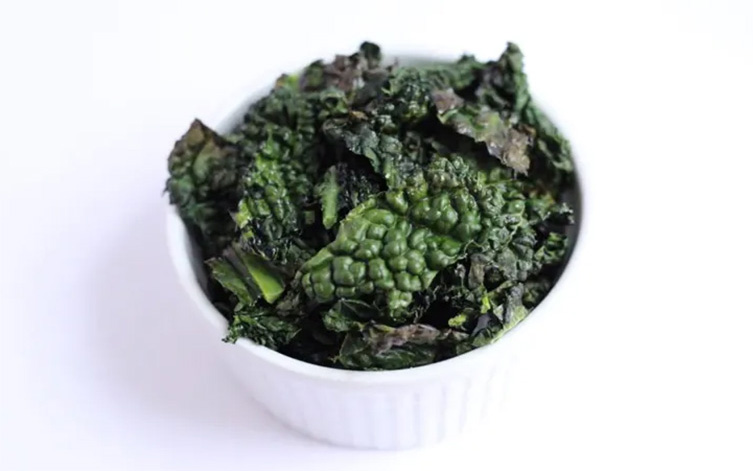 Be honest for a second: How much do you miss potato chips? While potato chips are not keto-friendly, you can bake or fry many vegetables at home to satisfy those crunchy cravings. With this recipe, you'll bake kale into chips, sprinkle with sea salt, and spray with avocado oil for a side dish that tastes just like your former favorite snacks.
#11: Creamy Turnip Keto "Mashed Potatoes" With Bacon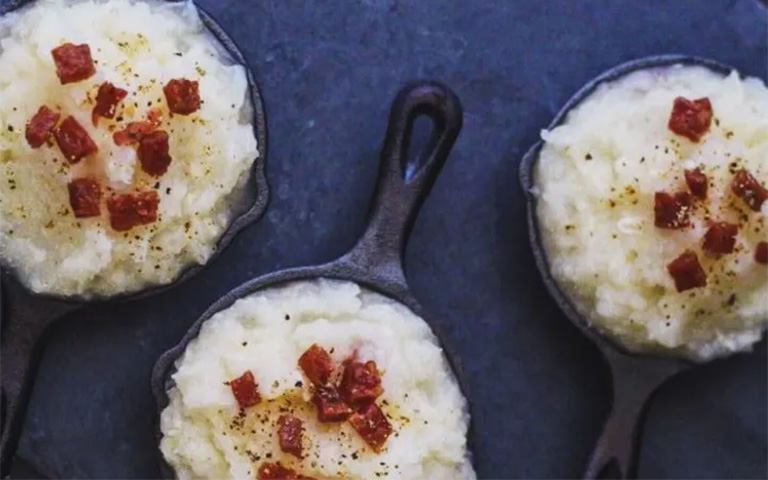 Loaded cauliflower mash might get all the low-carb attention, but this unique take deserves part of the spotlight. In this faux mashed potato recipe, you'll mash low-carb turnips into mashed "potatoes," then load with bacon bits, grass-fed butter, and almond milk. Feel free to top with chives, melted cheddar cheese, or sour cream to complete your side dish.
#12: Sheet Pan Brussels Sprouts With Bacon
Remember when you were younger and wanted nothing to do with anything green on your plate? That was long before you realized veggies roasted in bacon fat were positively delicious, and Brussels happen to be the favorite among said vegetables. In this recipe, you'll roast Brussels sprouts until charred, sprinkle with salt and pepper, then serve with bacon bits for a savory, satisfying side.
#13: Simple Keto Stir-Fry with Cabbage Noodles Recipe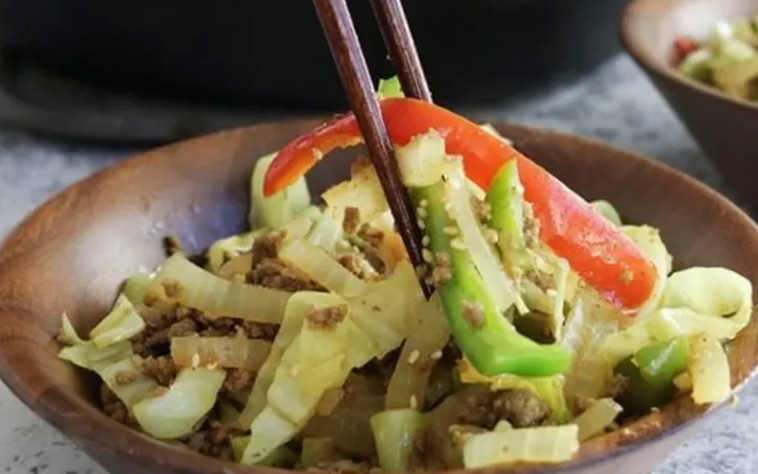 While this Asian-fusion stir-fry recipe is typically prepared with ground beef, you can omit the protein to make this a veggie side dish. Made with green cabbage, onions, and sesame seeds, this dish pairs well with fried rice, egg drop soup, or keto egg rolls. Sprinkle with gluten-free soy sauce (or coconut aminos) for a little added flavor.
#14: Baked Keto Spaghetti Squash
Spaghetti squash often earns a bad reputation as a low-carb pasta substitute on the keto diet. However, when sprinkled with a little salt and pepper, roasted spaghetti squash works well all on its own as a side dish. Pair with your favorite steak, pork loan, or roasted chicken breast for a balanced meal.
#15: Grilled Asparagus Salad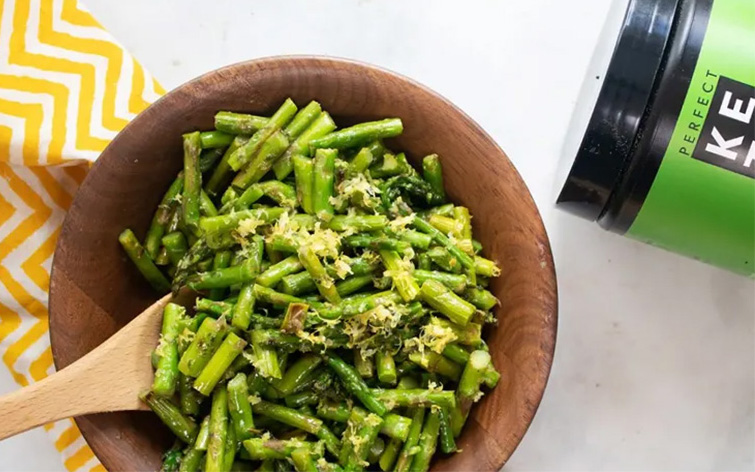 The best keto side dishes are the simplest. Steamed broccoli, roasted green beans, or grilled zucchini are all excellent side dish options. This grilled asparagus salad is wonderfully simple to prepare, including asparagus roasted in parsley, lemon juice, olive oil, and stevia for a dish that pairs well with anything.
#16: Crispy Roasted Eggplant Chips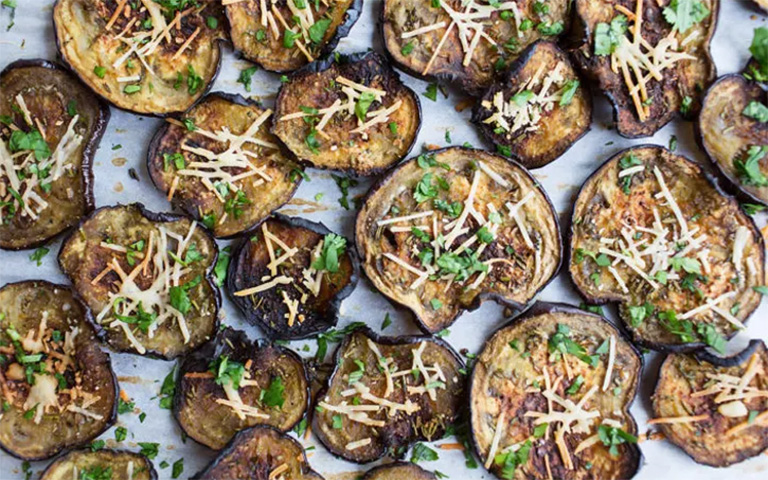 It's been said once, it will be said again: All vegetables can become a chip. In this recipe, you'll bake eggplant rounds crisp to perfection, then season with parmesan, garlic powder, basil, and oregano. Pair with your favorite sandwich (made with low-carb bread, if  you like) for the perfect lunch.
#17: Chicken Caesar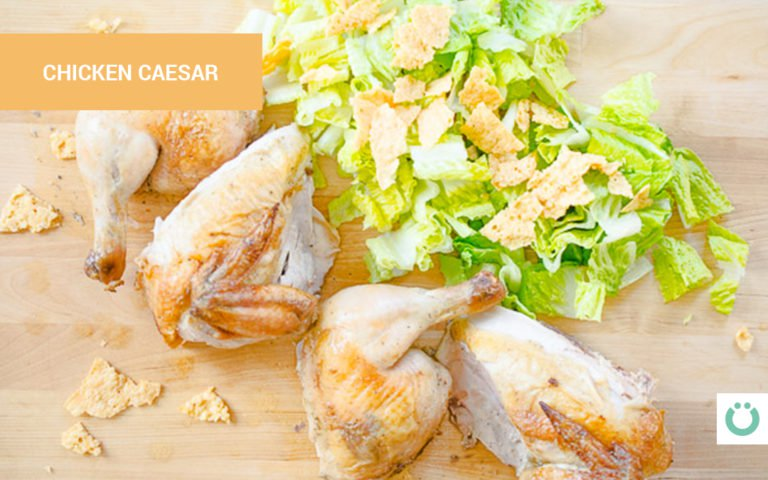 This is the cleaner, more nutritious version of the Caesar you get at restaurants. This keto salad recipe calls for real chicken real dressing, and only romaine hearts (instead of the less nutritious outer leaves) for vitamin K, omega-3s, iron, and all 9 essential fatty acids.
#18: Rosemary Cauliflower Mash and Gravy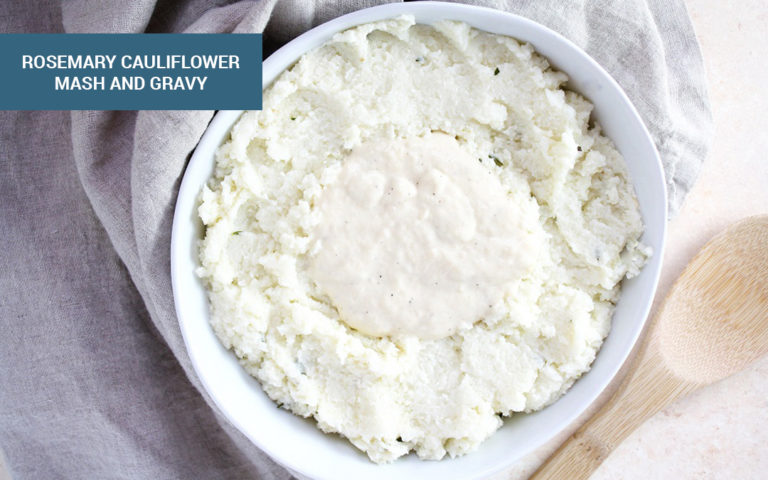 Just in case you haven't noticed, cauliflower is an extremely versatile vegetable. You can roll it into a pizza crust, bake it into macaroni and cheese, or mash it into potatoes. This mashed cauliflower recipe is loaded with healthy fats, blending parmesan, heavy cream, and butter into the final product. Pour over a gluten-free keto gravy, and it's ready to serve.
#19: Creamed Spinach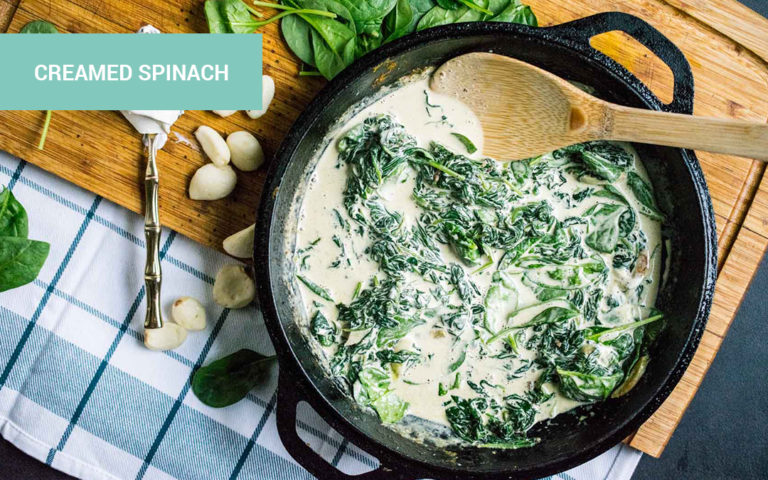 While high-quality dairy is fine to consume on keto, it causes some to experience digestive discomfort. If you are one of those people, you will be happy to know you can still enjoy this recipe. This creamed spinach is made with lactose-free cream cheese, making it a safer option for the lactose intolerant.
#20: Jalapeno Parmesan Crisps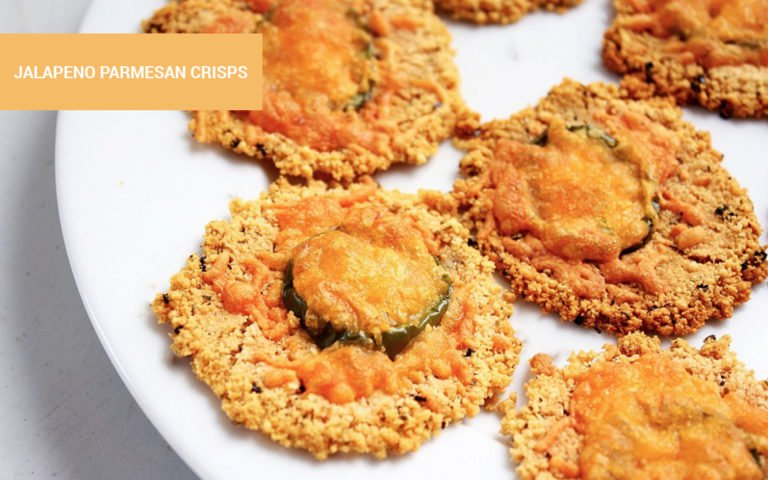 If you love spicy chips and salsa, spicy potato chips, or any other snack food that packs a bit of heat, you'll enjoy this side. These crunchy snacks are made with parmesan, sharp cheddar, and jalapenos, baked until crispy. Serve alongside your favorite Mexican-inspired entrees — like this enchilada casserole or these low-carb tacos — to complete your meal.
#21: Celeriac Everything Oven Fries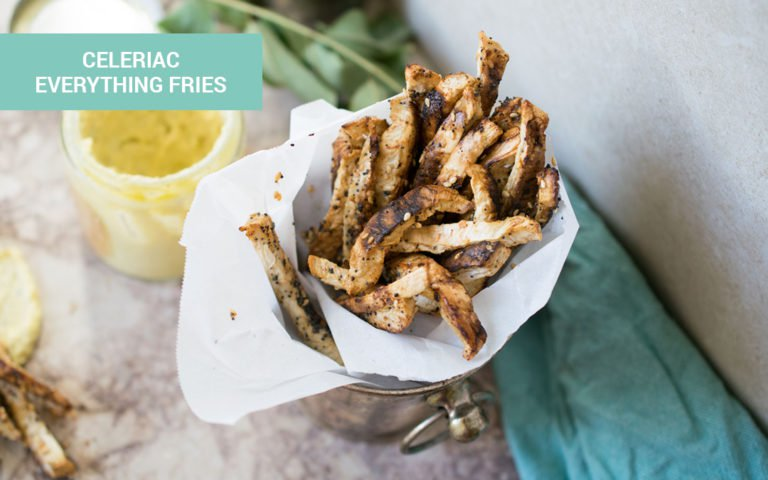 This keto recipe recreates one of your all-time favorite side dishes: French fries. Celeriac (or celery root) is actually a tuber, just like potatoes, so it tastes very similar to potatoes. However, this recipe contains just nine grams of carbs — far fewer than you'd get from regular fries or even sweet potato fries.
#22: Creamy Keto Spinach Artichoke Dip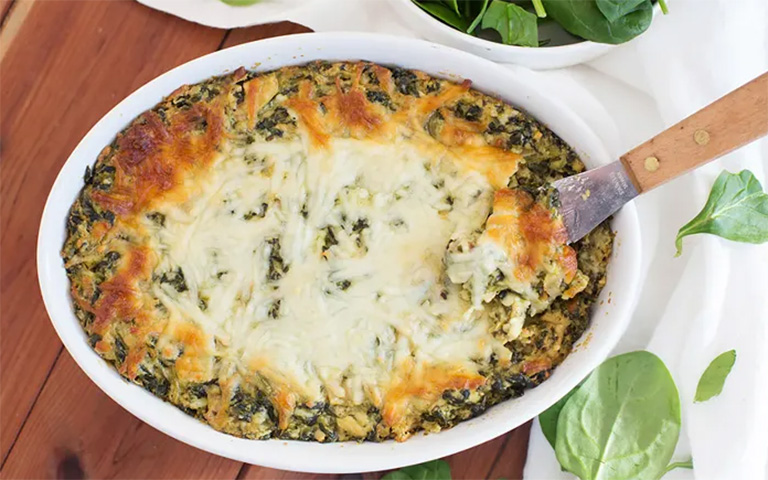 You might remember spinach artichoke dip as your favorite cheesy, crowd-pleasing appetizer. This high-fat version fits perfectly within a low-carb diet, combining sour cream, cream cheese, asiago, frozen spinach, artichoke hearts, and keto mayo. It takes just 20 minutes to bake, and contains just five grams of net carbs per serving.
#23: No Potato (No-Tato) Salad
When you think of your favorite salads, cauliflower salad might be the last thing that comes to mind. But in this potato-free recipe, you'll use low-carb cauliflower florets as the perfect substitute to white potatoes in a faux, sugar-free potato salad. Load it up with celery, bacon, hard-boiled eggs, mayo, and green onions, then enjoy at your favorite picnic or backyard barbecue.
Keto Side Dishes: Don't Overthink It 
Hopefully, this list of side dish recipes gives you tons of ideas for your next low-carb meal. But the best advice is simply not to overthink this.
While making faux mashed potatoes, low-carb French fries, or veggie chips can be fun, there are plenty of keto side dishes that require far less work. Virtually any fresh, roasted, or grilled vegetables (with the exception of starchy vegetables) is already a keto-friendly side. Sprinkle a little salt and pepper on them, and you're good to go.
If you need to review which vegetables are keto-approved, review this Full Ketogenic Diet Food List. It will help you determine which veggies make the perfect low-carb sides and which should be avoided.