The word "fritter" is used to describe various fried goods. They generally consist of small bits of dough, fruit or vegetables. However, if you are looking for new ways to cook your animal protein, keto chicken fritters with some cheese and fresh herbs might be a delicious new idea for your next lunch or dinner.
This recipe makes 10-12 fritters, depending on the kind of scoop you use to transfer the fritter mixture to the skillet. Using a spoon will give you smaller portions, an ice cream scoop will give you larger portions. Either way, these low carb chicken fritters are perfect for a weeknight meal or midday snack.
These chicken fritters are low carb, grain-free and full of natural flavor from a variety of fresh herbs. They pair well with a side of roasted brussels sprouts or a leafy green salad.
Where a typical fritter might include white flour, cornstarch or breadcrumbs, this recipe uses almond flour and two types of cheese–mozzarella and parmesan.
Almond flour has great flavor and texture. Unlike other keto-friendly flours such as coconut flour, almond flour won't dry out the fritter mixture. Any cheese can be used to bind this mixture, but I added parmesan along with the mozzarella, because it adds a more intricate layer of flavor to this recipe.
Keto Chicken Fritter Ingredients
The main ingredients for this recipe are:
Ground Chicken
Almond Flour
Eggs
Shredded Mozzarella Cheese
Shredded Parmesan Cheese
Fresh Green Onions
Fresh Parsley
Fresh Basil
Fresh Dill
Salt and Pepper
How to Make Keto Chicken Fritter
This low carb chicken recipe is one of the most delicious keto chicken fritter recipes you will find.
First, you will take one large mixing bowl and add your ground chicken. If you are using boneless, skinless chicken, you will chop it up into small pieces here and put it in the mixing bowl.
Second, you will beat your eggs in a separate bowl and add them to the chicken.
Then you will add your almond flour. If you choose to use coconut flour, that is a great alternative, just be aware that coconut flour can dry out the mixture a bit.
Next you add your mozzarella and parmesan cheese. Buying shredded cheese is ideal, however, you can buy both of these types of cheese in block form and shred it yourself if you prefer.
Now you are going to add all of your herbs and spices. Mix everything together until it looks well combined.
Make sure you heat your skillet on medium to low heat. After the skillet has a minute or two to heat up, add one tablespoon of your olive oil. Take a spoon or ice cream scoop to get your mixture out of the bowl and add about 3-4 of these to your skillet. Take the back of a silicone spatula to flatten out each chicken fritter so they cook more quickly. Do not use a wooden spoon, as the mixture may stick to it.
Cook each fritter for about 4 minutes on each side. You will want to repeat this process 3-4 times to use all the chicken fritter mixture. You will also use a new tablespoon of olive oil with each batch. This is the best way to make sure your fritters get their nice golden brown color and are cooked thoroughly.
Keto Chicken Fritter FAQs
What do I serve with Keto Chicken Fritters?
These chicken fritters are great on their own with a keto-friendly sauce of your choosing. They also pair well with roasted or steamed broccoli, cauliflower or brussels sprouts. A chopped salad with kale or leafy greens, cucumbers and carrots would be refreshing too.
How Do I Store Leftovers?
You can store your leftover chicken fritters in the refrigerator in an airtight glass container or large silicone based storage bag. I don't recommend ziploc only because they are single use plastic bags and not ideal for storing meat or eggs. These will last in your refrigerator for up to 5 days. You can also store them in your freezer in the same method for up to two months.
Can I Use Regular Chicken Instead Of Ground Chicken?
Most chicken fritter recipes do use boneless, skinless chicken. I used the ground chicken because there is less knife work involved, but using regular chicken will most likely give you juicier bites and a different texture.
Are These Keto Chicken Fritters Easy To Reheat?
Yes! When you are ready to eat more of them, defrost your desired portion in the refrigerator overnight. From that point, you can reheat them in a skillet on low heat for 1-2 minutes. You can also reheat them in an air fryer, setting the oven on 350F for 3-4 minutes.

Print
Herbalicious Cheesy Keto Chicken Fritters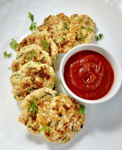 These chicken fritters are low carb, grain-free and full of natural flavor from a variety of fresh herbs. They pair well with a side of roasted brussels sprouts or a leafy green salad.
Author:
Prep Time:

10 minutes

Cook Time:

20 minutes

Total Time:

30 minutes
Scale
Ingredients
1

lb. ground chicken

4 tbsp

. olive oil (1 tbsp. each batch for frying)

2

eggs, beaten

1/3 cup

natural almond flour

1/2 cup

shredded mozzarella cheese

1/2 cup

shredded parmesan cheese

2 tbsp

. fresh parsley, finely chopped

2 tbsp

. fresh green onions, finely chopped

2 tbsp

. basil, finely chopped

2 tbsp

. dill, finely chopped

Salt and pepper to taste
Instructions
In a large mixing bowl, add all of your ingredients except the olive oil. Mix together until well combined.

Heat a large skillet over medium/low heat. Add 1 tbsp. of olive oil. Let it heat a bit and then add with the help of a spoon or ice cream scoop, add the chicken mixture to the skillet. Make sure not to overcrowd your skillet. Cook about 3-4 scoops per batch.

Flatten each scoop with a spatula to create a fritter. Fry on both sides for about 4 minutes each side or until golden brown.

Add a new tablespoon of oil for each batch you cook. Keep the temperature on medium low to be sure both the outside AND the inside are cooked.

Let your fritters cool for 2-3 minutes, then serve them with keto-friend ketchup or a homemade dip of your choice. Mustard or sriracha and mayonnaise go great here as well!
Nutrition
Serving Size:

10-12 fritters

Calories:

633

Fat:

50g

Carbohydrates:

5g

Protein:

44g
Keywords: keto chicken fritters